This chicken marsala recipe adds in dijon mustard & creamy mascarpone cheese. It's a rich dish that's easy to prepare but totally impressive.
This shop has been compensated by Collective Bias, Inc. and its advertiser. All opinions are mine alone. The following content is intended for readers who are 21 or older. #WAWineTime #CollectiveBias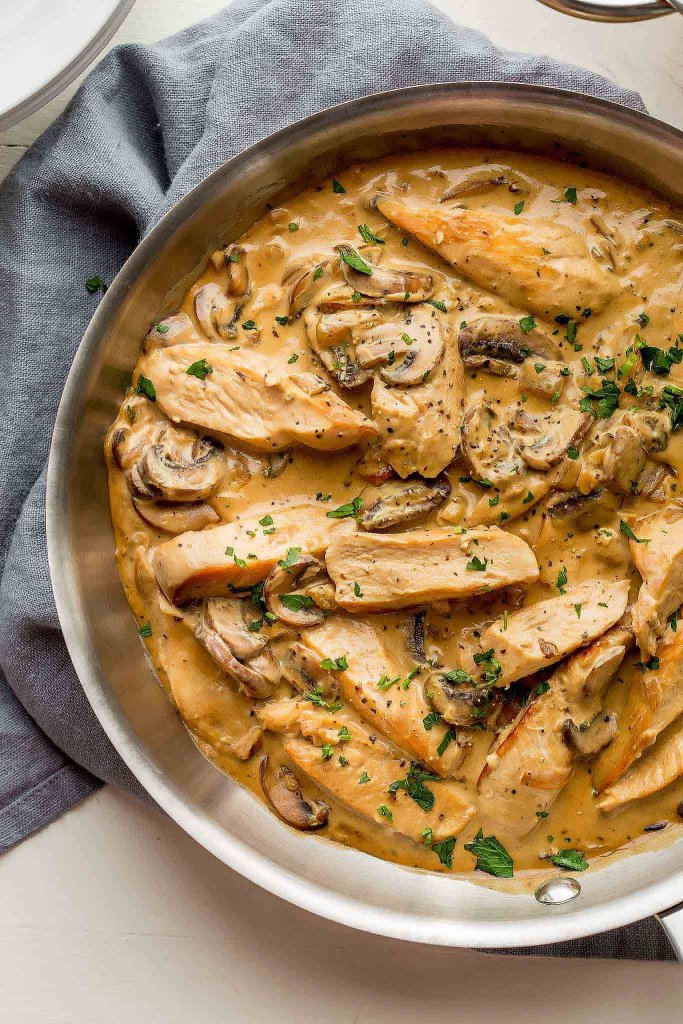 Being that the name of this blog is "Platings & Pairings" you can probably guess that I'm a big fan of wine. My boyfriend and I go wine tasting quite often, and one of our favorite places to visit is Walla Walla, Washington. It's about a 4-hour drive from Portland and the wine country there is so different than here in Oregon. While Oregon is known for its Pinot Noir and Pinot Gris, Washington offers bigger, bolder red wines like Cabernet, Merlot and Syrah, so it's a nice change of pace.
Another difference is that most Walla Walla tasting rooms are not actually located in the vineyards themselves, instead, it's more of an urban experience which is great because you can walk from tasting room to tasting room and discover your favorites. One of our favorite tasting rooms in downtown Walla Walla both for their wines and the ambiance is Charles Smith Wines. The space is wide and open with a minimalist décor and large garage door style windows that open up to the sidewalk patio when it's nice outside.
Charles Smith debuted his first wine in 2001. A former rock band manager, his style comes out in the labels found on his wines. Black and white in color with bold illustrations, each label is unique and reflects the name of the wine. Two of my particular favorites are the Eve Chardonnay and The Velvet Devil Merlot.
The Eve Chardonnay label prominently shows an apple and hints at the crisp, freshness of this particular Chardonnay. It's a medium-bodied, juicy, dry white wine with flavors of ripe pear, tangerine and guava, and a nice minerality on the finish.
The Velvet Devil Merlot takes things in a different direction. Inspired by Charles' desire to bring back Merlot after the movie "Sideways" gave it a bad name, he made this wine full-bodied, juicy and silky, with dark berry aromas and notes of cedar, tobacco and earth. This wine was been named by Wine Enthusiast as a Best Buy 3 years in a row.
I say that any night is a great night for opening up one of these bottles, but in particular, on this occasion I broke them both out to celebrate Washington Wine Month which is every August.  I wanted to prepare a recipe that I thought would be great with both the light and refreshing Chardonnay and the silky, more earthy Merlot. That's when this chicken marsala with mustard and mascarpone came to mind…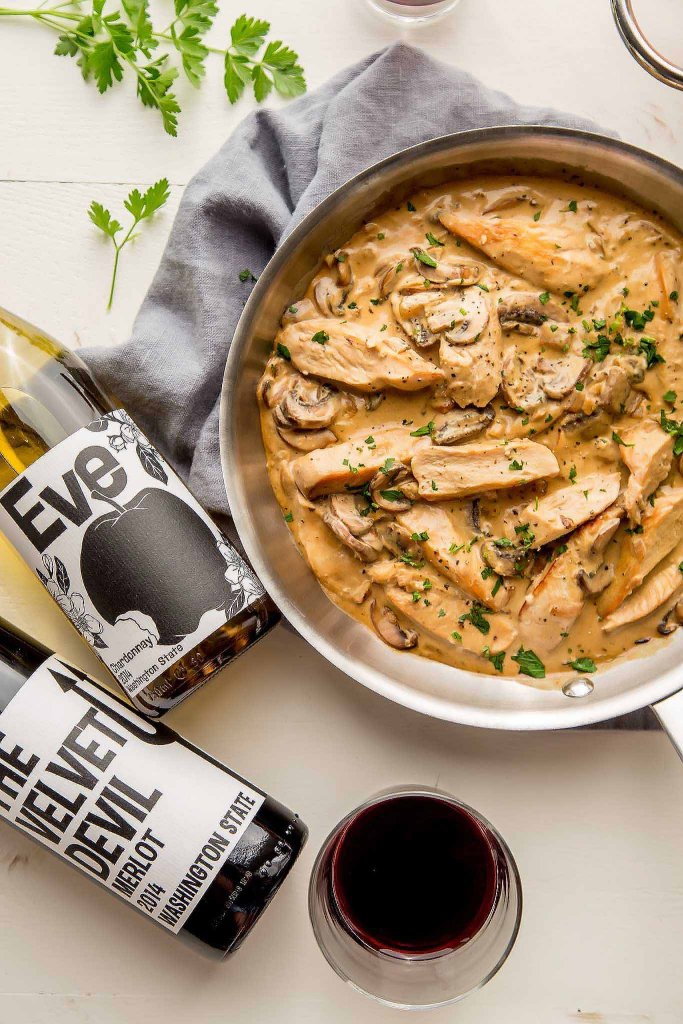 As much as I love drinking wine, I love cooking with it too. Wine can impart such a great flavor to dishes. It's amazing how just a splash can transform a dish. Marsala, the wine used in this dish, is not one that I typically drink on its own. I keep a bottle of it next to the dry Vermouth which I also always have on hand to flavor dishes like Chicken Piccata or Risotto. These bottles keep indefinitely and are ready to throw into recipes at your heart's desire.
This chicken marsala recipe also adds in some tangy dijon mustard, creamy mascarpone cheese and earthy mushrooms. I love to serve it up over some fettuccini so that I can soak up every last bit of that yummy sauce.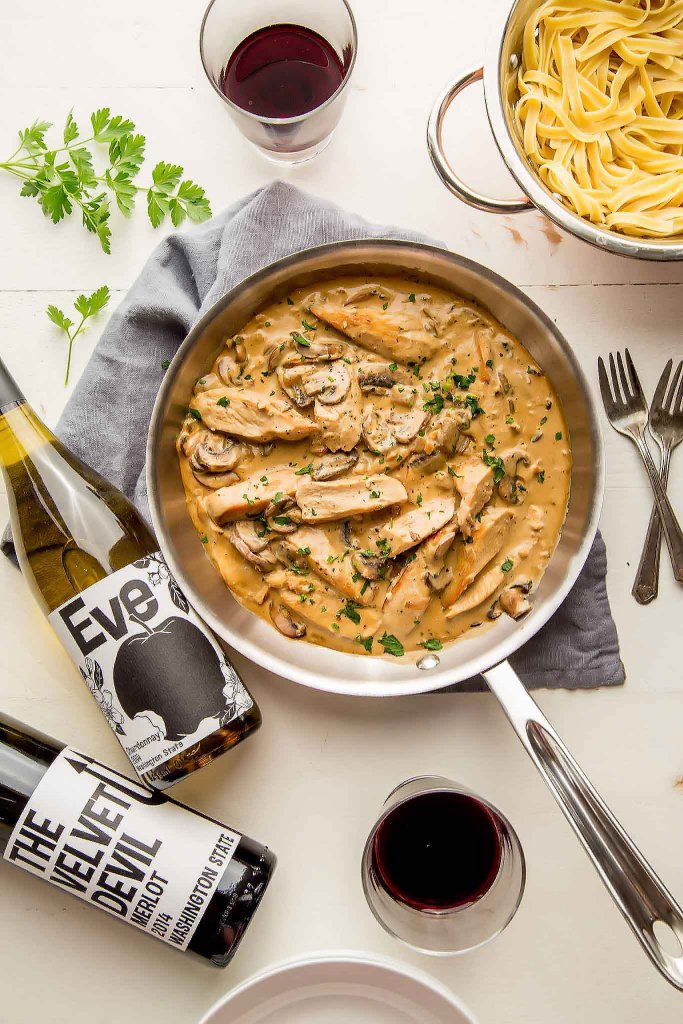 Pairing this dish with the Eve Chardonnay was a winner! The creamy sauce played nicely with the fresh, crisp flavors of the chardonnay and the wine had just enough body to stand up to the rich chicken marsala. However, it's a toss up as to whether I favored the pairing of the Eve Chardonnay or The Velvet Devil Merlot. The merlot had an earthiness to it that went really well with the mushrooms and its silkiness was echoed by the chicken marsala sauce.
Which wine pairing would you lean more towards for this chicken marsala? The merlot or the chardonnay? I'd love to hear in the comments below.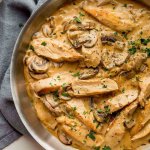 Chicken with Mustard Mascarpone Marsala
This chicken marsala recipe adds in dijon mustard & creamy mascarpone cheese. It's a rich dish that's easy to prepare but totally impressive.
Print
Ingredients
•1 1/2 pounds boneless skinless chicken breasts each breast cut crosswise into 3 pieces

•Salt and freshly ground black pepper

•2 tablespoons olive oil

•5 tablespoons butter divided

•3/4 cup chopped onion

•1 pound cremini mushrooms sliced

•2 tablespoons minced garlic

•1 cup dry Marsala wine

•1 cup mascarpone cheese 8 ounces

•2 tablespoons Dijon mustard

•2 tablespoons chopped fresh Italian parsley leaves plus whole sprigs

for garnish

•12 ounces dried fettuccine
Instructions
1.Sprinkle the chicken with salt and pepper. Heat the oil in a heavy large skillet over high heat. Add the chicken and cook just until brown, about 4 minutes per side. Transfer the chicken to a plate and cool slightly.

2.While the chicken cools, melt 2 tablespoons of butter to the same skillet over medium-high heat, then add the onion and saute until tender, about 2 minutes. Add the mushrooms and garlic and saute until the mushrooms are tender and the juices evaporate, about 12 minutes. Add the wine and simmer until it is reduced by half, about 4 minutes. Stir in the mascarpone and mustard. Cut the chicken breasts crosswise into 1/3-inch-thick slices. Return the chicken and any accumulated juices to the skillet. Simmer, uncovered, over medium-low heat until the chicken is just cooked through and the sauce thickens slightly, about 2 minutes. Stir in the chopped parsley. Season the sauce, to taste, with salt and pepper.

3.Meanwhile, bring a large pot of salted water to a boil. Add the fettuccine and cook until al dente, stirring occasionally, about 8 minutes. Drain. Toss the fettuccine with 3 tablespoons of butter and season, to taste, with salt and pepper. Swirl the fettuccine onto serving plates. Spoon the chicken mixture over top. Garnish with parsley sprigs and serve.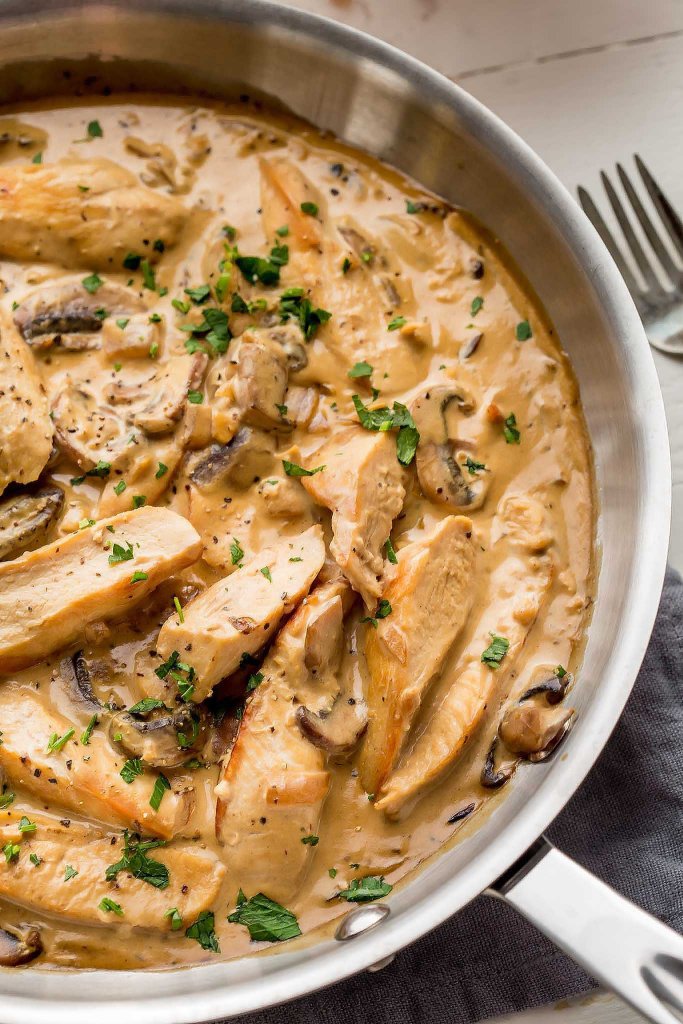 Washington Wine Month: Welcome to Washington: Home of the Charles Smith Wine collection. Washington state has more than 900 wineries and 350 vineyards. #WAWineMonth calls on you to explore and support local award-winning brands that put Washington winemaking on the map. To learn more, visit www.WaWineMonth.com.