With these easy tips, you'll see it's simple to learn how to cook perfect rice in the Instant Pot with minimal measuring. The result is fluffy and flavorful rice that's easy to prepare.
It took a while for me to finally bite the bullet and invest in an Instant Pot, but I talked in this post about how my obsession quickly began with this amazing appliance. I can honestly say that it's the most used appliance in my house – I use it almost every day!
If you haven't yet heard of the Instant Pot, let me introduce you: It's an electric pressure cooker that has all these handy little buttons on it for cooking different things:
Hardboiled Eggs: Just add a little water to the pot, place your eggs on the cooking rack (as many as you'd like), and press the "EGG" button – Perfect hardboiled eggs in just about 10 minutes.
Meat: You can cook meat and poultry from frozen or fresh and it always comes out tender and moist – Love!
Slow Cooker: Use the Instant Pot just like you would use your crockpot – Set it to cook on low for any amount of time that you'd like, it will automatically turn to "WARM" when the time is up.
Dried Beans: Cook them in under 30-minutes with no pre-soaking.
Today I thought I'd share with you my "method" for how to cook perfect rice in the Instant Pot. It's very simple, but there are a couple changes that I make from my traditional recipe for perfect rice on the stovetop. First is the water ratio – While I generally use 1 cup rice to 1 ¼ cups water for my stovetop rice, in the Instant Pot, that ratio drops down to 1-to-1. 1 cup of water for every one cup of rice – You can make as little or as much Instant Pot rice as you'd like.
The reason for the reduced water is that the Instant Pot is more "sealed" that a traditional cooking pot, meaning less evaporation of water during the cooking process. Be sure to rinse that rice before adding it to the Instant Pot, to get rid of any additional starches – Just run it under water until the water is clear. The result is perfect Instant Pot rice that's light and fluffy.
I also like to add in 1 teaspoon of oil for each cup of rice that I'm making – This not only prevents the rice from sticking to the pot, but it also cuts down on the foaming a bit so that your Instant Pot doesn't sputter and spit. Plus, for perfect Instant Pot rice, I always add a pinch of salt for each cup of rice that I'm cooking, to flavor the rice right from the get-go.
Most Instant Pot models will have a "RICE" button – This is the perfect button to use if you're cooking white rice. If you're cooking any other type of rice, be sure to follow the timing chart below – The water to rice ratio will remain the same.
With these easy tips, you'll see how simple it is to cook perfect rice in the Instant Pot. Have you jumped on the Instant Pot bandwagon yet?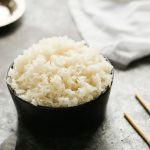 How to Cook Perfect Rice in the Instant Pot
With these tips you'll see it's simple to learn how to cook perfect rice in the Instant Pot . The result is fluffy & flavorful rice that's easy to prepare with minimal measuring.
Print
Ingredients
1

cup

rice

1

cup

water

1

tsp

. cooking oil

1

pinch salt
Instructions
Rinse rice under cold running water until the water runs clear.

Add oil to the Instant Pot along with the rinsed rice (still damp), water and salt.

Lock the lid and set the steam valve to its "sealing" position. Select the "RICE" button or follow the cooking chart below. Allow the pressure to release naturally for 10 minutes and then release any remaining pressure. Fluff rice with a fork and serve.
Recipe Notes
White & Basmati Rice: 4-8 minutes
Brown Rice: 22-24 minutes
Wild Rice: 25-30 minutes
Looking for more Instant Pot recipes?