Not gonna lie – This soup was really good! And, with Christmas coming up and a busy schedule of holiday activities, I prepared this soup on Sunday and ate leftovers Monday, Tuesday and Wednesday. Not much variation, but it made time for doing other things and it was just so darn good that I didn't mind one bit! I'm actually craving another bowl right now!
As we all know, lasagna can be a VERY time consuming dish! I've got a great version that layers the noodles with a béchamel sauce and a beef ragu. It's SO good, but I very rarely ever make it because it makes a TON and it takes a TON of time to make! With just the two of us around the house, lasagna has resigned itself to being for special, group occasions.
This soup fits the bill for when you want lasagna and you're in a time crunch. It's still got all of the cheesy, melty goodness because it's topped with a mixture of creamy ricotta, mozzarella and parmesan. That little dollop melts into your hot soup and gives it such a richness and extra layer of flavors. Top with some fresh chopped parsley to brighten up the flavors and you've got yourself a perfect dinner for these chilly nights!
Lasagna Soup
Print
Ingredients
2

Tbsp

extra virgin olive oil

divided

1

lb

lean ground beef

1

cups

large yellow onion

diced (2 )

4

cloves

garlic

minced

4

cups

low-sodium chicken broth or beef broth

1

oz

can petite diced tomatoes

14.5

1

oz

can crushed tomatoes

14.5

2 1/2

Tbsp

tomato paste

1 3/4

tsp

dried basil

3/4

tsp

dried oregano

1/2

tsp

dried rosemary

crushed

1/2

tsp

fennel seeds

crushed

1/2

tsp

dried thyme

1

tsp

granulated sugar

1 1/2

Tbsp

chopped fresh parsley

plus more for garnish

Salt and freshly ground black pepper

to taste

8

pieces

lasagna noodles

broken into bite size (6.5 oz)

1 1/4

cups

shredded mozzarella cheese

5 oz

1/2

cup

finely shredded parmesan cheese

2 oz

8

oz

ricotta cheese
Instructions
Heat one tablespoon olive oil in a large pot over medium-high heat. Once hot, crumble beef into pot, season with salt and pepper to taste and cook, stirring occasionally until browned. Drain majority of fat from beef and set aside. Heat remaining 1 tablespoon olive oil in pot, add chopped yellow onion and saute until it begins to soften, about 3 minutes. Add in garlic and saute 30 seconds longer. Add in broth, diced tomatoes, crushed tomatoes, tomato paste, basil, oregano, rosemary, fennel seeds, thyme, sugar, parsley, the cooked ground beef and season with salt and pepper to taste. Bring just to a boil, then reduce heat to medium-low, cover and simmer at least 20 minutes.

Meanwhile, prepare lasagna noodles, reducing cooking time by two minutes from the directions listed on package and reserving 1 cup pasta water before draining pasta.

Add cooked pasta to soup along with 1/2 cup - 1 cup pasta water as desired.

In a mixing bowl, using a fork, stir together mozzarella, parmesan and ricotta.

Ladle soup into bowls, dollop with a large scoop of the cheese mixture and sprinkle with chopped parsley.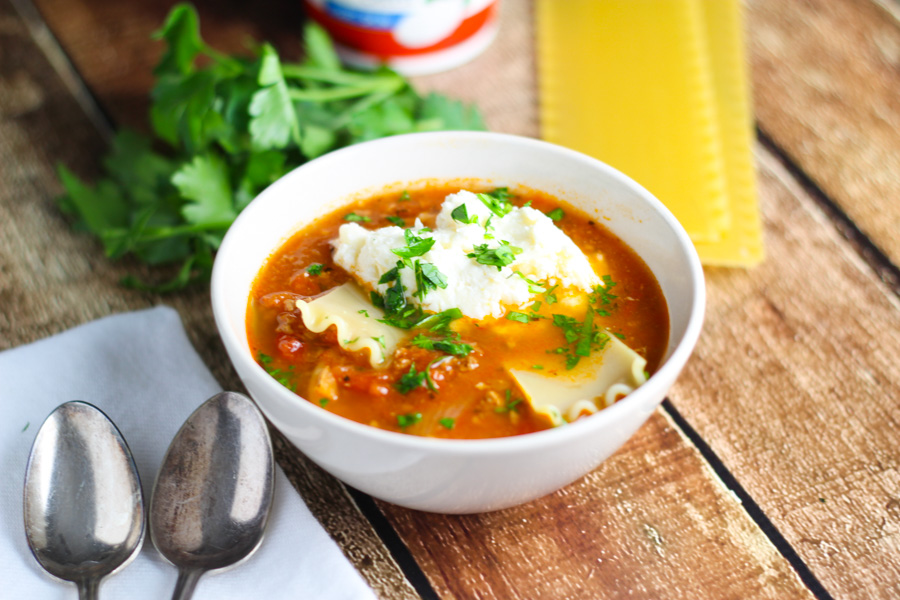 ERIN's PARINGS:
Any Italian wine would be amazing with this dish: Chianti, Barbera, Barolo.
For some reason, I almost never have Italian wines on hand. I chose to pair this simple dinner with an EDD (every day drinker) from Trader Joe's – A Vintjis Heritage Varietal Blend from Mendocino County ($10) – 48% Zinfandel, 22% Syrah, 15% Carignane, 5% Petit Sirah, 5% Petit Verdot and 5% Mourvedre. This red blend was so so. However, I'd highly recommend the Vintjis Willamette Pinor Noir or Vintjis Columbia Valley Cabernet as great EDDs that you can pick up for under $10 at your local Trader Joe's.