Want to host your own garden party? Here are some garden party ideas that you can use at home to host the most beautiful, delicious and interactive event at home.
A few weekends back, I had the most amazing day with a group of wonderful creatives and bloggers here in Portland. We were hosted by my friend, Lena of Lena's Kitchen Blog.
Of course, for me, any spectacular event begins with wine, and Lena had two of my favorites on hand – Bubbles and Rosé! The Fleur de Mer Rosé was perfect for this sunshine-y day – Hints of strawberries, grapefruit and a bright acidity. And the Prosecco from La Marca was refreshing with notes of green apple, honey and a clean finish with just a bit of minerality to it. After our glasses were filled, we all headed outside for a flower crown workshop.
I was so excited for this! I've always wanted to wear a flower crown, and I really, really wanted to wear one for our upcoming wedding, but Rick nixed that idea. So instead, I got to live out my dream just a couple months early. I actually love to craft. I just don't make much time for it anymore. So, it was so perfect that all I had to do was show up. The wire crowns and flowers were already there for us, all we had to do  was the fun part – create!
I learned that making a flower crown is much like making a wreath. Gather mini-bouquets of greenery and then attach them to your crown with floral wire. Keep filling and filling, until it looks as full as you'd like. Then, to attach the flowers, we actually cut them off at the base (right below the head) and used glue to attach them. I'm not sure the exact brand of glue we used, but it looks like you can also use hot glue. Here's a great tutorial on how to make your own floral crown at home.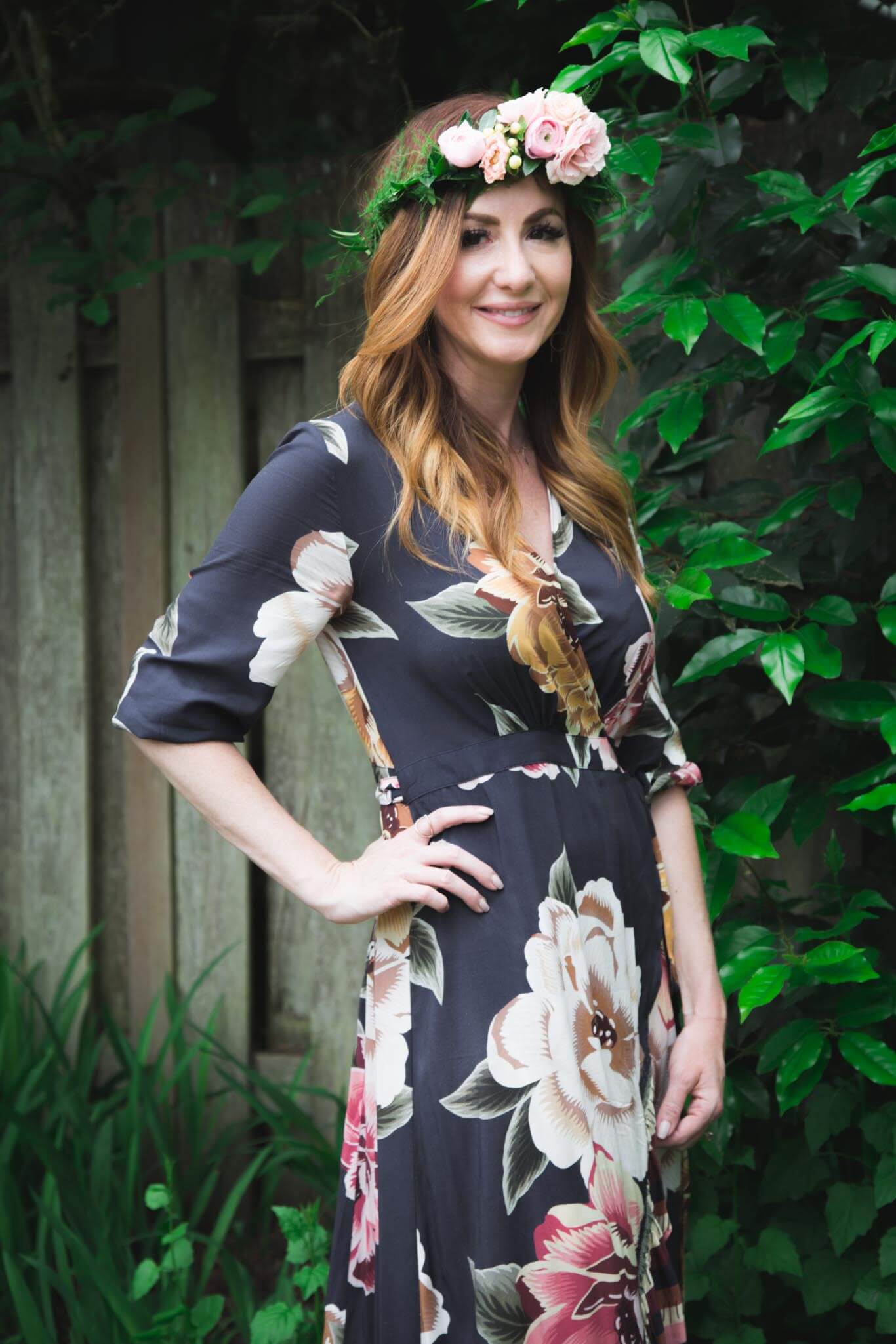 After our crafting hour, we took a break for lunch. In typical Lena fashion, she created the most amazing spread of peaches with burrata, roasted grapes and mini-sandwiches. It was the perfect tie-in for Kroger's Red, White and BBQ theme of the summer. Be sure to check out Lena's Kitchen Blog for all of her delicious recipes and entertaining inspiration.
Garden Party Ideas for Your Menu:
Egg Salad Sandwiches on Mini Pretzel Rolls
Prosciutto & Brie Sandwiches on Baguette
Lox & Cucumber Sandwiches on Ciabatta
After lunch, it was of course time for dessert. And there were options. 
First… the cutest of S'mores stations complete with chocolate chip cookies (try them instead of graham crackers!), homemade marshmallows, Reeses, and Hershey's chocolate.
And secondly… How about an entire cake? We each had the opportunity to learn from Karlee of Olive and Artisan on how to craft the cutest of cakes using gold leaf, iridescent paint and tea roses. The best part? We didn't have to bake. Karlee did all the hard work for us. We just got to play. I definitely went the understated route with my cake, but it was so fun to see everyone's unique designs!
Garden Party Ideas for Activities:
DIY S'mores Bar |  It was so much fun, and delicious too!
Flower Crown Workshop | Definitely not as hard as it looks and everyone leaves with a gorgeous crown, plus the photo ops are amazing!
Cake Decorating Station | This was such a fun, interactive activity and everyone went home with a yummy cake to share with their families.
Lawn Games | Cornhole, Croquet, Badminton and Bocce Ball are all fun lawn game options.
Have you ever hosted a garden party? I'd love to hear your favorite garden party ideas and tips in the comments below.
Disclosure: Lena's Kitchen Garden Party was sponsored by Kroger. As always, all opinions are my own.