As 2017 comes to a close, I wanted to look back and see which recipes were the most popular here on platingsandpairings.com – It looks like you guys are loving your Instant Pots!!! Four of these top 15 recipes are for the Instant Pot and I've already got a few new Instant Pot recipes in the works for 2018, so stay tuned!
My personal favorites out of this bunch, the recipes that I make over and over again, are my Nana LaMancuso's Authentic Italian Sunday Gravy, the Easy Roasted Chicken and the Instant Pot Cheesy Southwestern Lentils and Brown Rice. Tell me, what would you like to see more of in 2018? Should I keep the Instant Pot recipes coming? Do you want to see more healthy recipes? Let me know in the comments below!
Want to check out prior years' most popular roundups?  Here are the 2016 Top 10 Recipes and the 2015 Top 10 Recipes.
WITH THESE EASY TIPS, YOU'LL SEE IT'S SIMPLE TO LEARN HOW TO COOK PERFECT RICE IN THE INSTANT POT WITH MINIMAL MEASURING. THE RESULT IS FLUFFY AND FLAVORFUL RICE THAT'S EASY TO PREPARE.
THIS HUNGARIAN MUSHROOM SOUP WITH FRESH DILL IS CREAMY, WITH HINTS OF SMOKINESS AND A GREAT UMAMI FLAVOR. IT'S THE PERFECT BOWL OF SOUP TO WARM UP WITH THIS WINTER!
THIS SLOW COOKER "BETTER THAN BOTOX" BONE BROTH IS FULL OF NATURAL COLLAGEN! MAKE CHICKEN, PORK OR BEEF STOCK USING KITCHEN SCRAPS AND THIS SIMPLE CROCKPOT METHOD.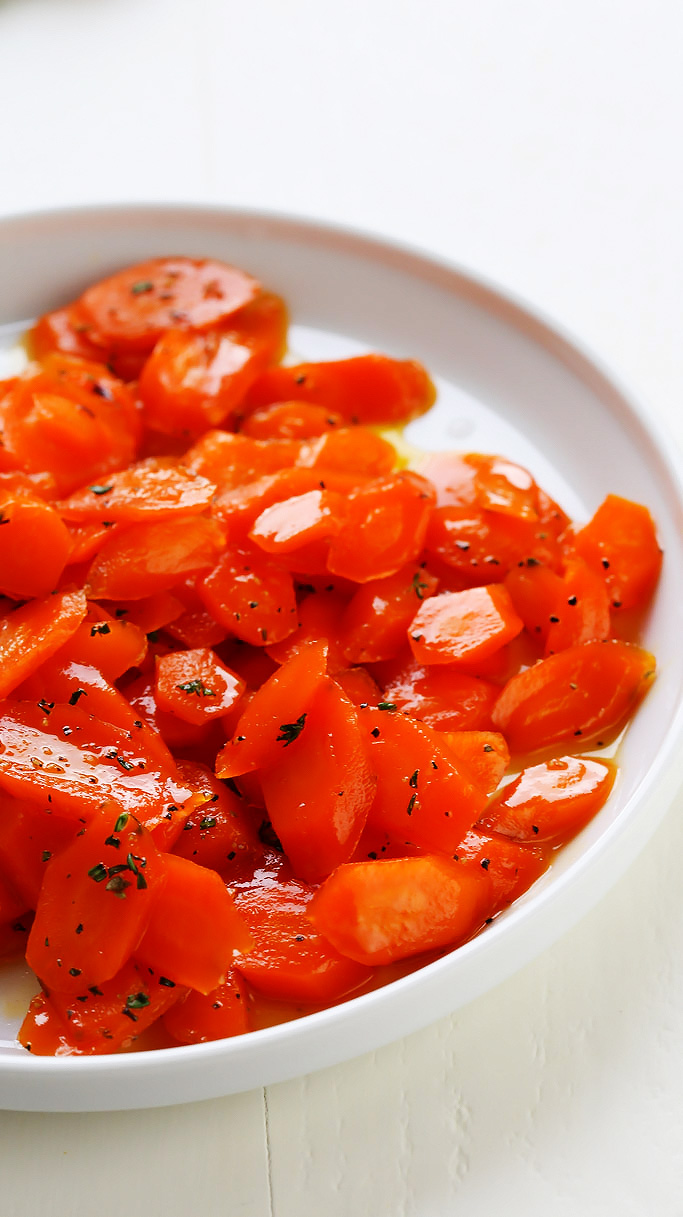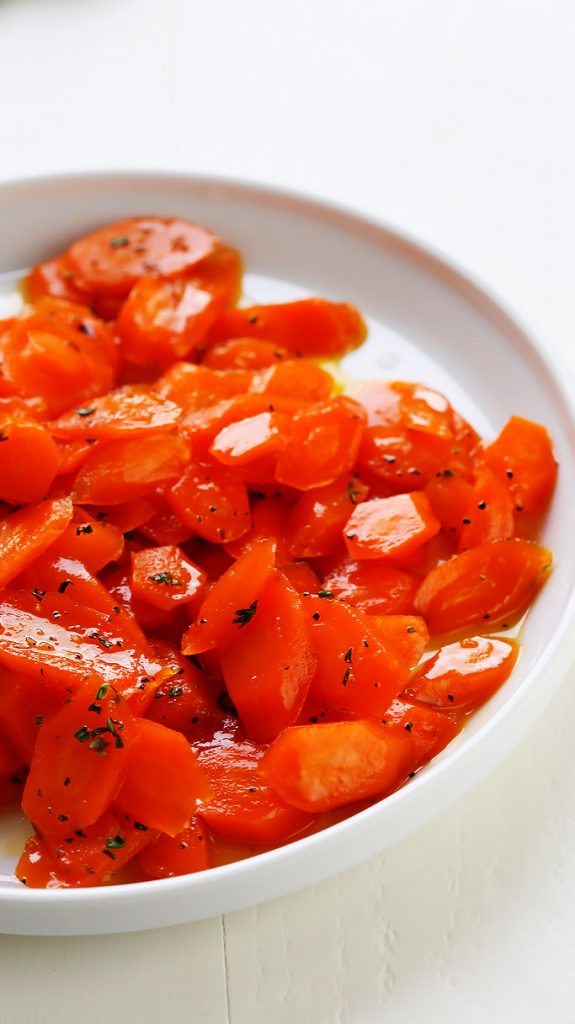 THESE ARE THE BEST GLAZED CARROTS – LIGHTLY SWEETENED, DELICATELY SEASONED, AND PERFECTLY GLAZED. THESE CARROTS MAKE AN AMAZING SIDE DISH THAT BOTH KIDS AND ADULTS CAN'T GET ENOUGH OF!
Roasted Brussels Sprouts with Balsamic Reduction
These Roasted Brussels Sprouts with Cranberries and Balsamic Reduction make a simple and elegant side dish that both kids and adults love!
Pumpkin Risotto with Goat Cheese
PUMPKIN RISOTTO WITH GOAT CHEESE & DRIED CRANBERRIES IS A PERFECT FALL COMFORT FOOD – RICH, CREAMY & PERFECT FOR AN ELEGANT WEEKNIGHT MEAL OR A VEGETARIAN THANKSGIVING.
Authentic Italian Sunday Gravy
THIS AUTHENTIC ITALIAN SUNDAY GRAVY IS WHAT I GREW UP EATING EVERY WEEK. NANA'S TOMATO MEAT SAUCE HOLDS A FOND PLACE IN MY HEART, AND HER RECIPE LIVES ON TO THIS DAY IN MY RECIPE BOX.
THIS IS THE PERFECT EASY ROASTED CHICKEN RECIPE. THE SKIN IS PERFECTLY CRISP AND CRACKLY, THERE'S NO BASTING, AND IT RESULTS IN A LOVELY PAN GRAVY AT THE FINISH. EASY ENOUGH FOR A WEEKNIGHT DINNER!
INSTANT POT RED BEANS & RICE IS A TRADITIONAL NEW ORLEANS RECIPE MADE WITH SMOKED SAUSAGE, RED BEANS AND CAJUN SEASONING. PLUS, WITH THE HELP OF YOUR PRESSURE COOKER THERE'S NO SOAKING THE BEANS, MEANING THAT THIS DELICIOUS DINNER CAN BE ON YOUR TABLE IN UNDER AN HOUR!
Southwest Beef & Quinoa Stuffed Peppers
THESE SOUTHWEST BEEF & QUINOA STUFFED PEPPERS MAKE A HEARTY, HEALTHY, PROTEIN PACKED MEAL THAT'S AMAZINGLY DELICIOUS AND QUICK AND EASY TO PREPARE.
THESE SHAKE N BAKE PORK CHOPS ARE A HOMEMADE VERSION OF THE CLASSIC DISH YOU LOVED AS A KID. PORK CHOPS ARE COATED IN A TASTY BREADCRUMB MIXTURE AND BAKED UNTIL GOLDEN BROWN AND DELICIOUS.
Soft Pretzel Bites with Cheese Sauce
THESE SOFT PRETZEL BITES WITH CHEESE SAUCE ARE THE PERFECT SNACK FOR TAILGATING. SOFT, CHEWY AND BITE SIZE WITH A GOLDEN CRUST, THEY'RE PERFECT FOR DUNKING INTO A RICH CHEESE SAUCE WHICH CAN BE CUSTOMIZED IN ONE OF THREE WAYS.
THIS INSTANT POT CHICKEN PHO MAKES THE TRADITIONAL VIETNAMESE CHICKEN NOODLE SOUP EASY TO MAKE AT HOME IN AROUND 30 MINUTES WITH THE HELP OF YOUR PRESSURE COOKER.
HAWAIIAN COLESLAW WITH PINEAPPLE, CABBAGE, CARROTS, SESAME SEEDS AND A GINGER-SOY LIME VINAIGRETTE BRINGS A TROPICAL TASTE TO TRADITIONAL SLAW.
Instant Pot Cheesy Southwestern Lentils & Brown Rice
THIS INSTANT POT RECIPE FOR CHEESY SOUTHWESTERN LENTILS & BROWN RICE IS THE PERFECT QUICK VEGETARIAN WEEKNIGHT DINNER THAT'S PERFECT FOR MEATLESS MONDAY!