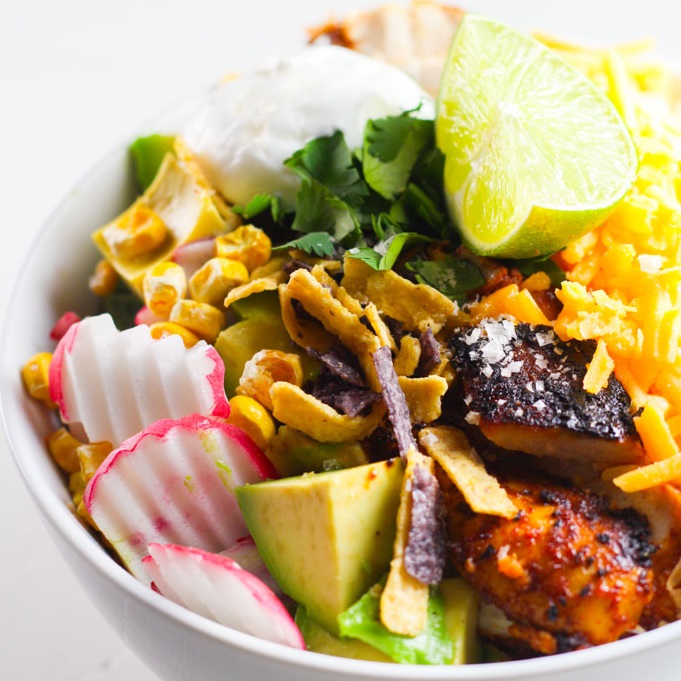 This Chipotle Chicken Salad features five superfoods and is fully loaded with spicy chicken, ditalini pasta, cheese, avocado, lime, cilantro, sour cream, and a zesty chipotle dressing.
Did you know that March is National Nutrition Month?
I need National Nutrition Month in my life. Rick recently mentioned "I feel like we don't eat enough vegetables." I couldn't agree more. I'm always so focused on the main dish, that the veggies are just an afterthought, if they're thought of at all… Even a fancy food blogger like me can't get her act together.
I recently started putting meal plans together for the week, as a way to actually plan a side dish and an entrée into each meal. It's definitely helped, but sometimes it can be a pain to come home after a long day of work and make two dishes. Rick says that he'd be OK just eating those veggies in a bag. You know, the pre-chopped broccoli, cauliflower and carrots, that you can just pop into the microwave for a few minutes? But that's BORING.
So, I thought, why not make the veggies the star of the dish? Or at least have them play a major supporting role?
In a way, I did listen to Rick's suggestion – I am using veggies in a bag. But they're not boring veggies by any means. I'm using Eat Smart Gourmet Vegetable Salad Kits to liven up our meals. These chef-inspired salad kits offer sophisticated blends of five or more superfoods and include everything needed for a delicious salad.
The Eat Smart Southwest Salad Kit contains powerful blend of five superfoods: savoy cabbage, red cabbage, radishes, carrots and kale, together with tortilla strips, crunchy corn, and a chipotle dressing. This salad is totally amazing on its own. But today, I'm dressing up this salad to the max – Making it fully loaded.
What makes it fully loaded?
Take one chipotle chicken breast
Add a handful of ditalini pasta
Extra cheese please
Throw on a dollop of fat-free Greek yogurt
Plenty of cubed avocado
Fresh chopped cilantro
A squeeze of lime juice to brighten things up
A sprinkling of coarse Himalayan sea salt as the finishing touch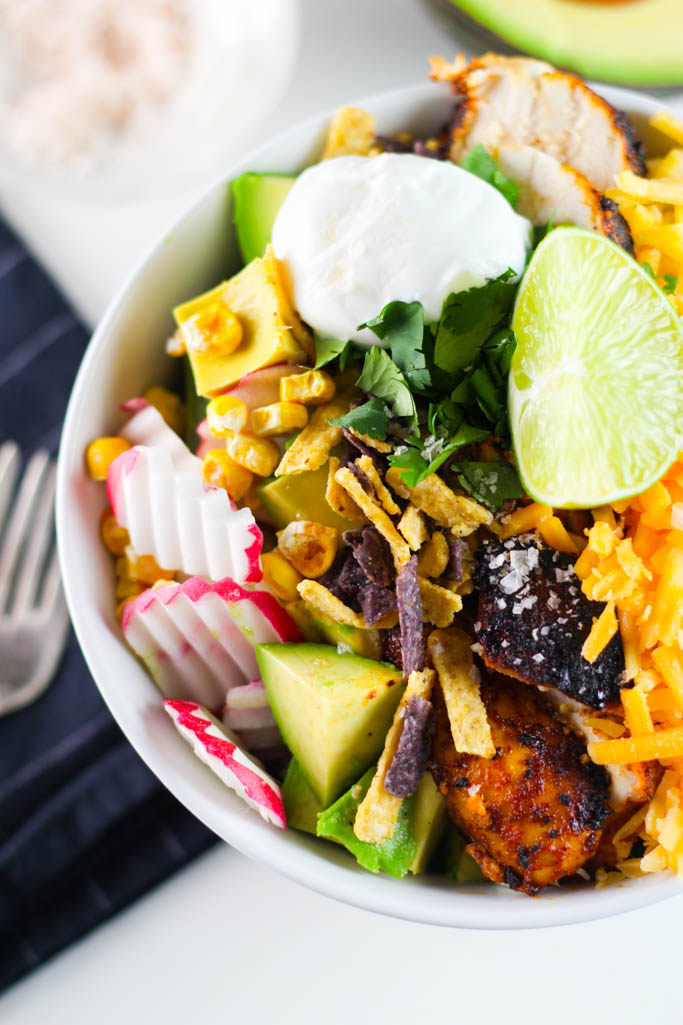 With all these ingredients added in, we ended up with two HUGE salads. Which brings to mind Elaine from Seinfeld, and her Big Salad obsession… I'm a bit obsessed too, now that I've put this extra fancy salad together. So much so, that I grabbed the other six varieties of the Eat Smart Gourmet Vegetable Salad Kits.
More vegetables in our diet? We're going to be eating salad every night this week!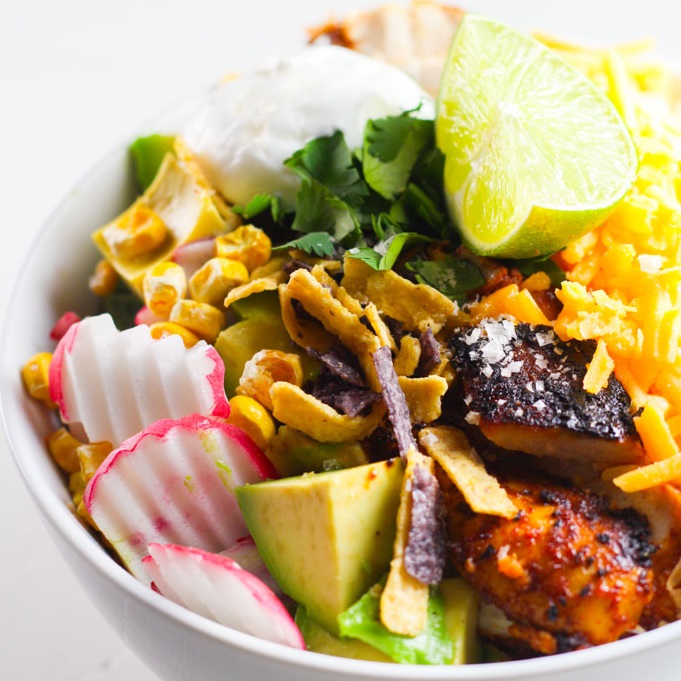 Fully Loaded Chipotle Chicken Salad
This Chipotle Chicken Salad features five superfoods and is fully loaded with spicy chicken, ditalini pasta, cheese, avocado, lime, cilantro, sour cream, and a zesty chipotle dressing.
Print
Pin
Ingredients
For the chicken:
2

chicken breasts

(boneless & skinless)

2

T

. olive oil

2

T

. lime juice

1

t

. chipotle chili powder

1

t

. chili powder

1/2

t

. cumin

1/2

t

. paprika

1/2

t

. onion powder

1/2

t

. garlic powder
Instructions
In a shallow dish, combine the olive oil, lime juice, chipotle powder, chili powder, cumin, paprika, onion powder, garlic powder, and a large pinch of salt and pepper.

Coat the chicken breasts in this mixture and allow to marinate for at least 30 minutes, or overnight.

Preheat the oven to 400 degrees, and bring a large pot of salted water to a boil.

Once the water is boiling, cook the ditalini according to the package instructions. Drain and rinse with cold water, toss with a bit of olive oil, and set aside.

Heat an ovenproof skillet over medium-high heat.

Sear the chicken breasts for 3-4 minutes, on each side. Place in oven and bake for 8-10 minutes, until the chicken is cooked through.

Transfer to a cutting board, and let rest for 5 minutes, before slicing.
Salad Assembly:
Divide the salad mixture between two large plates or bowls. Top with the chicken, pasta, avocado, cheese, cilantro, and Greek yogurt. If desired, sprinkle with coarse sea salt.

Serve with the Chipotle dressing (included with salad kit), and lime wedges.
Wine Pairings for Chipotle Chicken Salad:
The acidity of a dry Rosé will pair nicely with the spices in the chicken.
A Riesling is also a great option for pairing with this dish.
I was selected for this opportunity as a member of Clever Girls and the content and opinions expressed here are all my own.