This Easy Homemade Naan Recipe means that you can enjoy naan at home anytime with all your favorite dishes.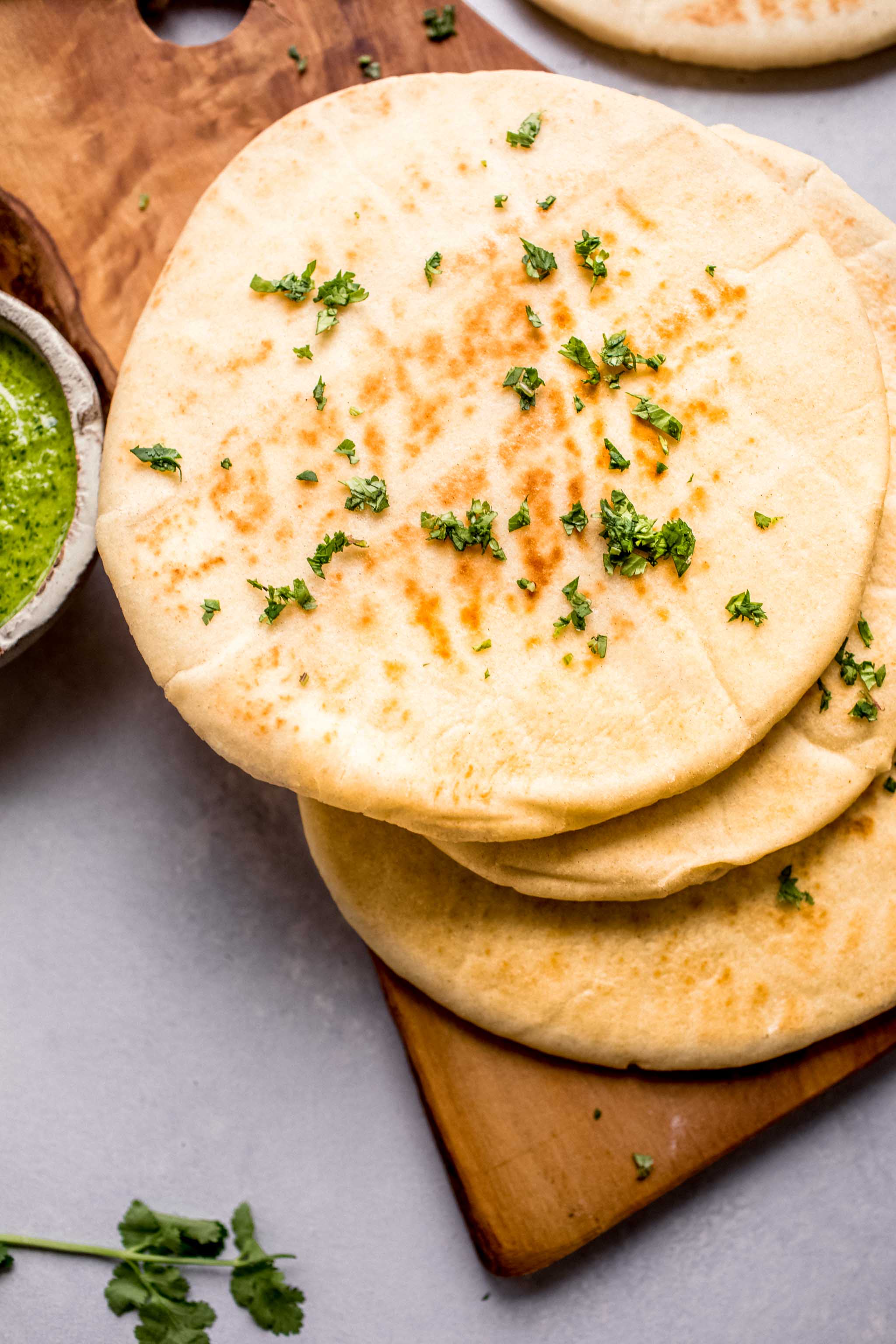 We've got LOTS of great Indian joints around my work – Most being food carts. I work in downtown Portland amidst the food cart utopia! There's an Indian cart one block from my work that serves a seven course lunch feast for $6.95, plus it comes with a HUGE piece of naan – I mean like naan the size of a medium pizza – It's folded over, and wrapped in foil, and warm and yummy and I never have room for eating more than a couple of nibbles after that aforementioned FEAST… I usually stash it away until the three o'clock hungries roll around and then I do a pretty good job of finishing it off 😉
I haven't been making it out to the food carts very often lately – It's a bit more difficult when it's chilly and rainy outside. But my friends, the first day of Spring is officially here THIS WEEKEND! Yay, yay and MORE yay!!! The flowers are already popping up here in the Pacific NW and I'm so loving these longer days. Did I mention… YAY?! There's only one thing better than Spring in my book – And that's summer!
This dough is made with just four simple ingredients that you'll likely have on hand – Flour, yogurt, baking powder and salt. No kneading required – Just mix it together, and let it rest for an hour or so. Then, grab a tennis ball sized hunk, flatten it into a disc, roll it out and then plop it into your hot skillet. Let it get nice and crispy and browned on the bottom and then slide a spatula under it. Pop it under your broiler, directly on the top rack of your oven and watch it bubble up like a balloon. Once browned, you're good to go! Dab it with a little butter if you like, and serve it with this amazing cilantro-mint chutney, or simply serve alongside this slow-cooker butter chicken, to mop up all of that yummy sauce that you simply CANNOT let go to waste!
What to Serve with Naan Bread:
Wine Pairings for Indian Food:
Mildly sweet and highly acidic – Gewurztraminer and Riesling both compliment the spices and richness in Indian foods.
If you loved this Naan recipe I would appreciate it so much if you would give this recipe a star review! Also, be sure to snap a picture of your finished dish and share it with me on Instagram using the hashtag #platingsandpairings and tagging me @platingsandpairings.
Homemade Naan Bread Recipe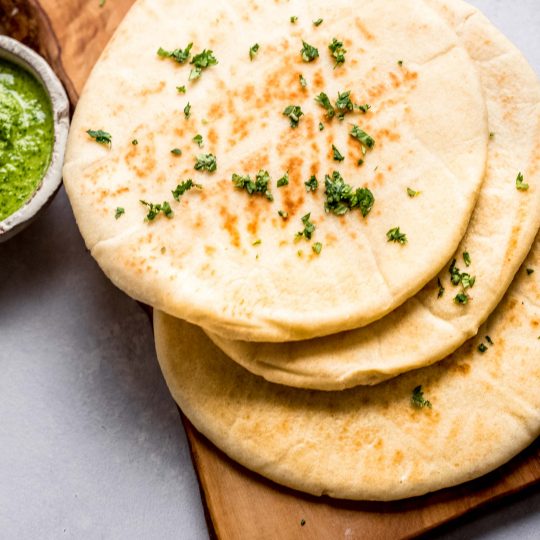 Homemade Naan with Mint Cilantro Chutney
Naan – The big round piece of thin bread that greets you at your favorite Indian restaurant isn't just for eating out anymore. I've discovered that it's really easy to make at home – And a bit fun too!
Print
Pin
Ingredients
Naan Recipe
4

cups

flour

2

cups

plain yogurt

1

teaspoon

baking powder

1

teaspoon

salt

3

tablespoons

butter

(melted)
Cilantro Mint Chutney
1

cup

cilantro leaves

1/2

cup

mint leaves

1

jalapeno

(chopped)

1

teaspoon

cumin

1/2

teaspoon

salt

2

teaspoons

lemon juice

water

(as required)
Instructions
Naan
Stir together flour, baking powder and salt. Add the yogurt and stir until the dough comes together well, adding more flour if necessary.

Knead the dough for 5 minutes.

Place the dough in an oiled bowl, covered with a towel, and allow to rest for an hour or longer. (This can rest overnight)

Take out the dough and cut it into 10 equal pieces. Roll each piece into a ball and then flatten into a disc. Roll each disc out with a rolling pin until 1/4 inch thick and about 8 inches in diameter.

Heat a large nonstick frying pan or griddle over medium heat. Also preheat your oven broiler to high.

One at a time, take each piece and cook over medium heat for 4-5 minutes, until the bottom is browned and it is starting to puff up. Slide a spatula under the naan and transfer it to the top rack of the oven. Allow the top to continue cooking for a minute or two, until nicely browned and puffy.

Remove from the oven and brush with melted butter if desired.
Cilantro Mint Chutney
Place all ingredients (except water) into blender and process until everything is crushed and combined.

Add water, 1 teaspoon at a time, to form a smooth paste.

Adjust seasonings as desired with additional salt, lemon juice, or spices.

Serve alongside the naan.
Nutrition
Calories:
245
kcal
|
Carbohydrates:
41
g
|
Protein:
7
g
|
Fat:
5
g
|
Saturated Fat:
3
g
|
Cholesterol:
15
mg
|
Sodium:
404
mg
|
Potassium:
194
mg
|
Fiber:
1
g
|
Sugar:
2
g
|
Vitamin A:
370
IU
|
Vitamin C:
3.5
mg
|
Calcium:
94
mg
|
Iron:
2.6
mg