You won't be able to get enough of this Eggplant Dip (Baba Ganoush)! Made with roasted eggplant, tahini, garlic, lemon, and spices, the smoky and creamy flavors are exceptionally delicious with fresh pita bread and vegetables.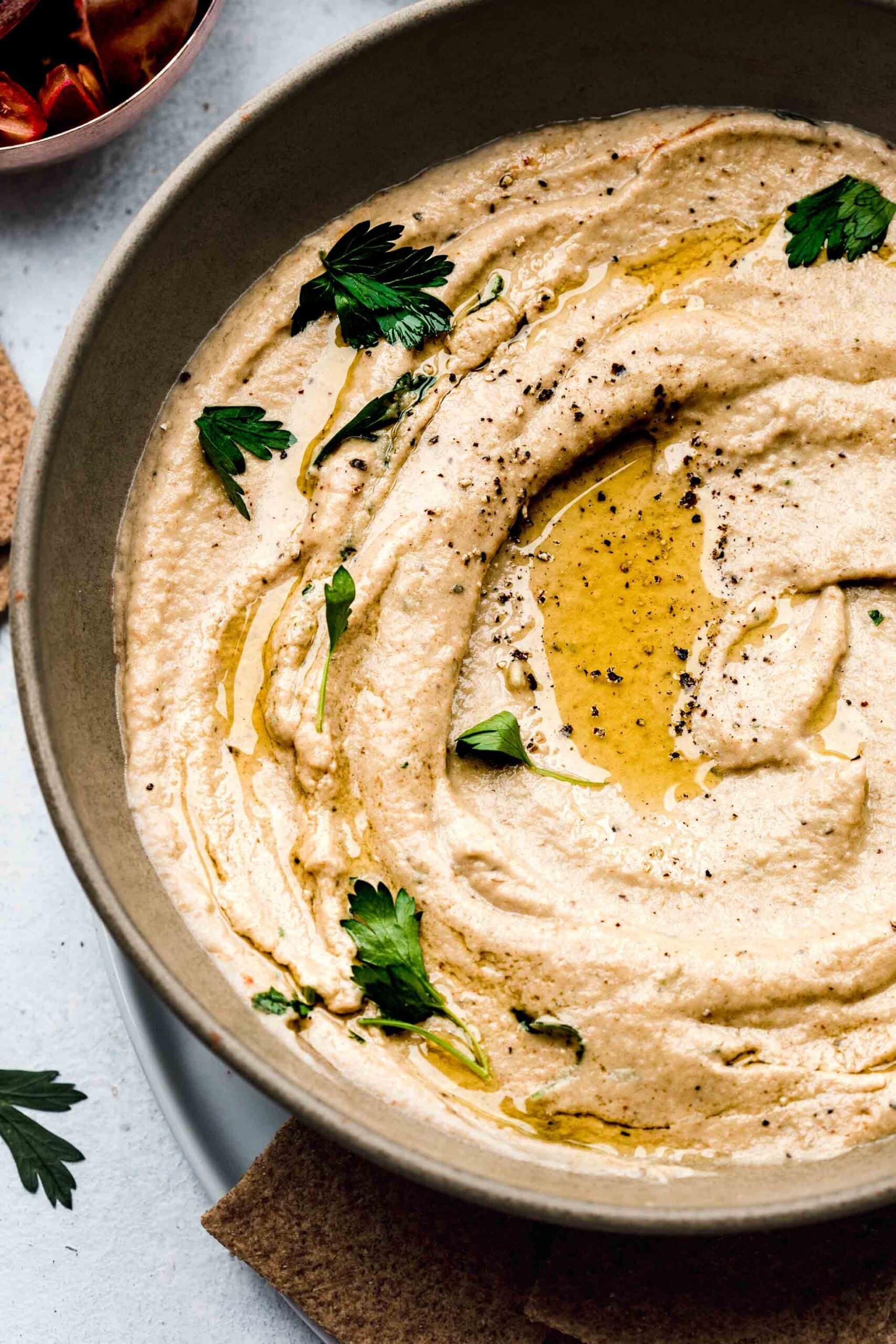 I can't think of a better way to start off a Mediterranean feast than to dip some freshly baked pita bread and crisp vegetables into a big bowl of this Eggplant Dip (Baba Ganoush). So smoky, creamy, and rich!
Just like tzatziki and hummus, baba ganoush is a deliciously smooth and creamy Mediterranean dip. It also happens to be naturally dairy free, gluten free, and nut free! How can it get any better than that?
I'll tell you how! If you're hosting a summer barbecue, go ahead and throw the eggplant on the grill instead of roasting it in the oven. The smoky and charred eggplant will give your blended baba ganoush added layers of flavor to impress all of your guests.
What is baba ganoush?
Baba ganoush is an Eastern Mediterranean dip that's surprisingly similar to hummus. It's a blended dip made from tahini oil, lemon juice, spices, and garlic. The one major difference? The base is made from roasted eggplant instead of chickpeas.
Baba ganoush has a nutty, earthy, creamy, and savory flavor. It's a popular dip to serve with vegetables and pita bread, but also works as a spread for vegetable wraps or sandwiches. If you love hummus, you're sure to love baba ganoush!
What do you need to make baba ganoush?
Eggplant – The star of the show! Luscious roasted eggplant becomes even more delicious when it's blended together with more savory and bright ingredients. Try to use Italian eggplant because this variety has fewer seeds and tender flesh.
Garlic – Go ahead and roast this along with the eggplant if you want.
Tahini – Just like hummus, we need tahini (made from sesame seeds) to give baba ganoush its classic nutty flavor.
Lemon juice – This is necessary for brightness and balance.
Extra virgin olive oil – Blending oil into eggplant dip helps emulsify everything together.
Herbs and spices – Cumin, smoked paprika, salt, and parsley go a long way in eggplant dip.
How to make baba ganoush with roasted eggplant:
Cut the eggplants in half and place them cut side down on a baking sheet. Roast until they've collapsed and are very tender and caramelized.
Scoop the eggplant flesh into a colander set over a bowl. Leave it to drain for 10 minutes (removing the excess liquid will give you the smoothest and creamiest baba ganoush possible) then discard the liquid.
Add the drained eggplant flesh, garlic, tahini, lemon juice, cumin, and paprika to a food processor and blend. Slowly add in the oil while continuing to blend. Add the parsley and give it one or two final pulses.
Transfer the baba ganoush to a serving bowl and garnish with paprika and parsley. Serve with pita bread and veggies and enjoy!
Grilled eggplant dip
Making baba ganoush from grilled eggplant gives it a delicious smoky flavor. To grill the eggplant instead of roasting, place your whole eggplants onto a medium-high heat grill until the skin is charred and flesh is softened.
Note: If you can't tell if the grilled eggplant is ready, stick them with a sharp knife to check. It should easily slide in and out with little resistance.
Can you make it ahead of time?
The flavor of a freshly made, warm roasted eggplant dip is exceptional but if you prefer it chilled, go ahead and make it 3 or 4 days in advance. Just keep it in a sealed container in the fridge until you're ready to serve.
How long does eggplant dip last?
The leftover dip can be stored in an airtight container in the fridge for up to 4 days.
What to eat with baba ganoush?
Make this homemade baba ganoush recipe a part of your Mediterranean spread! It would fit in perfectly next to this Israeli Couscous Tabbouleh Salad, Stuffed Zucchini Boats, Rack of Lamb, and Greek Nachos.
It's also plain delicious served as a dip with:
Pita bread
Sliced cucumbers, bell peppers, and carrots
Crackers
Cherry tomatoes
Wine pairings for baba ganoush:
The bright citrus notes of a Pinot Gris pair perfectly the smoky and slightly tangy dip.
Rosé is a classic choice to pair with rich roasted vegetables.
Want to just have some fun? Cava is always welcome next to creamy baba ganoush!
If you loved this roasted eggplant baba ganoush recipe I would appreciate it so much if you would give this recipe a star review! Also, be sure to snap a picture of your finished dish and share it with me on Instagram using the hashtag #platingsandpairings and tagging me @platingsandpairings.

For more great Platings and Pairings recipes, be sure to follow me on Pinterest, Facebook, YouTube and Twitter.
More appetizer dip recipes: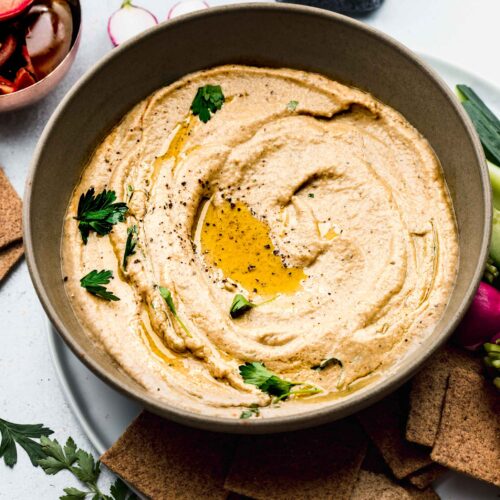 Baba Ganoush
This Baba Ganoush recipe with grilled eggplant is amazingly smooth and creamy with a delicious smoky flavor. Serve it alongside some fresh pita bread and vegetables for a delicious Mediterranean spread.

Print
Pin
Ingredients
2

pounds

eggplant

(about 4 medium or 2 large eggplants)

3

cloves

garlic

(minced)

3

Tablespoons

tahini

2

Tablespoons

lemon juice

1

teaspoon

salt

(to taste)

1/2

teaspoon

ground cumin

¼

teaspoon

smoked paprika

(plus extra for garnish)

⅓

cup

extra-virgin olive oil

2

Tablespoons

chopped fresh parsley

(plus extra for garnish)
Instructions
Preheat oven to 450-degrees. Halve eggplants place on a baking sheet. Bake cut side down, for 35-40 minutes, until flesh is softened.

Allow to rest, until cool enough to handle.

Halve eggplant, scoop flesh into a colander set over a bowl, and let drain at least 10 minutes; discard liquid.

Pulse eggplant along with garlic, tahini and lemon juice, tahini, garlic, cumin and paprika in a food processor or blender; slowly incorporate olive oil and pulse to combine. Add parsley and give a final pulse or two. Season with salt and pepper, to taste.

Sprinkle baba ganoush with additional paprika and parsley and serve with pita bread and chopped vegetables.
To prepare on the grill:
Prepare grill for medium-high heat. Grill whole eggplant, turning occasionally, until skin is charred and flesh is softened, 25-45 minutes depending on the size of your eggplants.

Place the grilled eggplant in a large stockpot or large bowl and cover, allow to cool for about 10 minutes. This helps continue to steam the eggplants as they cool.
Nutrition
Calories:
192
kcal
|
Carbohydrates:
11
g
|
Protein:
2
g
|
Fat:
16
g
|
Saturated Fat:
2
g
|
Sodium:
394
mg
|
Potassium:
394
mg
|
Fiber:
4
g
|
Sugar:
5
g
|
Vitamin A:
190
IU
|
Vitamin C:
7.8
mg
|
Calcium:
29
mg
|
Iron:
0.9
mg
This post was originally published in 2018. It was updated in 2022 to add new photographs.