This Authentic Italian Sunday Gravy is what I grew up eating every week. Nana's tomato meat sauce holds a fond place in my heart, and her recipe lives on to this day in my recipe box. It's my most requested recipe and today I'm sharing it with you.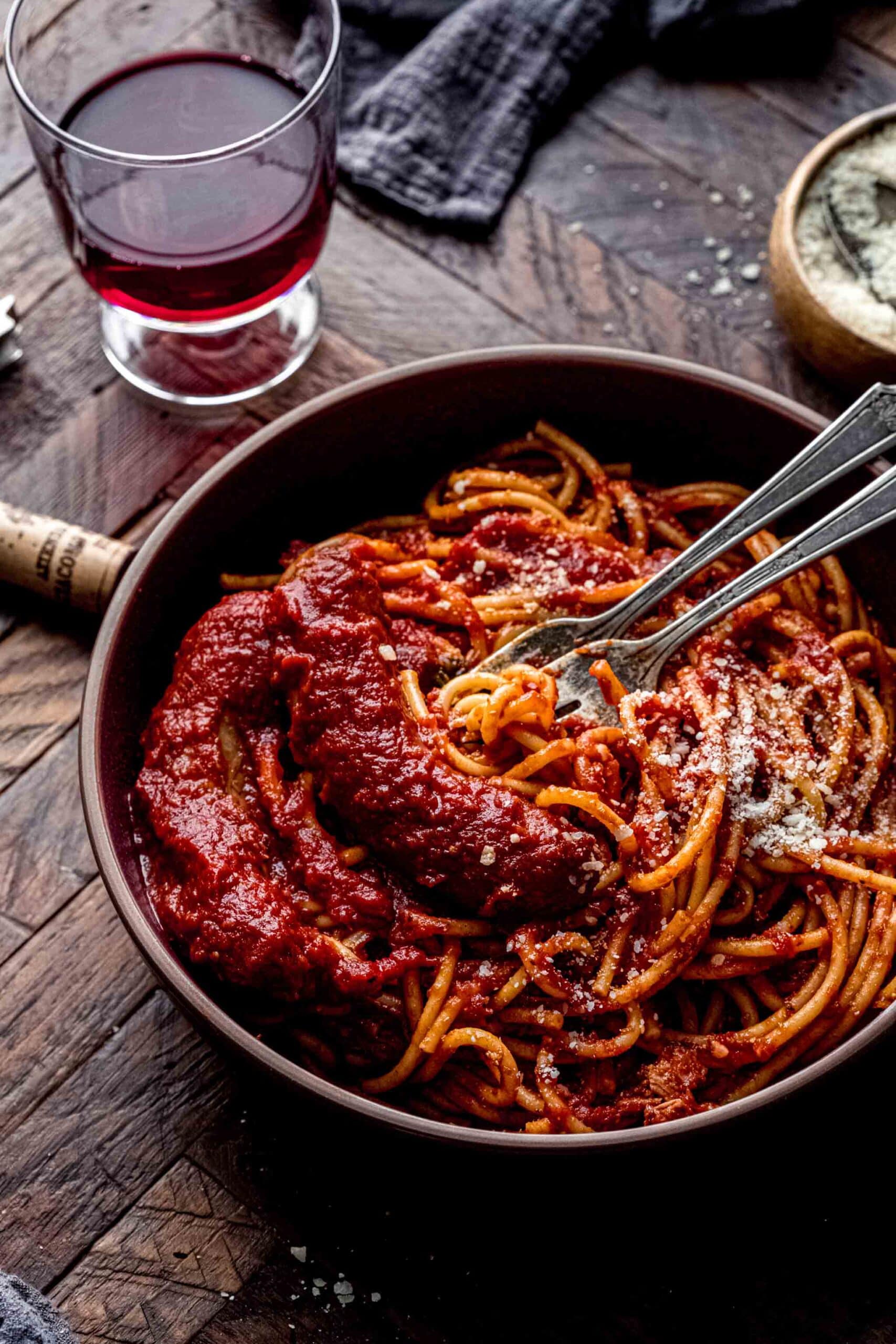 I grew up in a big, fun Italian family, near Buffalo, NY. We even all lived on the same neighborhood block – My mom's parents lived next door, then my aunt & uncle, then my mom's aunt & uncle, and on and on around the entire block, seven houses in total if I count correctly…
Two things I remember most, always having cousins next door, and always having food being transferred between houses. Leftovers here and there and that food always included such yummy Italian food made from passed down Sicilian recipes – Pasta Succo (pasta with sauce), Cannoli, Carduni, Chicken Soup… The list goes on and on.
Basically – I grew up in food heaven.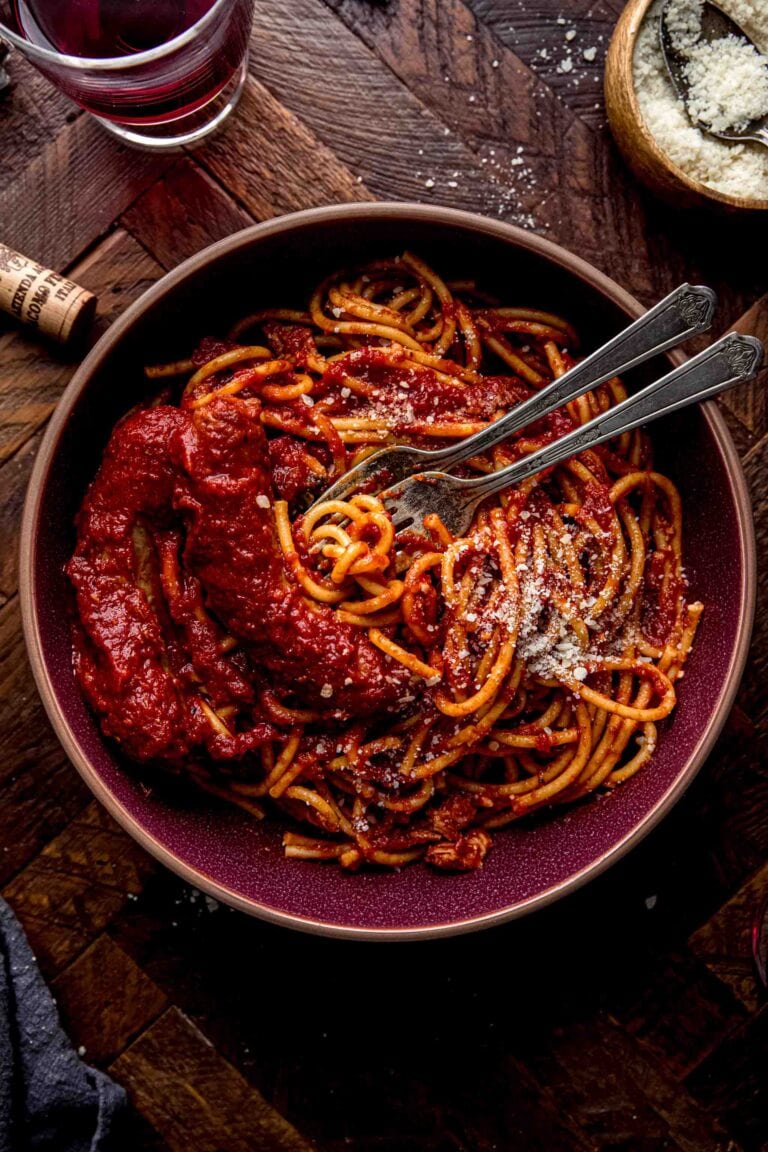 The main cooks in my family were my Nana and Nanu LaMancuso (grandma and grandpa). Nana always made the Pasta Succo and the Cannolis were my Nanu's specialty. I actually never got a true lesson on cooking these dishes and my passion for cooking didn't really come until after I graduated college. Once in a while, my mom would ship me some of nana's sauce – All the way from New York to Oregon…
My grandparents have both passed on now, and I've developed this sauce recipe over the years from my childhood memories and with tips passed on from other family members. I've got to say that I think it would make Nana proud. It's got an authentic Italian meaty flavor coming from three different types of meat – Italian sausage, pork and beef.
These meats simmer in the sauce and really give it a great flavor. By the end of the cooking time, they're falling off the bone and super tender – Meaning that you can serve the meats for dinner that night and save the "succo" (or sauce) for a pasta dinner the next, or serve the meats as a second course alongside your pasta.
Either way – You've got an amazing Italian feast on your hands and as Nana would say "Mangia! Mangia!" (Eat! Eat!).
I consider this to be the best Sunday Gravy recipe, and it's easy to master with some simple steps.
Tips for Making Sunday Gravy:
Use whatever meat you have on hand. Often, our grocery store has a section in the meat department of mark downs. Stuff that's still good, but needs to be used soon. I'll throw in a combination of whatever I can find, steaks, beef or pork ribs, stew pieces. No matter the combination, it ends up delicious in the end!
You can also make slow cooker Sunday Gravy- Prepare up to Step 11 on your stove, and then throw everything into your slow cooker. Cook on low heat for up to 8 hours.
I've also updated this recipe so that you can now make it in even quicker with this Instant Pot Sunday Gravy.
Wine Pairings for Sunday Gravy:
Since we're eating authentic Italian Meat sauce, I'm going for an authentic Italian wine – Try a Chianti, Barolo or Teroldego.
If you loved this recipe for Sunday Sauce I would appreciate it so much if you would give this recipe a star review! Also, be sure to snap a picture of your finished dish and share it with me on Instagram using the hashtag #platingsandpairings and tagging me @platingsandpairings.
More Italian recipes: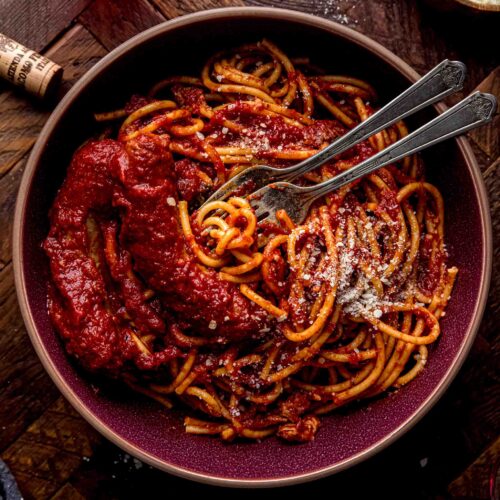 Authentic Italian Sunday Gravy (Nana's Meat Sauce)
This Authentic Italian Sunday Gravy is what I grew up eating every week. Nana's tomato meat sauce holds a fond place in my heart, and her recipe lives on to this day in my recipe box. It's my most requested recipe and today I'm sharing it with you.
Print
Pin
Ingredients
2

Tablespoons

olive oil

1

lb.

pork spareribs

1

lb.

beef stew meat

1

lb.

Italian sausage

( spicy or mild, based on personal preference)

6

cloves

garlic

(peeled and left whole)

¼

cup

tomato paste

3

28-oz. cans

crushed tomatoes

1

cup

water

8

leaves

fresh basil

(torn into small pieces)

Salt and Pepper

(to taste )

1

Tablespoon

sugar

(more or less based on the flavor of your tomatoes)

Parmesan

(shaved, for topping)

Pasta
Instructions
Heat the oil in a large heavy pot over medium heat.

Pat the pork dry and put the pieces in the pot.

Cook turning occasionally, for about 15 minutes or until nicely browned on all sides.

Transfer pork to a plate.

Brown the beef in the same way and add it to the plate.

Place the sausages in the pot and brown on all sides.

Set the sausages aside with the pork and beef.

Drain off most of the fat from the pot.

Add the garlic and cook for about 2 minutes or until golden.

Remove and discard the garlic.

Stir in the tomato paste and cook for 1 minute.

Add the tomatoes to the pot.

Add the water; season with a pinch salt and pepper.

Return the pork, beef, and sausages to the pot and bring sauce to a simmer.

Partially cover the pot and cook over low heat, stirring occasionally, for at least 2 hours.

If the sauce becomes too thick, add a little more water.

At the end, add sugar, to taste, and adjust your seasonings one more time with salt and pepper. Add basil leaves and serve over your favorite pasta, topped with shaved Parmesan.
Nutrition
Calories:
348
kcal
|
Carbohydrates:
4
g
|
Protein:
24
g
|
Fat:
25
g
|
Saturated Fat:
8
g
|
Cholesterol:
87
mg
|
Sodium:
502
mg
|
Potassium:
361
mg
|
Sugar:
2
g
|
Vitamin A:
150
IU
|
Vitamin C:
3.6
mg
|
Calcium:
21
mg
|
Iron:
2.3
mg
Be sure to check out my tips on how to clean a dutch oven after using it.
This post was originally published in 2017. It was updated in 2022 to add new photographs. The original Sunday Sauce recipe remains the same. Enjoy!