This homemade Italian seasoning substitute is made with dried herbs (that you probably have on hand) and can be used for a variety of dishes.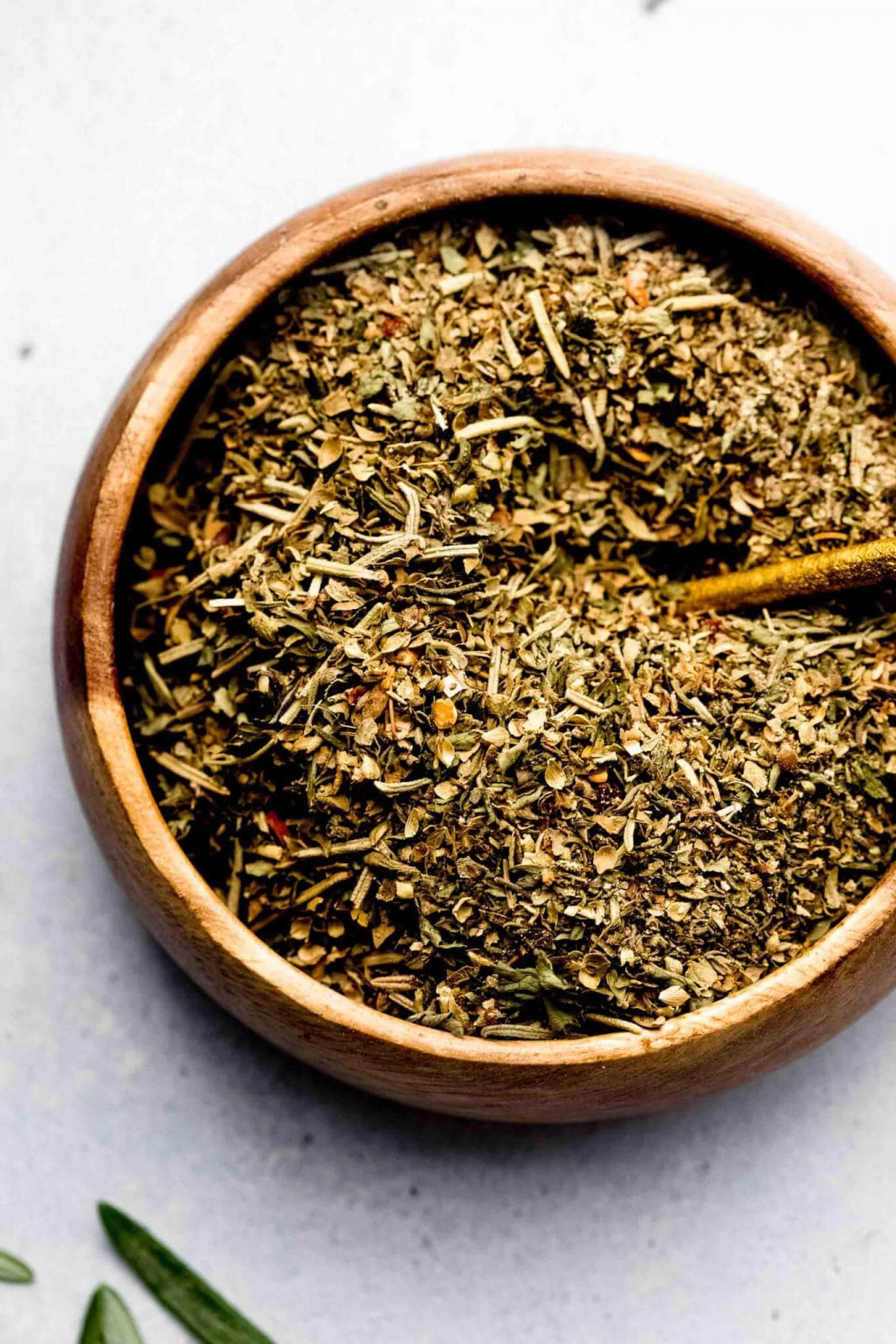 Wondering what to use when you don't have any Italian seasoning on hand?
I've got you covered with this simple Italian seasoning substitute recipe. But, I've also got tips on other seasonings that you can use too!
Believe it or not, Italian seasoning is not only simple to make but is also cheaper than store bought. This recipe only takes seven ingredients and more than likely already have in your pantry.
It's the best Italian Seasoning substitute when you don't have any on hand.
Similar to my Homemade Taco Seasoning and Cajun Seasoning, Italian herb seasoning is incredibly versatile, too.
Ingredients needed
The ingredients are simple! And you probably have them on hand in your spice cabinet:
Oregano
Basil
Parsley
Thyme
Rosemary
Sage
Garlic Powder
Red pepper flakes (optional, adds spice!)
How should the ingredients be added together?
Whisk ingredients together in a small bowl until combined.
How to store it
Use the Italian seasoning mix immediately or store it in a sealed airtight container or jar for up to one year.
Italian Seasoning uses
Other Italian seasoning substitutes
Basil + Oregano
The ratio of basil to oregano can vary based on personal preference. A common starting point is to use equal parts of both dried herbs. However, feel free to adjust the ratio to suit your taste. If you enjoy the slightly sweeter and milder flavor of basil, you can increase the amount of basil compared to oregano.
Herbs de Provence
While Herbes de Provence is not part of traditional Italian seasoning, its aromatic and herbaceous flavors can still complement Italian dishes. It's generally made with a combination of thyme, rosemary, marjoram, oregano and basil.
Fresh Herbs
Fresh herbs also make a great substitute for Italian seasoning. A combination of fresh basil, flat leaf parsley, oregano, thyme, sage and/or rosemary all work well. However, fresh herbs are not as potent as dried herbs, so I tend to use a ratio of 3:1 fresh to dried herbs. So, if a recipe calls for 1 Tablespoon dried herbs, you would use 3 Tablespoons of fresh herbs.
Za'atar Seasoning
Za'atar is a Middle Eastern herb blend that typically includes a combination of dried thyme, oregano, marjoram, sesame seeds, and sumac. While za'atar is not a traditional substitute for Italian seasoning, its herbaceous qualities can work well in Italian recipes.
FAQ
What seasoning is similar to Italian seasoning?
To simply replicate the flavors of Italian seasoning, you can create your own blend using equal amounts of dried basil and dried oregano. You can also add in thyme, rosemary, marjoram and/or sage if you have those on hand.
What is the difference between Italian seasoning and all purpose seasoning?
While Italian seasoning is specifically tailored to Italian cuisine, all-purpose seasoning is designed to be more versatile and suitable for a broader range of dishes. Italian seasoning focuses on the distinctive flavors of Italian herbs, while all-purpose seasoning aims to provide a well-rounded seasoning blend that can complement various flavors and cuisines. All purpose seasoning usually includes the addition of salt, garlic powder and onion powder.
Is Italian blend the same as Italian seasoning?
Both "Italian blend" and "Italian seasoning" typically consist of a mixture of herbs like basil, oregano, thyme, rosemary, marjoram, and sometimes sage. These herbs are combined to create a seasoning blend that adds flavor to Italian dishes such as pasta sauces, pizza, and marinades. They can generally be used interchangeably.
Did you try this Italian seasoning recipe?
If you made your own Italian seasoning substitute, I would appreciate it so much if you would give this recipe a star review! Also, be sure to snap a picture of your finished dish and share it with me on Instagram using the hashtag #platingsandpairings and tagging me @platingsandpairings.
For more great Platings and Pairings recipes, be sure to follow me on Instagram, TikTok, Pinterest and Facebook.
Italian Seasoning Substitute
Homemade Italian seasoning is made with dried herbs and can be used for a variety of dishes – from chicken to pasta.
Print
Pin
Instructions
Whisk ingredients together in a bowl until combined. Use immediately or store in a sealed container for up to 1 year.
Nutrition
Calories:
70
kcal
|
Carbohydrates:
14
g
|
Protein:
4
g
|
Fat:
2
g
|
Saturated Fat:
1
g
|
Polyunsaturated Fat:
1
g
|
Monounsaturated Fat:
1
g
|
Sodium:
63
mg
|
Potassium:
464
mg
|
Fiber:
8
g
|
Sugar:
1
g
|
Vitamin A:
1013
IU
|
Vitamin C:
10
mg
|
Calcium:
362
mg
|
Iron:
15
mg
Check out the web story.
This post was originally published in 2021. It was updated in 2023 to add new content. The Italian seasoning recipe remains the same. Enjoy!