This Creamy Italian Quinoa Soup is not only amazingly delicious, but it's also packed with protein, fiber and essential vitamins and antioxidants.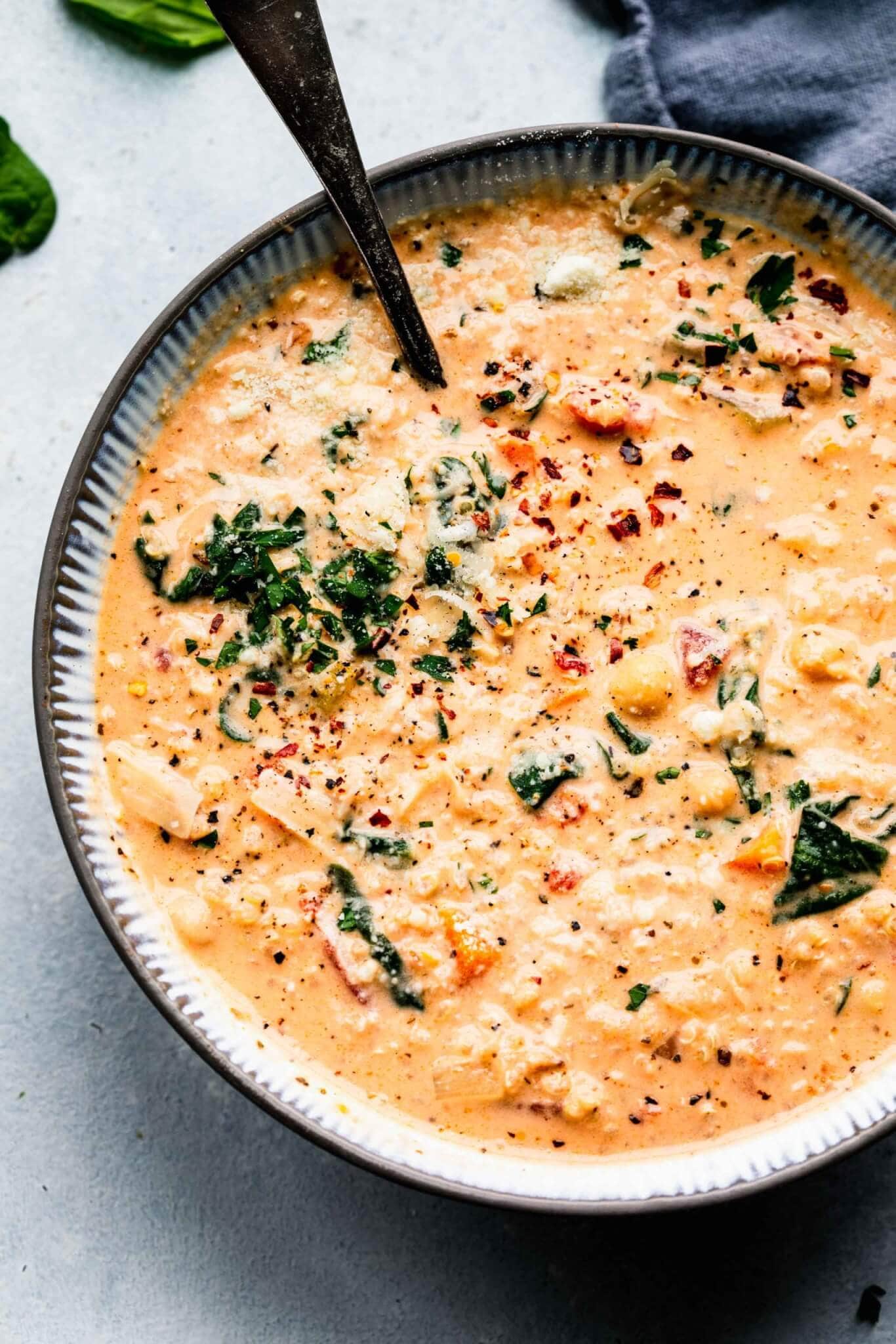 Soup season is here again… and I'm in testing mode. Doing my thing to bring you the most yummy and amazing soups that will be perfect for the chilly months ahead.
And I'm starting soup season off with a bang!
Introducing – Creamy Italian Quinoa Soup.
I served Rick up a bowl of this for dinner yesterday and he said it's one of the best soups that I've ever made… That's saying a lot for a guy whose long-standing favorite soup of all time is this Potato Leek Soup.
I have to agree with him though. I'm pretty obsessed with this quinoa soup too.
This soup is made with lots of pantry staples, carrots, onions, celery, Italian seasoning, and a splash of cream.
Not only is it deliciously creamy and flavorful, but it's a powerhouse of nutrients too. That's because of the quinoa that makes up the base of this soup.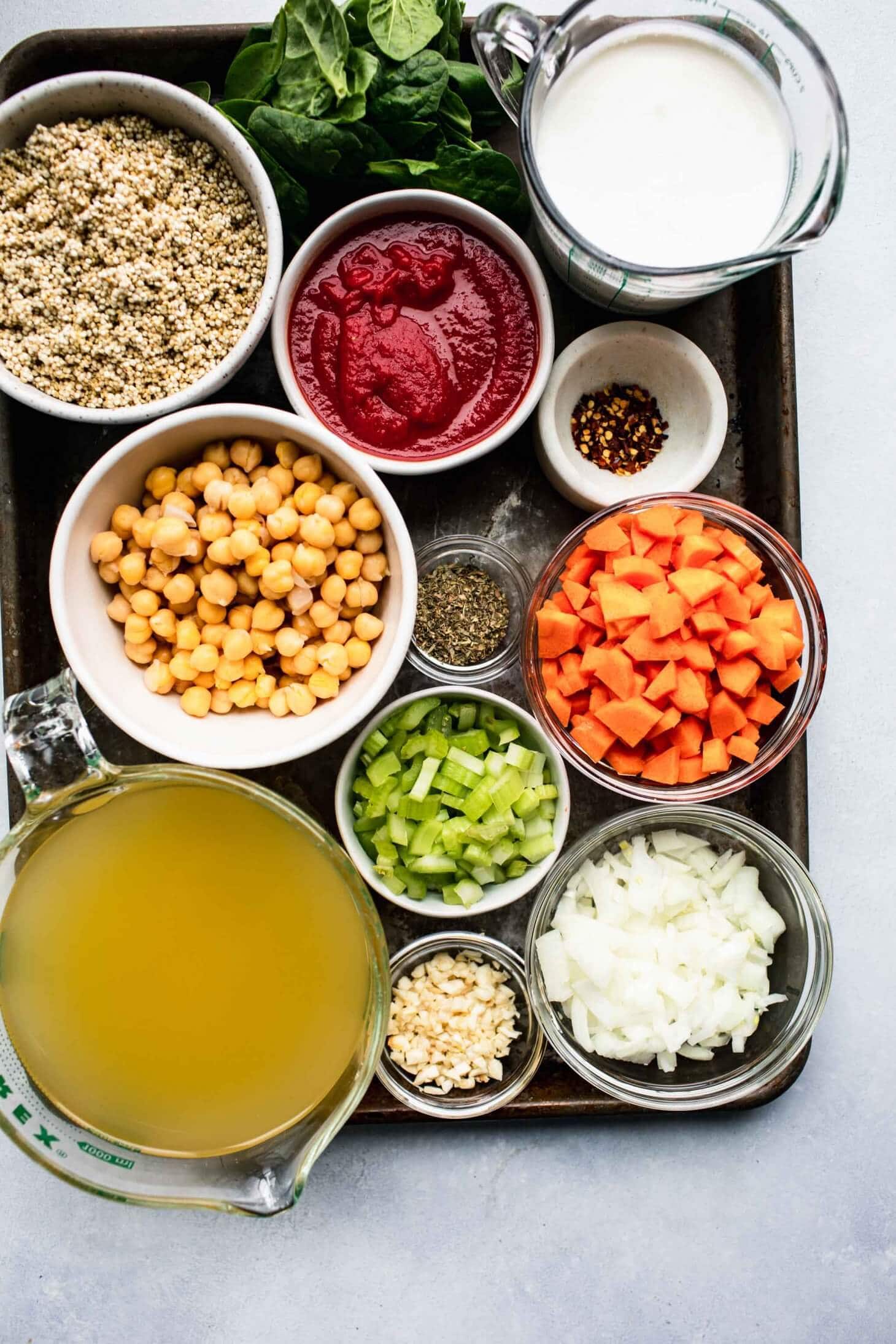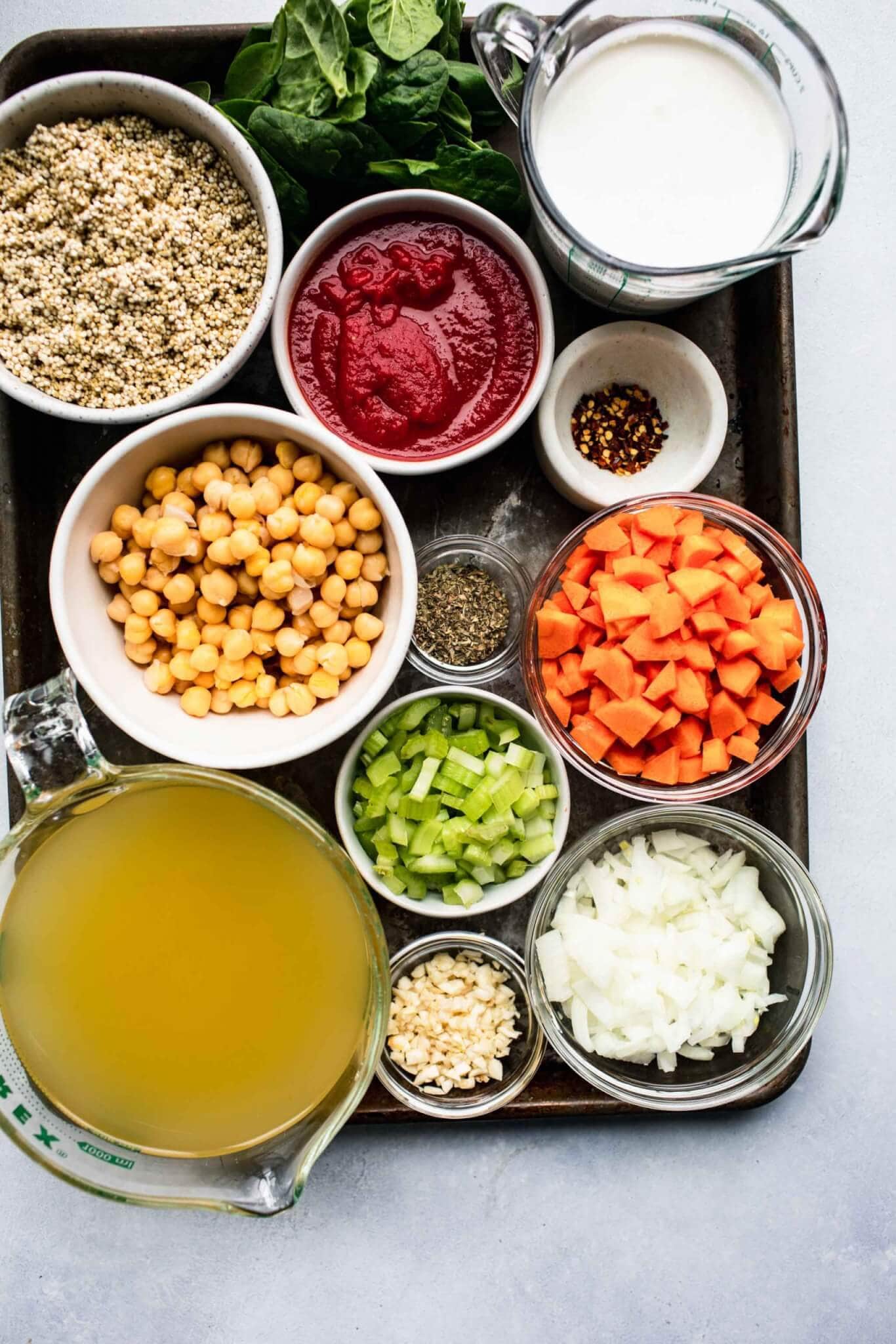 Is quinoa healthy?
You bet it is! Quinoa is amazing for so many reasons. Here's a list of some of the health benefits of quinoa:
Very high in antioxidants

High in beneficial minerals like iron and magnesium

Low glycemic index, which is good for controlling blood sugar

Very high in protein and amino acids

Gluten free

Super high in fiber

Loaded with vitamins
I've always got some quinoa on hand in the cupboard. Often I'll swap it into recipes where rice is called for, like in these Southwestern Stuffed Peppers or these Taco Lettuce Wraps. Or, I'll just whip up a big batch of quinoa in the Instant Pot to have on hand as a side dish or to stir into these Quinoa Breakfast Cookies.
The quinoa works so well in this soup. Not only does it give it a great texture, but it also makes it much more filling. I've been having a cup of this quinoa soup for lunch lately and I've noticed that it definitely keeps me full and energized until dinnertime.
Is quinoa low carb?
Quinoa is not a low-carb food. But it

is

a great source of protein and fiber.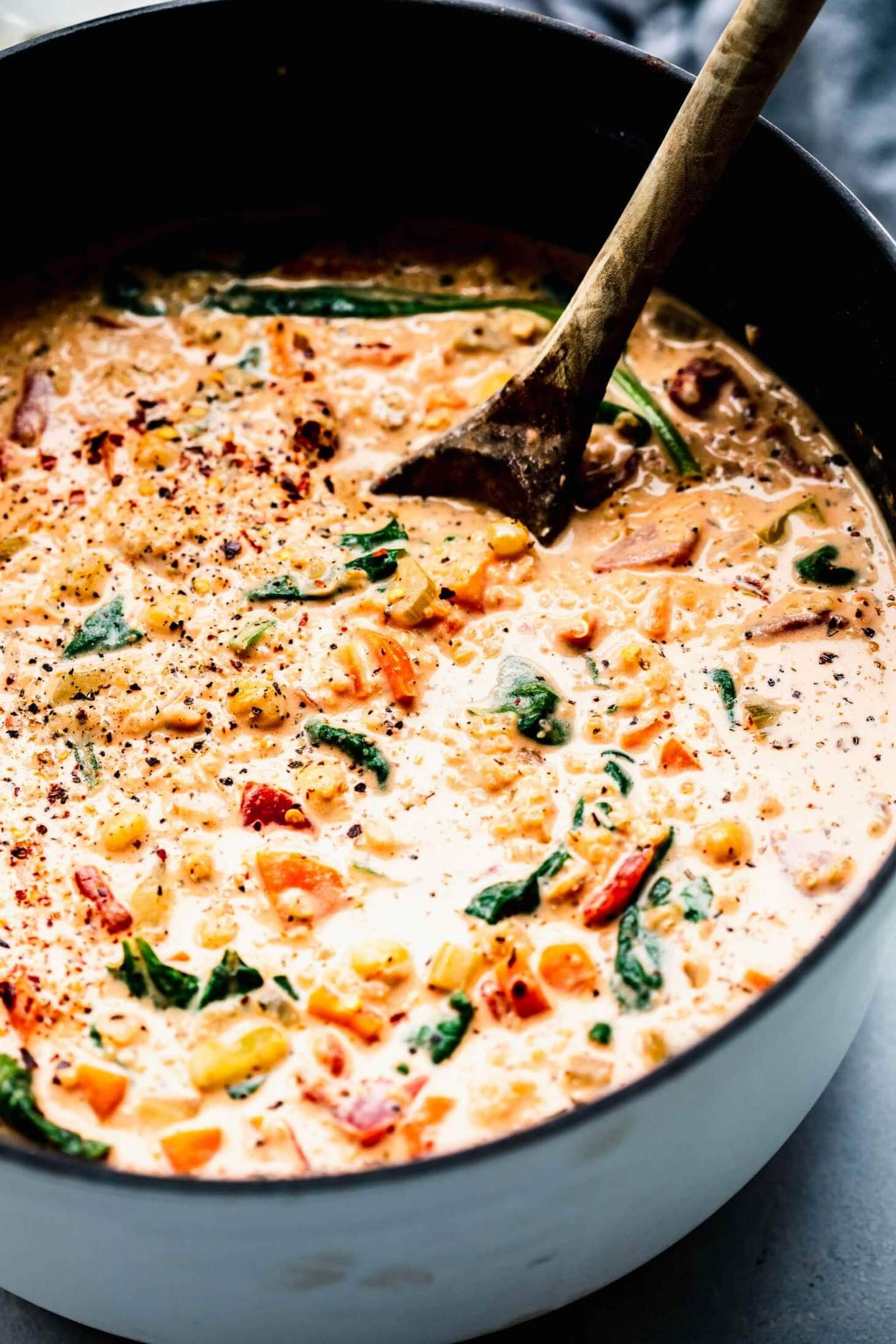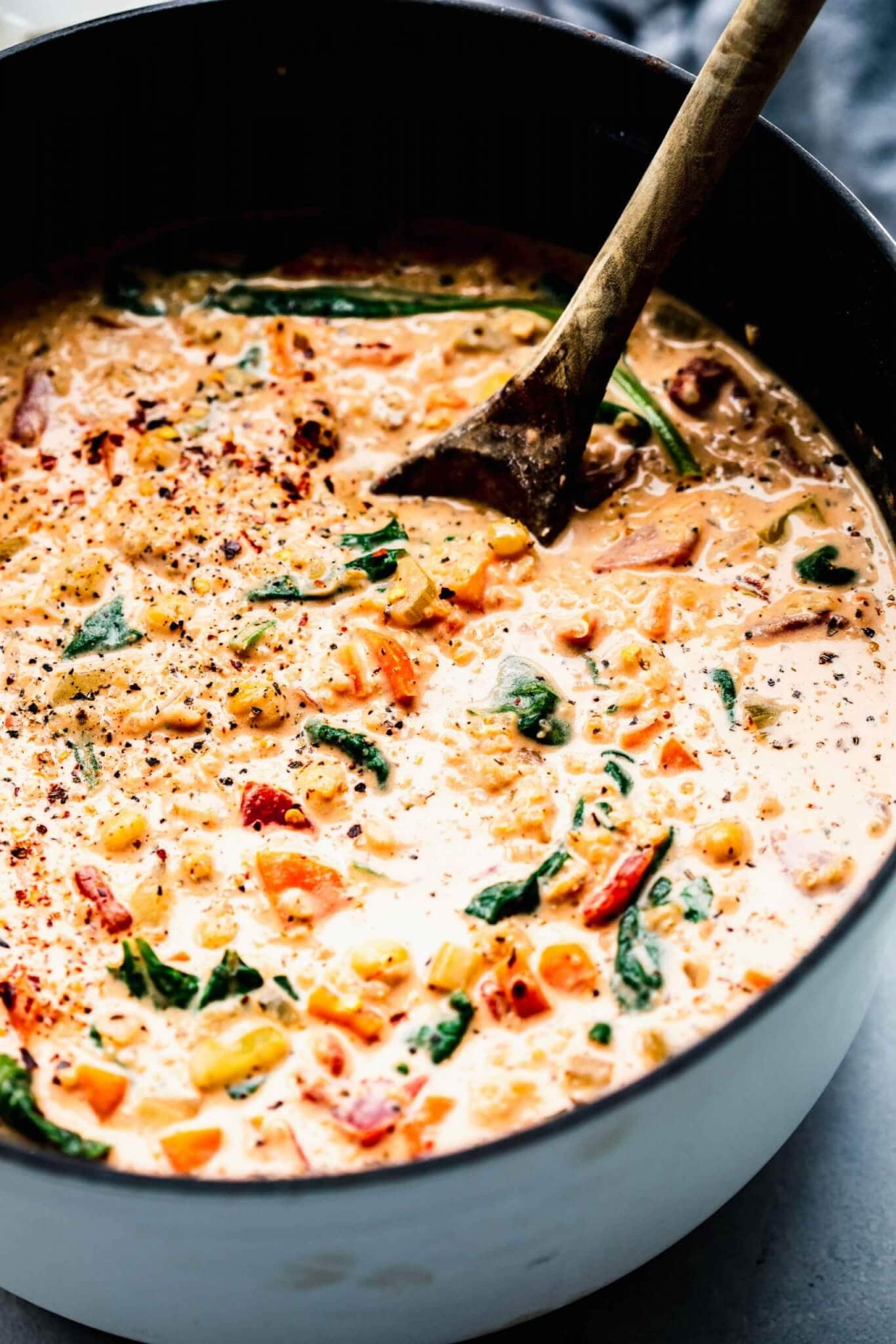 To even further pack this quinoa soup with beneficial nutrients, I'm using some of my homemade bone broth. It's packed with collagen which is amazing for your joints, and can be made so easily. Take your pick of either my slow cooker bone broth or instant pot bone broth.
If you'd prefer a vegetarian soup, you can swap in vegetable stock for the chicken broth or bone broth. This soup is actually perfect for vegetarians because it's a great meat-free meal that's still packed with protein.
This quinoa soup is quite thick and hearty. If you'd prefer a more brothy soup, use 5 cups stock instead of 4 cups. You can also adjust the thickness at the end of the cooking process by adding in more half and half.
Want to add even more flavor? Try swapping out the raw garlic for this roasted garlic.
Does quinoa get soggy in soup?
No. That's the great thing about using quinoa in soup. Unlike with pasta or rice, it won't get soggy. Making it great for leftovers.
How to store quinoa soup:
You can store this soup in an airtight container (these are my favorite!) in the refrigerator for up to 3 days, or freeze it for up to a month.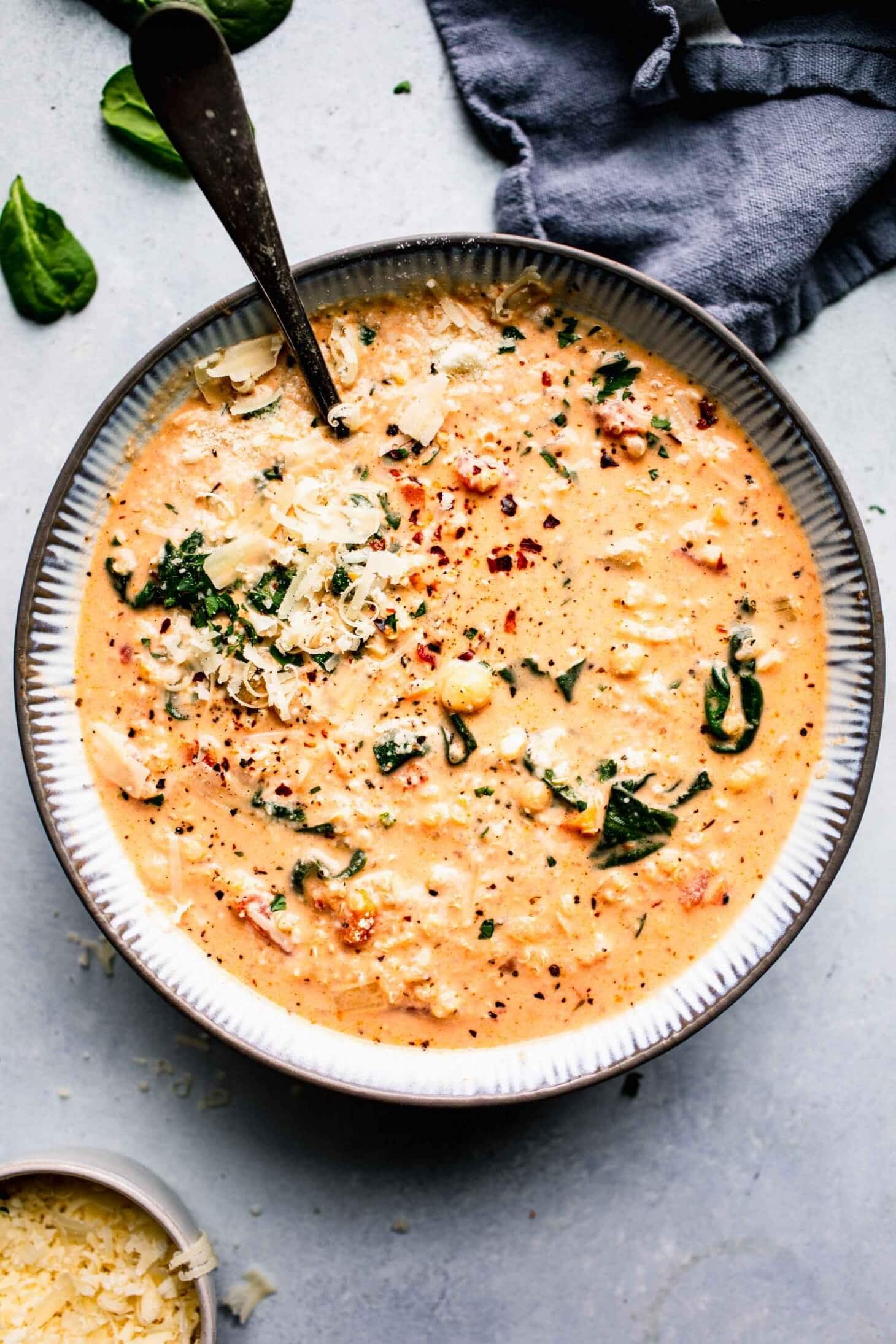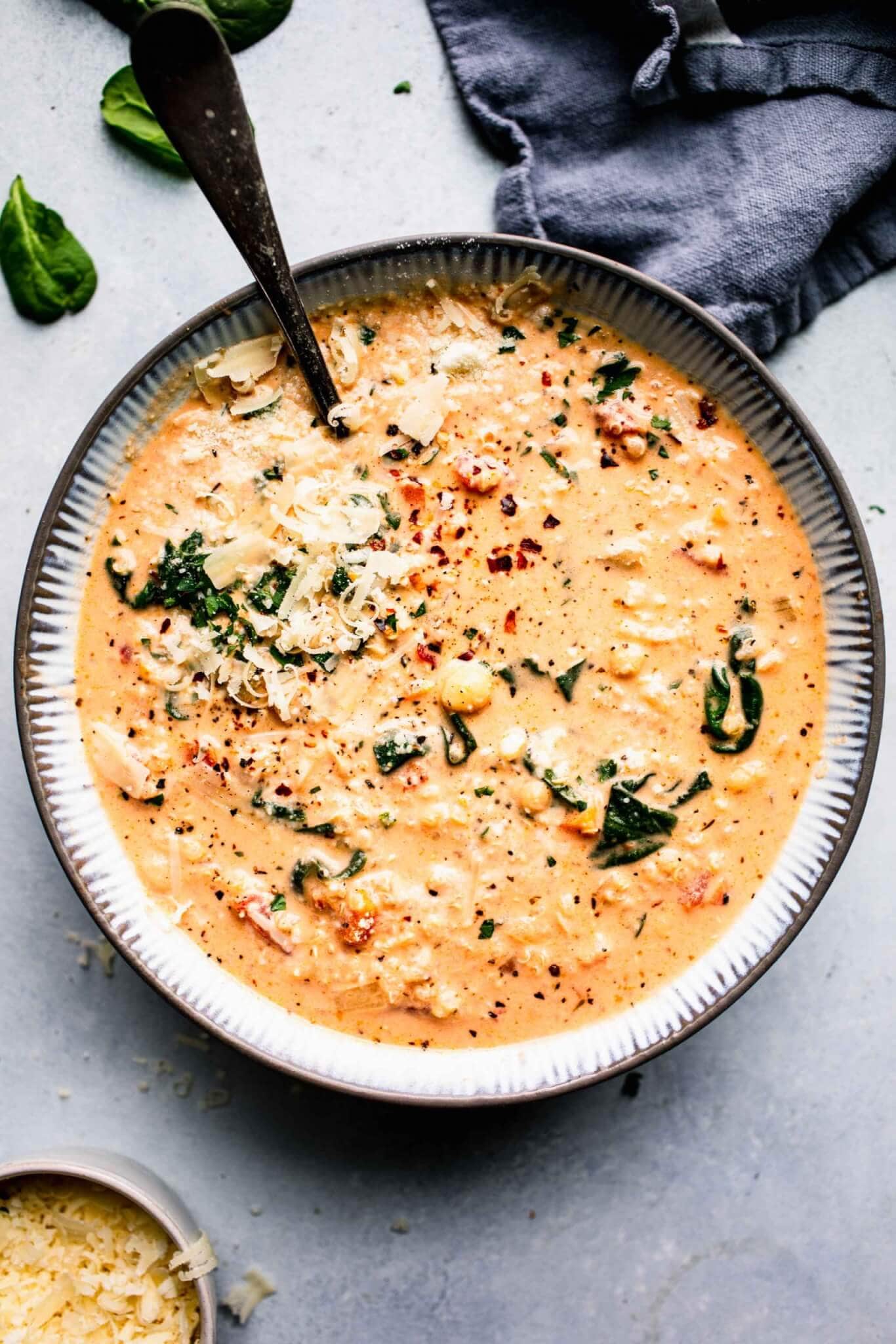 I like to serve this quinoa soup dished up in bowls, topped with plenty of grated parmesan cheese and with an extra sprinkle of red pepper flakes on top.
If you loved this Quinoa Soup recipe I would appreciate it so much if you would give this recipe a star review! Also, be sure to snap a picture of your finished dish and share it with me on Instagram using the hashtag #platingsandpairings and tagging me @platingsandpairings.
Wine pairings for creamy Italian soup:
Medium-bodied, rustic wines like

Chianti, Cotes du Rhone

, and

Sangiovese

have earthy, spicy flavors that pair perfectly with this quinoa soup.
What to Serve with It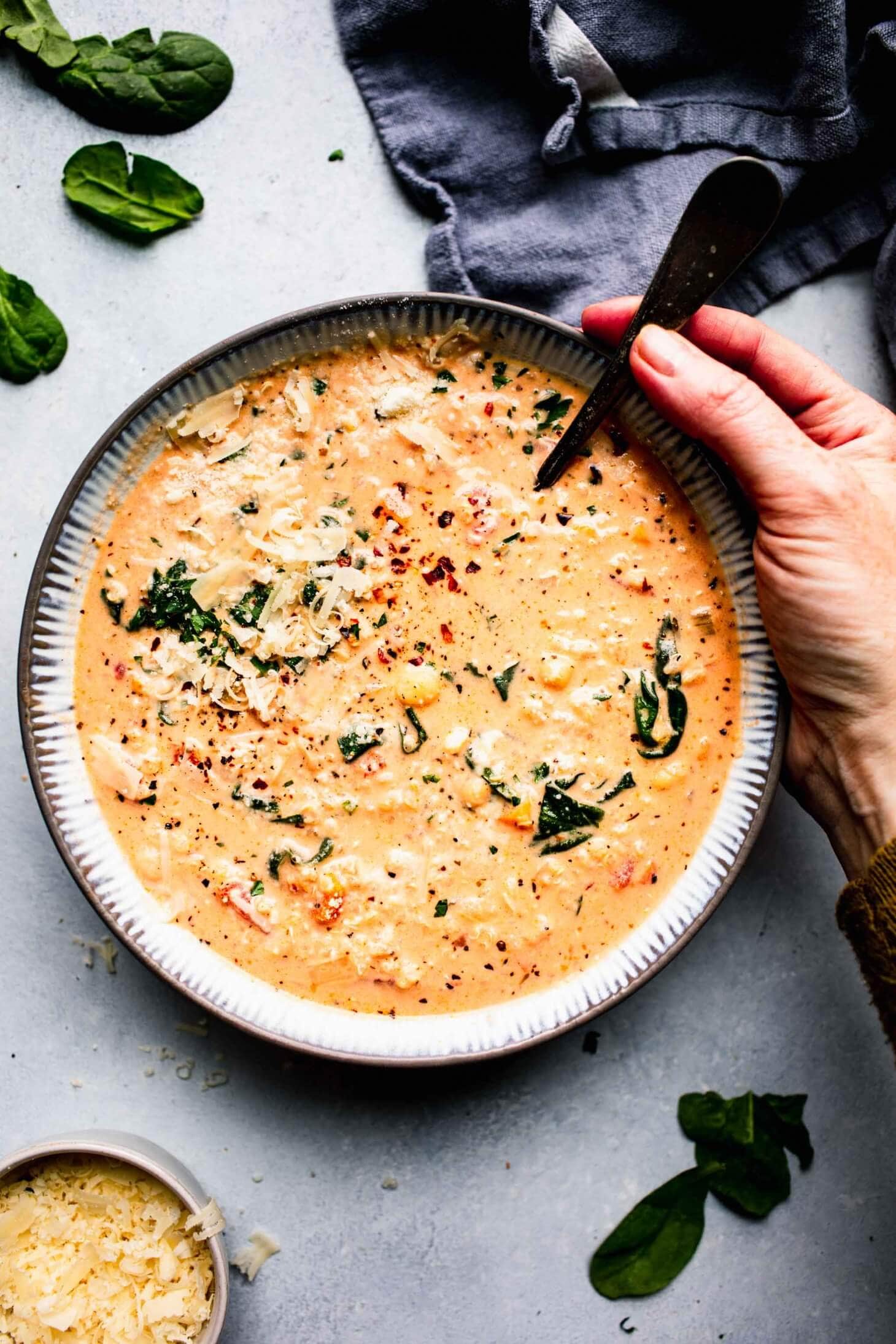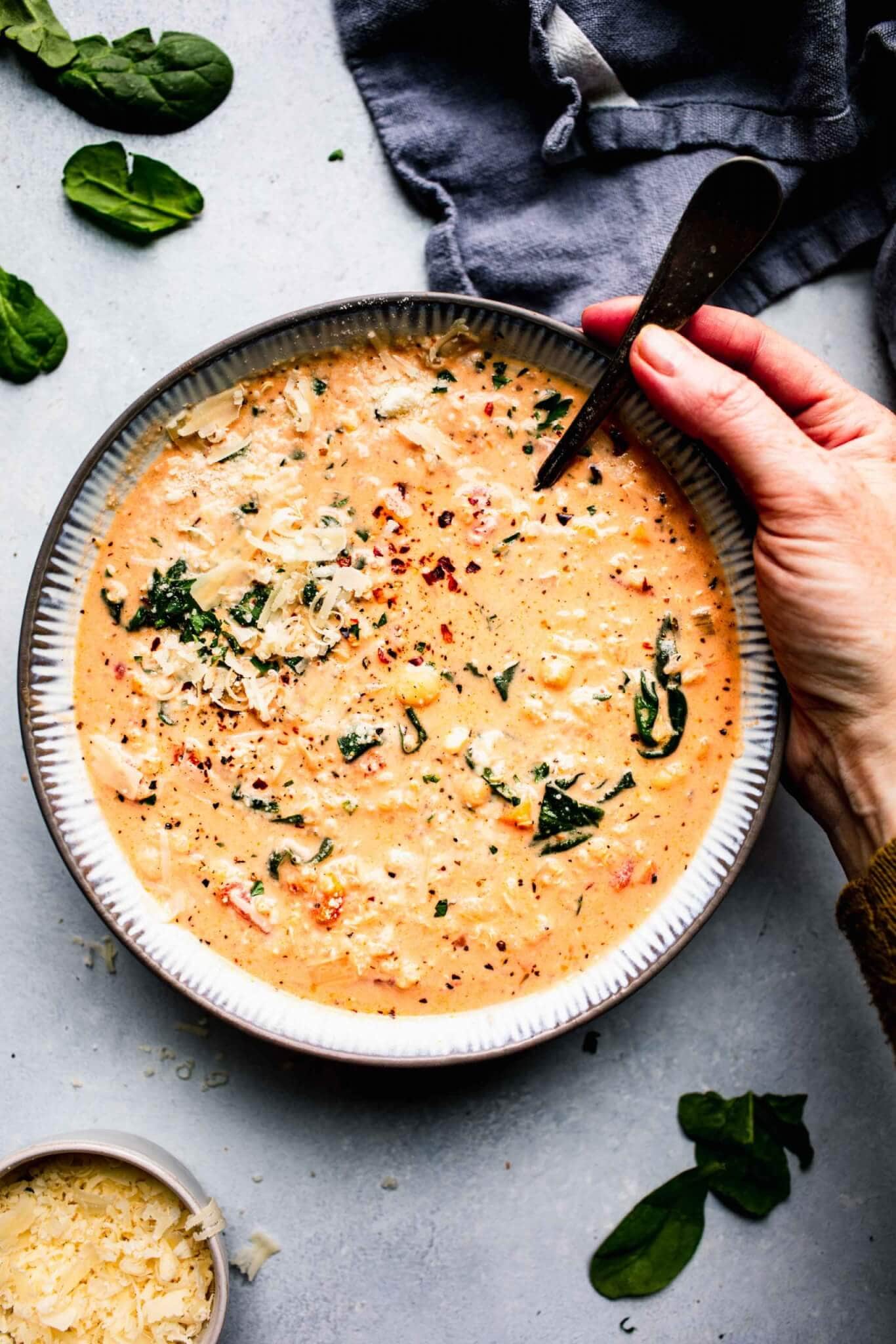 More quinoa recipes:
Be sure to check out these 85+ Italian recipes and 25+ Classic Italian Soups too!
Creamy quinoa soup recipe
MORE —> 35+ EASY soup recipes.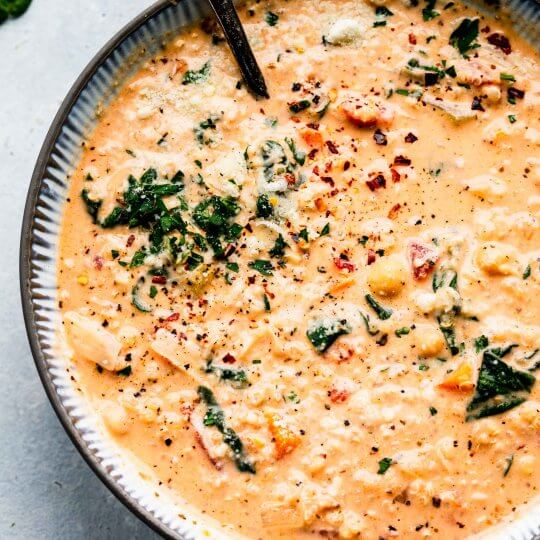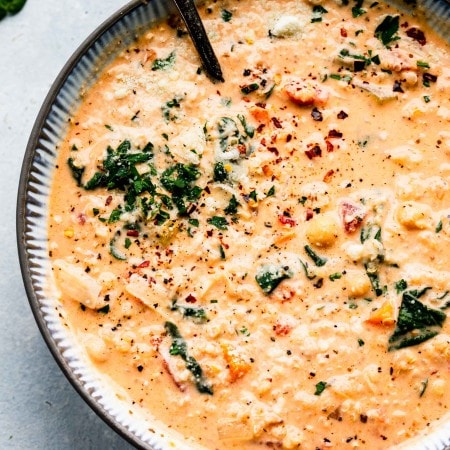 Creamy Italian Quinoa Soup
This Creamy Italian Quinoa Soup is not only amazingly delicious, but it's also packed with protein, fiber and essential vitamins and antioxidants.
Print
Pin
Instructions
Heat oil in a large saucepan or dutch oven over medium-high heat. Add onion, carrots, celery and garlic and season with salt and pepper. Saute, stirring occasionally, for 5-7 minutes or until the vegetables are soft.

Add stock, chickpeas, quinoa, tomatoes, tomato sauce, and Italian seasoning to the pot and stir to combine. Season with salt and pepper. Bring to a boil, reduce heat and simmer, partially covered, for 20-25 minutes.

When ready to serve, stir in spinach and cream. Taste and adjust seasonings as necessary.

Divide into bowls and top with grated Parmesan.
Notes
You can store this quinoa soup in the refrigerator for up to 3 days, or freeze it for up to a month.
Nutrition
Calories:
387
kcal
|
Carbohydrates:
46
g
|
Protein:
18
g
|
Fat:
15
g
|
Saturated Fat:
5
g
|
Cholesterol:
22
mg
|
Sodium:
664
mg
|
Potassium:
885
mg
|
Fiber:
9
g
|
Sugar:
5
g
|
Vitamin A:
6600
IU
|
Vitamin C:
16.7
mg
|
Calcium:
179
mg
|
Iron:
4.4
mg
Watch the web story here.