This Slow Cooker "Better Than Botox" Bone Broth is full of natural collagen! Make chicken, pork or beef stock using kitchen scraps and this simple crockpot method.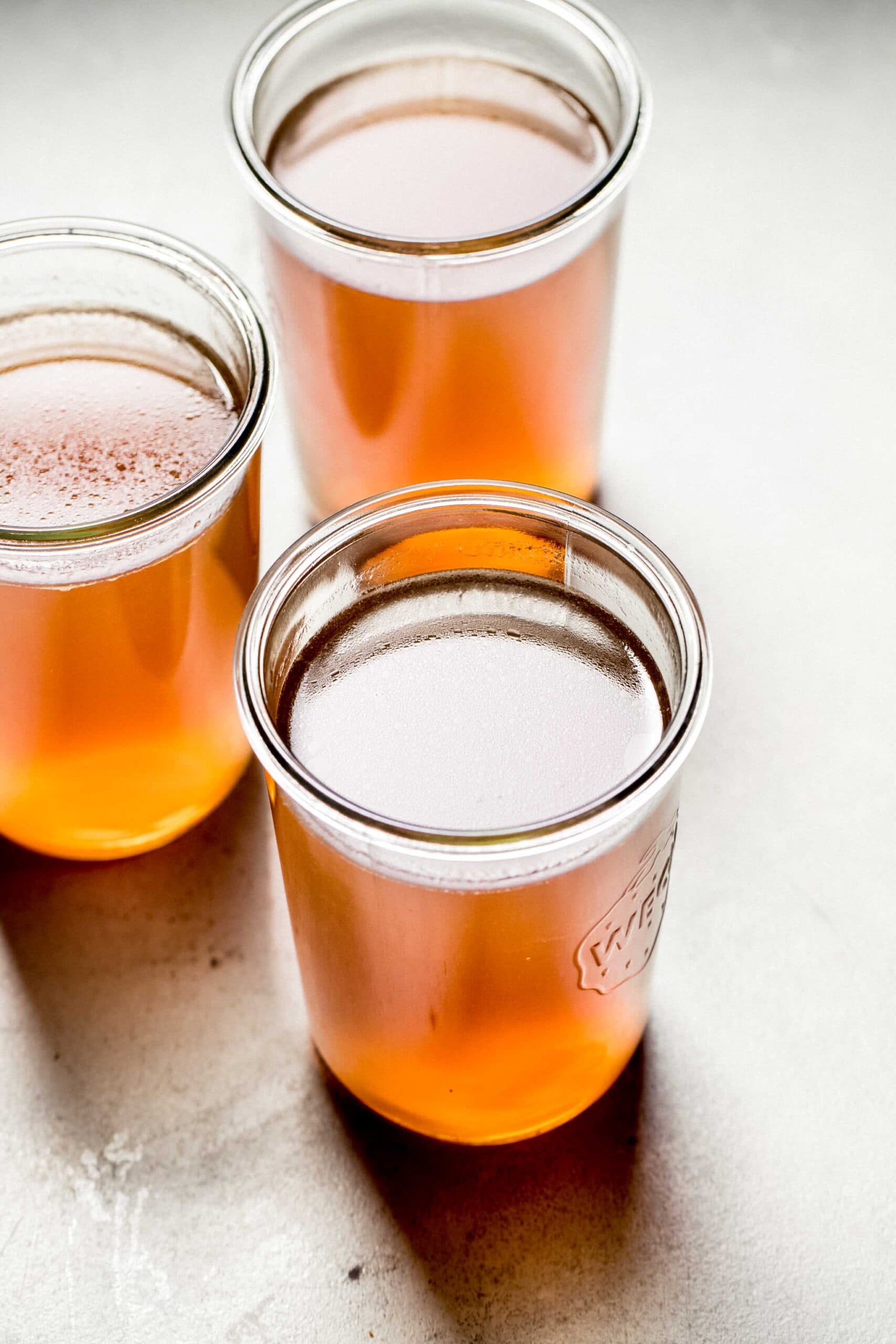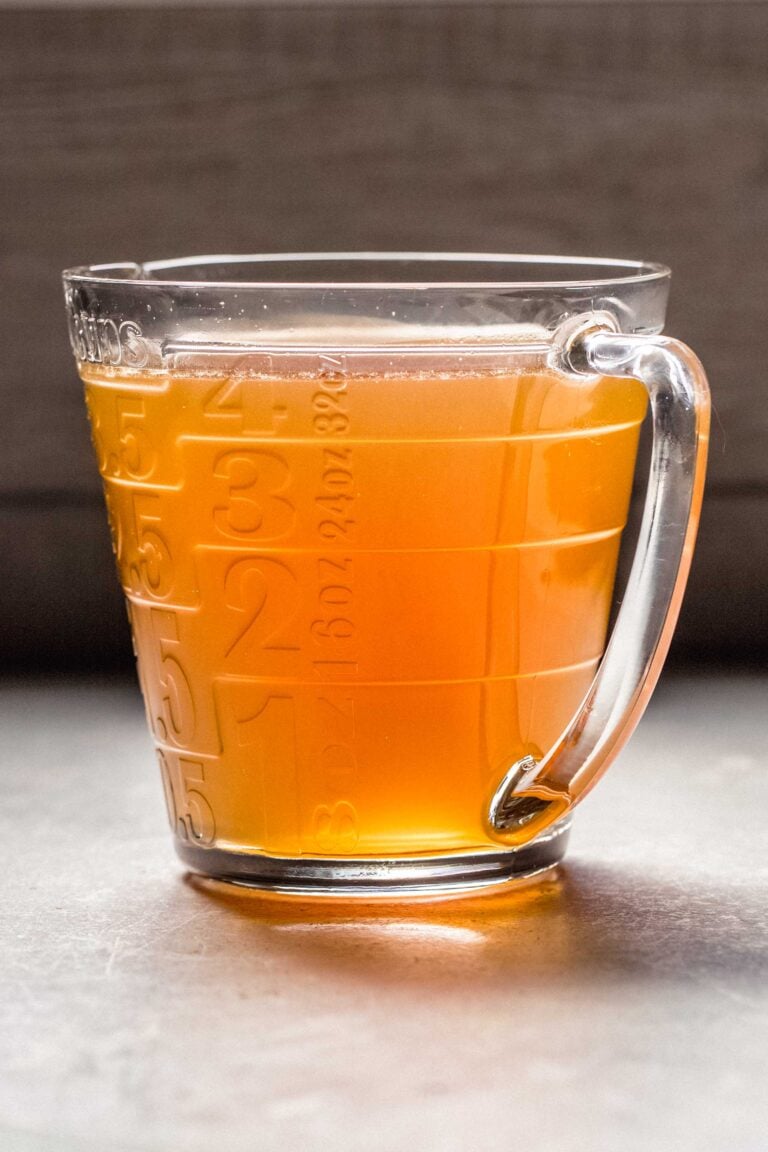 I have a secret to share with you… I have a mysterious bag living in my freezer – my private stash. Every day I add a little something to it and hide it back away.
It's not what you think. It's bones. Chicken bones, beef bones, onion peels, carrot peelings, parsley bits, and celery ends. What normally would be tossed into the garbage is everything you need for a great bone broth in your slow cooker.
I also use this technique for my homemade seafood stock recipe, parmesan broth, and my instant pot bone broth.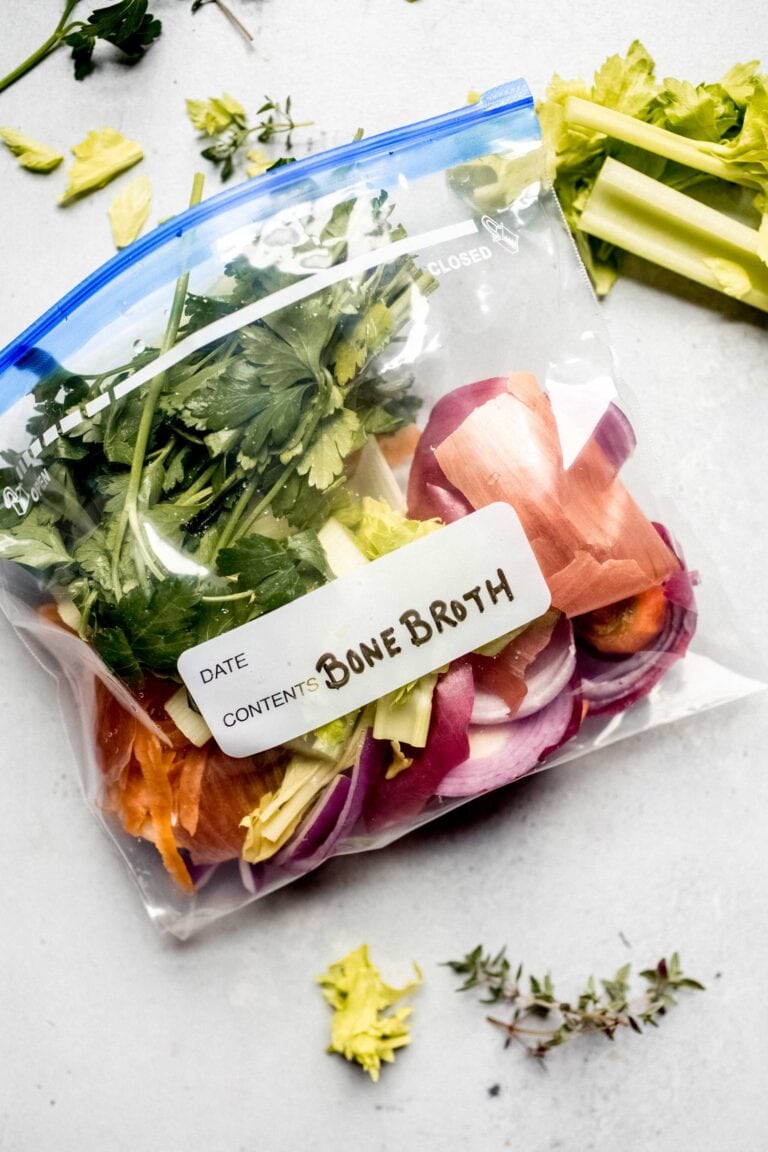 Why Make Slow Cooker Bone Broth?
Bone broth is currently uber-popular and taking the nation by storm. It's being touted as being better than botox, a cellulite reducer, great for arthritis and healing for the digestive tract.
Devotees in New York City buy it by the coffee cup for nearly $9! Kobe Bryant and the entire Lakers team love it to refuel post-game. There's also a reason that chicken soup has been know for generations as a cold-fighter.
Here in Portland, we recently got our first bone broth bar, Jola Cafe. Like you would with coffee or tea, you can customize your cup, but instead of milk and sugar, seasonings like smoked paprika, garam masala, nutmeg, tabasco, chili oil, and sriracha are added from the self-serve bar.
I love that there's the option to pick up a cup of this healthy bone broth on the go. However, I prefer to make my bone broth at home, in the slow cooker. It's so easy and SO much cheaper.
When roasting a chicken, braising short ribs, chopping vegetables, and scrambling eggs throughout the week, add those bones, scraps and (rinsed) eggshells to a large ziploc bag in your freezer. When your baggie is full, empty it into your slow cooker, add water to cover and add a good glug of apple cider vinegar.
The vinegar helps pull the nutrients out of the bones, but don't worry, you won't taste it.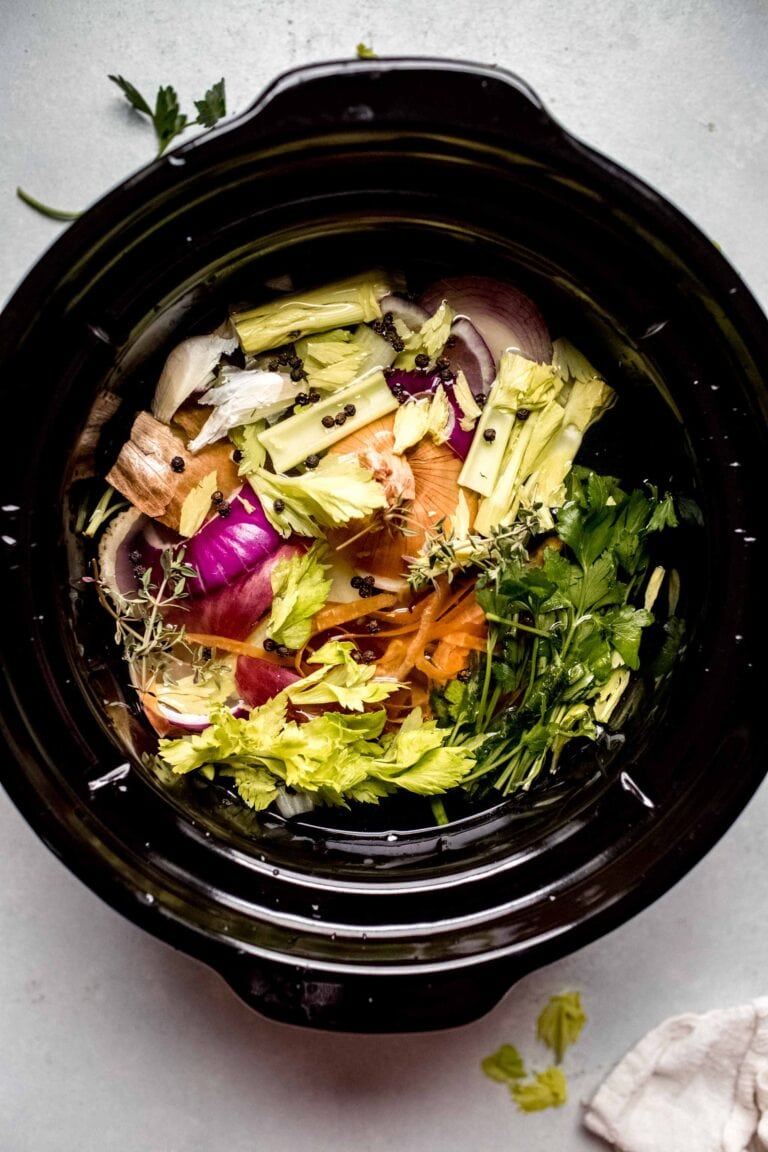 What if Bone Broth Doesn't Gel?
It's highly desired for your slow cooker bone broth to gel when cooled. This is a sign that it's got plenty of great collagen and gelatin going on – those goodies that make your skin plump, coat your digestive tract, and cushion your joints.
However, don't worry if your bone broth doesn't gel, it's still got minerals and nutrition galore. It could simply mean that your ratio of water to bones is too great, or the quality of your bones may not be up to par.
For example, conventionally raised chickens don't have as much collagen in their joints and bones. Marrow rich beef on the other hand, will produce plenty of gelatinous goodness.
How To Use Slow Cooker Bone Broth
I like to enjoy my slow cooker bone broth straight up, in the late morning and late afternoon, like a savory cup of tea. Your slow cooker will provide you with about 4 quarts of broth. It will keep in the fridge for up to five days. You can also use bone broth in recipes, swap it in for any recipe that calls for broth or stock, like making soup or risotto.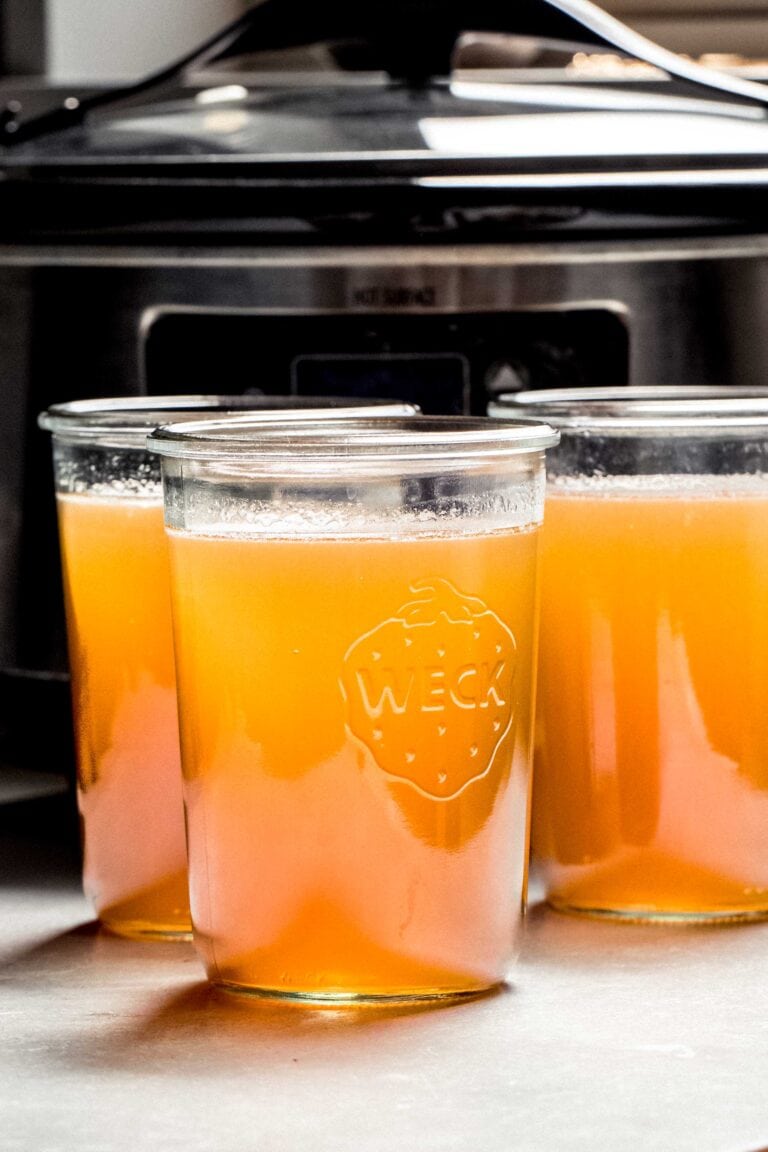 How To Freeze Slow Cooker Bone Broth
For longer storage, I like to freeze my bone broth in silicone ice cube molds. Once the cubes are frozen, I package them up in a large ziploc bag. Each cube is about 1/3 cup of broth.
If I need to thaw some bone broth quickly, it's easy to just pop a few of these cubes into a small saucepan or into a microwave to thaw them quickly. It's much faster than thawing an entire mason jar of bone broth.
Did you make this Slow Cooker Bone Broth?
Please leave a comment and rating below, if you loved this crockpot bone broth recipe. Also, be sure to snap a picture of your finished dish and share it with me on Instagram using the hashtag #platingsandpairings and tagging me @platingsandpairings.
HUNGRY FOR MORE? For more great Platings & Pairings recipes, be sure to follow me on Pinterest, TikTok, Facebook, YouTube and Twitter.
Want to make bone broth even faster? Try this Instant Pot Bone Broth recipe too. Plus, be sure to save those shellfish shells to make this homemade seafood stock recipe.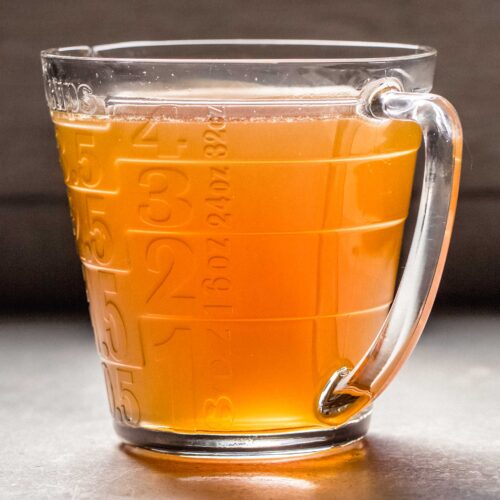 Slow Cooker Bone Broth Recipe
This Slow Cooker "Better Than Botox" Bone Broth is full of natural collagen! Make chicken, pork or beef stock using kitchen scraps and this simple crockpot method.
Print
Pin
Instructions
Place the bones your slow cooker. The bones should fill up about 3/4 of the slow-cooker.

Chop your vegetables and garlic, no need to peel. You can also add vegetable scraps and rinsed, crushed egg shells into your slow-cooker. You'll be straining these out before consuming the broth.

Fill the slow-cooker with water. Season with a generous amount of salt (about 1 teaspoon).

Add 2 tablespoons of apple cider vinegar (you won't notice the taste).

Cook on low and cook for 18-72 hours.

Strain the broth through cheesecloth or a strainer and cool. A good broth will usually have a layer of fat on the top, and will gelatinize when thoroughly cool. Remove the fat with a spoon and discard.
Nutrition
Serving:
8
oz.
|
Calories:
50
kcal
|
Carbohydrates:
4
g
|
Sodium:
37
mg
|
Potassium:
149
mg
|
Fiber:
1
g
|
Sugar:
1
g
|
Vitamin A:
5185
IU
|
Vitamin C:
2.9
mg
|
Calcium:
21
mg
|
Iron:
0.1
mg
This recipe was originally published in 2015. It was revised in 2019 to add an instructional video, and again in 2023 to add new photos. The delicious recipe for Slow Cooker Bone Broth remains the same.