This Slow Cooker Glazed Corned Beef & Cabbage is made in the crock pot and finished off under the broiler with a brown sugar-mustard glaze, giving it a nice crispy crust.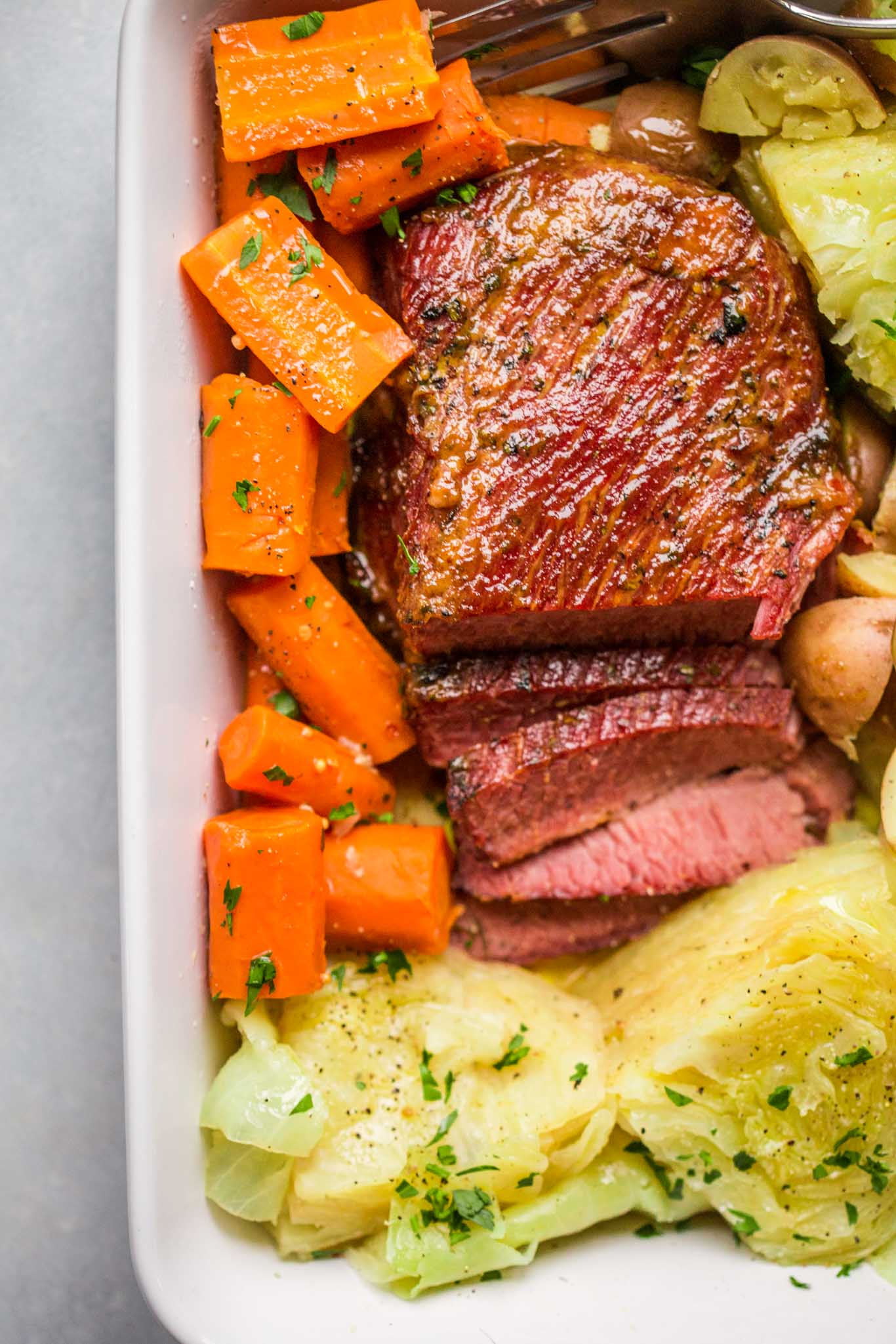 Want to make this recipe even faster? Be sure to try my Instant Pot Corned Beef recipe.
I have long been a huge fan of corned beef. Maybe it's the Irish in me? I'm a redhead named Erin, so it was only natural for me to always gravitate towards my Irish roots… Although, the other half of me is Italian, and I could easily eat pasta every day of my life too…
As a child, I would request corned beef & cabbage on my birthdays for my special meal. I liked that the meat was salty and flavorful, and almost like string cheese in that you could pull off piece by piece and nibble away. Technically, you're supposed to cut across the grain, so that your meat isn't stringy, but I always liked it cut with the grain – it gave me a reason to play with my food.
And although I grew up eating corned beef & cabbage, the recipe that I use to make it has definitely evolved over time.
This is a recipe that I've used since college and it actually was created by my friend and college roommate Jim (did I ever tell you that I lived with five guys in college?).
As college students, meals weren't anything too fancy. I seem to recall lots of canned soup, chicken breasts, and ramen noodles. But, cooking yummy food on the cheap was one of Jim's specialties. We'd trade recipes and food quite often. After moving out, Jim sent me this recipe for Slow Cooker Corned Beef & Cabbage, and I've been making it for Saint Patrick's Day ever since.
PS – I've discovered that the Instant Pot is also amazing for making tender and delicious corned beef – Be sure to check out that recipe here if you've got an IP!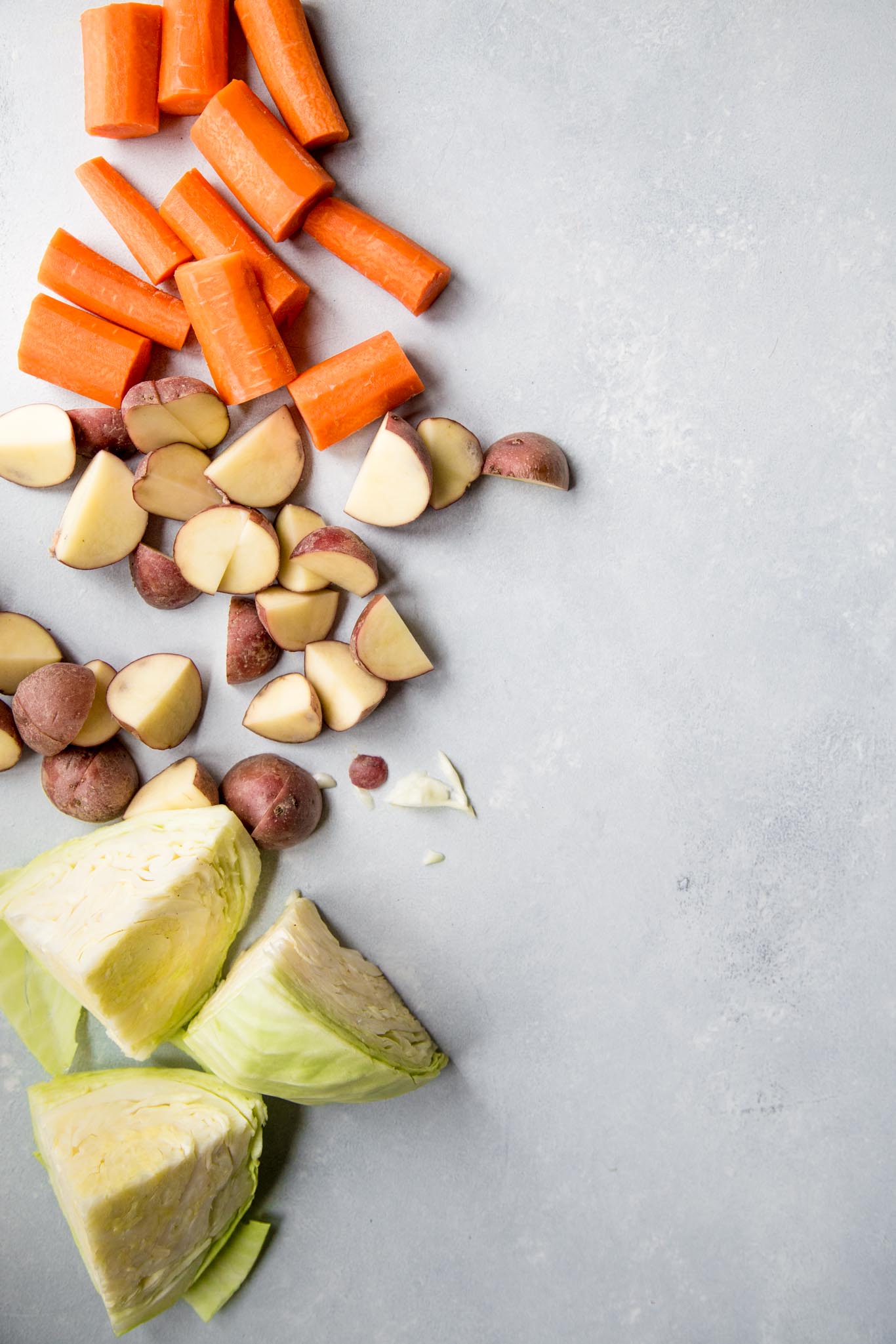 🛒 Ingredients needed
Meat and Vegetables
Red Potatoes – You can also use small russet potatoes, or baby potatoes.
Carrots & Celery
Corned Beef Brisket – You can use a point cut or flat cut for this recipe. Be sure to save the pickling spice packet that comes with it too, as we'll use some of it for seasoning.
Cabbage Wedges
Garlic
Dark Beer – This is optional. You can also use chicken stock or beef broth.
Glaze
Brown Sugar
Brown Mustard
Water
Butter
Honey Mustard Sauce
Honey – You can also use agave.
Brown Mustard – Or dijon mustard or whole grain mustard.
Greek Yogurt – Makes the sauce nice and creamy. But it's optional. You can also use sour cream.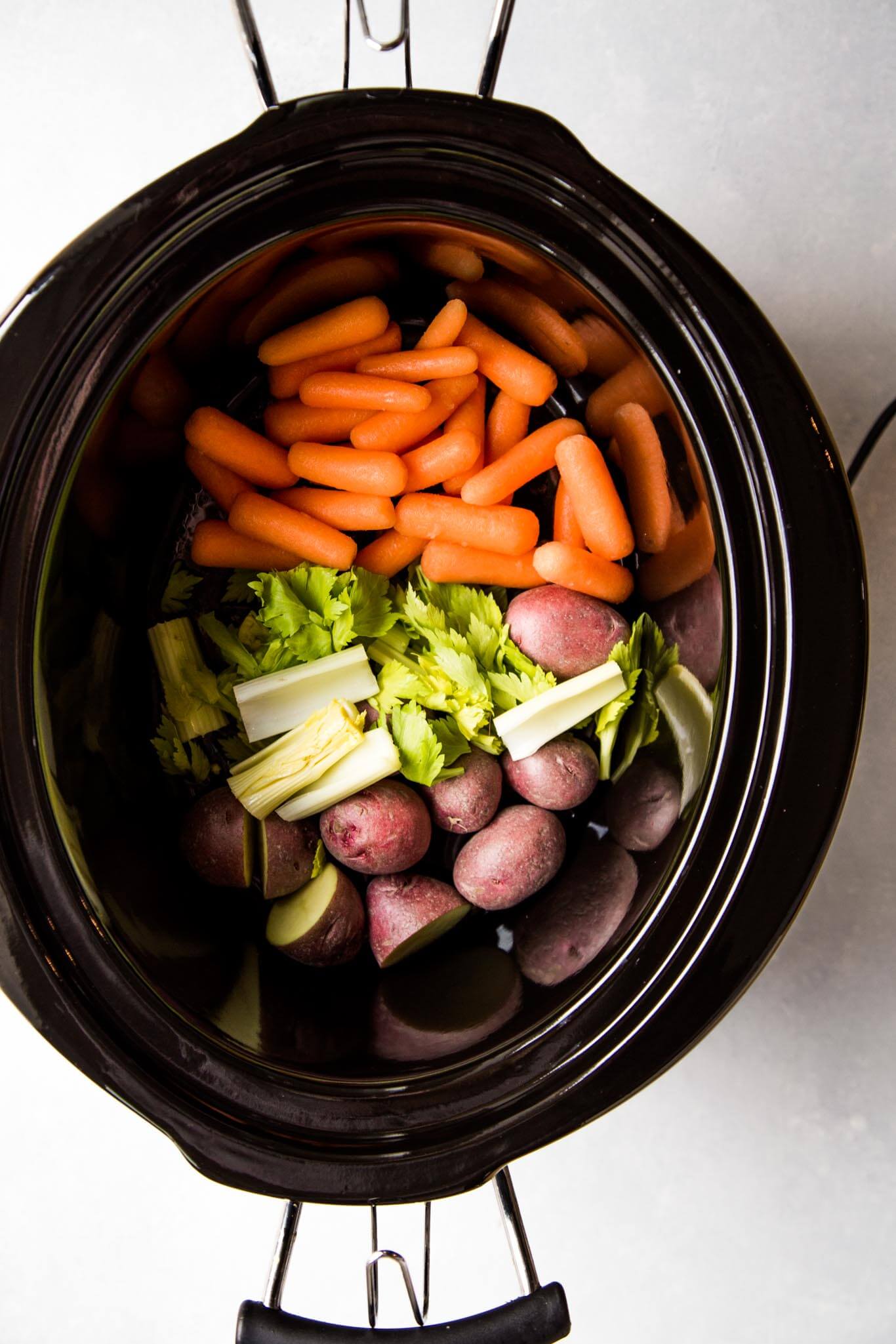 📋 How to make crockpot corned beef
Add some potatoes, carrots, celery, garlic, corned beef and that little spice packet that comes with the corned beef to the slow cooker. A bottle of beer adds great flavor and you'll want to add water to cover the meat.
Let it cook away on LOW for 8 hours or HIGH for 4 hours. Meanwhile, prepare the brown sugar-mustard glaze.
Remove the corned beef from the slow cooker and coat with a bit of the glaze. Pop it under the broiler set to LOW and let it get nice and golden for 30 minutes, adding more glaze every 10 minutes or so.
While the corned beef is finishing, we'll strain the cooking liquids from the crock pot and boil our cabbage in there.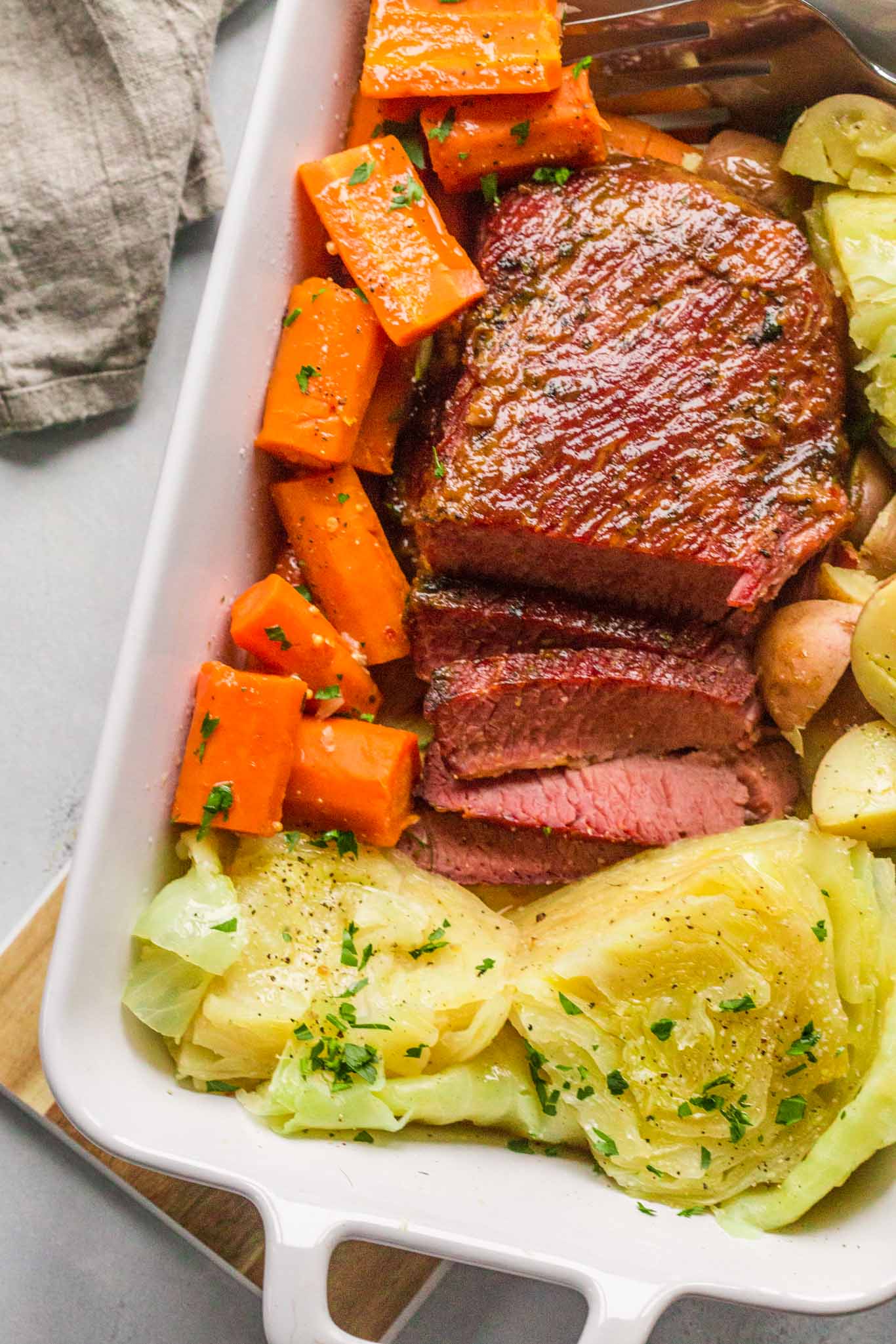 This recipe also serves a honey-mustard sauce on the side that's perfect for drizzling over the cooked cabbage, potatoes and carrots. So, so good.
Although this Glazed Corned Beef & Cabbage is amazing for St. Patrick's Day, I could honestly eat it every day of the year. I hope you enjoy it as much as I do!
🕕 How to make ahead and store
Store leftovers in an airtight container in the fridge for up to three days. You can also freeze the leftovers for up to three months.
✔️ Using corned beef leftovers
Leftover corned beef is great for making reuben sandwiches! Or, shred the fork-tender meat to make a corned beef hash.
ℹ️ Recipe FAQs
How many hours does it take to cook corned beef?
In the slow cooker, corned beef will take 8-9 hours on LOW heat, or 4-5 hours on HIGH heat.
What happens if you don't rinse corned beef before cooking?
It's okay if you forget to rinse your corned beef before cooking. However, it may be a bit saltier than you'd like.
Does corned beef get more tender the longer it is cooked?
Yes, cooking corned beef low and slow is the best way to get the most tender corned beef. That's why the crockpot is great for making corned beef!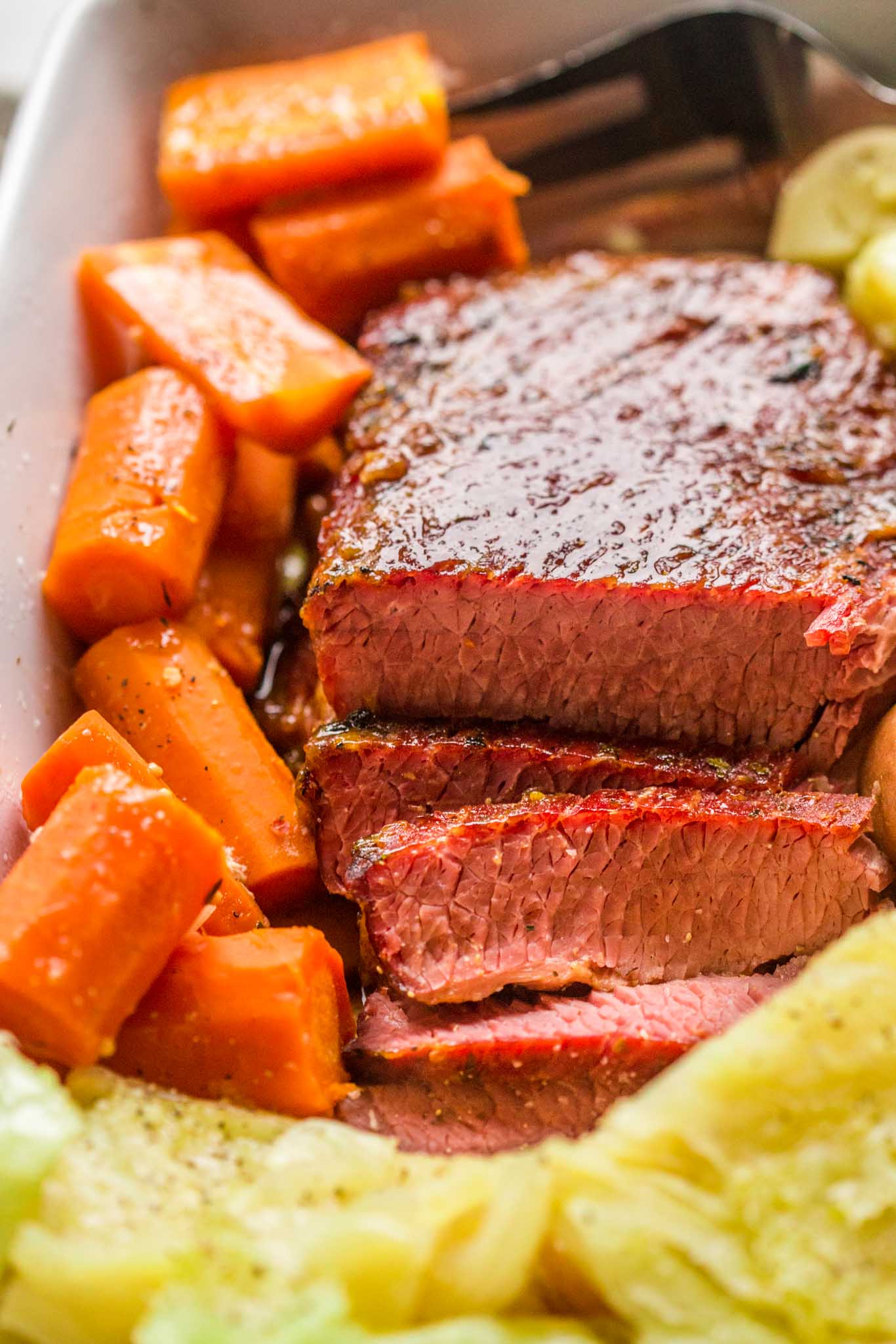 🍷 Wine pairings for corned beef
I suggest a light-bodied, fruit forward red like a Beaujolais or Grenache to pair with the salty-fatty corned beef and the traditional spices of bay leaves and peppercorn.
On the white wine side, I'd suggest a Pinot Blanc or dry Riesling.
☘️ More St. Patrick's Day recipes
More → 37+ BEST sides for Corned Beef
PS – Don't forget about the 9+ BEST Sauces for Corned Beef too!
Did you try this brown sugar glazed corned beef?
If you loved this corned beef glaze I would appreciate it so much if you would give this recipe a star review! Also, be sure to snap a picture of your finished dish and share it with me on Instagram using the hashtag #platingsandpairings and tagging me @platingsandpairings.
For more great Platings and Pairings recipes, be sure to follow me on Instagram, TikTok, Pinterest and Facebook.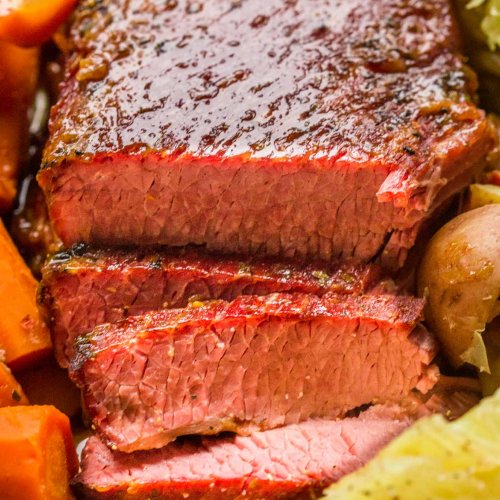 Slow Cooker Glazed Corned Beef Recipe
This Slow Cooker Glazed Corned Beef & Cabbage is made in the crockpot and finished off under the broiler with a brown sugar-mustard glaze, giving it a nice crispy crust.
Print
Pin
Ingredients
Meat and Vegetables:
6-8

small red potatoes

(cut into large wedges)

3

medium carrots

(thick sliced)

2

ribs celery

(thick sliced)

3-5

pounds

corned beef brisket

((fat trimmed off and rinsed))

1

cabbage

(cut into large wedges (about 2 pounds))

2

garlic cloves

(minced)

1

small bottle

dark beer

(about 12 ounces)
Glaze:
½

cup

brown sugar

½

cup

brown mustard

½

cup

water

1

Tbsp

butter
Honey Mustard Sauce:
½

cup

honey or agave

½

cup

brown mustard

¼

cup

Greek yogurt

(optional)
Instructions
Layer the potatoes 1/2 cup celery and ½ cup carrots in the bottom of slow cooker. Place corned beef on veggies. Add garlic and packet of seasoning that comes with the corned beef. Add beer and water until meat is covered. Cover and cook on LOW for 8-9 hours (or HIGH for 4-5 hours).

Just prior to corned beef being done, melt butter in small saucepan — add water and brown sugar. Heat over medium-high heat. After about 5 minutes, stir in mustard. Simmering another 2-3 minutes. Pour in dish and set aside.

When corned beef is ready, remove and place on cookie tray and tent with foil. Place large pot in sink with colander inside. Pour out the slow cooker ingredients saving both liquid and potatoes. Discard cooked carrots and celery. Preheat broiler. Place pot of liquid on stove on medium-high until boiling. Boil the remaining carrots and celery for 3 minutes then add cabbage and boil for 3 minutes. Remove from heat and drain liquid.

Remove foil tent. Brush glaze on top of corned beef and broil on low, 6-inches from the element for 30 minutes adding glaze every 10 minutes. Always keep an eye on the broiler to avoid burning. After 30 minutes remove corned beef and place on cutting board. Cut corned beef across the grain. Serve with veggies and honey mustard sauce.
Nutrition
Calories:
725
kcal
|
Carbohydrates:
36
g
|
Protein:
43
g
|
Fat:
46
g
|
Saturated Fat:
12
g
|
Cholesterol:
127
mg
|
Sodium:
2827
mg
|
Potassium:
1210
mg
|
Fiber:
7
g
|
Sugar:
25
g
|
Vitamin A:
265
IU
|
Vitamin C:
119.4
mg
|
Calcium:
183
mg
|
Iron:
7.3
mg
Note: This recipe was originally published in 2014. It was updated in 2023. The recipe remains the same but the blog post content has been updated.
Check out the web story here.