Make these Slow Cooker Pork Chops a part of your weekly dinner plan. They're foolproof, flavorful, and covered in gravy. Cooking tender and juicy pork chops has never been easier!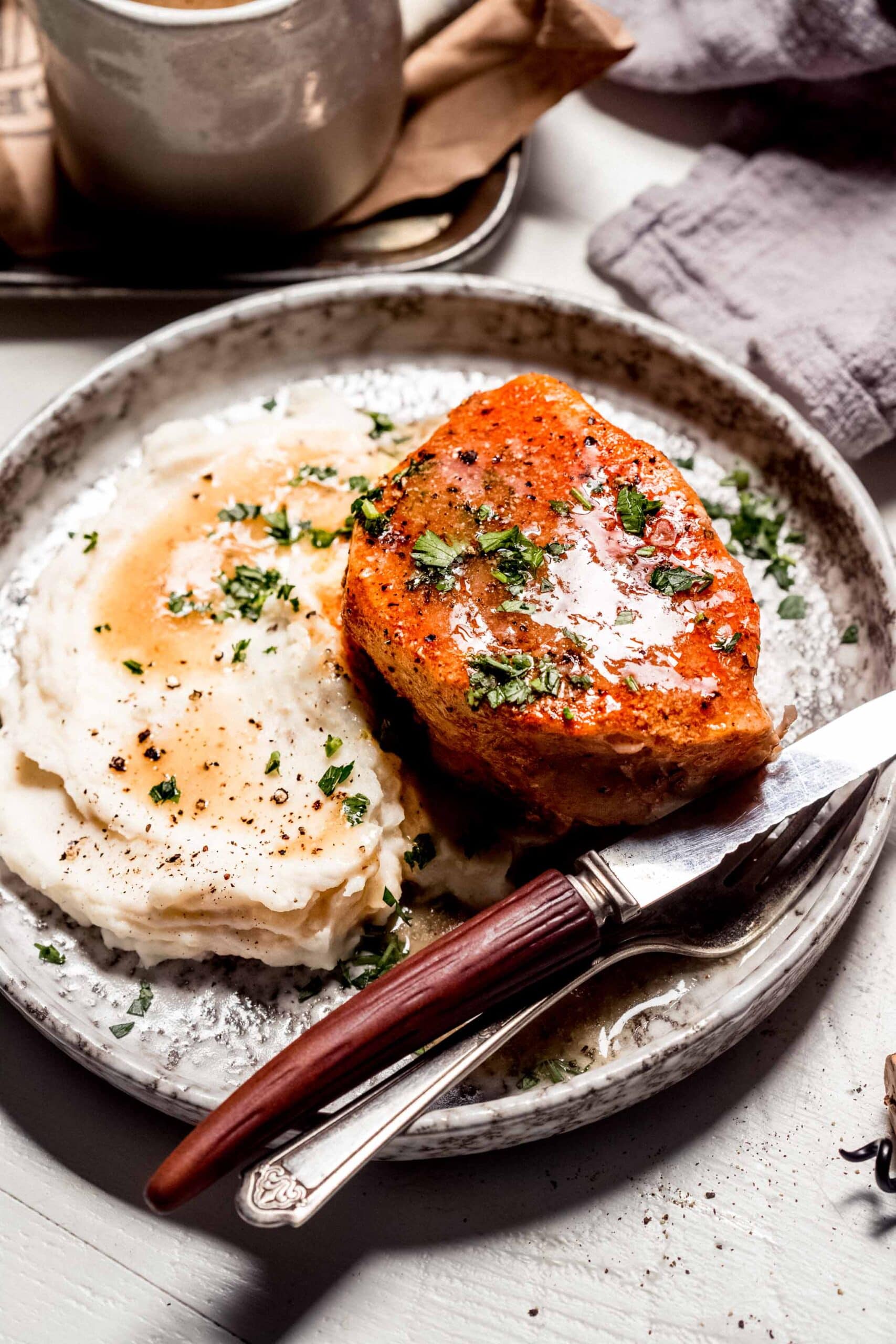 Pork chops are an inexpensive cut of meat with million-dollar potential. Cook them on the grill, make your own Shake N' Bake, and never forget the gravy. There's plenty you can do with pork chops!
This Slow Cooker Pork Chops recipe is a no-brainer for family dinners and busy weeknights. The process is almost entirely hands-off, yet you still end up with tender and juicy chops that are smothered in pan gravy.
It's a similar recipe to my Instant Pot Pork Chops but cooked low and slow for that melt-in-your-mouth result. Each chop is begging to be served with mashed potatoes, glazed carrots, and extra gravy. Yum!
🛒 Shopping for the best pork chops
The best pork chops begin with the best cut of meat of course. While you're out shopping, choose the blade, shoulder, sirloin, and tenderloin chops over loin chops. These cuts are best suited for slow cooking.
Both boneless and bone-in will work (just remember: bone-in = more flavor and tender results). As for the look, the chops should be bright pink with some visible marbling. Avoid pork with any discolorations or dark-colored bones.
📋 Ingredients needed
🌟 How to cook pork chops in a slow cooker
Whisk the brown sugar, paprika, salt, pepper, and onion powder together in a small bowl to make the dry rub.
Pat the pork chops dry and rub the dry rub over all sides. Next, transfer the pork chops to your slow cooker along with the chicken broth.
Cover with a lid and cook on LOW for 6 to 7 hours or on HIGH for 3 to 4 hours.
Once cooked, remove the chops and transfer them to a plate to rest.
Scoop a few cups of the cooking liquid from the slow cooker into a small saucepan. Heat over medium-high heat on the stove.
Meanwhile, mix the cornstarch and water (or broth) together to make a slurry. Pour the slurry into the saucepan and whisk until the mixture thickens into a gravy.
Plate each chop over a bed of mashed potatoes. Spoon some gravy over top or serve it on the side, then garnish with fresh parsley. Enjoy!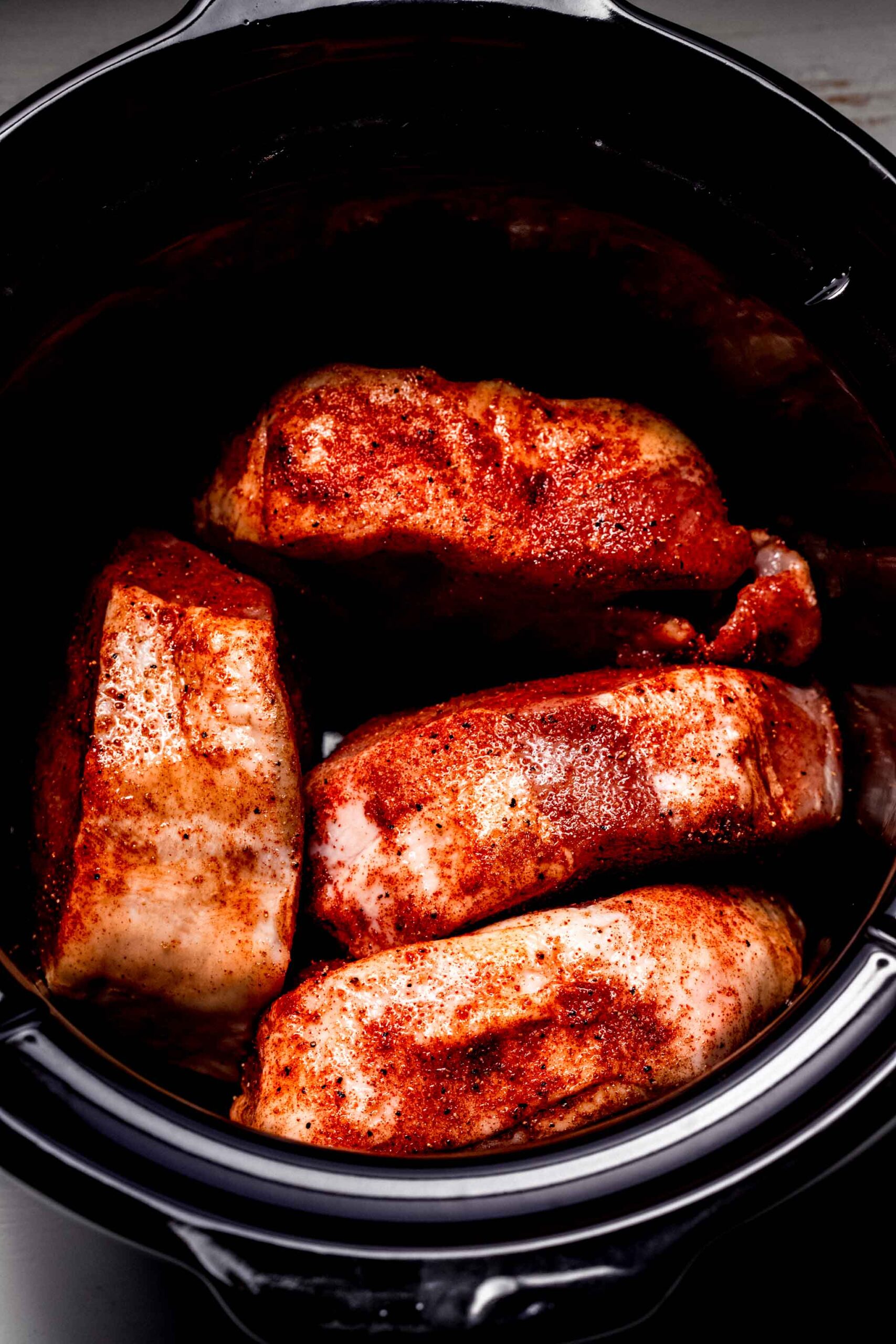 ✔️ Tips and tricks
👩‍🍳 Customize it
Easily adapt this flexible pork chops recipe with different seasonings and sauces:
ℹ️ FAQs
Can you cook frozen pork chops in a slow cooker?
No. Frozen pork chops will take much longer to reach a safe cooking temperature than thawed meat. That extra cooking time can result in tough, chewy meat. If your pork chops are frozen, thaw them in the fridge the night before cooking. 
Is it better to slow cook pork chops on high or low?
Both high and low work very well! No matter the temperature, the heat in the slow cooker will melt the fat to produce juicy pieces of meat. 
How do you store and reheat leftover pork chops and gravy?
Let the chops cool, then store them in an airtight container in the fridge for up to 3 days. Keep the gravy in a separate container.
Reheat the leftovers in a skillet over medium heat until the gravy is smooth and creamy and the chops are warmed through. If the gravy is too thick, add a splash of chicken broth to help thin it out.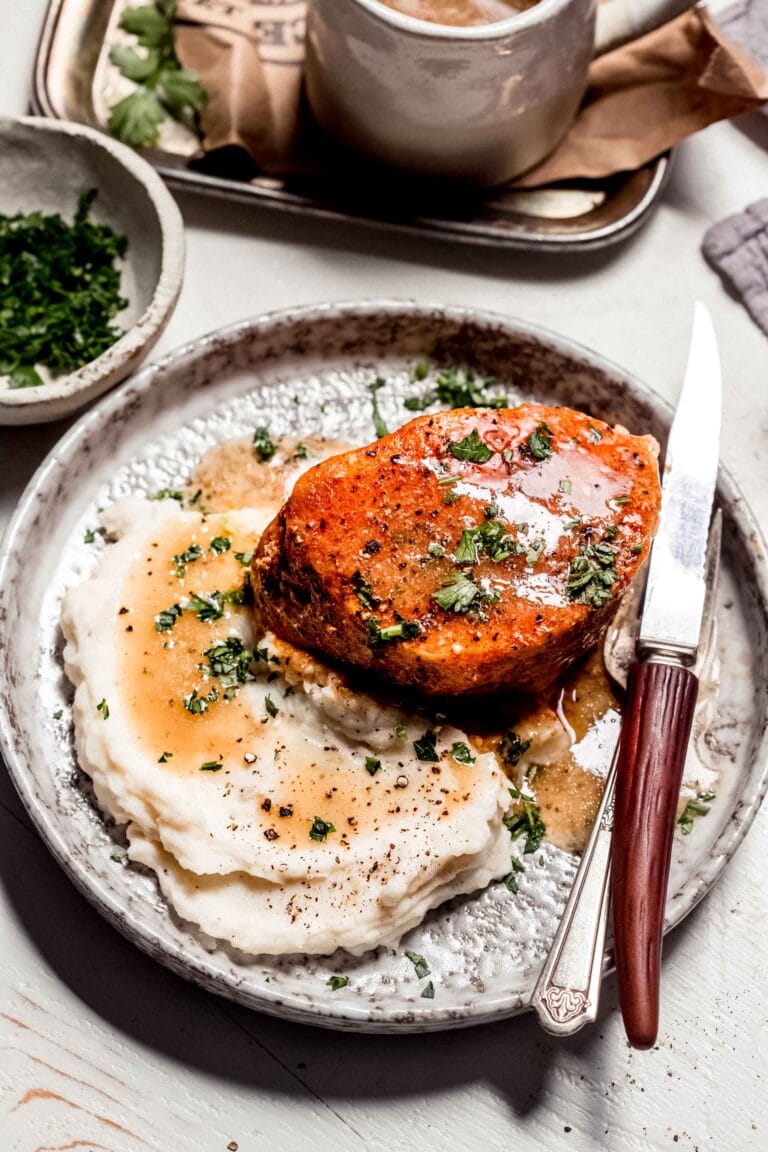 🍴 Serving suggestions
These irresistible pork chops are perfectly paired with simple starchy sides and veggies. Make it a million-dollar meal with any of the sides below or use these 45+ best sides for pork chops instead.
🍷 Wine pairings for pork chops
Pork chops have a mild, neutral flavor that pairs with both reds and whites:
For more ideas, check out these 7 Wine Pairings with Pork Chops.
More pork recipes
​​Did you make these crock pot pork chops?
If you loved this crockpot pork chop recipe, I would appreciate it so much if you would give it a star review! Also, be sure to snap a picture of your finished dish and share it with me on Instagram using the hashtag #platingsandpairings and tagging me @platingsandpairings.
For more great Platings and Pairings recipes, be sure to follow me on Instagram, TikTok, Pinterest and Facebook.
Slow Cooker Pork Chops
Make these Crock Pot Pork Chops a part of your weekly dinner plan. They're foolproof, flavorful, and covered in gravy. Cooking tender and juicy pork chops has never been easier!
Print
Pin
Instructions
In a small bowl, whisk together the brown sugar, paprika, salt, pepper and onion powder.

Rub the pork chops with the spice blend and place them in the slow cooker with the chicken broth.

Cover and cook on LOW for 6-7 hours or HIGH for 3-4 hours. Pork chops should be cooked to an internal temperature of 145-degrees.

Remove the pork chops from the slow cooker and set aside on a plate.

Using a ladle, remove about 2 cups of the cooking liquids from the slow cooker. Add them to a small saucepan.

Add the cornstarch and water (or stock) to a small mason jar and shake to combine. Or, you can whisk them together in a bowl.

Heat the cooking liquids on the stove over medium high heat and add the cornstarch mixture. Whisk constantly until the gravy has thickened. Season with salt and pepper, to taste.

Serve pork chops with gravy on the side. Sprinkle with fresh parsley. Enjoy!
Nutrition
Calories:
264
kcal
|
Carbohydrates:
11
g
|
Protein:
31
g
|
Fat:
10
g
|
Saturated Fat:
3
g
|
Polyunsaturated Fat:
1
g
|
Monounsaturated Fat:
4
g
|
Trans Fat:
0.1
g
|
Cholesterol:
90
mg
|
Sodium:
676
mg
|
Potassium:
613
mg
|
Fiber:
0.5
g
|
Sugar:
6
g
|
Vitamin A:
499
IU
|
Vitamin C:
0.1
mg
|
Calcium:
23
mg
|
Iron:
1
mg
Check out the web story here.