This Slow Cooker Butter Chicken is a deliciously spiced Indian dish that's easy to make with the help of your crockpot.
Butter Chicken is definitely one of my favorite Indian dishes. I was introduced to Indian food by my dad, or "pop" as I like to call him. We went to and Indian buffet and I was able to pick whatever looked yummy to me.
I was always a bit of an adventurous eater. My brother, on the other hand, I think wound up eating just naan and rice. Butter Chicken was the first dish that I picked for myself. I think I was intrigued by the name. I mean, who doesn't love butter! I tried it not knowing what to expect, and it was love at first bite. A creamy dish that's not too spicy, it's rich with just a hint of sweetness.
This make-at-home version is lightened up a bit, made without any butter. Instead, it includes the addition of coconut milk to give it its creaminess. The traditional Indian spices of ginger, garam masala, and curry blend nicely with the tomatoes.
Can you Slow Cook Butter Chicken?
Definitely! Simply combine the butter chicken ingredients in your slow cooker and cook on HIGH for three hours or LOW for six hours.
Can you Make this Butter Chicken Recipe on the Stove?
Yes. Simply follow steps 1 and 2 as written, then add the chicken to your skillet. Bring the mixture to a low simmer and cook for 10-15 minutes, until the chicken is cooked through.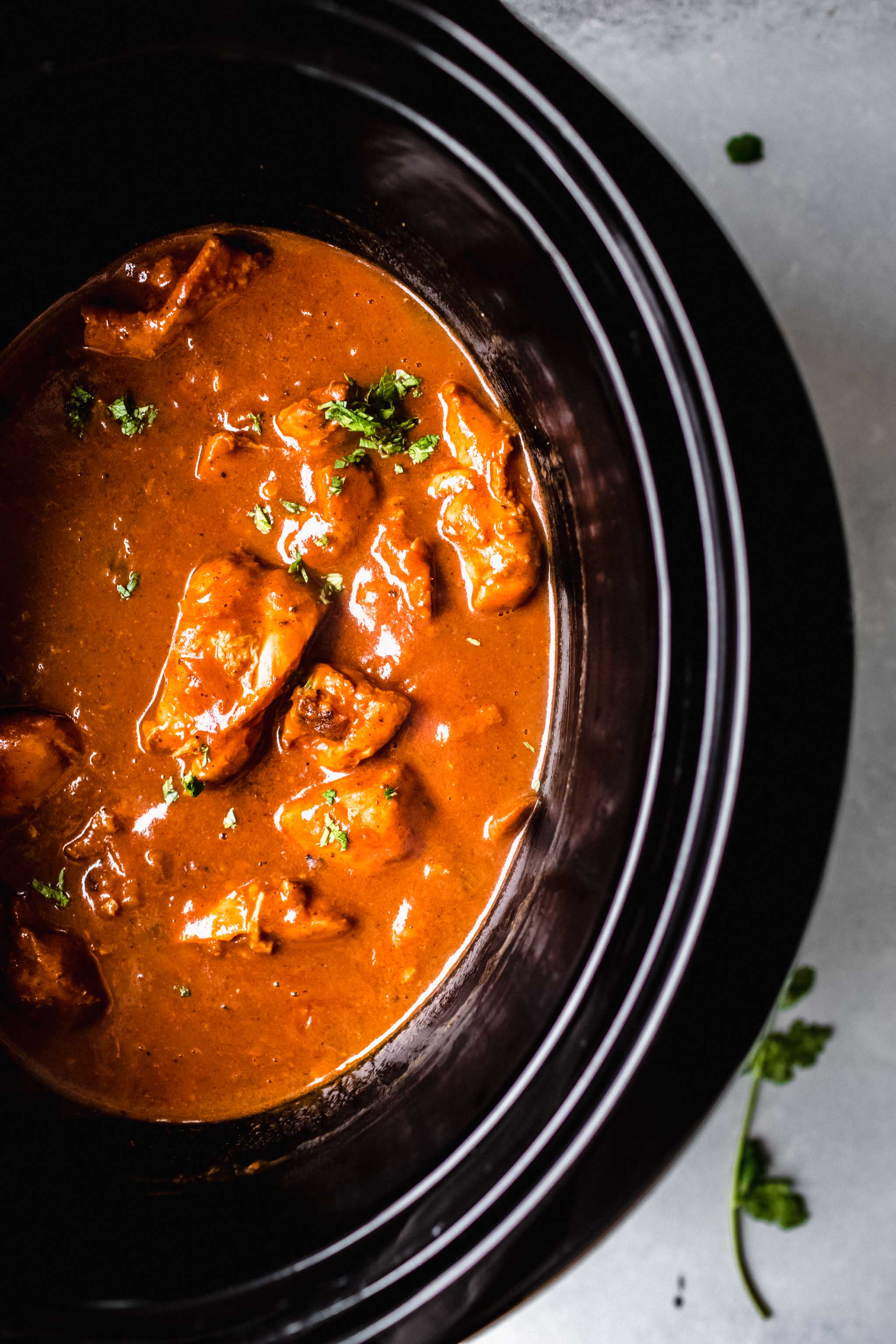 Is Butter Chicken Spicy?
As written, this butter chicken recipe is not spicy. However, if you'd like to spice things up a bit, you can add in some cayenne pepper or top your dish with some minced jalapeno or serrano peppers.
Is Butter Chicken Keto?
This is a keto-friendly butter chicken recipe. It is also paleo and low-carb. Try serving it over cauliflower rice.
How to Serve Slow Cooker Butter Chicken
With some basmati or jasmine rice. Have you tried making rice in the Instant Pot? Or, swap out the rice for quinoa.
With a side of naan bread.
If you'd like a low-carb, keto butter chicken, try serving this with cauliflower rice instead.
Wine Pairings for Indian Butter Chicken:
A Riesling or Gewurztraminer are your best bet for pairing with this spicy dish.
If you loved this Slow Cooker Butter Chicken recipe I would appreciate it so much if you would give it star review! Also, be sure to snap a picture of your finished dish and share it with me on Instagram using the hashtag #platingsandpairings and tagging me @platingsandpairings.
For more great Platings & Pairings recipes, be sure to follow me on Pinterest, Facebook, YouTube and Twitter.