Add a healthy boost of nutrients to your dinner with this easy Sauteed Spinach. Baby spinach is added to a skillet along with garlic and olive oil, then sauteed gently to create a simple side dish that pairs with any meal!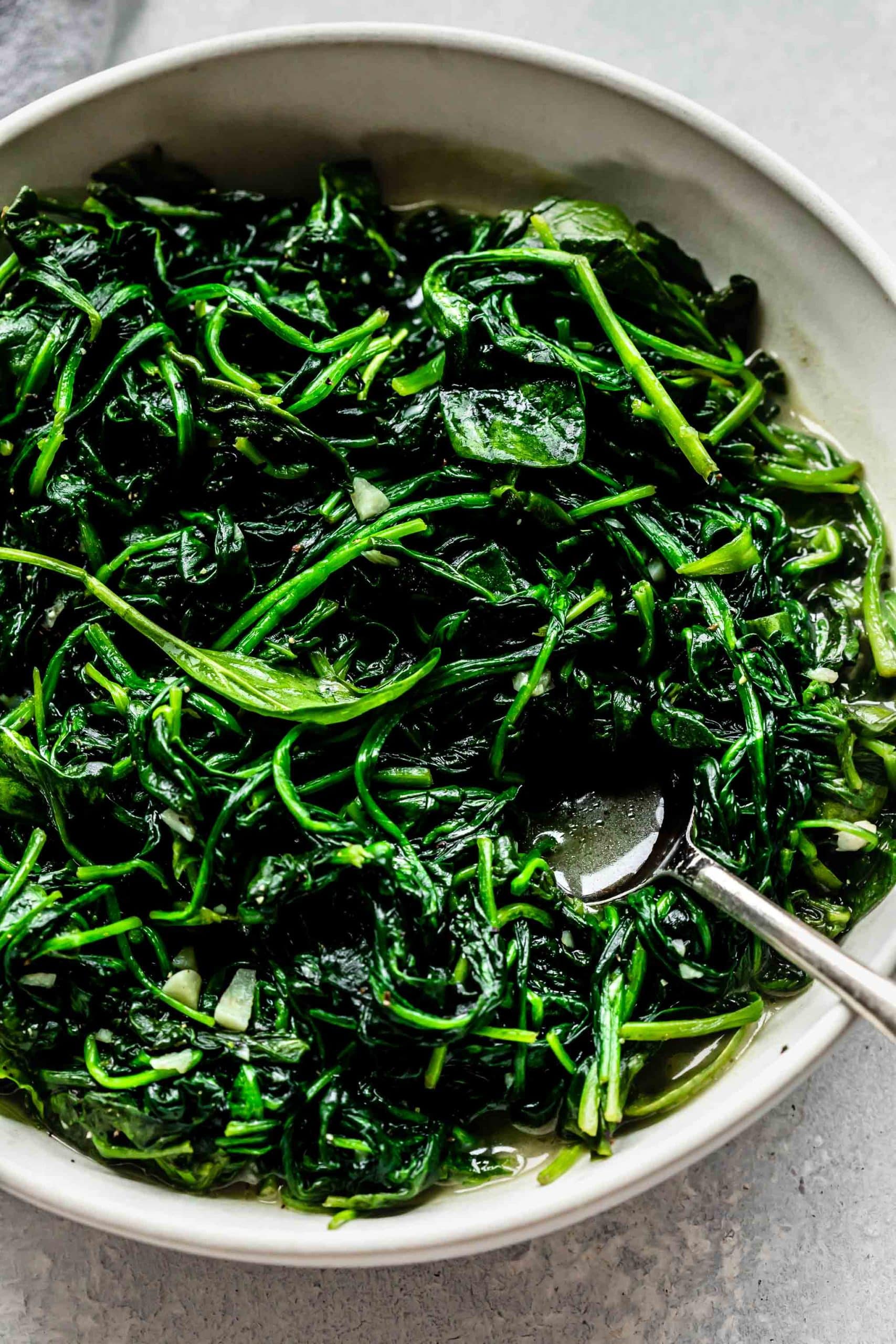 Add some nutrients and flavor to all of your meals with this easy Sauteed Spinach recipe. This leafy green vegetable contains a ton of vitamins and minerals. Unlike most raw vegetables, it's actually healthier when cooked as the nutrients are easier to absorb.
Sauteed spinach with garlic is one of my favorite go-to side dishes because it isn't complicated, is very versatile, is made in 1 pan, and pairs well with almost any recipe. Seasoned with fresh garlic and olive oil, the wilted spinach is infused with savory and complementary flavors. It's simple, aromatic, and is ready to eat with dinner in minutes.
You can flavor sauteed spinach in many different ways and use it to compliment any main meal. I love serving it alongside Classic Steak Diane, Air Fryer Meatloaf or a simple, but flavorful Whole Roasted Chicken. It also pairs well with many comforting side dishes like Mashed Sweet Potatoes or Glazed Carrots. Or, try it in some Spinach Scrambled Eggs.
Ingredients Needed
Baby Spinach Leaves
Olive Oil
Garlic
Salt & Pepper
How to Saute Fresh Spinach
Heat a large skillet or Dutch oven over medium heat with olive oil. Saute the garlic until it's soft and fragrant.
Add the bunches of fresh spinach and turn the leaves using tongs. Saute the spinach until the leaves wilt and the garlic has been incorporated.
Remove from the skillet and season with salt and pepper. Add a garnish if you'd like and serve hot with your favorite main course or side dishes.
Mix In Ideas
One of the best features of sauteed spinach is that it takes on whatever flavor you add to it. This means you can serve it simple and plain or add in some fun flavors to take it to the next level. This is what I recommend:
Butter and fresh lemon juice
A pinch of nutmeg
Chopped bacon
Red pepper flakes
Sauteed shallots
Sauteed onions
Sauteed mushrooms
Kale
A splash of heavy cream
Curry powder
Beans or chickpeas
Parmesan cheese, crumbled feta or goat cheese
Sliced almonds or chopped nuts
Smoked paprika
A pinch of brown sugar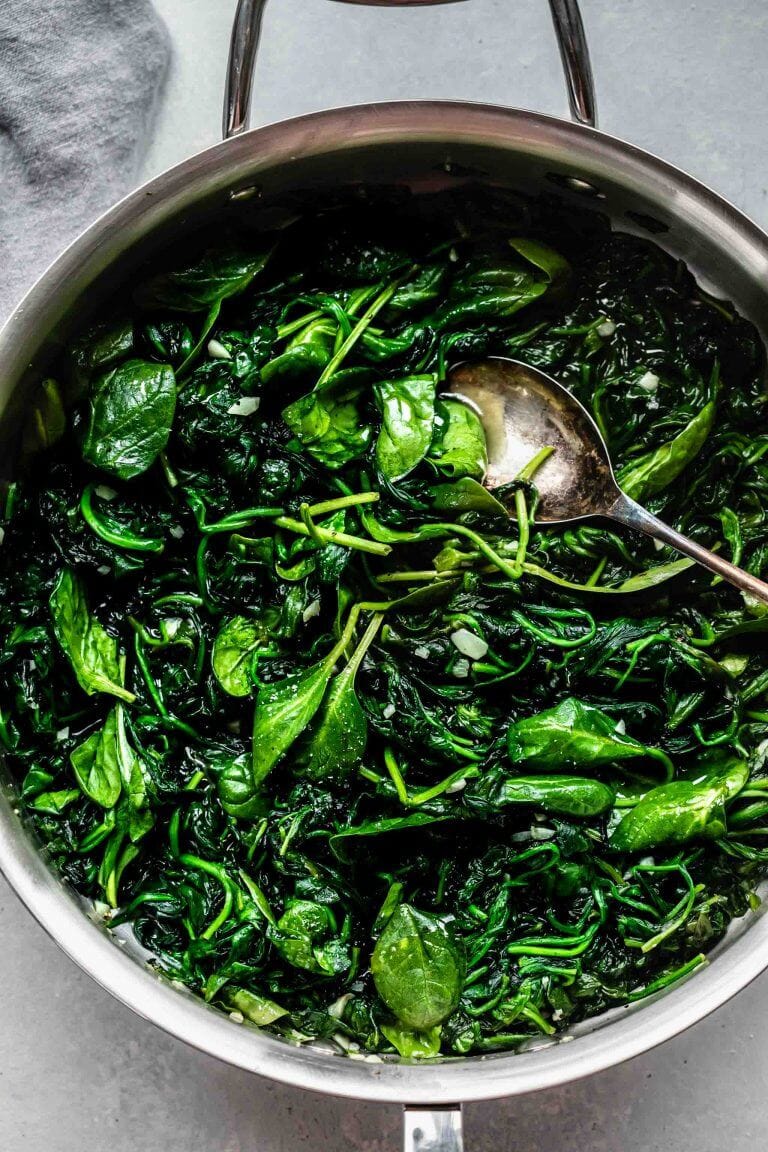 Tips & Tricks
Use fresh spinach instead of frozen to avoid excess water.
It may seem like you'll end up with a lot of spinach based on the amount of fresh greens you need, but it does shrink down quite a bit as it wilts.
Keep the heat low enough so the greens wilt but do not burn. If it's taking too long, you can always add a splash of vegetable stock or water to help them steam.
If you find that the spinach is a little bitter after cooking, add a squeeze of lemon juice on top to help counteract the bitter taste. Apple cider vinegar would also work if you don't have lemon.
How to Make Ahead & Store
Store any leftovers in an airtight container in the fridge for up to three days.
Wine Pairings
A light Pinot Noir with bright acidity, cherry, and earthy notes will complement the flavors in sauteed spinach.
A dry Chardonnay with mild oak complexity would also work well alongside dishes with dark leafy greens.
What Goes Well With Sauteed Spinach?
More Healthy Side Dish Recipes
Did you try this easy sauteed spinach recipe?
If you loved this sauteed spinach with garlic I would appreciate it so much if you would give this recipe a star review! Also, be sure to snap a picture of your finished dish and share it with me on Instagram using the hashtag #platingsandpairings and tagging me @platingsandpairings.
For more great Platings and Pairings recipes, be sure to follow me on Instagram, TikTok, Pinterest and Facebook.
Sauteed Spinach with Garlic Recipe
Add a healthy boost of nutrients to your dinner with this easy Sauteed Spinach. Baby spinach is added to a skillet along with garlic and olive oil, then sauteed gently to create a simple side dish that pairs with any meal!
Print
Pin
Instructions
In a very large skillet or Dutch oven, heat the olive oil and sauté the garlic over medium heat for 30 seconds-1 minute, until fragrant.

Add spinach in bunches, wilting and turning leaves in the pan, until all of the spinach is incorporated and wilted.

Season spinach with salt and pepper, to taste. Serve warm.
Nutrition
Calories:
101
kcal
|
Carbohydrates:
6
g
|
Protein:
5
g
|
Fat:
8
g
|
Saturated Fat:
1
g
|
Sodium:
716
mg
|
Potassium:
949
mg
|
Fiber:
4
g
|
Sugar:
1
g
|
Vitamin A:
15950
IU
|
Vitamin C:
48
mg
|
Calcium:
169
mg
|
Iron:
5
mg
Check out the web story here.
This post was originally published in 2019. It was updated in 2023 to add new content. The sauteed spinach recipe remains the same. Enjoy!