This is the perfect easy roasted chicken recipe. The skin is perfectly crisp and crackly, there's no basting, and it results in a lovely pan gravy at the finish. Easy enough for a weeknight dinner!
Roasting a whole chicken has always been a bit of a feat for me. It's one of those classic dishes that everyone has to make at least once I think. I finally found a recipe that I will repeat over and over again!
It's so easy just to go to your grocery store and pick up a rotisserie chicken that's cooked and hot and ready for you. However, it's much more fulfilling to make one on your own. To get just the right crispy skin, brown color and drippings to create a yummy pan gravy! Yep – The pan gravy is where it's at with this easy roasted chicken recipe!
I've tried several recipes for roasted chicken in the past. One called for using baking bags from Reynolds. That was a bit of a failure. The skin never got crispy and the color was just not there. Others called for stuffing lemons inside of the chicken and roasting with vegetables. Again, not quite what I was looking for. The chicken was somehow dry and the skin not crispy.
This easy roasted chicken recipe starts your chicken off at a high temperature (450 degrees). Pop the chicken into the scorching hot  oven and then immediately turn the heat down to 375 degrees for the duration of the roasting time. That high heat at the outset is what gives this easy roasted chicken its great, crackly skin. By not stuffing the bird, or roasting with veggies, you cut down on any added moisture in the oven, providing that perfect environment to keep the skin dry and crispy. Also, because you're just roasting the chicken with no added accompaniments, you've got the base for great, quick gravy at the end.
The gravy couldn't be simpler, and it cooks in just the right amount of time to let that roasted chicken cool on your cutting board for a bit to let the juices redistribute. To make it, just place that cast iron skillet with the pan drippings over a burner set to medium-high heat. Add in some white wine (or dry vermouth) for amazing flavor and then make a slurry of cornstarch and water by shaking them up together in a small jar. Add it to the pan and let it all cook together for a minute or two, until it thickens up. Season to taste with salt and pepper, and you're ready to go.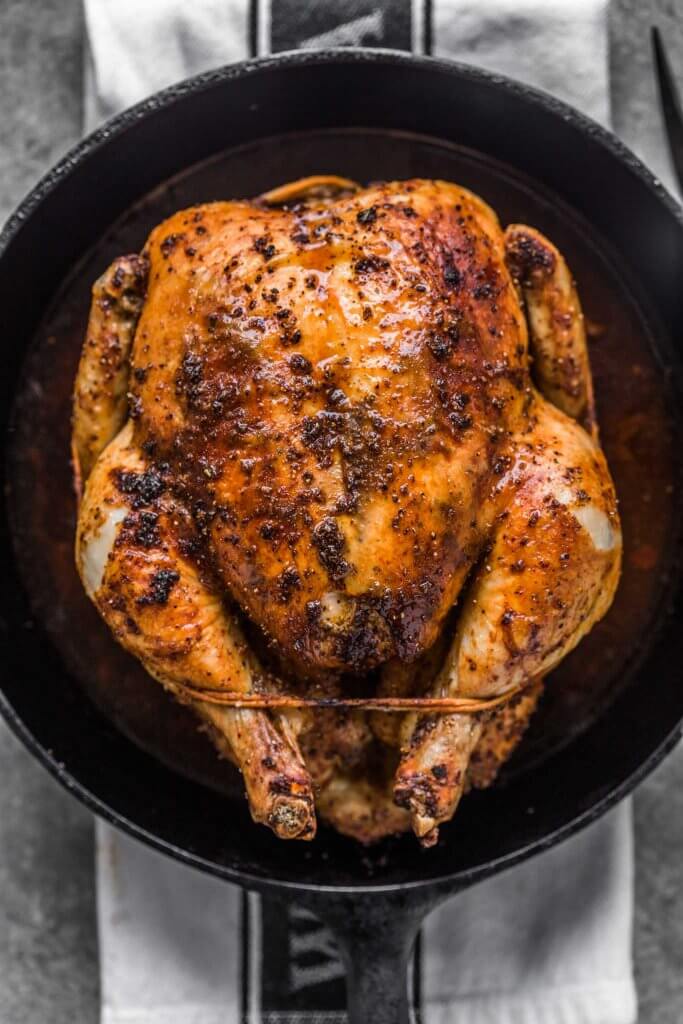 Serve alongside your favorite vegetable side dish (try this roasted broccoli or a miso roasted cauliflower) and mashed potatoes and you're set!
PS – Be sure to save the bones from your roasted chicken to make a simple, nutritious bone broth with the help of your slow cooker or instant pot! 
Easy Roasted Chicken
This is the perfect easy roasted chicken recipe. The skin is perfectly crisp and crackly, there's no basting, and it results in a lovely pan gravy at the finish. Easy enough for a weeknight dinner!
Print
Ingredients
Chicken
4-6

pound

whole chicken

neck and giblets removed

2

tablespoons

olive oil

1 1/2

teaspoons

kosher salt

1

teaspoon

paprika

1

teaspoon

black pepper

3/4

teaspoon

McCormick Grill Mates Montreal chicken seasoning

or poultry seasoning

1/2

teaspoon

onion powder

1/2

teaspoon

chili powder

1/4

teaspoon

garlic powder
Gravy
1

tablespoon

cornstarch

1/4

cup

water

1/4

cup

dry white wine or vermouth
Instructions
Preheat your oven to 450 degrees.

Rinse your chicken with cold water inside and out and dry well with paper towels.

Combine olive oil with spices in small bowl and mix well. Rub half of your spice mix under the skin of the breast side and back side. Rub the remaining spices on the outside of your chicken. Using some kitchen twine, tie up the chicken legs and wings. This makes for more uniform cooking.

Place your chicken breast side up in an oven safe skillet or roasting pan. Place in your preheated oven and immediately reduce the heat to 375 degrees.

Roast your chicken for approximately 20 minutes per pound, or until the temperature of the breast meat registers at 180 degrees.

Remove the chicken from the oven and let rest for 10 minutes in the pan. After the chicken has cooled, remove to a cutting board and let rest for an additional 10 minutes before carving (reserve the pan drippings in the pan to make your gravy).

While the chicken is cooling on the cutting board, defat your pan drippings by skimming the top with a spoon and reserving only the solids in the pan. Place your pan on your stove burner over medium-high heat, add 1/4 cup white wine or vermouth. Reduce this mixture by about half.

Combine the cornstarch and water in a small mason jar or Tupperware and shake well to combine. Add this mixture to your reduced drippings and heat until the gravy has thickened. Serve over your carved chicken.
Don't have a meat thermometer yet? This is my favorite meat thermometer, and it's under $15! 
If you loved this Easy Roasted Chicken I would appreciate it so much if you would give this recipe a star review! Also, be sure to snap a picture of your finished dish and share it with me on Instagram using the hashtag #platingsandpairings and tagging me @platingsandpairings.
Nutrition Facts
Easy Roasted Chicken
Amount Per Serving
Calories 361
Calories from Fat 234
% Daily Value*
Total Fat 26g 40%
Cholesterol 108mg 36%
Sodium 686mg 29%
Potassium 281mg 8%
Total Carbohydrates 1g 0%
Protein 27g 54%
* Percent Daily Values are based on a 2000 calorie diet.
Wine Pairings for Easy Roasted Chicken:
A Viognier or unoaked Chardonnay would pair nicely with this dish.
If you would like to go the red route, I'd suggest a Pinot Noir, or other light bodied red. Avoid hard, oaky tannic reds and they can overwhelm the delicate flavors of the chicken.
Tips:
Don't throw out those bones from your roasted chicken – Use them to make a simple, nutritious bone broth with the help of your slow cooker or instant pot!
Here's a great resource for learning how to tie up your chicken. However, if you don't have kitchen twine on hand, feel free to skip this step.