This Peruvian Chicken with Creamy Green Sauce packs in big flavors thanks to the easy marinade and vibrant green sauce (aji verde).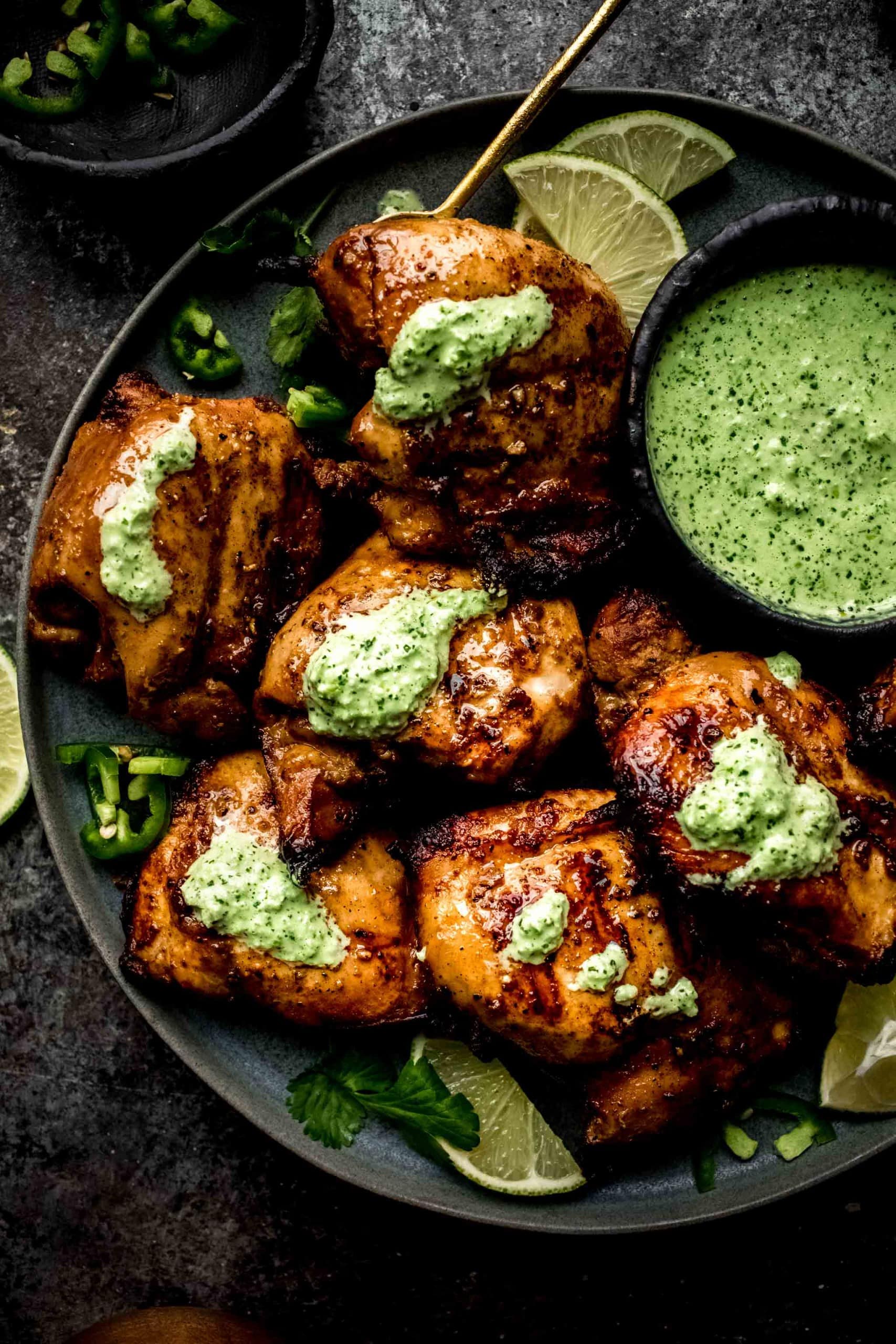 This chicken has all of the flavors going on thanks to an easy marinade. Marinating boneless chicken thighs in a mix of garlic, soy sauce, and cumin and serving it next to this amazing creamy green sauce gives this dish layers of intricate and authentic Peruvian flavors.
Similar to my favorite Mojo Sauce and Peruvian Aji Amarillo, the vibrant green sauce in this recipe tastes like it came straight from Peru. Made with jalapeno, cilantro, and fresh lime juice, the flavor and texture are creamy but made tangier with the addition of Greek yogurt.
It's the perfect dipping sauce for this chicken but can also be used on salads, tacos, and roasted veggies!
I love this meal because it's quick, casual, and unexpected. It's the perfect choice when entertaining because the majority of the work can be done ahead of time! Finally, you can forget about babysitting the meat and spending hours cleaning the kitchen.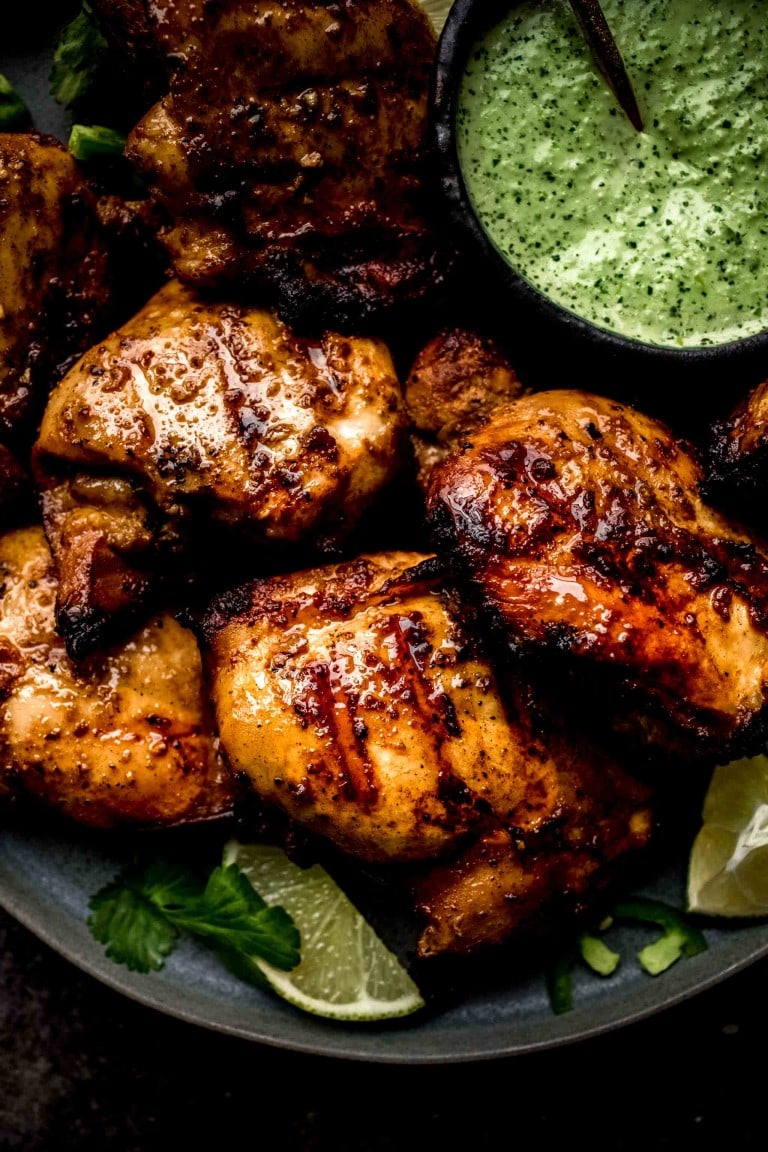 What is Peruvian Chicken?
Peruvian grilled chicken, or Pollo a la Brasa, is similar to rotisserie or roasted chicken but marinated first in a mixture of lime juice, oil, garlic, and spices.
My take on Pollo a la Brasa is made using boneless chicken thighs but you can easily swap these for a whole chicken, breasts, wings, or legs.
This dish is best served next to a creamy and spicy green sauce (aji verde) made from jalapenos, mayonnaise, and cilantro, so be sure not to skip it!
Green Sauce – Aji Verde Ingredients
Jalapeños – remove the ribs for less heat
Cilantro – or use parsley if you're sensitive to cilantro
Green Onions – green parts only
Garlic
Mayonnaise
Greek Yogurt
Lime Juice – adds a delicious tang
Olive Oil
Salt + Pepper
How to Make Creamy Green Sauce (Aji Verde)
It's easy! Just add all of the sauce ingredients (except the olive oil) to a blender or mini food processor (I love this one!) and blend until smooth. Slowly drizzle in the oil with the motor running until it's fully combined, then transfer the finished sauce to a bowl and refrigerate.
For more information, check out my full post on how to make Peruvian Green Sauce.
How to Make Marinated Peruvian Chicken
Place the chicken thighs in a ziploc bag with the garlic, soy sauce, lime juice, oil, cumin, paprika, oregano, and black pepper. Let it marinate for 8 to 24 hours.
Can I Grill the Chicken?
Grill the Peruvian chicken on an oiled grill grate over medium-high heat. Flip it once and continue cooking until the chicken is done.
Can I Roast the Chicken?
If you prefer to cook indoors, you can roast the chicken in a 500ºF oven for about 30 minutes. Afterward, tent the pan in foil and cook for an additional 15 minutes or until the chicken is browned and fully cooked.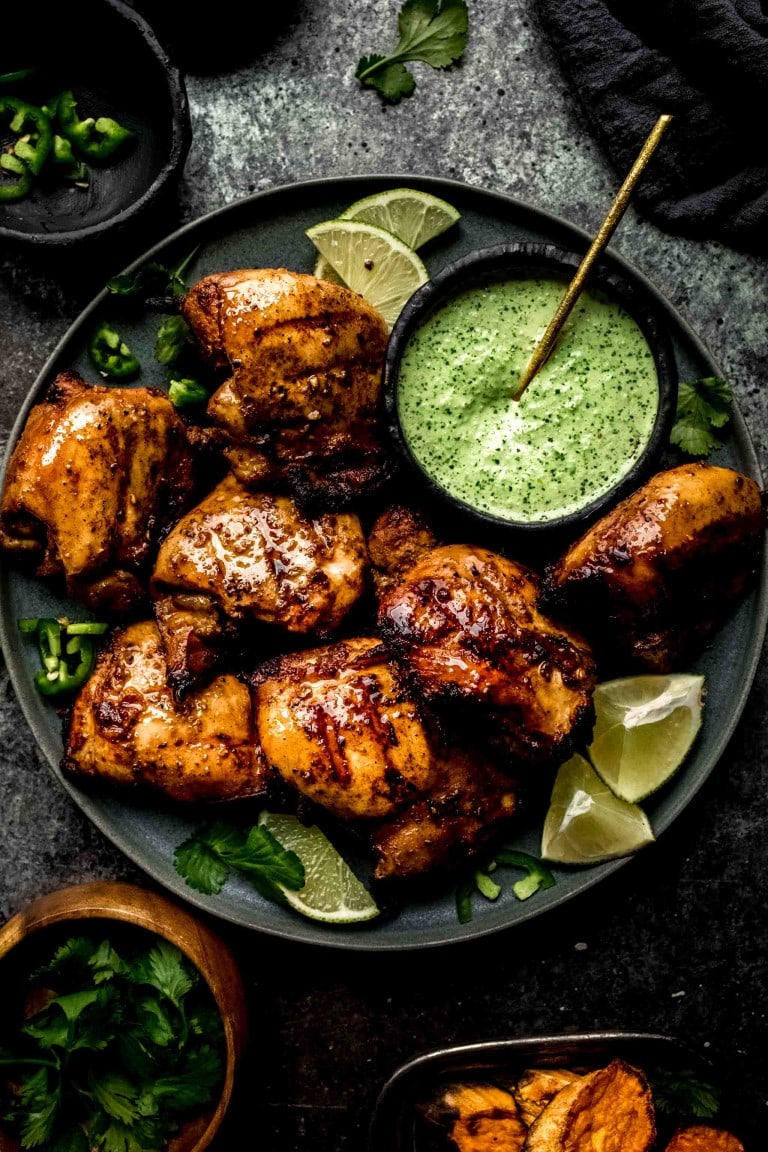 Tips and Substitutions
You can leave the mayo out of the green sauce. Just use more Greek yogurt in its place or swap in some sour cream or Mexican crema.
If you aren't sure if the chicken thighs are cooked, use a meat thermometer to measure the internal temperature. Boneless chicken thighs are fully cooked when their internal temperature reads 165ºF.
If you really like spice, substitute the jalapenos in the green sauce for serrano peppers.
If the green sauce is too spicy, use only 1 or 2 jalapenos and make sure to remove the seeds and veins from inside the pepper first.
You can make this recipe with a whole chicken, breasts, legs, wings, or any cut of chicken you prefer.
Make the green sauce with aji amarillo (Peruvian yellow pepper) paste instead of jalapenos for a more authentic flavor.
Wine Pairing for Peruvian Chicken
Vinho Verde is high in acidity, which makes it ideal for pairing with the rich and creamy green sauce served with this chicken.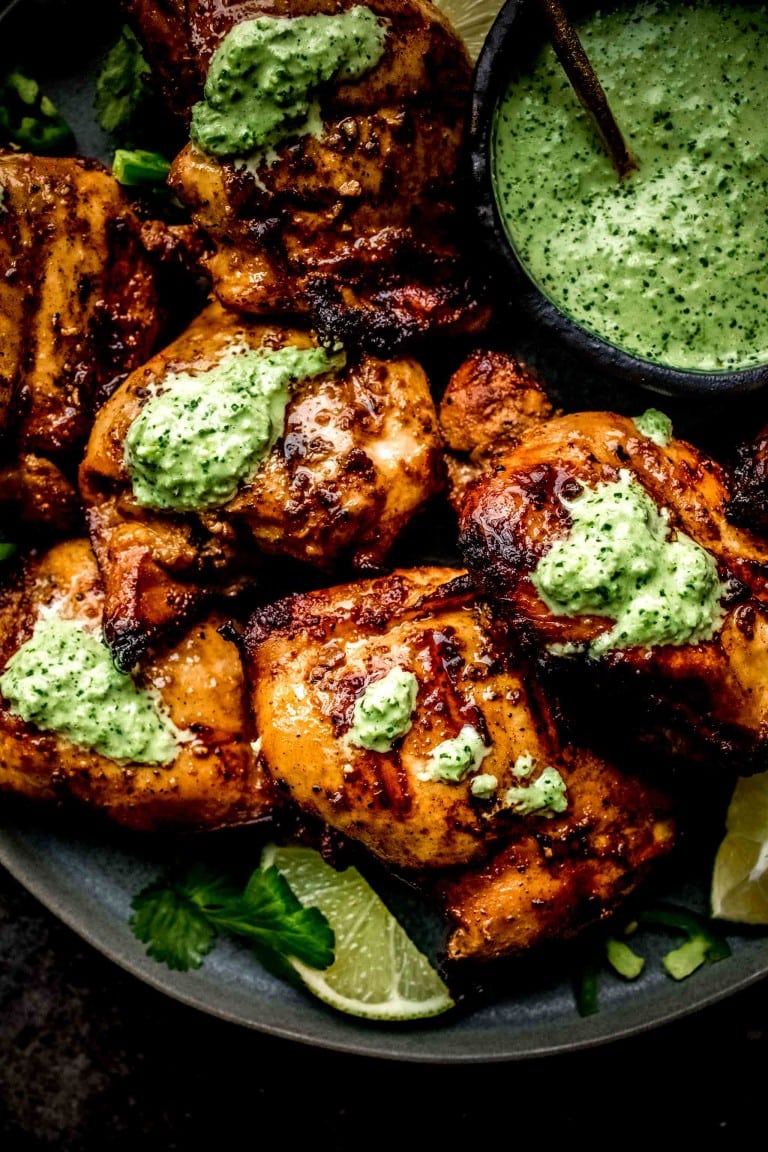 What to Serve with Peruvian Chicken
Did You Make This Peruvian Chicken?
If you loved this Peruvian chicken recipe I would appreciate it so much if you would give this recipe a star review! Also, be sure to snap a picture of your finished dish and share it with me on Instagram using the hashtag #platingsandpairings and tagging me @platingsandpairings.
For more great Platings and Pairings recipes, be sure to follow me on Pinterest, Facebook, YouTube and Twitter.
More Grilling Recipes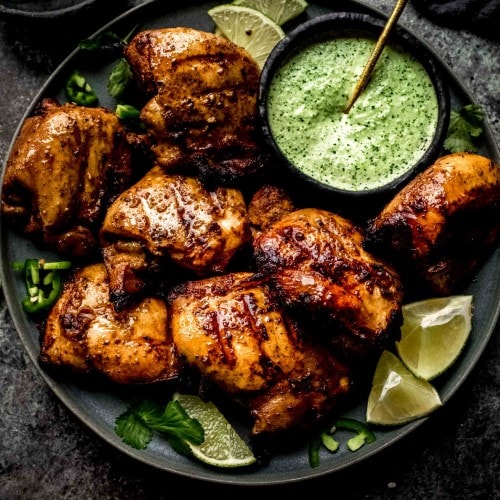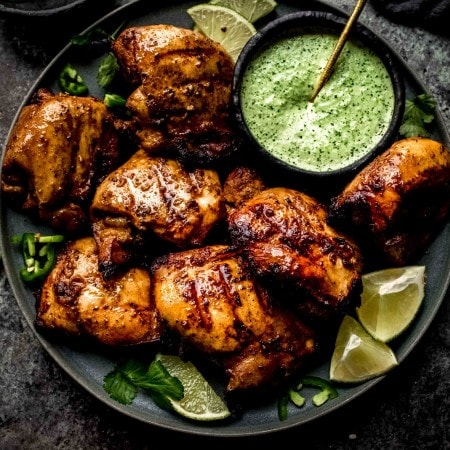 Peruvian Chicken Recipe
Peruvian Chicken with Creamy Green Sauce is packed with flavor and the perfect way to add some international flair to your next barbecue.
Print
Pin
Instructions
Chicken:
Puree garlic, soy sauce, lime juice, oil, cumin, paprika, oregano and a pinch of black pepper in a blender.

Put chicken in a large ziploc bag and add marinade. Place in refrigerator and allow to marinate for 8 to 24 hours.
Green Sauce:
Combine all ingredients except the olive oil in a blender process until smooth. With the motor running, slowly drizzle in olive oil. Transfer to a bowl and refrigerate until ready to serve.
Grill chicken:
Preheat grill to medium-high heat (around 350-degrees). Remove chicken from marinade and shake off any extra marinade. Place on the grill grates. Let chicken cook for 5-6 minutes with the grill cover closed to maintain the heat. Use tongs to flip the chicken thighs. Cook for an additional 5-6 minutes. Use a digital thermometer to make sure internal temperature reaches 165°F.
OR – In oven:
Preheat the oven to 500 degrees and place the chicken pieces in a 13×9 inch roasting pan. Add 1 cup water to the pan. Bake uncovered for 30 minutes, then tent the pan with foil and cook for an additional 15 minutes, until the chicken is fully cooked. (The internal temperature should reach 165°F.)
Nutrition
Calories:
731
kcal
|
Carbohydrates:
5
g
|
Protein:
39
g
|
Fat:
60
g
|
Saturated Fat:
12
g
|
Cholesterol:
155
mg
|
Sodium:
1691
mg
|
Potassium:
509
mg
|
Sugar:
2
g
|
Vitamin A:
925
IU
|
Vitamin C:
21.6
mg
|
Calcium:
60
mg
|
Iron:
3.1
mg
Disclosure: This post was originally published in July 2016. It was updated in July 2021 to add new photographs and information. The recipe remains the same.
Watch the web story here.