If you need a fun and flavorful finger food, make it these Air Fryer Shishito Peppers! They're easy to make in 10 minutes, have a mild heat and sweet flavor, and are completely addictive. Bet you can't eat just one!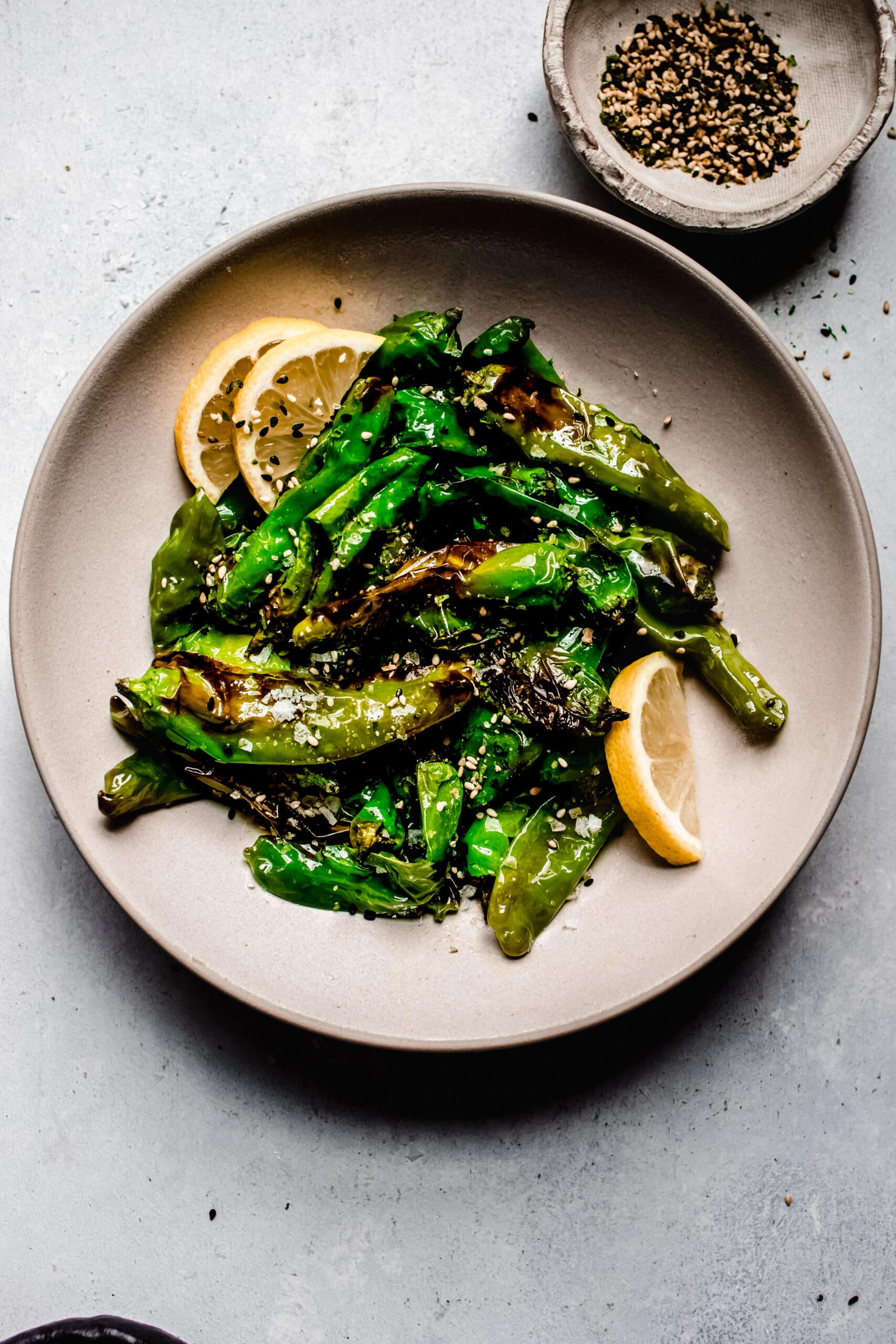 When I'm looking for an out-of-the-ordinary snack, I make sure to pull out my air fryer so I can make these blistered air fryer shishito peppers. The air fryer does all the work and gives me lightly charred and tender shishitos every time.
Don't get me wrong – I love grilled shishito peppers. But when it's too cold to grill or I'm not in the mood for the excess oil from the pan-fried version, I make these air fryer shishitos instead.
The best part of this recipe is that it's easy and only takes 10 minutes! All you need to do is toss the peppers in a drizzle of oil before letting them air fry until lightly charred, tender, and blistered.
They'll be a hit at any gathering with a few dipping sauces on the side and fun garnishes on top, like lemon juice, togarashi, or sea salt.
What are shishito peppers?
Shishito peppers are small, thin-skinned green chili peppers. They're native to Japan but have recently grown in popularity throughout Europe and the U.S.
For the most part, shishitos have a sweet flavor and mild heat, possessing between 50 to 200 Scoville Heat Units (SHU)… until they don't. It's said that about 1 in 10 shishito peppers are spicy, reaching up to 1,000 SHU! This is because, according to Bon Appetit, the amount of capsaicin (the thing that makes them spicy) in each pepper varies.
Sure, they're a great party snack, but are even more fun to enjoy for a round of shishito pepper roulette! Simply grab the stem, cross your fingers, pop the whole pepper in your mouth, and enjoy!
Ingredients
Shishito peppers – When buying shishitos, look for firm, bright green peppers with fresh-looking stems and no discoloration. If you can't find them in your everyday major grocery store, you may have better luck at Asian grocers, farmers' markets, Whole Foods, or Trader Joe's.
Olive oil
Kosher salt
Togarashi – This is a Japanese seasoning blend made from dried chili peppers and seasonings. The ingredients vary but each blend typically features a mix of red chili flakes, Sichuan peppercorns, dried orange peel, sesame seeds, and dried seaweed flakes. It brings a warm, citrusy flavor when sprinkled over the shishito peppers and is a wonderful garnish for even more Japanese-inspired dishes, like ramen, sushi rice, and udon soup.
Lemon – A spritz of lemon juice brightens the peppers' flavor and balances the spice.
How to cook shishito peppers in an air fryer
Toss the peppers with olive oil in a medium bowl. Transfer them to the air fryer basket and cook, tossing every few minutes, until they're charred and blistered.
When they're done, place them back in the oiled bowl. Toss with the garnishes and seasonings of your choice (I like salt and togarashi), then serve with lemon wedges and dipping sauce on the side. Enjoy!
Tips and tricks
Leave the stems intact but don't eat them! They make the peppers easier to pick up and eat.
Try not to overcrowd the air fryer basket too much. It's ok if the peppers overlap slightly, but air frying too many at once can prevent them from getting crispy. Cook the peppers in two batches if needed.
You may hear the shishitos pop as they release moisture during cooking. This is normal, but you can prevent it by poking a small hole through the skin of each pepper before air frying.
Shishito peppers are best served straight from the air fryer. Try not to make them too far in advance or else they can become soggy.
Variations
Swap the olive oil – Use sesame oil instead of olive oil for a rich, nutty flavor. Sprinkle sesame seeds, bonito flakes, or furikake on top to build on those nutty flavors.
Instead of lemon and togarashi – Garnish the peppers with lime juice and a pinch of ground cumin.
Give them a savory flavor – Halfway through the cooking time, toss the peppers with freshly minced garlic and shallots or finish them with my Everything Seasoning Blend.
Serving suggestions
Dipping sauces are a must next to a plate of blistered shishito peppers! Any of these ideas would pair very well with their sweet and somewhat spicy flavors:
Ponzu Sauce
Garlic Aioli
Soy Sauce
Miso Sauce
Or make them a part of a well-rounded meal with these mains:
FAQs
Are shishito peppers spicy?
Shishito peppers are milder than jalapenos but hotter than green bell peppers. You may bite into a hot one because 1 in 10 shishitos have a spicy kick but are, for the most part, pretty mild.
Can you eat raw shishito peppers?
You can, but cooked shishitos are more appetizing because of their soft skin and enhanced flavor.
Are shishito peppers healthy?
Yes! Shishito peppers are high in fiber and packed with vitamins and minerals, including vitamins A, C, E, and folate.
Wine pairings for shishito peppers
More snacks and finger foods
​​​​Did you make this shishito pepper recipe?
If you loved these air fryer shishitos, I would appreciate it if you gave them a starred review! Also, be sure to snap a picture of your finished dish and share it with me on Instagram using the hashtag #platingsandpairings and tagging me @platingsandpairings.
For more great Platings and Pairings recipes, be sure to follow me on Instagram, TikTok, Pinterest and Facebook.
Air Fryer Shishito Peppers Recipe
If you need a fun and flavorful finger food for the party, make it these Air Fryer Shishitos! They're easy to make in 10 minutes, have a mild heat and sweet flavor, and are completely addictive. Bet you can't eat just one!
Print
Pin
Instructions
Place the peppers in a medium bowl and toss with olive oil; set aside.

Preheat the air fryer to 390 degrees.

Add the peppers to the air fryer basket (save the oiled bowl) and cook for 6-8 minutes, shaking occasionally, until they charred and blistered.

Return the peppers to the bowl, and toss with togarashi and salt. Squeeze lemon over peppers, to taste. Serve immediately.
Nutrition
Calories:
32
kcal
|
Carbohydrates:
2
g
|
Protein:
0.3
g
|
Fat:
2
g
|
Saturated Fat:
0.4
g
|
Polyunsaturated Fat:
0.3
g
|
Monounsaturated Fat:
2
g
|
Sodium:
1
mg
|
Potassium:
94
mg
|
Fiber:
1
g
|
Sugar:
2
g
|
Vitamin A:
407
IU
|
Vitamin C:
45
mg
|
Calcium:
5
mg
|
Iron:
0.1
mg