Learn how to make Udon Soup (Kake Udon) at home. It's a traditional Japanese appetizer made with tender udon noodles and a rich, dashi-based broth. This classic soup is warm, cozy, and the perfect umami-forward canvas for flavorful toppings.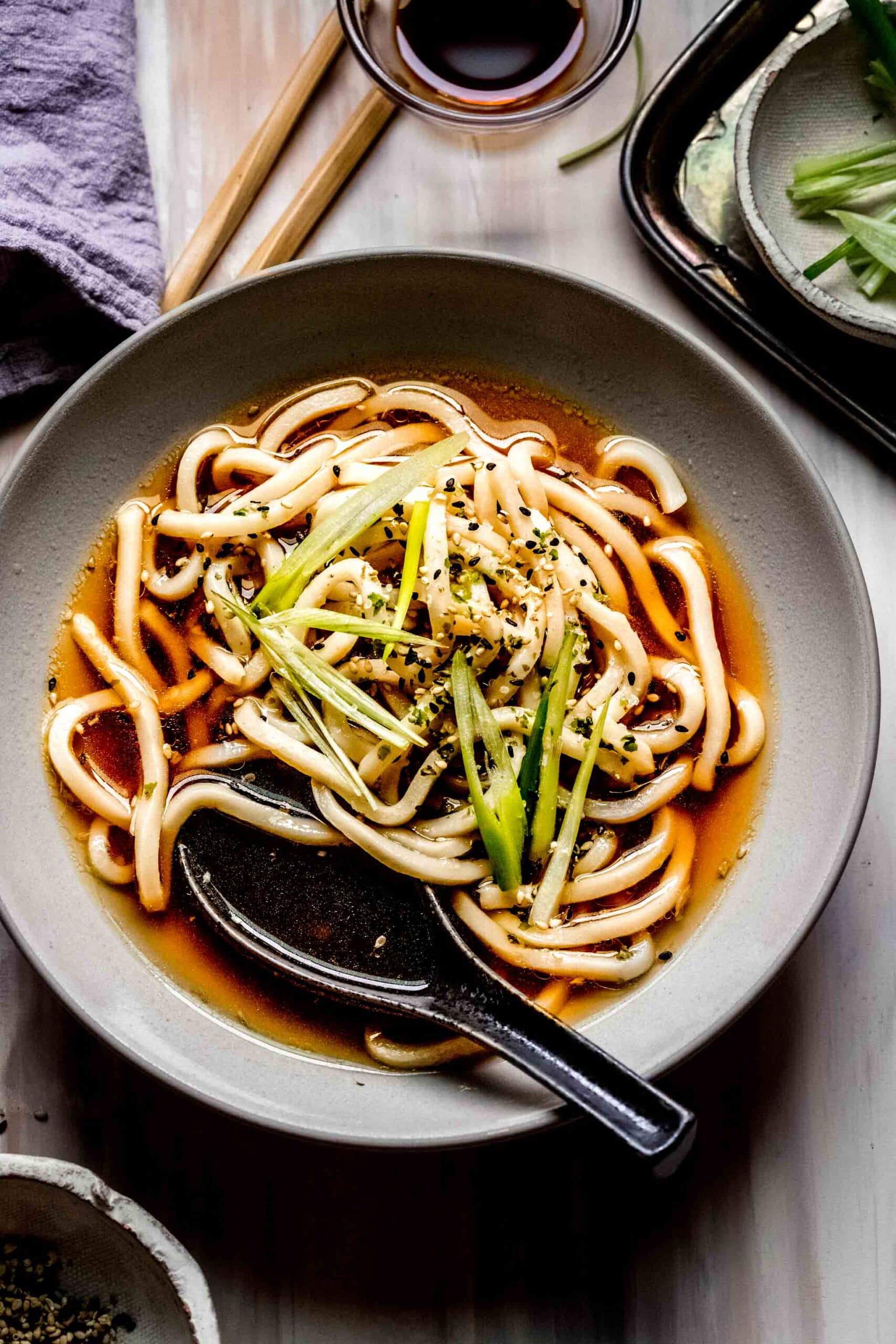 Udon Soup is a classic Japanese soup made with delightfully chewy udon noodles in a ridiculously flavorful, yet delicate broth.
A soup this simple made with such a shortlist of ingredients may seem too good to be true, but it really is the ultimate cold weather comfort food. Bonus: it's made in minutes!
This udon noodle soup recipe can be enjoyed as a meal or served as an appetizer before light and flavorful entrees, like Hamachi Crudo, Octopus Ceviche, and Crispy Rice Sushi!
🥄 What is udon soup?
At the heart of this iconic Japanese noodle soup is, you guessed it, udon. This is a thick, chewy wheat flour noodle with a long, flat (sometimes rounded) shape.
The exact origin of udon noodles is up for debate. The oldest theory claims udon came from China in the 700s. Regardless of its murky history, it's since become a signature Japanese dish that's gained popularity around the world.
This udon soup is inspired by kakejiru-style preparation. The broth is made with dashi, soy sauce, mirin, and other aromatic flavor enhancers. I love topping it with green onions and shichimi togarashi, but the possibilities are endless.
✔️ Udon vs. soba
Udon and soba are both popular Japanese noodles and, in many cases, can be used interchangeably. However, they each have a few distinguishable characteristics that set them apart. For instance, udon is primarily made with wheat flour, while soba is made from buckwheat.
Soba noodles are thinner with a spaghetti-like size and shape, are darker in color, and have a discernible nutty flavor. Udon noodles, on the other hand, are very mild.
You can make this soup with soba instead of udon, but for the best results, you should look for fresh or frozen udon noodles. They tend to be much thicker, chewier, and not as brittle as dried soba. Save the soba for cold dishes (hiyakake-style) and pair them with dipping sauces like this dumpling dipping sauce.
🛒 What is udon soup made of?
Udon noodles – This is a thick Japanese noodle made from wheat flour. Both fresh and frozen udon will work well here. If you can't find udon noodles, replace them with another long, thick noodle, like spaghetti or bucatini.
Sesame oil – Tossing cooked udon with a bit of oil keeps the noodles from clumping together. You can use olive oil, but sesame oil adds a rich, nutty element to the soup.
Olive oil
Ginger – Use freshly grated ginger for maximum flavor.
Garlic – Fresh sauteed garlic enhances the savory elements in the broth.
Water
Dashi packets – Making this with a dashi soup base adds complexity and flavor to the broth. It's typically made from kelp seaweed (kombu) and katsuobushi (dried bonito flakes). If you can't find dashi, use chicken stock. If the dashi packets taste particularly salty, reduce the amount of soy sauce.
Soy sauce – You can use light or dark soy sauce or a combination of the two.
Mirin – This type of rice wine adds amazing flavor to Japanese cuisine. It's similar to sake, but with less alcohol and more sugar.
Salt
Green onions
Togarashi – This is a Japanese spice blend made from chili flakes, seaweed, sesame seeds, and other spices. It wakes every flavor with fiery umami for a spicy udon noodle soup.
📋 How to make udon soup
There is no one perfect way to make udon soup. The flavors and methods range from region to region. This version I used is considered Kake Udon, which is a brothy soup made with udon and dashi broth. Here's how it's done:
Cook the noodles
Start by cooking the udon noodles according to the package directions. Drain well and toss with sesame or olive oil to prevent them from getting sticky. Set them aside.
Saute the aromatics
Heat the olive oil in a medium saucepan. Add ginger and garlic and cook until fragrant.
Make the broth
Next, add the water and the dashi packets to the saucepan. Bring the liquid up to a boil, reduce the heat, and simmer. Remove the dashi packets from the liquid, squeeze out all its contents, and discard.
Finish by stirring in the soy sauce and mirin. Give it a taste to see if it needs any additional salt.
Add the noodles
Stir the noodles into the soup. If they became cool while you were making the broth, rewarm them and the broth over medium-low heat.
Add the toppings
Top the finished soup with sliced green onions and togarashi shichimi, and enjoy hot!
🌟 Variations
You can add substance to the soup by topping each bowl with protein, such as:
Chicken katsu
Thinly sliced beef
Tempura shrimp or air fryer shrimp
Kamaboko (fish cake)
Boiled egg

There are plenty of toppings to choose from, too. Here are a few favorites:
Cilantro
Bean sprouts
Bok choy
Sliced radishes
Seaweed
Tempura veggies
Edamame
Corn
ℹ️ Recipe FAQs
Can you make udon soup in the Instant Pot?
Yes! First, cook the noodles separately according to the package instructions. Drain and set aside. 

Add the olive oil to the pot on Saute mode, then add the garlic and ginger and cook until fragrant. Add the remaining broth ingredients and cook on manual, HIGH pressure for 0 minutes. Once the timer stops, manually release the pressure.

Divide the noodles between deep bowls, add the broth, and garnish with your desired toppings. 
Can it be made vegan?
To make vegan udon noodle soup, use kombu dashi powder. It's made with only seaweed and no bonito flakes (skipjack tuna flakes). 
How do you store the leftovers?
Drain the broth from the noodles and refrigerate them in separate airtight containers for 2 to 3 days. You can also freeze the broth in an airtight container for up to 3 months. 
🍷 Wine pairings for udon noodle soup
Sake, or rice wine, is an authentic pairing for Japanese food.
A slightly sweet and fragrant white wine, like a dry Riesling or Sauvignon Blanc, is always a good call.
A bold red Zinfandel or Cabernet is fantastic next to the rich, umami flavors.
​​Did you make this udon recipe?
If you loved this homemade udon noodle soup, I would appreciate it so much if you would give this recipe a ⭐️star review⭐️! Also, be sure to snap a picture of your finished dish and share it with me on Instagram using the hashtag #platingsandpairings and tagging me @platingsandpairings.
For more great Platings and Pairings recipes, be sure to follow me on Instagram, TikTok, Pinterest and Facebook.
🥣 More Asian-inspired soup recipes
Plus, be sure to check out these 30+ BEST Asian Side Dishes.
Udon Soup Recipe
Learn how to make Udon Soup (Kake Udon) at home. It's a traditional Japanese appetizer made with tender udon noodles and a rich, dashi-based broth. This classic soup is warm, cozy, and the perfect umami-forward canvas for flavorful toppings.
Print
Pin
Ingredients
2

7-ounce

packages udon noodles

(fresh or frozen, spaghetti or bucatini also work)

1

teaspoon

sesame oil

(or olive oil)

1

Tablespoon

olive oil

2

teaspoons

fresh grated ginger

3

cloves

garlic

(grated or minced)

4

cups

water

3

6-gram packets

dashi

¼

cup

low-sodium soy sauce

2

Tablespoons

mirin

Salt

(to taste)
Instructions
Prepare noodles according to package directions, and drain. Toss with a teaspoon of sesame or olive oil to prevent them from sticking, and set aside.

Meanwhile, in a medium saucepan over medium-high heat, add the olive oil. Once hot, add the ginger and garlic and saute until it becomes fragrant, about 1 minute.

Add the water and the dashi packets. Bring to a boil then simmer for 2-3 minutes. Remove the dashi packet, squeezing out the liquids, then discard.

Add the soy sauce and mirin and stir to combine. Season with salt, to taste.

Stir in the cooked noodles and heat over medium-low, if necessary, to rewarm them.

Top with green onions and togarashi, as desired, and enjoy.
Notes
If you can't find dashi, you can substitute chicken broth. 
Nutrition
Calories:
169
kcal
|
Carbohydrates:
6
g
|
Protein:
2
g
|
Fat:
5
g
|
Saturated Fat:
1
g
|
Polyunsaturated Fat:
1
g
|
Monounsaturated Fat:
3
g
|
Sodium:
661
mg
|
Potassium:
87
mg
|
Fiber:
0.4
g
|
Sugar:
2
g
|
Vitamin A:
60
IU
|
Vitamin C:
2
mg
|
Calcium:
21
mg
|
Iron:
0.4
mg
Check out the web story here.