Want to learn How to Cut Green Onions like a pro? This guide teaches you how to slice them into 4 different shapes to enhance the presentation of any dish. Green onion recipes and re-planting tips included.
Green onions bring a pop of green color and fresh, earthy flavors wherever they're used. While they're mostly used as a garnish at the end of the cooking process, you can learn How to Cut Green Onions (scallions) just like a professional chef to give any recipe an upgraded, eye-catching presentation.
We're going way beyond the circular cuts you're used to seeing. Instead, you'll learn how to slice scallions into:
Diagonals
Curls
Minced
These leveled-up cuts (that you don't need fancy knife skills for) are one of the best ways to make a simple stir fry, mashed potatoes, fried rice, or anything else you can think of look like a restaurant-worthy dish!
In addition, you'll learn the types of dishes in which every cut is best suited, how to store sliced spring onions to extend their shelf life, and even how to regrow the scraps. The long list of green onion recipes will also have you restocking your fridge with this punchy onion week after week!
🛒 Green onions vs. scallions vs. spring onions
Whether you call them green onions, scallions, or spring onions, they're all the same thing: a type of long, thin onion with a white bulb and long green top.
They are, however, quite different from their other family members. Scallions have a very mild flavor compared to the stronger, more tart-flavored white and red onions or shallots. Their gentle flavors and bright green color make them the perfect option for any dish that needs a beautiful garnish or a toned-down onion flavor.
📋 Preparing green onions for cooking
The onions need to be prepped and washed before you grab the knife! Follow the steps below to get started:
Look over the green onions. Remove any wilted or dead outer layers (the green part).
Wash the onions under cool running water, scrubbing off any dirt you see.
Thoroughly pat the onions dry with a paper towel when you're done.
Line them up horizontally on a cutting board. Use a sharp knife to cut off about half an inch from the root (the white part) and the top 1 to 2 inches of the green part.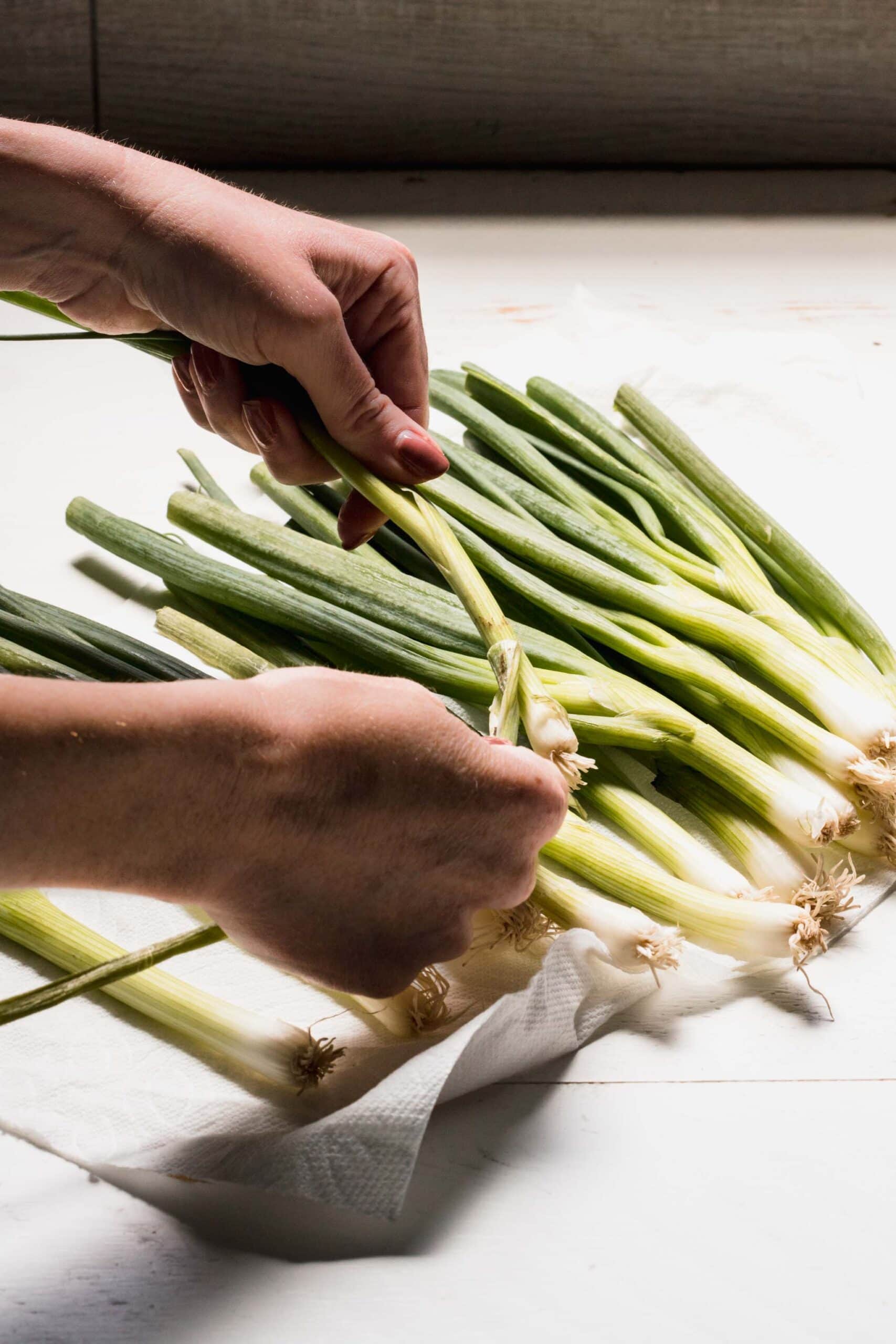 🔪 How to cut green onions
Follow the steps below to cut the scallions into your desired shapes:
Circular
Bunch the onions together horizontally on the cutting board. Starting from the white part, move up to cut thick or thin circles. You can section this so you only chop the white part or cut the entire onion into circles.
Best used as: A quick, no-nonsense garnish on baked potatoes, nachos, and more. They can also be sauteed at the beginning of a recipe, similar to other onion varieties.
Diagonal
Lay the onions in a flat horizontal layer on the cutting board. Slice them at a 45º angle to make angled cuts.
Curls or shreds
Position the green ends in a vertical line on the cutting board. Make a slight diagonal angle to cut long, thin strips. The knife should be almost parallel to the scallion.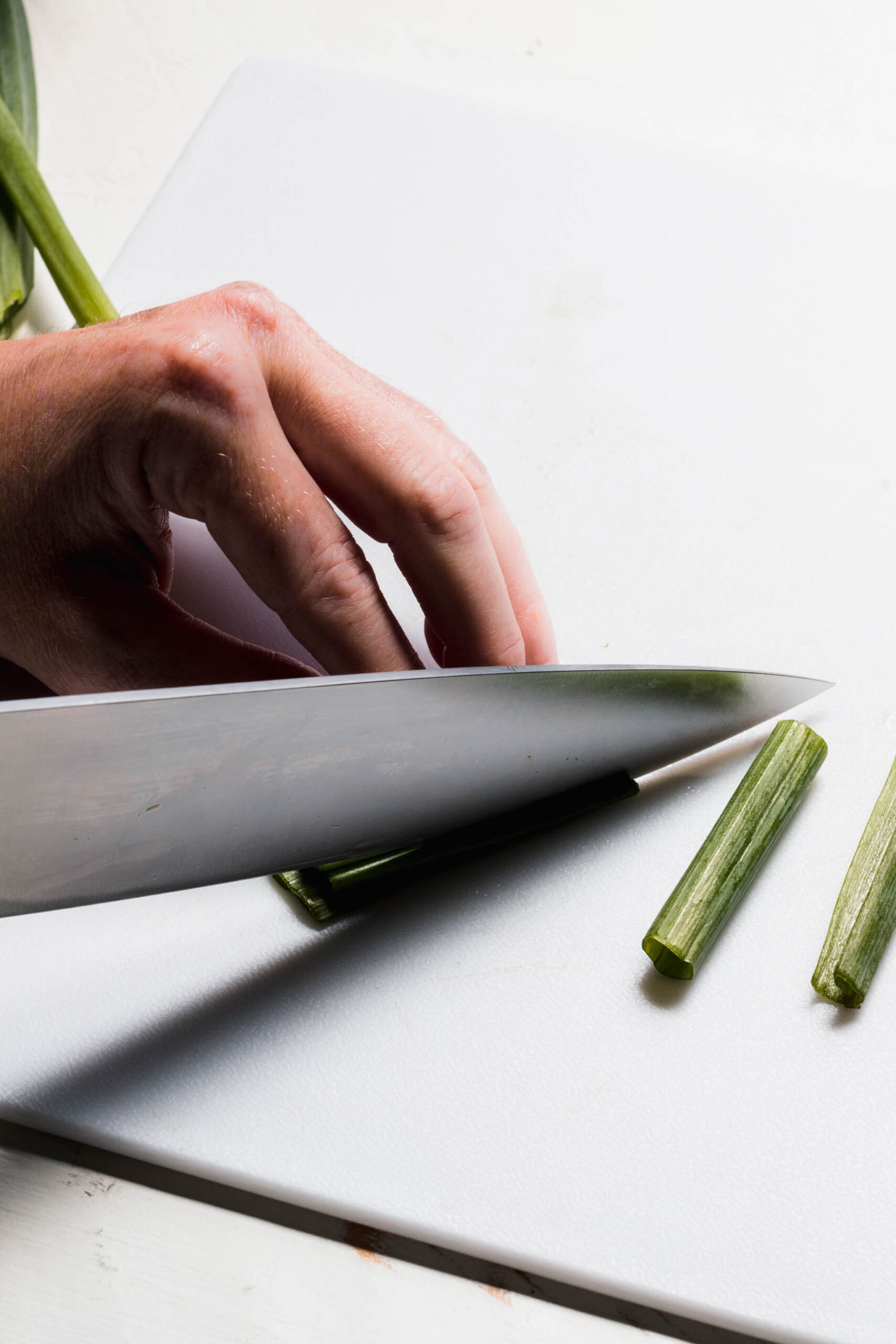 Minced
Repeat the same steps for the circular cuts, but continue mincing the onions into smaller pieces.
Best used in: Creamy dips or sauces. You could also dehydrate the minced green onions for a dry spice blend.
ℹ️ FAQS
What should I use: the green part or the white part?
It depends on the recipe. The white part can be sliced or minced and sauteed in a skillet at the beginning of the process. When the meal is ready, sprinkle the green part on top for a garnish.
What part of a green onion is not edible?
Both the green and the white part of the green onion is edible. The only part I would recommend removing are the roots at the ends of the white part.
What can I use instead of green onions?
Chives can be used as a substitute for green onions. If you were planning on starting the recipe with green onions, then use leeks or white onion in its place.
✔️ Storage tips
Storing: Once you get them home, store the green onions upright in a jar filled with a few inches of water (the roots and white bulbs should be fully submerged). Store them in the fridge.
Freezing: The leftover cut scallions can be frozen to prolong their shelf life. Lay the cuts on a parchment-lined baking sheet and place it in the fridge. Once the onions are frozen solid, transfer them to a ziplock bag and freeze for up to 1 year.
Regrowing green onions from scratch
Instead of discarding the white roots, you can lessen your food waste by regrowing the green onions! Here's what you need to do:
Place the white bulbs with the roots attached upright in a small jar with water, leaving the tops exposed to the air.
Set the jar on a windowsill and change the water once a week.
Soon, green leaves will emerge out of the bulbs and you'll have your own home-grown green onions to use!
🍴 Serving suggestions
There is no shortage of ways to use sliced scallions:
Garnish: This is what they're known for! Sprinkle the circular or diagonal cuts over White Chicken Chili, Banh Mi Tacos, Mongolian Beef, Shrimp Risotto, and anything else you can think of. They add a bright, savory pop wherever they're used.
Sauces and dressings: Blend the roughly chopped onions into Green Goddess Dressing or Chimichurri. No fancy chopping necessary!
Pickling brine: Add the sliced onions to the brine for Quick Pickled Cucumbers or pickle the green onions themselves.
Creamy dips: They're a must-have in or on top of creamy chip dips (like this Greek Yogurt Ranch Dip) for a savory, punchy flavor.
Baked eggs: The circular or minced onions will give both baked quiches or Egg Bites a savory pop.
Salads: The thinly sliced strips are perfect in leafy green or Asian-inspired salads because their flavor isn't as pronounced as the thicker cuts. Try them in a Thai Shrimp Salad, Fennel Salad, or Thai Cucumber Salad.
Grilled: Grill the entire bunch of green onions until they're soft and charred. Serve them alongside grilled steak, chicken, or vegetables for a rustic presentation.
Compound butter: Fold the slices right into a batch of homemade compound butter for the best topping on a Ribeye Steak.
How many ways did you chop green onions?
If you loved this guide on how to cut green onions, I would appreciate it so much if you would give it a star review! Also, be sure to snap a picture of your finished dish and share it with me on Instagram using the hashtag #platingsandpairings and tagging me @platingsandpairings.
For more great Platings and Pairings recipes, be sure to follow me on Instagram, TikTok, Pinterest and Facebook.
👩‍🍳 Recipes with green onions