This Shrimp Risotto has a rich seafood flavor and is deliciously creamy. It's easy to make at home and perfect for an elegant dinner.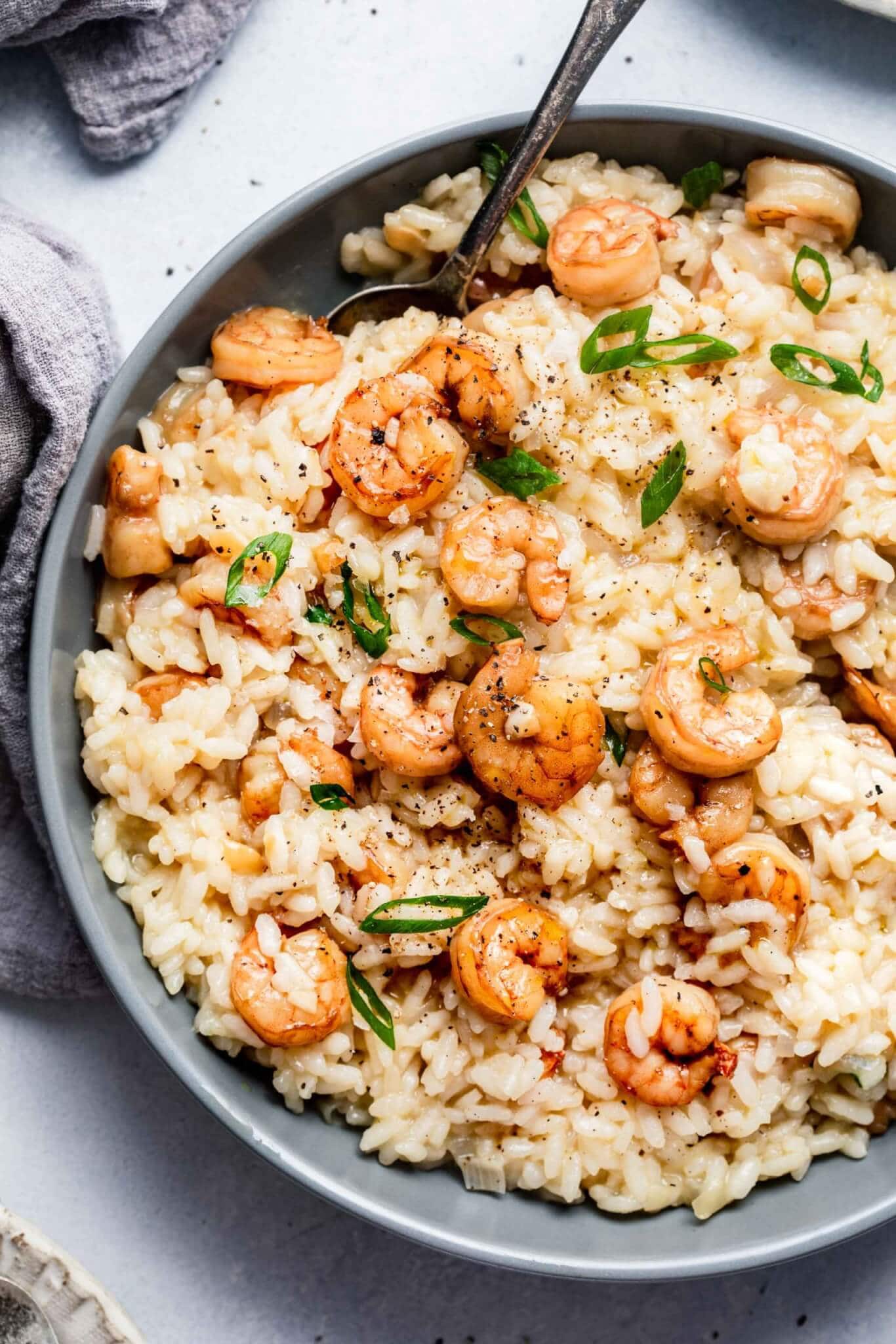 Are you as obsessed with risotto as I am? Be sure to try my Lemon Mascarpone Risotto, Caprese Tomato Risotto, and Mushroom Risotto too!
Whenever I cook risotto it brings to mind images of Gordon Ramsay reality shows where he's yelling at his chefs in training who are trying to get their risotto just perfect – Not too mushy, still with a good bite. Am I the odd ball, or does this happen to you too? Maybe this is why the thought of cooking risotto tends to stress people out.
It really shouldn't.
I actually find the risotto making process really relaxing.
I've mentioned in previous posts that I love making risotto when it's chilly outside. Standing in front of a warm stove and unconsciously stirring away is a bit like meditation for me. And, as an added bonus, you're left with a pot of creamy, comforting deliciousness at the end.
How do you make Shrimp Risotto?
The risotto-making process is easy, but it can be a bit intimidating if you've never made it before. It is definitely a dish that you need to "babysit." During the cooking process, the risotto is fed ladle full after ladle full of stock, letting it absorb between each addition. The process results in the grains of rice plumping up and the constant stirring creates the most fantastic, creamy texture.
While the risotto is cooking away, I like to saute my shrimp with a bit of butter, garlic and Worcestershire sauce. They cook up sweet and delicious. Perfect for topping the creamy risotto.
Tips for making risotto:
I love to keep dry vermouth on hand and often use it in recipes where white wine is called for. It will keep in your cupboard and it's generally more affordable than white wine.
The best way to determine if your risotto is done is by tasting. During the last 5-10 minutes it will become very creamy. You want to ensure that the arborio rice is fully cooked, but not becoming mushy. I like for it to have the slightest bit of a bit to it.
You can adapt this recipe to make any type of risotto you like. Omit the shrimp and add vegetables (asparagus perhaps) or stir in some shredded cheese and sautéed mushrooms. It's a great basic risotto recipe that can lend itself to endless possibilities.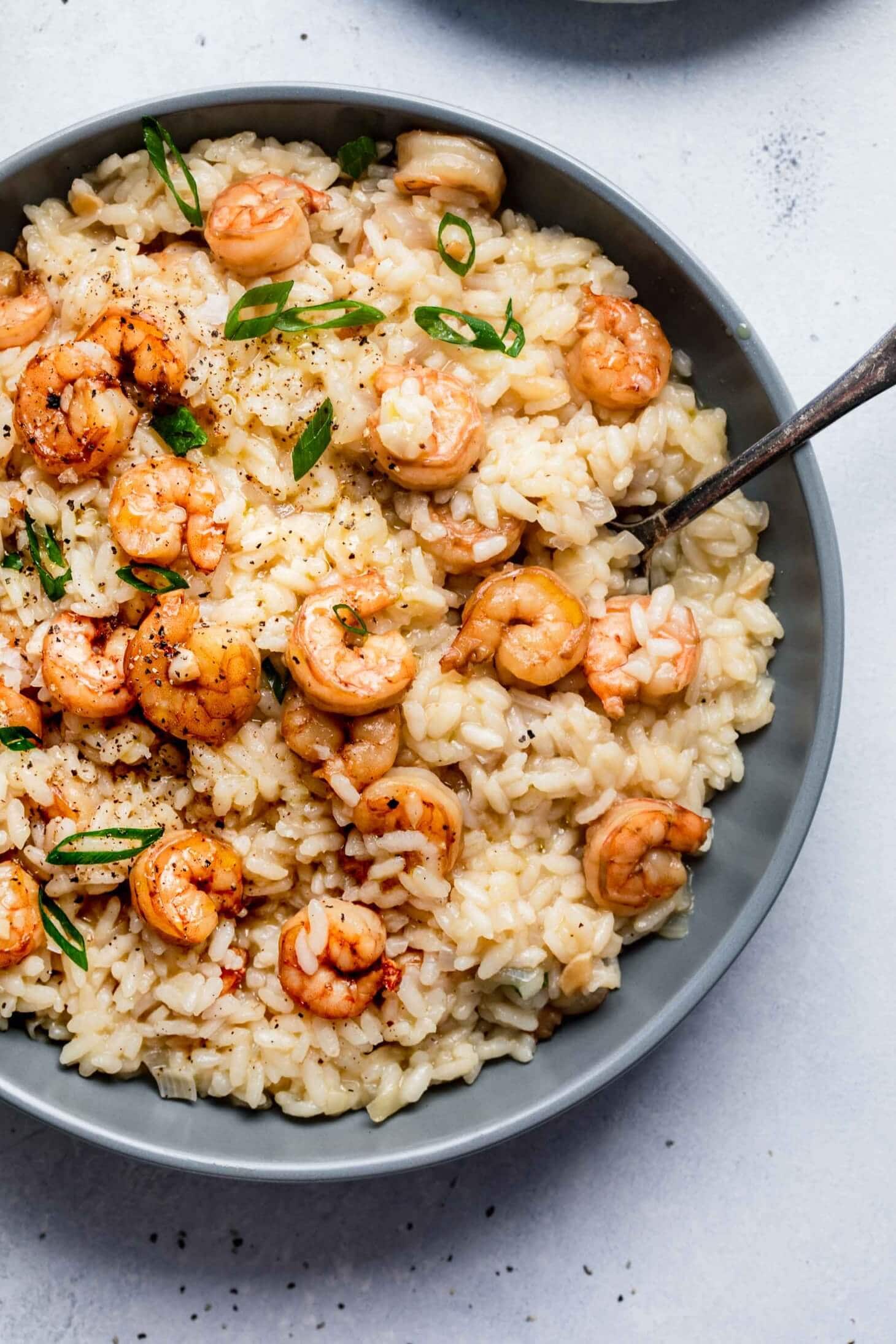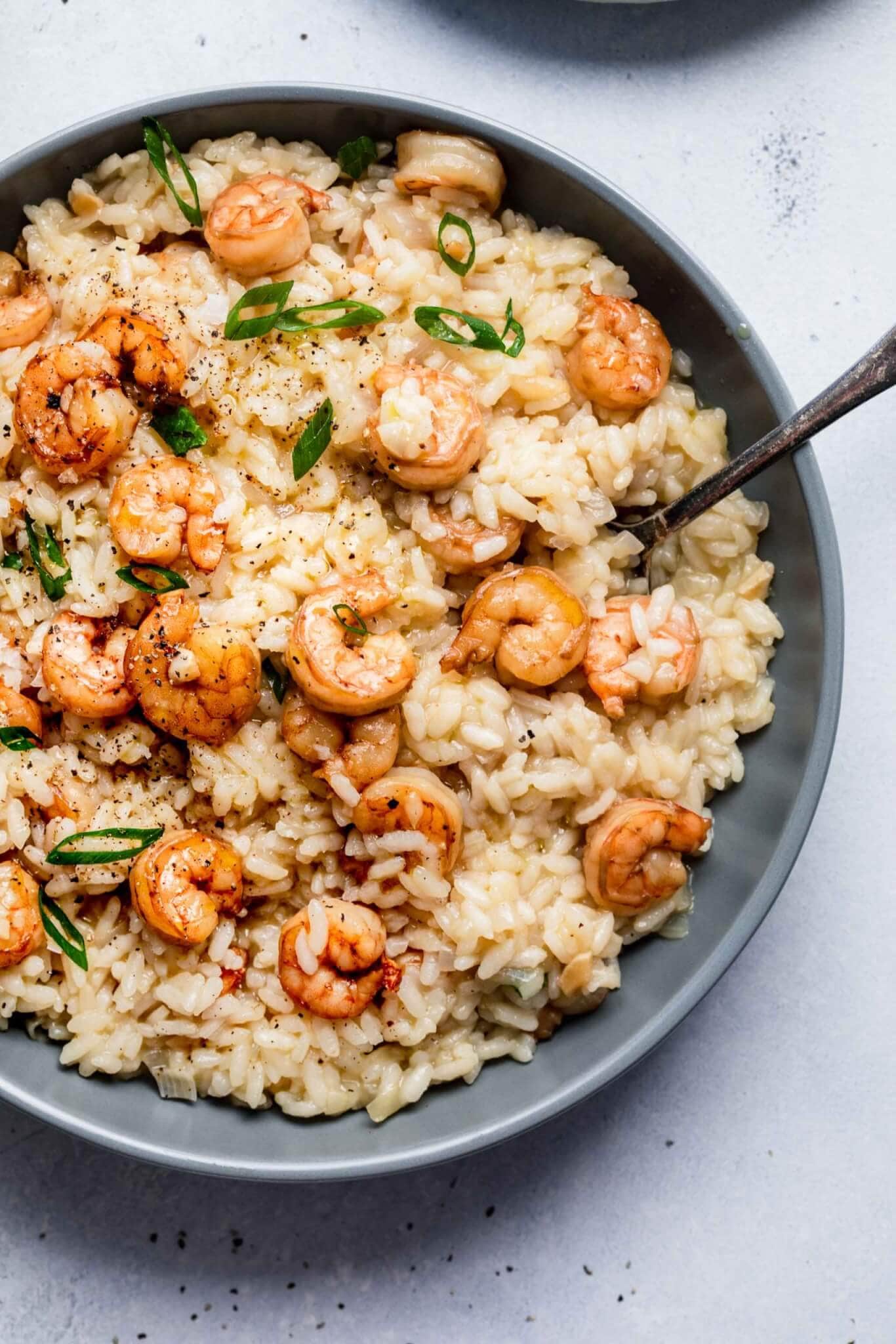 Wine pairings for Shrimp Risotto:
I paired this with a Vinho Verde. Vinho Verde wines are dry with just a bit of effervescence to them, and they're generally very affordable.
This shrimp risotto would also pair well with a Chardonnay or a Pinot Blanc.
If you loved this Shrimp Risotto I would appreciate it so much if you would give this recipe a star review! Also, be sure to snap a picture of your finished dish and share it with me on Instagram using the hashtag #platingsandpairings and tagging me @platingsandpairings.
For more great Platings and Pairings recipes, be sure to follow me on Pinterest, Facebook, YouTube and Twitter.
Now that you know the basics of making risotto, why not try some more amazing risotto recipes!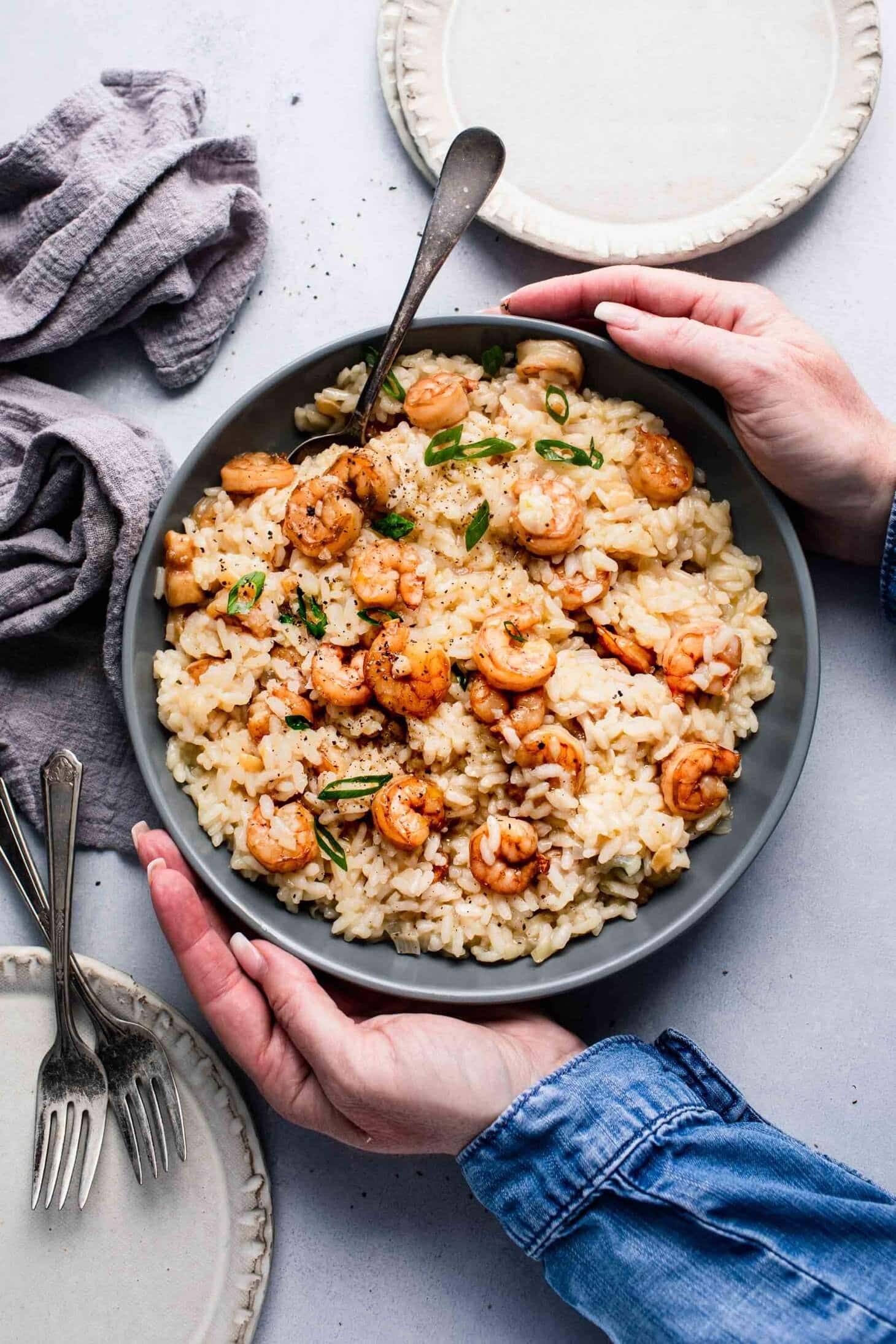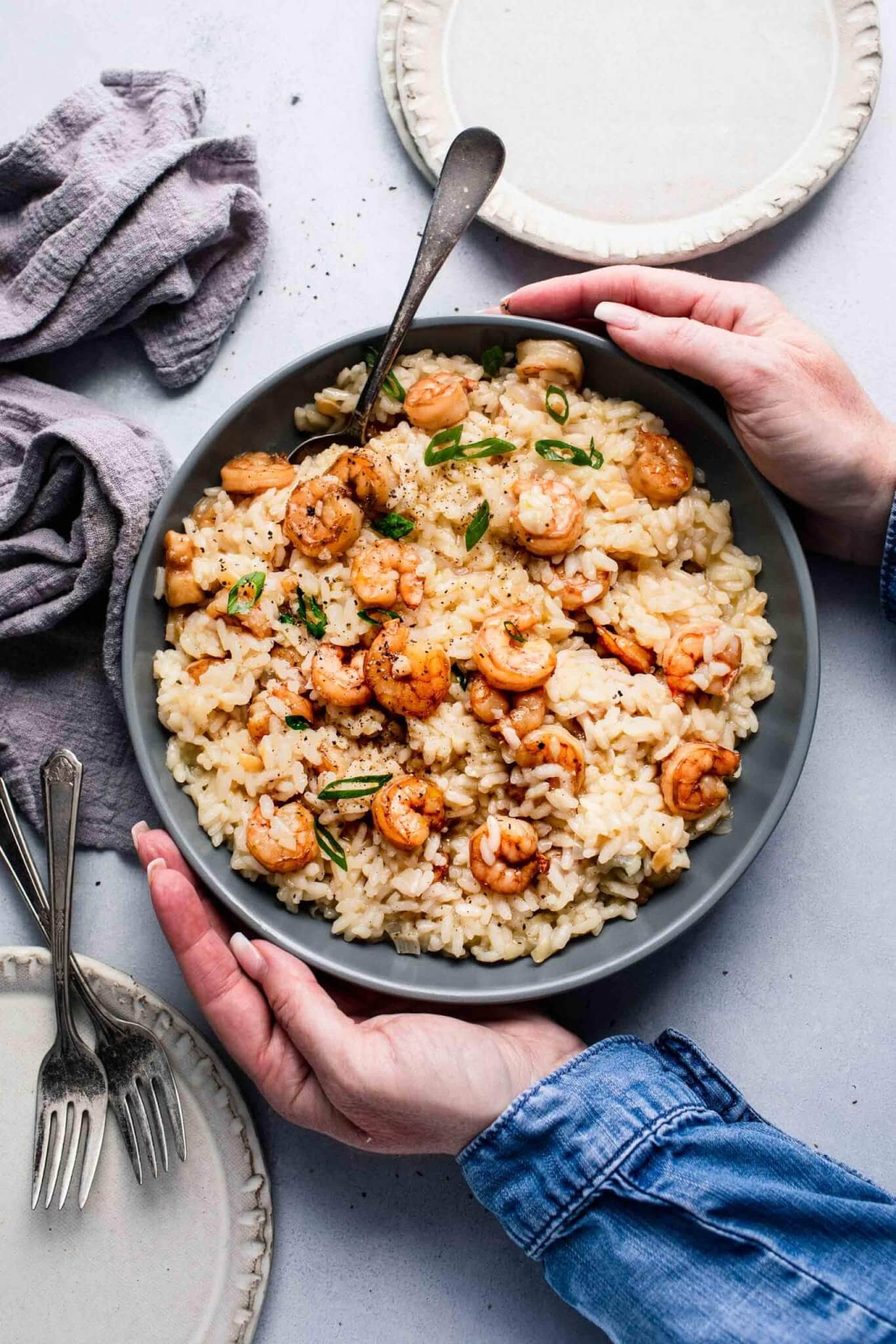 More risotto recipes:
What to serve with risotto:
Sous Vide Asparagus

Shrimp Risotto Recipe

Shrimp Risotto

This Shrimp Risotto has a rich seafood flavor and is deliciously creamy. It's easy to make at home and perfect for an elegant dinner.

Print Pin

Ingredients

3-4

cups

chicken broth

2

Tablespoons

olive oil

1

cup

Arborio rice

1

cup

dry white wine

(or dry vermouth)

1

pound

shrimp

(uncooked, peeled & deveined )

2

Tablespoons

butter

(unsalted)

1

Tablespoon

Worcestershire sauce

3

cloves

garlic

(minced)

2

shallots

(finely chopped)

salt and pepper

(to taste)

3

green onions

(thinly sliced )

Instructions

Heat chicken broth to a simmer in saucepan. Leave to keep warm on the burner while you prepare the risotto.

In a large stockpot or dutch oven, heat the olive oil over medium-high heat. Saute shallots for a couple of minutes. Add in the rice and sauté for a couple minutes until lightly toasted.

Pour in the white wine and stir until evaporated.

Add a ladle of the heated chicken stock to your rice and stir until evaporated. Repeat this process until the rice is done. This will take approximately 20 minutes and the rice will be done when it still has a nice bite to it, but is fully cooked.

Meanwhile, melt butter in large saute pan over medium-high heat. Add garlic and heat until fragrant, about 1 minute. Add shrimp and Worcestershire sauce and cook until the shrimp are pink and fully cooked.

When shrimp is cooked, chop up into pieces and stir into your cooked risotto.

Top bowls of risotto with green onions.

Nutrition

Calories:

535

kcal

|

Carbohydrates:

47

g

|

Protein:

27

g

|

Fat:

20

g

|

Saturated Fat:

8

g

|

Cholesterol:

316

mg

|

Sodium:

1717

mg

|

Potassium:

455

mg

|

Fiber:

2

g

|

Sugar:

2

g

|

Vitamin A:

445

IU

|

Vitamin C:

21.5

mg

|

Calcium:

208

mg

|

Iron:

5.8

mg