This always rich and warming Mushroom Risotto is the perfect meal for fall. Umami-packed mushrooms, creamy and tender rice, and nutty parmesan come together to form dreamy and heavenly flavors in every bite. This is the BEST mushroom risotto recipe that comes together quick + easy.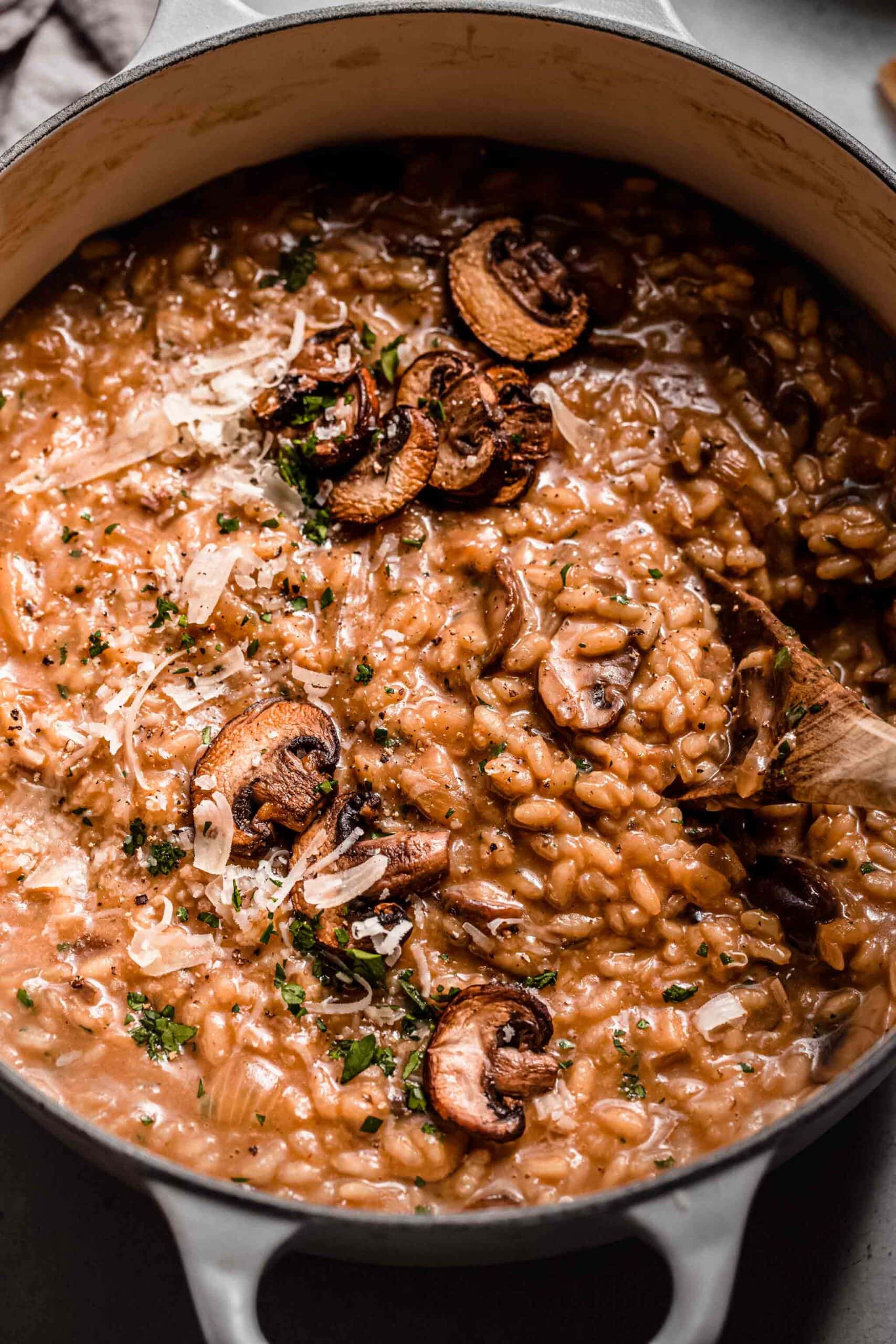 🥄 Why is this the BEST Mushroom Risotto?
The stock that "feeds" the risotto is simmered with dried porcini mushrooms and soy sauce – ensuring a super umami-packed risotto that's flavored from the inside out.
Those simmered porcinis are chopped and added to the risotto with some cremini mushrooms (or your favorite mushroom type).
The bowls are finished off with nutty parmesan cheese. Such an amazing pairing with the creamy rice.
I've mentioned in previous posts that I love making risotto when it's chilly outside. Standing in front of a warm stove and unconsciously stirring away is a bit like meditation for me. And, as an added bonus, you're left with a pot of creamy, comforting deliciousness at the end.
The risotto-making process is easy, but it can be a bit intimidating if you've never made it before. It is definitely a dish that you need to "babysit."
During the cooking process, the risotto is fed ladle full after ladle full of stock, letting it absorb between each addition. The process results in the grains of rice plumping up and the constant stirring creates the most fantastic, creamy texture.
Want to try even more decadent vegetarian risotto recipes? Then don't miss this Butternut Squash Risotto and Creamy Lemon Risotto.
🛒 Ingredients needed
Arborio Rice – AKA risotto rice! It's creamier and chewier than other types of rice. This is the standard rice used for all risotto recipes.
Cremini Mushrooms – Or use a blend of wild mushrooms, white button mushrooms, shiitake mushrooms, oyster mushrooms or chanterelles.
Dried Porcini Mushrooms – These are used to season the broth that's fed into the risotto. They're optional, but they add a great flavor!
Vegetable Broth – Or bone broth, parmesan broth, chicken broth or stock.
Soy Sauce – Or use tamari.
Olive Oil + Butter – I prefer to use unsalted butter so that I can control the seasonings.
Onions + Garlic
Dry White Wine – Like a dry Sauvignon Blanc or Pinot Grigio. To make this without wine, you can use dry vermouth, chicken broth, or chicken stock.
Parmesan
Parsley
Salt + Pepper
✔️ What mushrooms to use?
To give this Mushroom Risotto its amazing umami flavor, I used a mixture of cremini mushrooms and porcini mushrooms. Cremini mushrooms are available right in your regular grocery store. They are actually baby portobello mushrooms. They're darker in color than regular white button mushrooms and they pack more flavor.
The porcini mushrooms that I use are dried. Simmering them along with the broth that we'll be using to make our risotto lends even more earthy, mushroom flavor to the risotto. Look for them either by the fresh mushrooms or near the dried chiles or spices in your supermarket.
To add one more layer or umami-ness, I added in a splash of soy sauce. It lends that extra salty kick, but also has a layer of something extra, plus it gives a great color to the risotto.
Once the mushroom risotto has reached that perfect texture, I stir in some nutty parmesan cheese to make it even more creamy. And, to brighten things up, I added in a bit of fresh parsley.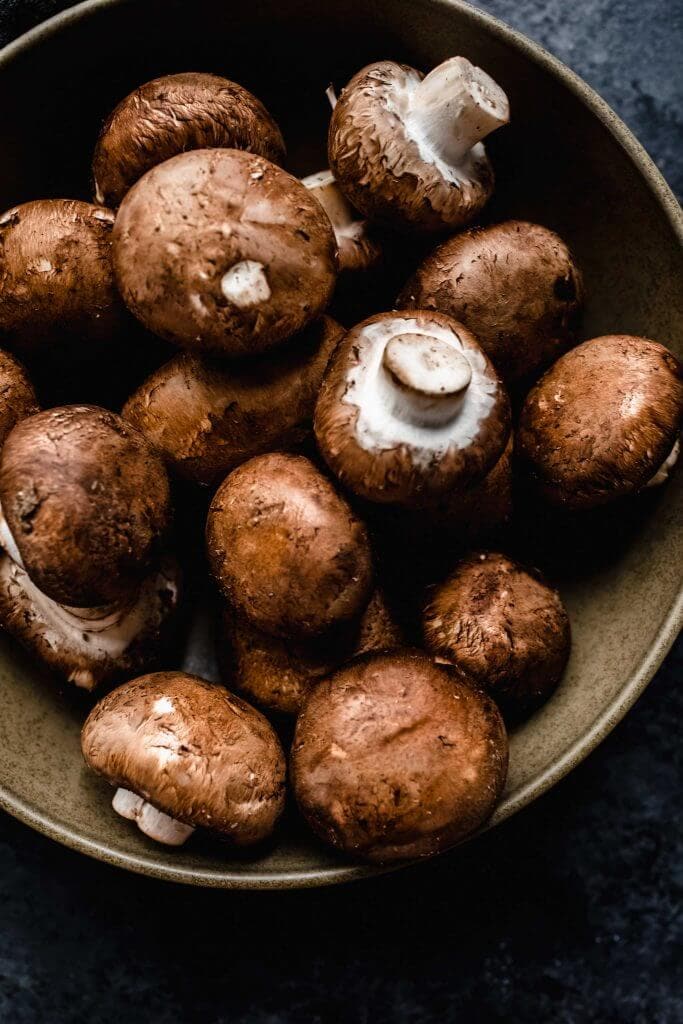 📋 How to make it
Begin by warming the broth with the porcini mushrooms and soy sauce. This brings packs a serious umami-punch into your finished risotto dish. The reconstituted dried porcini mushrooms will get chopped up and added to the risotto.
Next, saute the aromatics. Heat the butter and olive oil in a large pot. Saute the onions until tender. Then add the creminis, porcinis (from the stock) and garlic. Cook until tender.
To start making the risotto, add the rice. Season and toast the grains for a few minutes.
Deglaze the pot with wine. Make sure to scrape the tasty brown bits stuck on the bottom!
Add some warm broth to the pot, occasionally stirring until the broth is absorbed. Repeat this step until the rice is creamy but still has an al dente firm bite.
Stir in the parmesan and parsley. Season with salt and pepper, to taste.
Enjoy!
👩‍🍳 Tips for making risotto
Keep the broth on a low simmer in the saucepan so the temperature stays consistent each time you add more broth to the rice.
For a punch of extra flavor, try swapping out the chicken stock for this umami-packed parmesan broth!
I usually have white vermouth on hand to use instead of white wine. It keeps indefinitely and saves the white wine for sipping while you indulge in this creamy mushroom risotto.
To check for doneness, taste the risotto. It should become very creamy during the last five minutes but shouldn't be mushy.
If your risotto is too thick, stir in a splash of broth at a time to loosen it up.
ℹ️ How to store and reheat risotto
To store: Keep any leftover risotto in an airtight container in the fridge for up to 3 days.
To reheat: Place the leftovers into a pan with a bit of extra broth and heat over medium heat until warmed through.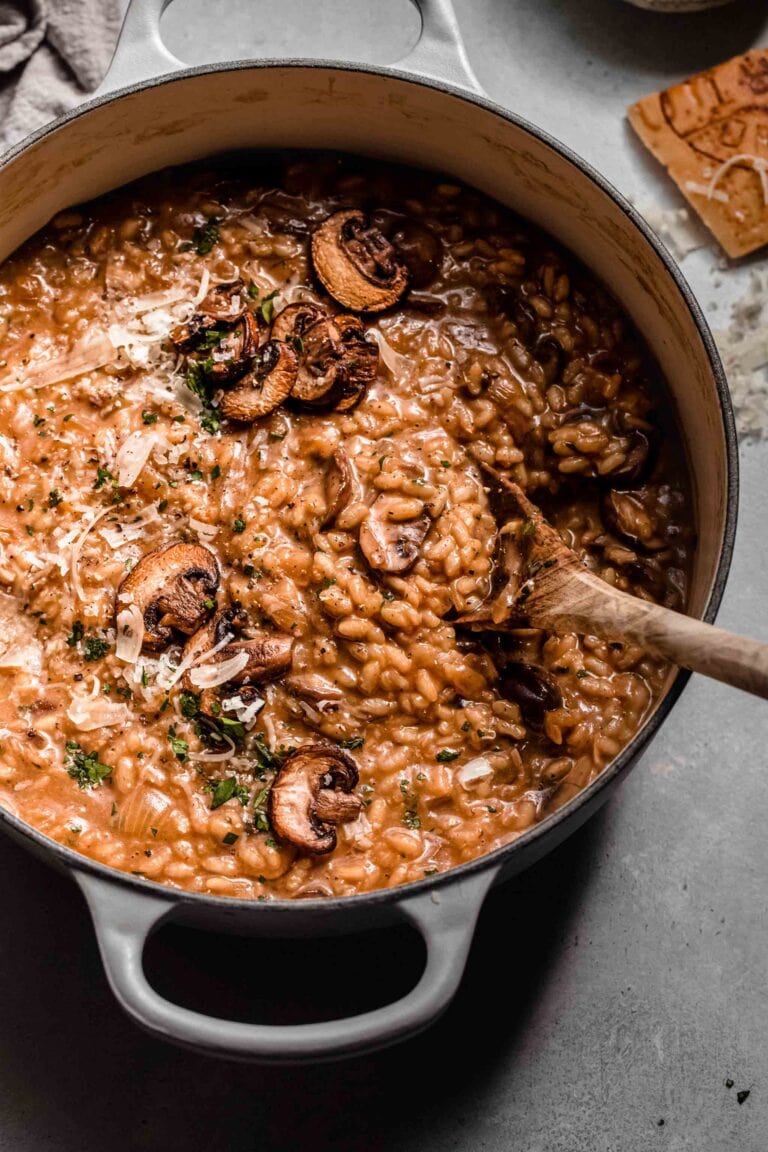 🌟 Customize it
This mushroom risotto is the perfect canvas for your choice of proteins and veggies.
With Chicken: Follow the directions for this chicken risotto, and start off by browning up a couple chicken breasts to slice up and add on top of your finished risotto.
With Scallops: Follow the directions for this scallop risotto, and finish your risotto off with some sauteed scallops.
With Truffle Mousse: For an extra decadent touch, top your bowls of risotto off with some truffle mousse. (I used 2 1/2 ounces total of Alexian Truffle Mousse).
With Vegetables: Stir in a handful of fresh or frozen peas, some blanched asparagus, artichoke hearts, or spinach.
This Mushroom Risotto is hearty enough to stand on its own as the main course, but it would also be amazing served alongside this Easy Roasted Chicken or these Pork Chops with Cherry Sauce.
🍽 Serving suggestions
Finally, we can't forget the wine!
Mushroom Risotto is begging to be paired with an earthy Pinot Noir. It's bright acidity and bright flavors pair really nicely with the rich, creamy risotto. However, if you're looking for a white wine to pair with this dish, have some fun with bubbles! Budget-friendly Prosecco is a great, unexpected pairing that works perfectly.
🍷 Wine pairings for mushroom risotto
Pinot Noir

has a great earthiness and bright acidity that will cut through the creaminess of this dish.

Bubbles are always fun, especially for a special occasion. Try

Cava, Prosecco

or

Champagne

.
Did you try this mushroom risotto?
If you loved this creamy mushroom risotto recipe I would appreciate it so much if you would give this recipe a star review! Also, be sure to snap a picture of your finished dish and share it with me on Instagram using the hashtag #platingsandpairings and tagging me @platingsandpairings.
For more great Platings and Pairings recipes, be sure to follow me on Instagram, TikTok, Pinterest and Facebook.
The BEST Mushroom Risotto Recipe
This Mushroom Risotto is rich, creamy and totally decadent. 
Print
Pin
Ingredients
6

cups

bone broth

(chicken broth or stock)

2

cups

water

2

teaspoons

soy sauce

1/2-

ounce

dried porcini mushrooms

(rinsed in strainer)

4

Tablespoons

unsalted butter

2

Tablespoons

olive oil

2

medium onions

(chopped fine (2 cups))

10

ounces

cremini mushrooms

(finely chopped)

2

garlic cloves

(minced)

1 1/2

cups

Arborio rice

3/4

cup

dry white wine

(or dry vermouth)

2/3

cup

grated Parmesan

2

Tablespoons

chopped parsley
Salt and pepper

(to taste)
Instructions
Bring the broth, water and soy sauce to a boil in a medium saucepan. Add the porcini mushrooms and reduce heat to a simmer. Cook until the porcini are tender, 5-10 minutes. Then remove the porcini with a slotted spoon and finely chop them. Leave the broth to simmer on the stove top.

Meanwhile, melt the butter in a large sauce pot or dutch oven over medium heat. Add olive oil. Add the onions and saute until tender, about 8 minutes. Add the cremini mushrooms, porcini mushrooms and garlic. Saute until the mushrooms are tender and the juices evaporate, about 5 minutes.

Stir in the arborio and saute for a few minutes. Add the wine; cook until the liquid is absorbed, stirring often, about 2 minutes. Add 1 cup of hot broth; simmer over medium-low heat until the liquid is absorbed, stirring often, about 3 minutes. Continue to cook until the rice is just tender and the mixture is creamy, adding more broth by cupfuls and stirring often, about 30 minutes.

Stir in the Parmesan and parsley. Season with salt and pepper, to taste.
Notes
Leftovers will keep in the fridge for up to three days. 
To reheat, add a splash of broth and heat on the stove or in the microwave. 
Nutrition
Calories:
618
kcal
|
Carbohydrates:
67
g
|
Protein:
26
g
|
Fat:
23
g
|
Saturated Fat:
11
g
|
Cholesterol:
44
mg
|
Sodium:
572
mg
|
Potassium:
481
mg
|
Fiber:
2
g
|
Sugar:
1
g
|
Vitamin A:
495
IU
|
Vitamin C:
0.5
mg
|
Calcium:
211
mg
|
Iron:
3.9
mg
This post was originally published in 2018. It was updated in 2022 to add new information and photographs. The original recipe topped off the risotto with 2 1/2 ounces of Alexian Truffle Mousse. It's delicious – and highly recommended if you are able to find some in your local store. Look for it in the meat or cheese department.
Check out the web story here.