This Shaved Brussels Sprouts Salad with mustard & parmesan is tossed in a light red wine vinaigrette and makes a delicious, crunchy side dish.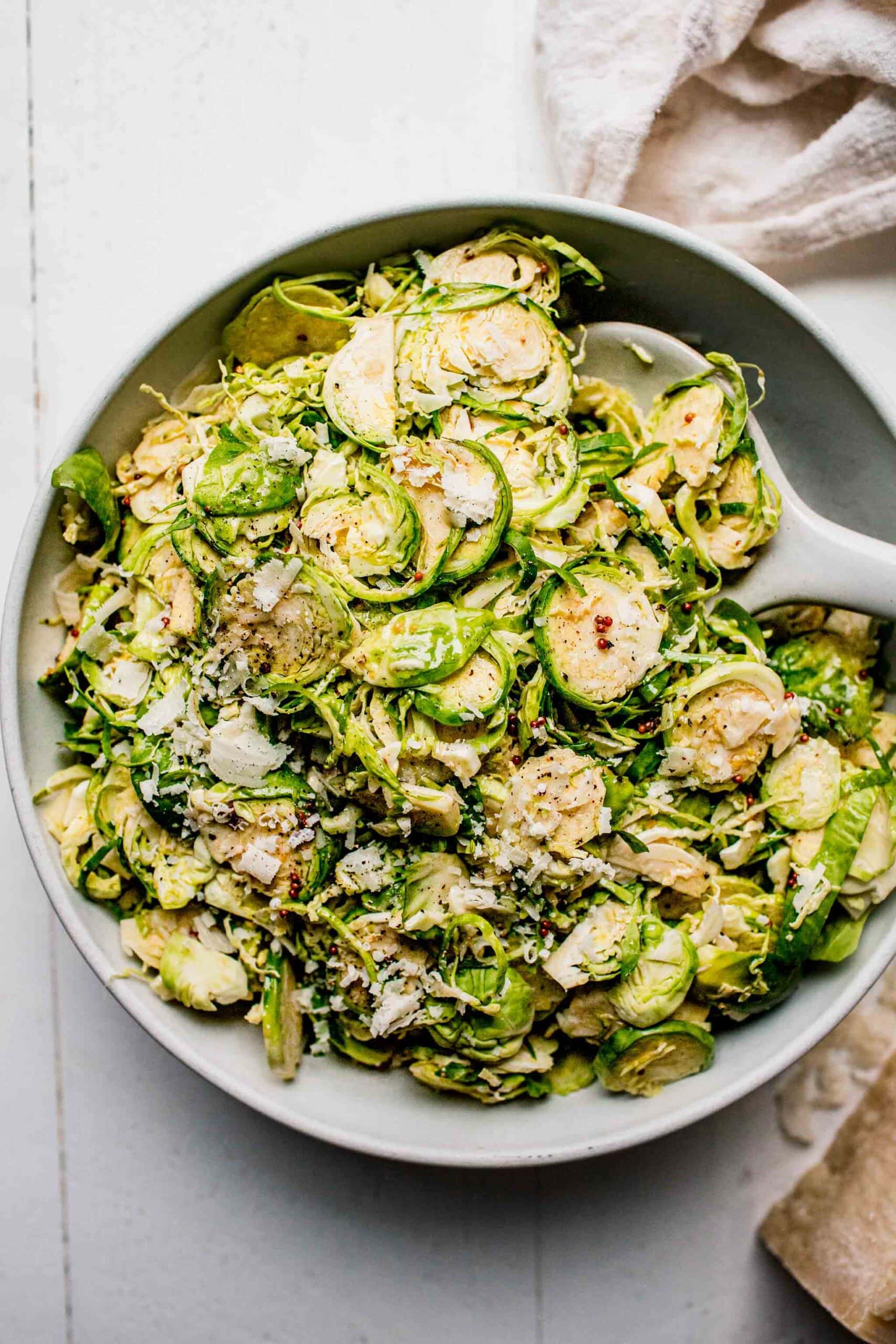 This recipe was originally published in 2018. It was updated in 2022 to add new photographs and information. The recipe remains unchanged. Enjoy.
A couple weeks back, I found myself with an overabundance of brussels sprouts. I'd asked Rick to pick some up at the store, so that I could make these Balsamic Roasted Brussels Sprouts with Cranberries as a side dish for a prime rib holiday dinner that we were serving.
My usual recipe for those sprouts calls for three pounds. I didn't quite remember how many Brussels sprouts that actually is, and, we were only having a small party of four for dinner that night, so I ended up cutting the recipe in half.
So… What do to with the remaining sprouts sitting the fridge? Test out some new recipes, of course!
I'd wanted to try a shaved brussel sprout salad for a while, and this seemed like to perfect opportunity…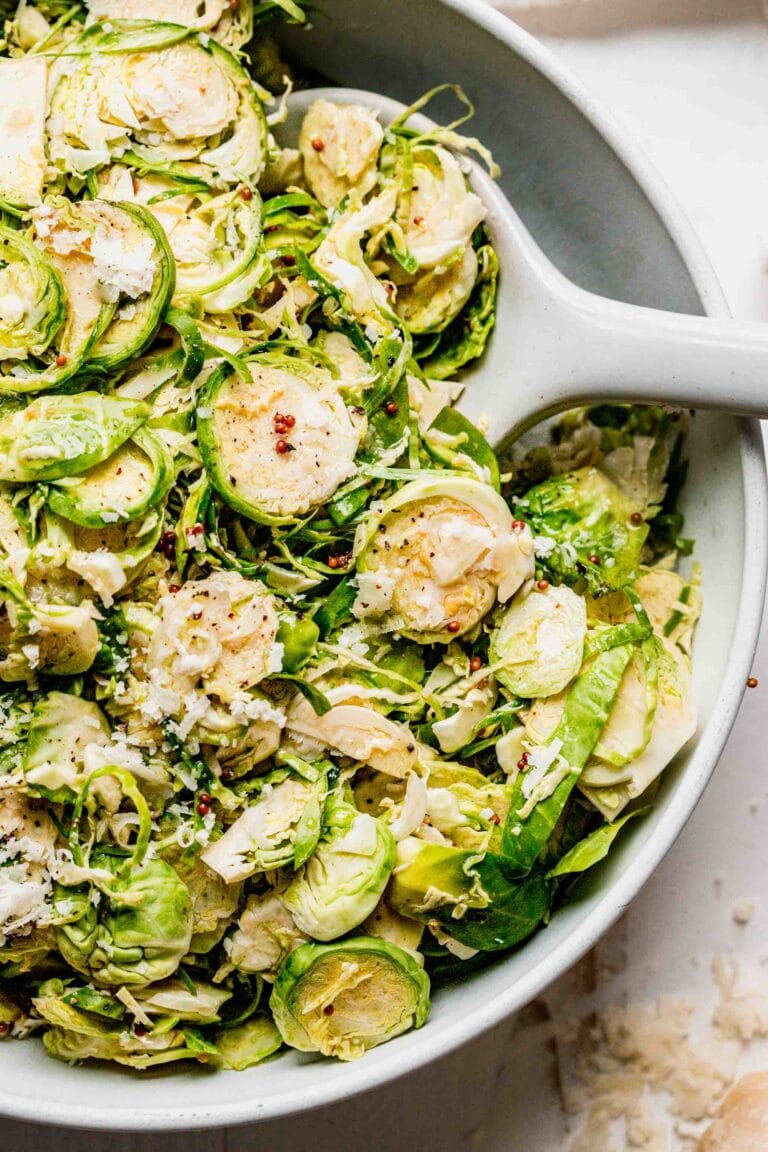 Raw sprouts can seem like a bit of an odd thing… You would never think of serving raw Brussels sprouts on a crudité platter along with some dip. But, much like kale, which can be a bit tough and bitter in its raw state, if the sprouts are sliced thinly enough, and then left to meld with some vinaigrette for a while, they take on a softer, more delicate flavor, but still with a nice bite.
This has quickly become one of my favorite winter salad recipes, rivaled only by this Fennel & Celery Salad and this Arugula Salad. It's tangy, with a good bite from the mustard, and a bit salty and nutty at the end with the finishing of parmesan cheese.
I also love that these shaved brussel sprouts can sit for a bit – meaning that it's a great salad for easy dinner parties and holiday gatherings. The flavors will only continue to combine and the brussels sprouts won't lose their wonderful texture.
🛒 Ingredients needed
Brussels sprouts
Olive oil
Red wine vinegar – Or try white wine vinegar, apple cider, or champagne vinegar.
Whole grain mustard – Or dijon mustard.
Sugar – Or, add in some honey or maple syrup.
Parmesan cheese – Pecorino romano is another great option. Or omit for a dairy free version.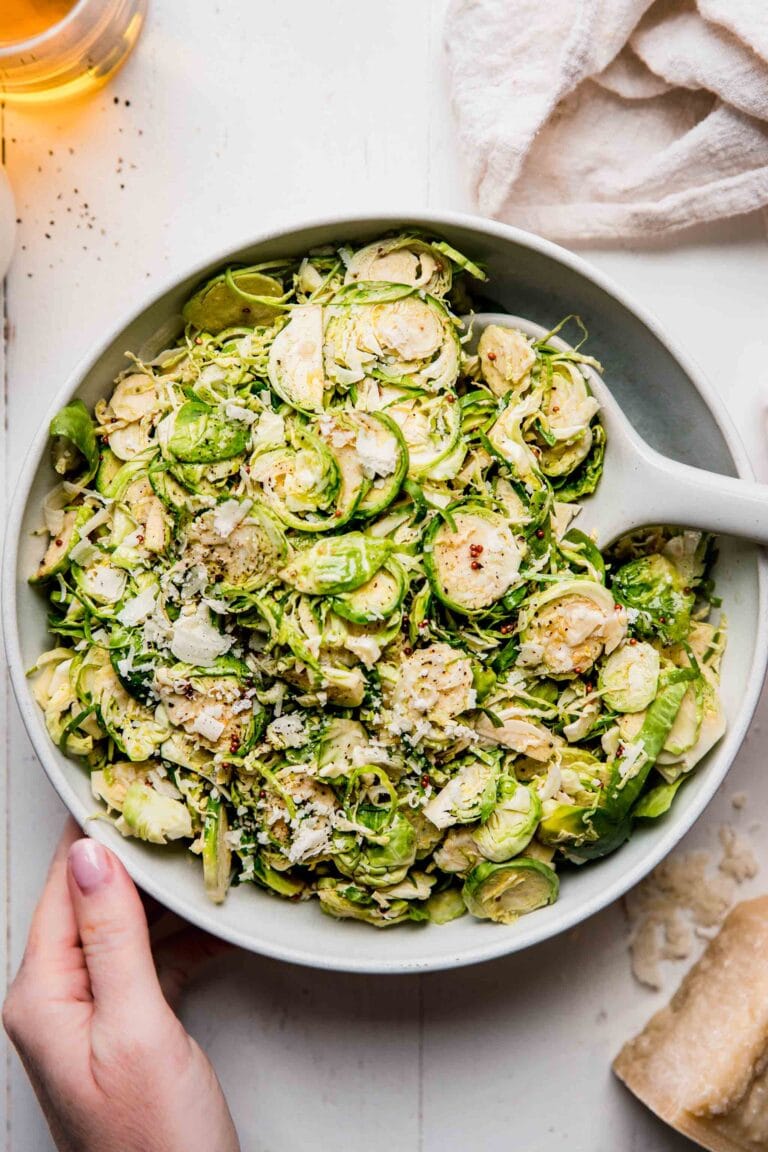 🔪 How to make shaved brussels sprouts
There are three options for making shredded brussels sprouts:
Holding onto the stem end of the brussels sprout, use a sharp knife to thinly slice them.
Use a mandolin to make thin slices of brussels sprouts.
Use the slicing blade of your food processor to make thin ribbons. (This is my preferred method to make shredded sprouts in a hurry.)
📋 Variations
Use apple cider vinegar, sherry vinegar, or fresh lemon juice in place of the red wine vinegar.
Swap in some dijon mustard in place of the whole grain.
Use a couple teaspoons honey or maple syrup in place of the sugar.
Add extra crunch by throwing in some thinly sliced apples, pears, nuts, toasted pine nuts, pumpkin seeds, or sunflower seeds.
Add in some chopped crispy bacon.
Swap out the parmesan for some creamy goat cheese.
🍷 Wine pairings for brussels sprouts
With its minerality and hints of stone fruit, a Dry Riesling will pop against the mustard vinaigrette on this salad.
A light Pinot Noir with bright acidity and earthy notes will compliment the flavors in this salad nicely.
🥗 More hearty salad recipes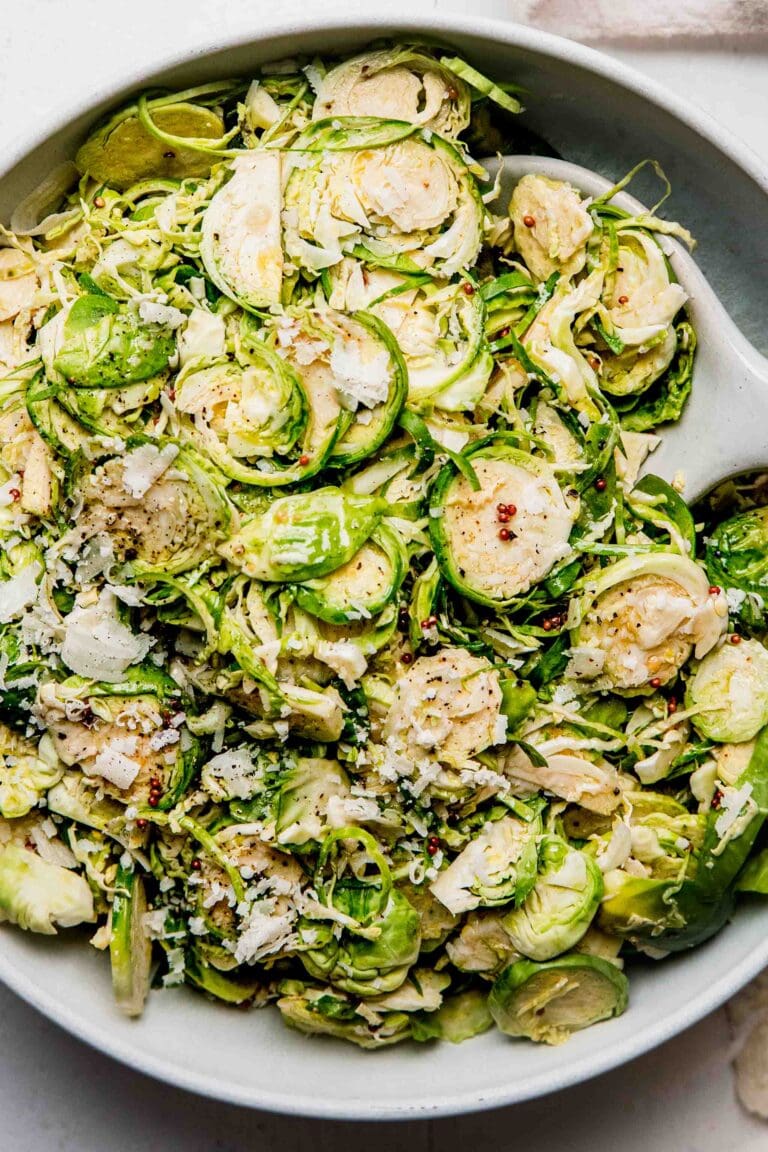 ✔️ More brussel sprout recipes
🍽 What to serve with it
Do you have a favorite brussels sprouts recipe that you fix on the regular? Let me know in the comments below!
Did you try this shaved brussel sprout salad recipe?
If you loved this brussels sprouts salad I would appreciate it so much if you would give this recipe a star review! Also, be sure to snap a picture of your finished dish and share it with me on Instagram using the hashtag #platingsandpairings and tagging me @platingsandpairings.
For more great Platings and Pairings recipes, be sure to follow me on Instagram, TikTok, Pinterest and Facebook.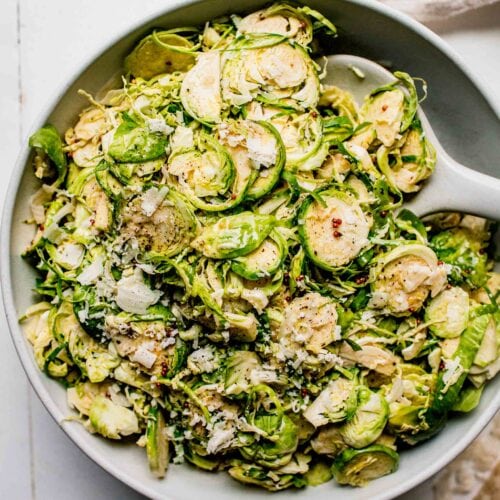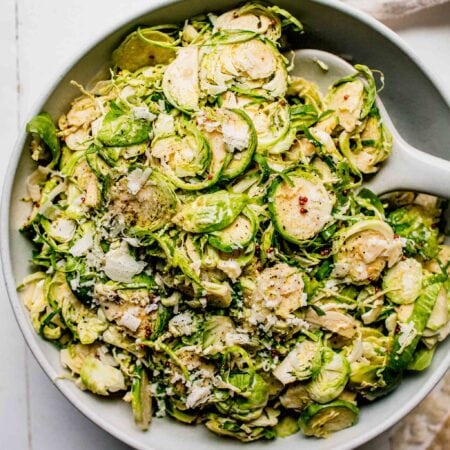 Shaved Brussels Sprout Salad Recipe
This Shaved Brussel Sprout Salad with Mustard and Parmesan is tossed in a light red wine vinaigrette and makes a delicious, crunchy side dish.
Print
Pin
Ingredients
2

Tablespoons

red wine vinegar

1

Tablespoon

whole grain mustard

1

teaspoon

sugar

1

Tablespoon

olive oil

1

pound

brussels sprouts

Salt and Pepper

(to taste)
Instructions
In a medium bowl, whisk together the red wine vinegar, mustard, sugar and olive oil. Season with salt and pepper, to taste.

Holding the stem of the Brussels sprouts, thinly slice each one until you get to within ½ inch of the stem. Discard the stems and place the sliced Brussels sprouts in a large bowl, breaking them up with your hands and discarding any tough pieces.

Toss the sliced sprouts with the dressing until coated. Let sit at room temperature for at least 15 minutes to allow the sprouts to soften and the flavors to combine.

Before serving, toss in the grated parmesan and taste again for seasonings, adding more salt and pepper, if needed.
Nutrition
Calories:
112
kcal
|
Carbohydrates:
11
g
|
Protein:
6
g
|
Fat:
5
g
|
Saturated Fat:
1
g
|
Cholesterol:
4
mg
|
Sodium:
171
mg
|
Potassium:
441
mg
|
Fiber:
4
g
|
Sugar:
3
g
|
Vitamin A:
905
IU
|
Vitamin C:
96.4
mg
|
Calcium:
122
mg
|
Iron:
1.7
mg