Sous Vide Prime Rib Roast is tender, juicy and perfectly cooked every time. It's a perfect dish for the holidays, especially when it's served with these easy Sour Cream Mashed Potatoes and Balsamic Glazed Brussels Sprouts.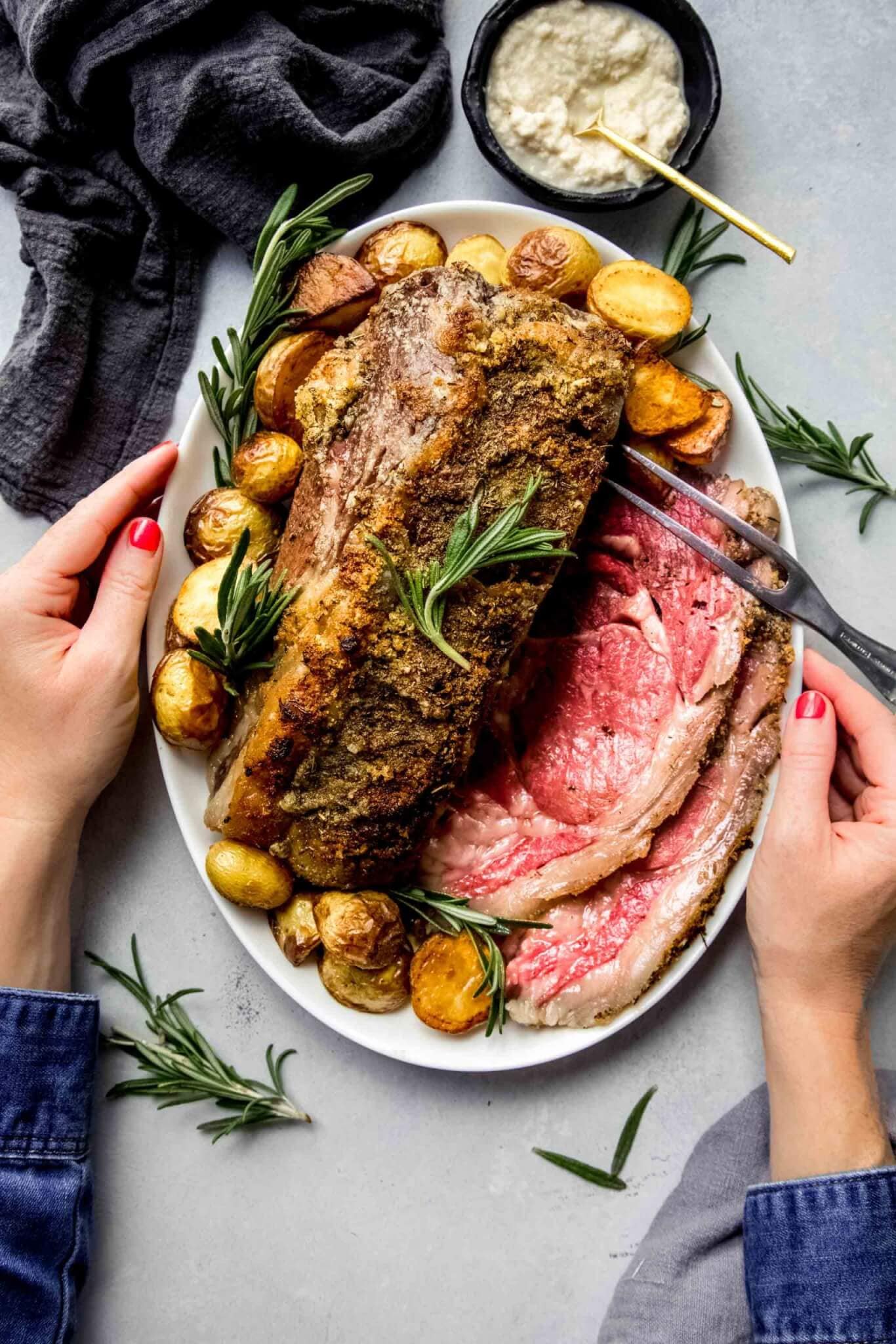 This post was originally published in 2020. It was updated in 2022 to add new information.
We've enjoyed Prime Rib for our Christmas Dinner for as long as I can remember.
The method that I used to use for making my prime rib involved heating the oven to a certain temperature, then putting the roast in the oven, turning off the oven, and leaving it to slow roast in the residual heat for four hours.
The problem with this?
If anyone opened the oven during that four hours – your whole plan was foiled. Since all the heat would escape from the oven.
I've since discovered an easier, more stress free method for making prime rib.
🌟 Sous Vide 🌟
It's a total game changer. And it makes for the most delicious, most tender, most juicy prime rib ever!
Here's what you'll need…
🛒 Ingredients
Beef Ribeye Roast – I typically sous vide a 5 pound bone-in rib roast. Plan on about 1 pound per person (more on that below). Timing will remain the same regardless of the size.
Beef Broth – Low-sodium is preferred so that you can control the salt. This is used to make the au just for serving.
Butter – I use salted butter to make a compound butter. If you only have unsalted, simply add a pinch of salt.
Garlic Powder
Fresh Rosemary + Thyme
Herbs de Provence
Salt + Pepper
Horseradish – For serving. Or, try one of these 12+ sauces for prime rib.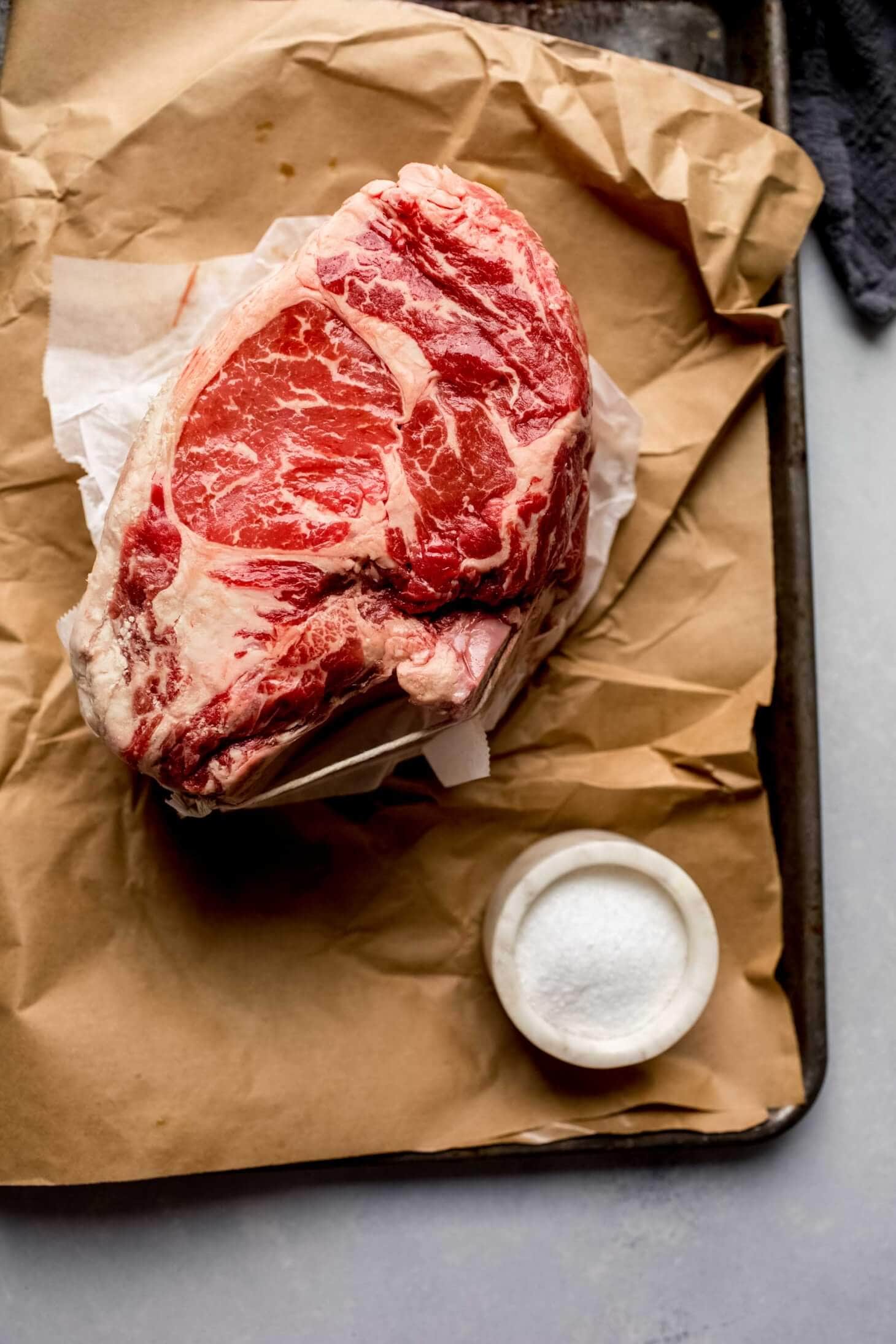 🥩

Standing Rib Roast Preparation
It's simple to prepare a rib roast for sous vide cooking. Just generously season it with salt and place it uncovered in the refrigerator for at least one hour (and up to overnight). The salt will not only season the meat, but also help to tenderize it. And leaving it uncovered in the fridge helps to air dry it, making for better browning when finishing the prime rib.
🧂

Tips for Seasoning
I like to sous vide the prime rib with just a bit of salt to season it. The reason being that I like to reserve the cooking liquids to make au jus at the end. Then, after it comes out of the sous vide, I rub it with garlic butter to give it amazing flavor. 

You can also season it with this prime rib rub.
✔️

How to Seal for Sous Vide Cooking
It's best to use a large vacuum seal bag or a gallon sized ziploc bag (doubled up to prevent leaking) for cooking a rib roast sous vide. Because it's a heavy piece of meat, you want to be sure that it doesn't break through the bag.
You can seal the bag using a vacuum sealer. Or, seal the ziploc bag using this water displacement method to "vacuum seal" it.
Removing the air from the bag is important though. First, it ensures that the bag won't float in the water, but will stay submerged. And second, it ensures that your prime rib roast cooks evenly and safely.
🕕

How Long Does it Take to Sous Vide Prime Rib?
The roast should spend 6-10 hours in the water bath. This timing works regardless of the weight of your rib roast.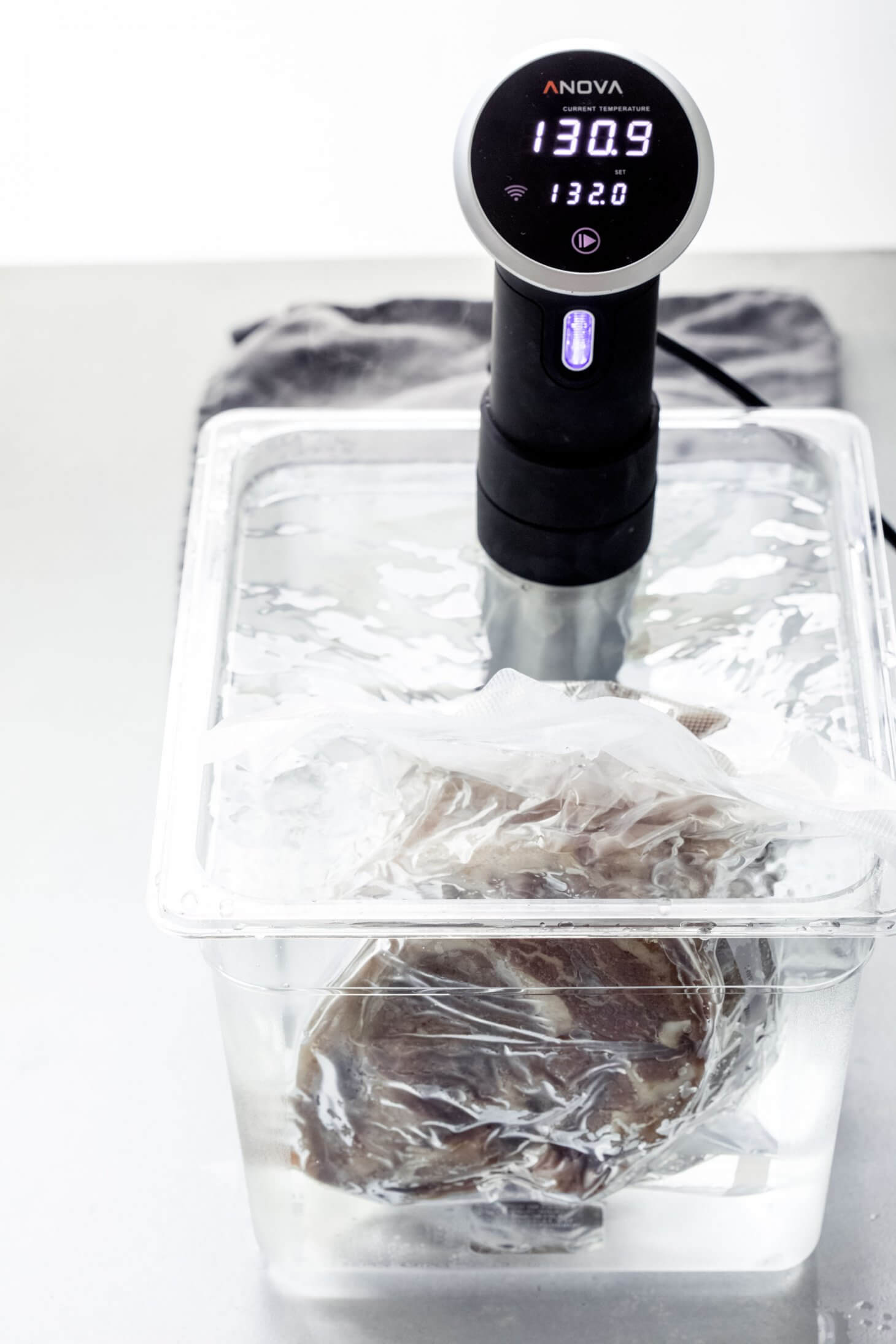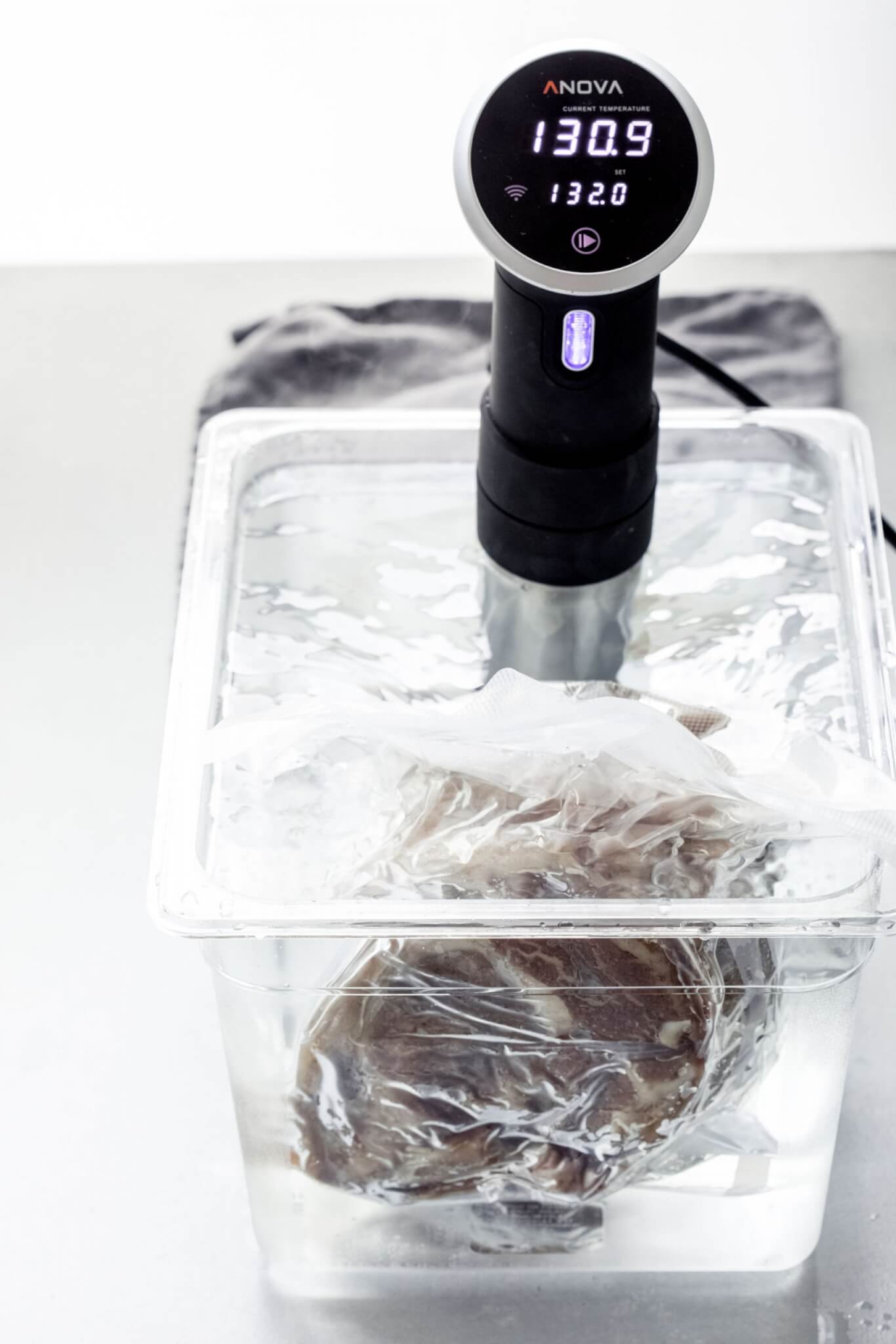 🌡

What Temperature Should a Sous Vide Prime Rib be Cooked To?
In the oven, you would only cook a prime rib until it registers 115-degrees for medium rare. That is because the roast will continue to cook as it rests outside the oven. However, with sous vide, the entire roast will cook evenly throughout. Here are the cooking temperatures for sous vide prime rib:
Rare – 130 degrees
Medium Rare – 132 degrees
Medium – 137 degrees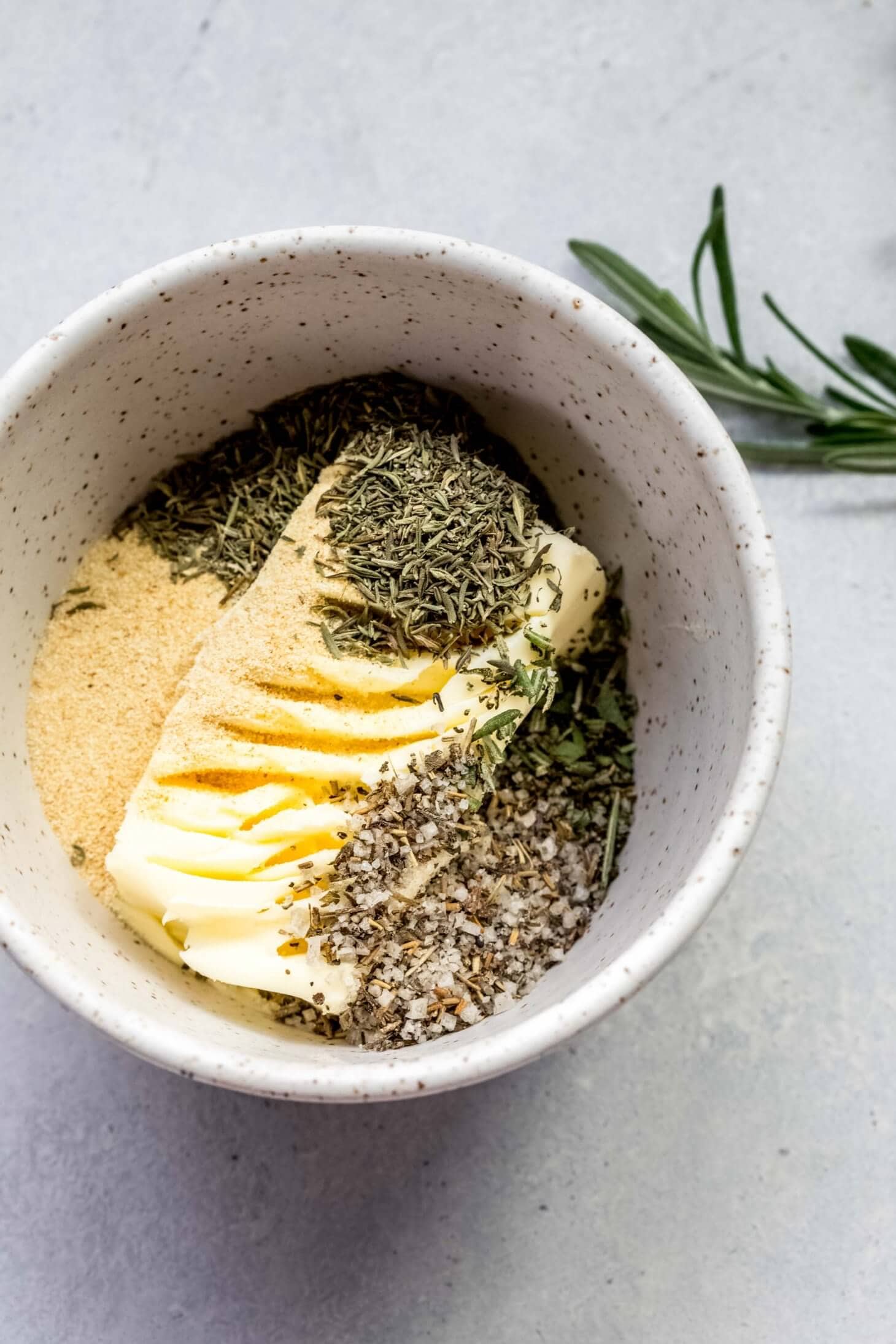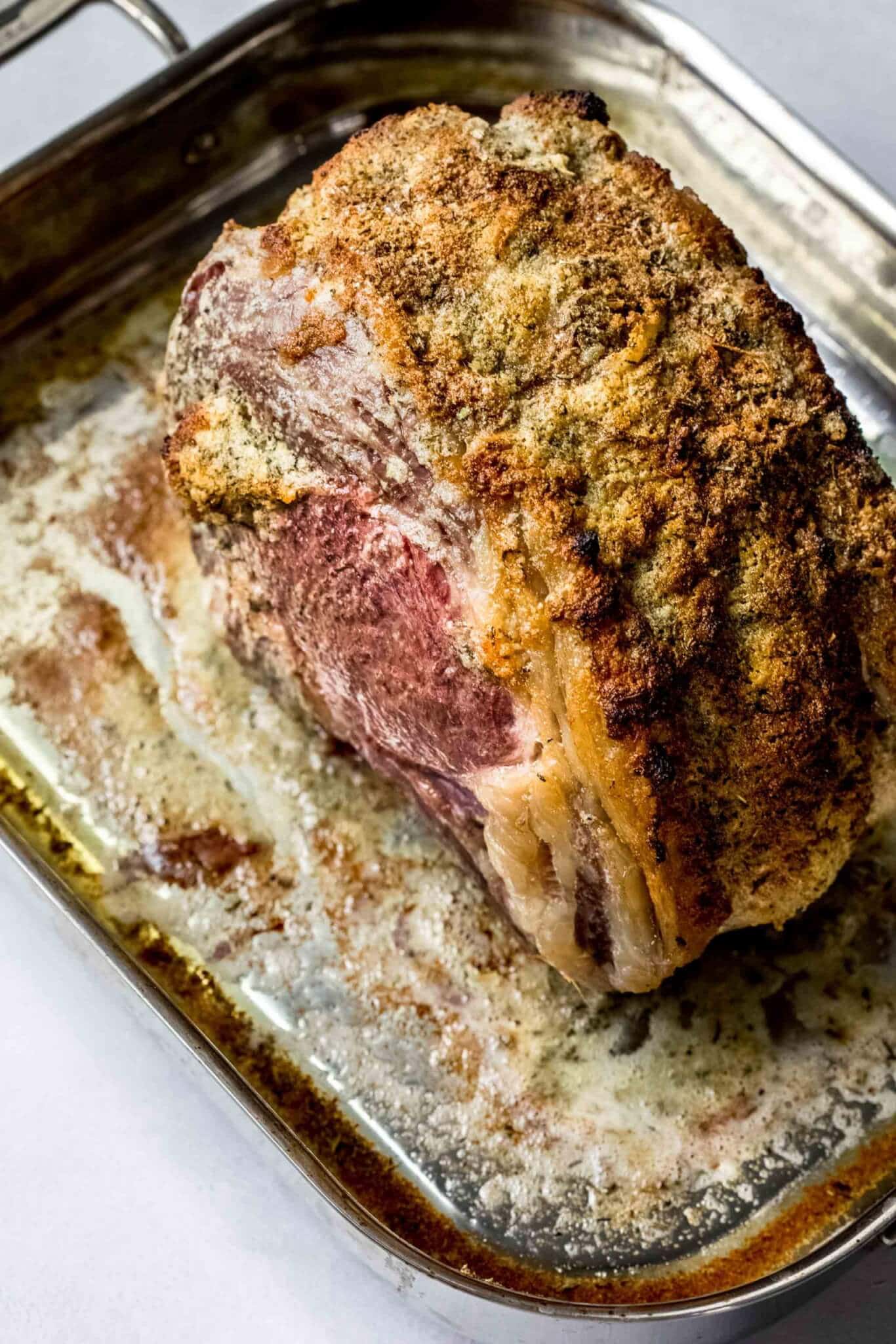 🔥

How to Sear It
Pat the roast dry with paper towels.
Rub the roast with garlic-herb butter.

Roast it in a 550-degree oven for 8-10 minutes.

Alternatively, you can broil the roast about 8" from the heating element for 2-8 minutes, keeping a close eye on it so it doesn't burn.
🔪

How to Slice It
Hold the roast up by the rib bones and slice close to the bone contour to remove the meat from the bones. Then slice the roast into equal slices.
Here's a great slideshow to give a better idea of how this process works.
Tip: Carve only as many slices as you need. Leaving the rest of the roast intact will help it stay warm and retain its juices.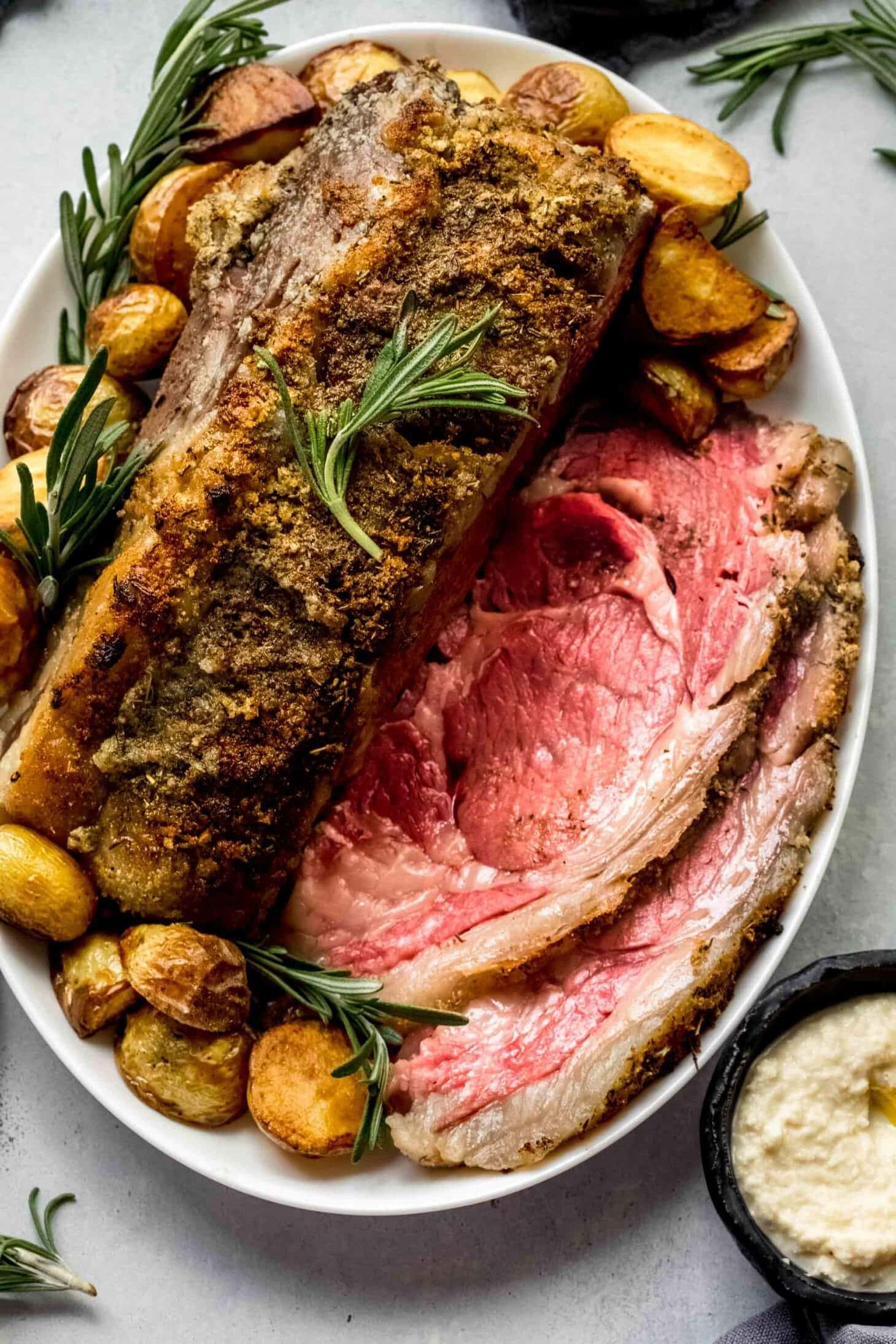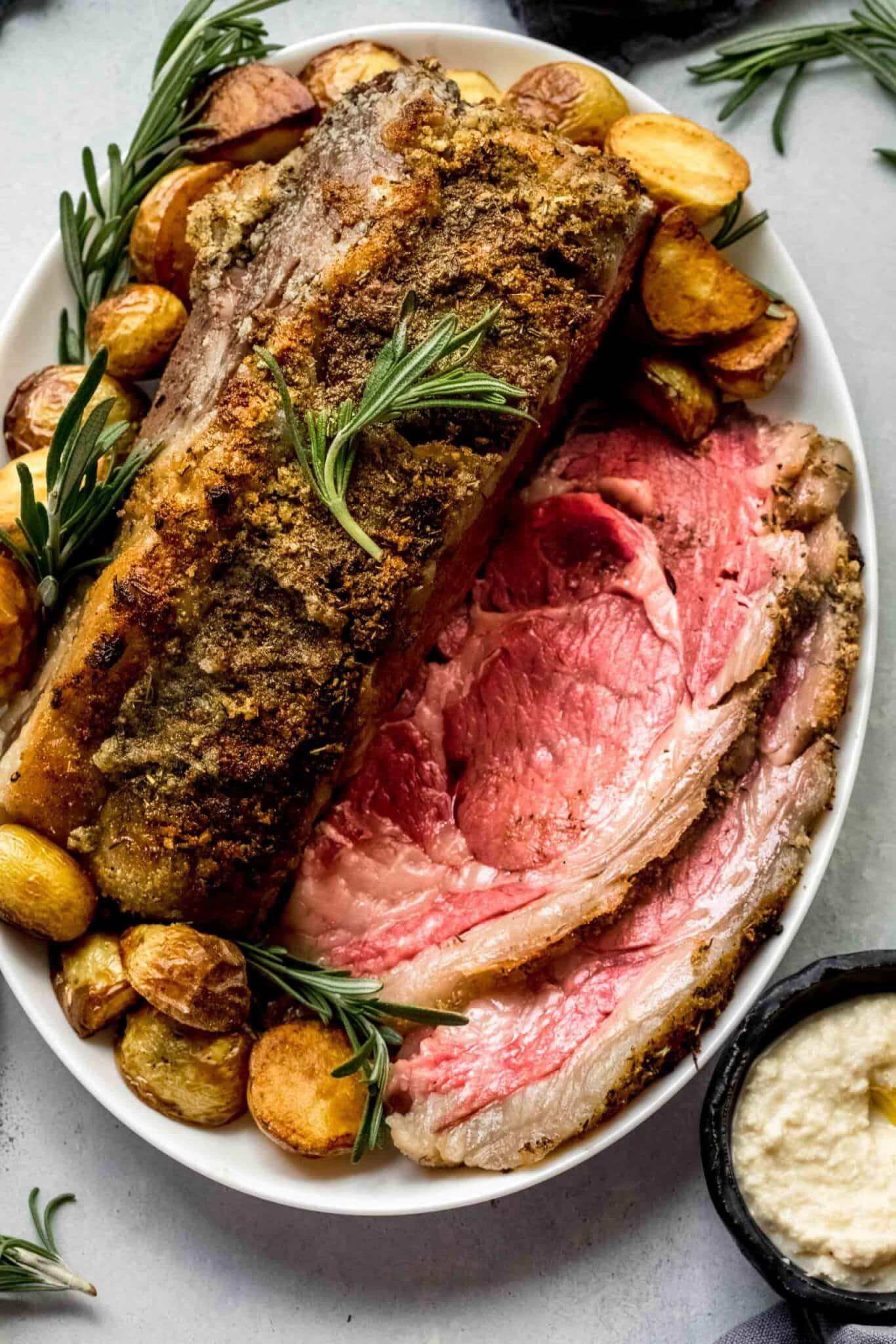 ℹ️ FAQs
How much prime rib per person?
Plan on about one pound per person. This timing of this recipe will work the same, regardless of the size of your roast. 
Is sous vide prime rib good?
It's delicious! Cooking prime rib sous vide guarantees a perfectly cooked and tender roast every single time. It's my favorite way to prepare it. 
Can you sous vide a frozen prime rib?
Yes! You can sous vide from frozen. Simply increase the time in the water bath to 8-12 hours (vs. 6-10 hours). 
What cut is prime rib?
Prime rib is also known as rib roast, or standing rib roast. It can be sold either boneless or bone-in. The ribeye roast comes from the same part of the animal as the ribeye does, giving it that delicious texture, and meaty flavor. 
Can you sous vide prime rib for too long?
It's difficult to overcook prime rib using the sous vide method. You can even cook it for up to 48 hours with no problems.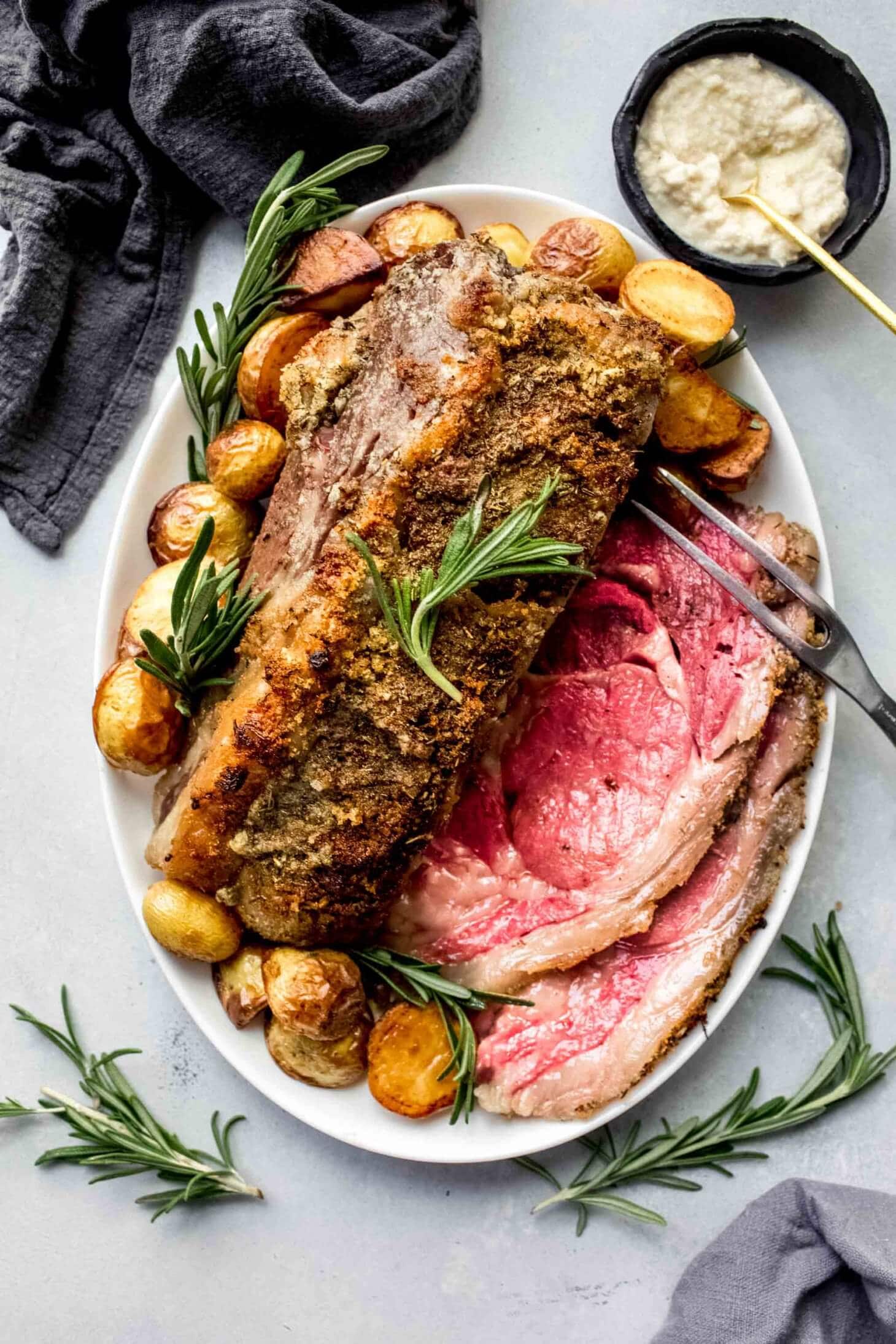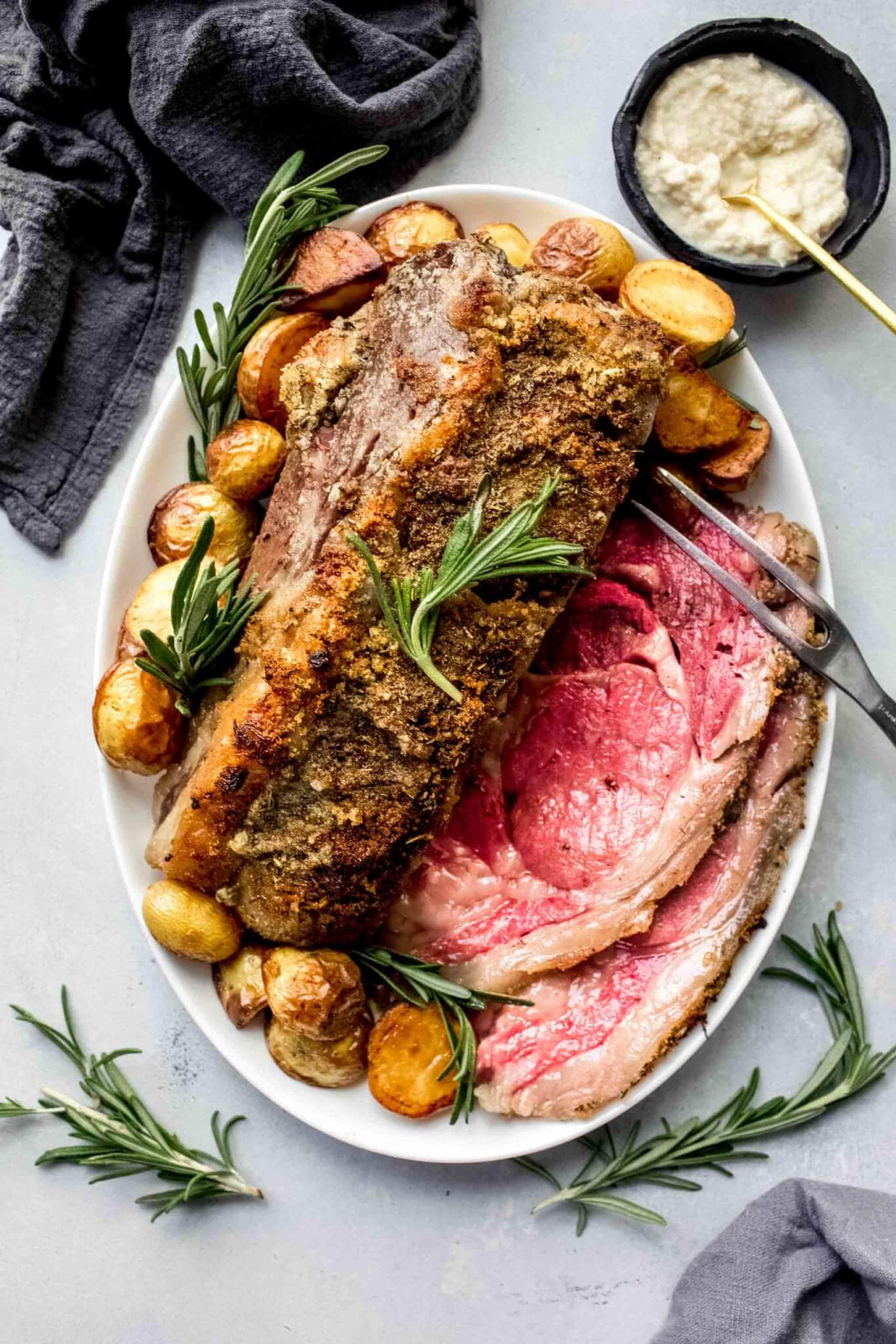 🍷 Wine Pairings for Prime Rib
🍴

What to Serve with It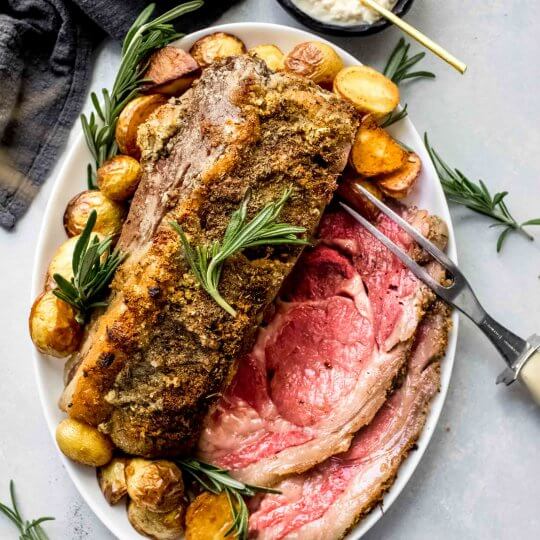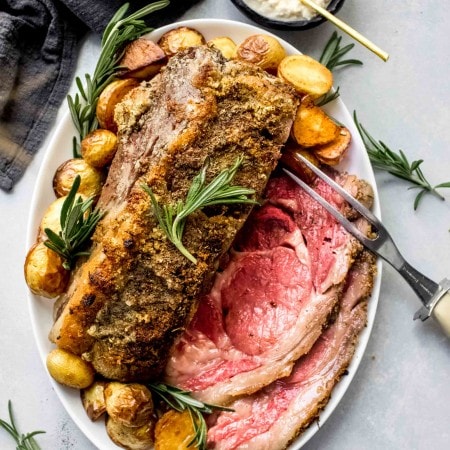 Sous Vide Prime Rib Recipe
Sous Vide Prime Rib Roast is tender, juicy and perfectly cooked every time. It's a perfect dish for the holidays.
Print
Pin
Ingredients
Garlic Herb Butter:
1

stick

salted butter

(softened)

2

Tablespoons

garlic powder

1

Tablespoon

fresh rosemary

(finely chopped (1/2 Tbsp dried))

1

Tablespoon

fresh thyme

(finely chopped (or 1/2 Tbsp dried))

1

Tablespoon

coarse ground black pepper

2

teaspoons

herbs de provence
Instructions
Generously season the roast with kosher salt and place in the refrigerator, uncovered, for at least one hour (and up to overnight). This is a good time to let your butter soften as well.

Set sous vide to 132-degrees (for medium rare).

Place the roast in a large vacuum bag or two ziploc bags (doubled up), seal, and place in the water bath.

Sous vide for 6 – 10 hours. (8 – 12 hours if the roast is frozen.)

Remove the beef from the bag, reserving the cooking liquid, and pat dry.
Finishing:
Preheat oven to 550 degrees.

In a small bowl, combine butter with garlic powder, rosemary, thyme, pepper and herbs de provence. Coat the top and sides of the roast with the garlic herb butter and place in a roasting pan.

Roast the prime rib for 8-10 minutes, until the crust is golden (keeping a close eye on it).

Remove from the oven and let rest.

While the roast rests, make the au jus. In a large skillet, bring the sous vide cooking liquid and broth to a boil, reduce the heat and simmer until reduced by half. Skim off any solids that rise to the top.

Serve sliced prime rib with au jus and horseradish on the side.
Nutrition
Calories:
157
kcal
|
Carbohydrates:
3
g
|
Protein:
3
g
|
Fat:
15
g
|
Saturated Fat:
10
g
|
Cholesterol:
41
mg
|
Sodium:
426
mg
|
Potassium:
354
mg
|
Fiber:
1
g
|
Sugar:
1
g
|
Vitamin A:
548
IU
|
Vitamin C:
2
mg
|
Calcium:
18
mg
|
Iron:
1
mg