This is the best Prime Rib Rub recipe! With a long shelf-life and savory, herbaceous flavors, it's a seasoning blend you can turn to whenever you want to take this impressive cut of meat over the top.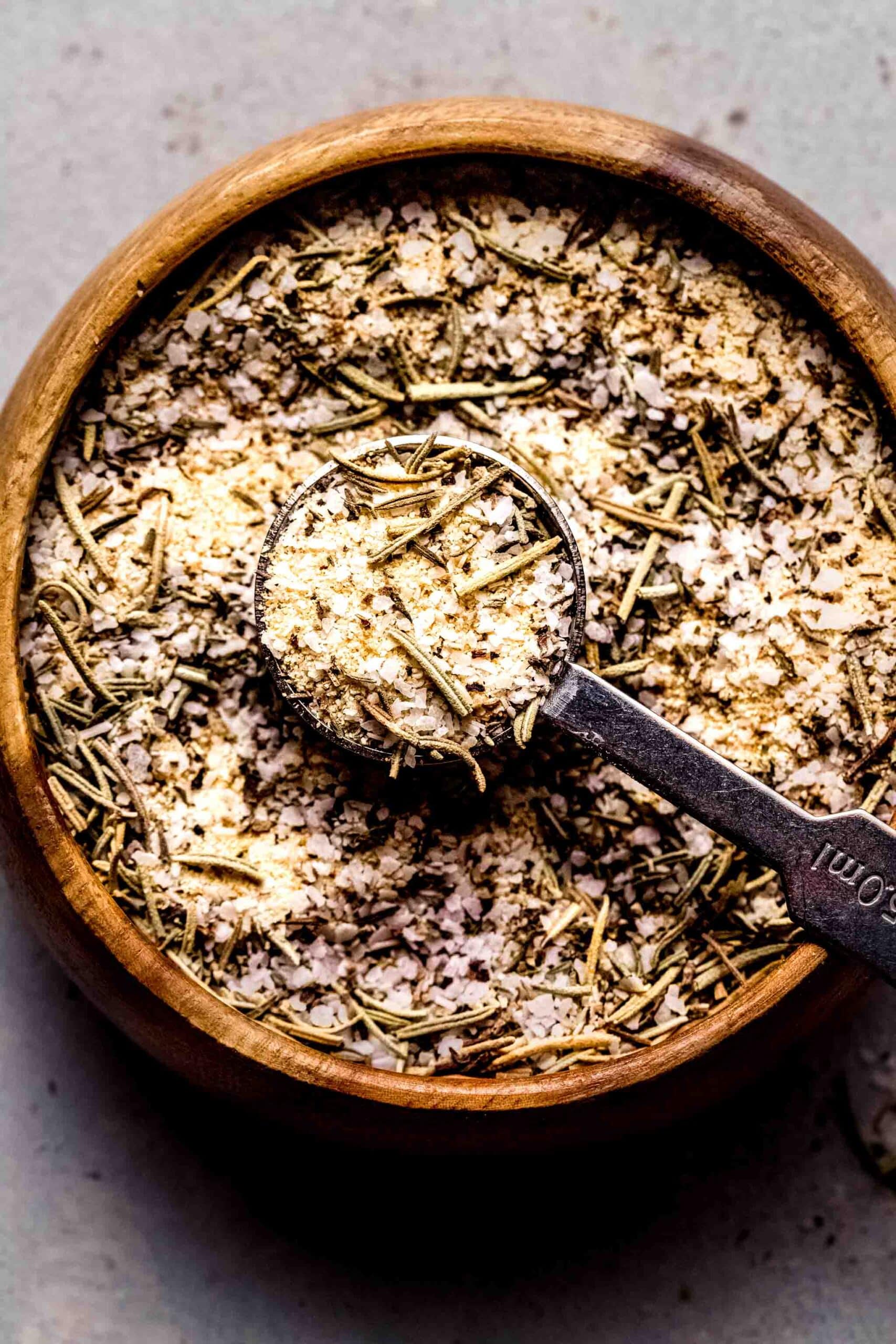 Want to secret to elevating an already impressive rib roast? Season it with this easy Prime Rib Dry Rub!
A simple blend of dry spices, herbs, salt, and pepper is all it takes to make a prime rib seasoning blend at home. Rub it all over the outside of a glorious prime rib before leaving it overnight or cooking it right away. The pantry-staple spices and herbs soak into the meat and complement its naturally beefy and succulent flavors.
What is a dry rub?
A dry rub is a blend of dry spices, herbs, and/or sugar typically used on grilled or roasted meat, like chicken, beef, pork, and seafood. The seasoning blend is rubbed on the outside of the meat before it's cooked to infuse more smoky, spicy, zesty, or herbaceous flavors into every bite.
What is prime rib?
Prime rib or rib roast is a cut of beef worthy of special occasions and holidays. It's a large cut of beef that's generously marbled with fat, giving it mouthwatering meaty flavors and a tender texture.
You might see two kinds of prime rib at the grocery store or butcher: USDA prime grade and USDA choice grade. Prime grade is more expensive, but well worth the splurge because its quality and flavors are top-tier.
Ingredients
Pick up a bone-in prime rib, AKA a standing rib roast. The night or a few hours before cooking, season the meat generously with a blend of these simple herbs and spices:
Garlic powder and onion powder – You can't go wrong when adding these two savory spices to a dry rub recipe. They add a great baseline of flavor that keeps you coming back for more.
Rosemary – You can use either fresh or dried rosemary to make this recipe. The fresh herb has a more potent flavor (peppery, evergreen, and lemony), but using it means that the dry rub won't have as long of a shelf life.
Thyme – Again, you can use both fresh or dried thyme here. Just remember that fresh thyme will reduce the shelf life of the dry rub.
Kosher salt and black pepper – Both are crucial for balancing the flavors in the prime rib dry rub. Coarse salt is particularly important because, according to Serious Eats, it loosens the texture of the meat fibers and makes it easier for the juices to reabsorb into the meat after cooking. In other words, it's the secret to the most tender and juicy prime rib.
How to make a prime rib rub
To make the dry rub, mix the salt, spices, and herbs together in a small bowl or spice jar. Seal with a lid and store it away for later or use it right away. Enjoy!
How to make prime rib
My Sous Vide Prime Rib Roast is the ultimate show-stopping meal for holidays and special events. The recipe walks you through the steps to making a juicy and flavor-packed roast using simple step-by-step instructions. However, instead of only seasoning the meat with salt, use this prime rib dry rub recipe instead!
To roast and reverse sear the prime rib instead of the sous vide method, check out this guide by Serious Eats.
Or, try smoking your prime rib! Check out this Slow Smoked Prime Rib recipe from Traeger.
Flavor variations
Use fresh garlic – Feel free to substitute 1 to 2 minced garlic cloves for the garlic powder. Just know that you can't store the seasoning blend for later when it's made with fresh garlic.
Help the seasonings stick – As long as you pat the meat dry ahead of time, the spices should stick to the outside. However, you can rub the meat with a layer of olive oil or Dijon mustard before adding the spices to make sure they don't fall off.
Mix with butter – Transform this seasoning mix into garlic herb butter by stirring it with 1 stick of softened unsalted butter.
Switch the herbs – Prime rib pairs well with fresh or dried thyme, rosemary, oregano, and sage. Use only one or a mix of all four in the blend!
Give it a smoky flavor – Add 1 tablespoon of smoked paprika to give the prime rib a smoky flavor and a subtle heat.
Frequently asked questions
How much of the dry rub do I need for a prime rib roast?
This recipe makes enough dry rub to season one 5-pound beef ribeye roast.
Can you season the prime rib with dry rub ahead of time?
Absolutely. In fact, it's best to season prime rib at least 45 minutes ahead of time (or leave it overnight for the best results). This gives all of the spices, salt, and herbs time to work their way into the meat, giving you more flavor-rich results.
How else can you use this dry rub?
You aren't limited to prime rib when using this spice blend. It has a mild flavor that will enhance smoked corn beef brisket, roast beef, pork chops, and other kinds of smoked or grilled meats. You can also use it as a steak seasoning on practically any cut of steak, like ribeye, filet mignon, and porterhouse. 
How long does it last?
The dry rub made with dry herbs will last for about 6 months when stored in an airtight jar or container at room temperature.
Serving suggestions
Serve your standing rib roast with these mouthwatering sides for the ultimate holiday meal:
To finish, top the sliced prime rib with any of these Sauces for Prime Rib to take it over the top.
More beef seasonings and sauces
Did you try this prime rib seasoning recipe?
If you loved this prime rib spice blend, I would appreciate it so much if you would give this recipe a star review! Also, be sure to snap a picture of your finished dish and share it with me on Instagram using the hashtag #platingsandpairings and tagging me @platingsandpairings.
For more great Platings and Pairings recipes, be sure to follow me on Instagram, TikTok, Pinterest and Facebook.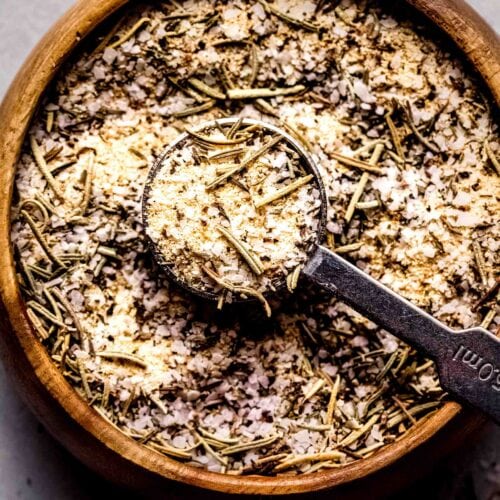 Prime Rib Rub Recipe
This is the best Prime Rib Dry Rub recipe! With a long shelf-life and savory, herbaceous flavors, it's a seasoning blend you can turn to whenever you want to take this impressive cut of meat over the top.
Print
Pin
Servings:
1
5-pound roast
Ingredients
3

Tablespoons

kosher salt

2

Tablespoons

garlic powder

1

Tablespoon

fresh rosemary

(finely chopped or ½ TBSP dried rosemary)

1

Tablespoon

fresh thyme

(finely chopped or ½ TBSP dried thyme)

1

Tablespoon

coarse ground black pepper

1

teaspoon

onion powder
Instructions
Make the dry rub by mixing the salt and spices together in a bowl or jar. Use it right away or store it for later.
Notes
The dry rub will last for about 6 months when stored in an airtight jar or container at room temperature.
Nutrition
Calories:
69
kcal
|
Carbohydrates:
15
g
|
Protein:
3
g
|
Fat:
0.4
g
|
Saturated Fat:
0.1
g
|
Polyunsaturated Fat:
0.1
g
|
Monounsaturated Fat:
0.1
g
|
Sodium:
20942
mg
|
Potassium:
271
mg
|
Fiber:
3
g
|
Sugar:
1
g
|
Vitamin A:
391
IU
|
Vitamin C:
12
mg
|
Calcium:
68
mg
|
Iron:
3
mg