These are the BEST Glazed Carrots – Lightly sweetened, delicately seasoned, and perfectly glazed. These carrots make an amazing side dish that both kids and adults can't get enough of!
Note: This post was originally published in March 2015 – It has been updated with new photographs but the recipe remains the same.
Glazed Carrots bring to mind an expression that I heard used recently – "Dirt Candy". To me, these glazed carrots are the epitome of what sweets growing from the ground would taste like – Just cooked enough to barely be tender, then finished with a lightly-sweet glaze tinged with lemon, and sprinkled with fresh thyme.
The term Dirt Candy was coined by Amanda Cohen and is the name of her NYC Restaurant and her cookbook. Her dishes are all vegetarian and sound amazing! The menu is a true inspiration for anyone trying to get more vegetables into their diet – Grilled and Smoked Broccoli with Kraut and Mustard Barbeque Sauce, Pickled and Jerked Carrots with Peanut Mole Sauce on Carrot Waffles, and Butternut Squash Scallopini with Harissa and Green Chermoula and just a few of their offerings. I have never been to her restaurant, but, if I ever make it to NYC – It's on the list!
Can you believe that even though I grew up in New York, I've only been to the city once? My husband calls the place where I grew up the "Other NY". That's because, whenever people hear that I'm from New York, they automatically assume the big city. In fact, it's quite the opposite. I grew up in a small town with a population right around 30,000 people where the most exciting thing to do was go to WalMart or bowling. NY City was about an eight hour car drive from my small town. The one time I made it there was to be in the Macy's Thanksgiving Day Parade – I was in the marching band color guard (hangs head in shame) and I'll leave it at that…
Anyways… I'm always on the lookout for side dish recipes that can be made simply with vegetables that aren't super perishable, and can hold up in your fridge for a week. Quite often I'm guilty of putting all of my focus on the main dish, and leaving the vegetables as an afterthought. For that reason, I like to keep the basic, hearty vegetables on hand – carrots, broccoli, brussels sprouts.  All of these vegetables can be roasted or quickly steamed, and they seem to compliment a variety of dishes.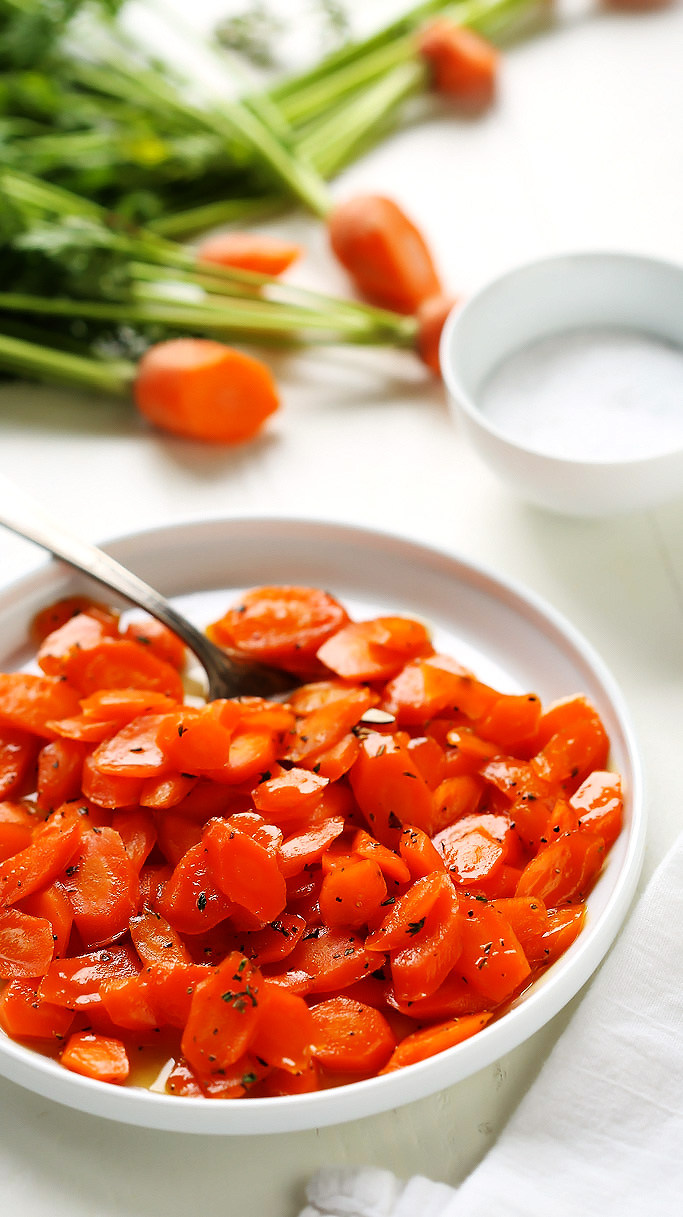 This sweet carrots recipe comes together quickly on your stovetop.
Glazed Carrots Ingredients:
Carrots
Salt
Sugar
Chicken Broth
Butter
Lemon Juice
Thyme
Pepper
How to Make Glazed Carrots
Bring carrots to boil in chicken stock seasoned with salt and sugar.
Simmer for 5 minutes, until barely tender.
Remove cover and increase heat to high.
Reduce liquid.
Add butter and sprinkle in lemon juice.
And… You're… DONE! Dirt Candy on a plate in under 15 minutes. How's that for an afterthought?
Side Dish Recipes:
What to Serve with Glazed Carrots:
If you loved this candied carrots recipe I would appreciate it so much if you would give it a star review! Also, be sure to snap a picture of your finished dish and share it with me on Instagram using the hashtag #platingsandpairings and tagging me @platingsandpairings.
For more great Platings and Pairings recipes, be sure to follow me on Pinterest, Facebook, YouTube and Twitter.
Glazed Carrots Recipe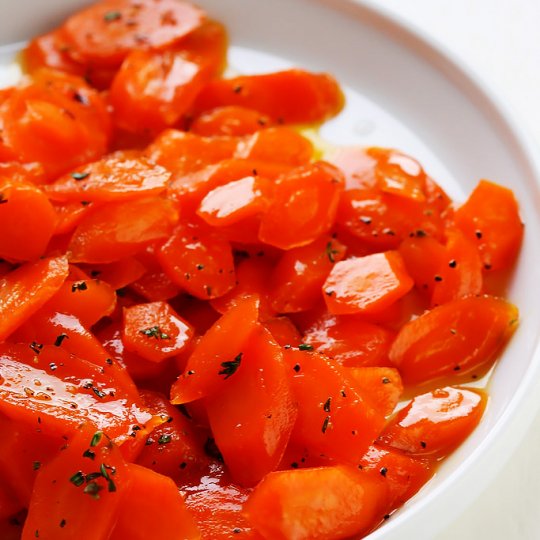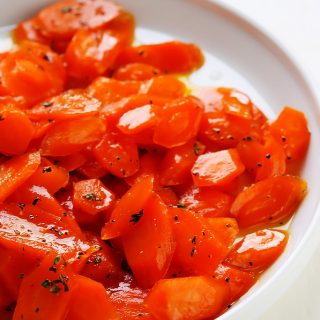 The Best Glazed Carrots
These are the BEST Glazed Carrots - Lightly sweetened, delicately seasoned, and perfectly glazed. These carrots make an amazing side dish that both kids and adults can't get enough of!
Print
Pin
Ingredients
1

pound

carrots

(peeled, about 6 medium)

1/2

teaspoon

salt

3

tablespoons

sugar

1/2

cup

low-sodium chicken broth

1

tablespoon

unsalted butter

2

teaspoons

lemon juice

1/2

teaspoon

minced fresh thyme

Ground black pepper
Instructions
Slice the carrots, on the bias, about 1/4 inch thick.

Bring the carrots, salt, 1 tablespoon of the sugar, and the chicken broth to a boil in a 12-inch skillet, covered, over medium-high heat. Reduce the heat to medium and simmer, covered, stirring occasionally, until the carrots are almost tender when poked with a fork, about 5 minutes. Uncover, increase the heat to high, and simmer rapidly, stirring occasionally, until the liquid is reduced to about 2 tablespoons, 1 to 2 minutes.

Cut the butter into 4 pieces and add it to the skillet along with the remaining 2 tablespoons sugar. Toss the carrots to coat and cook, stirring frequently, until the carrots are completely tender and the glaze is light gold, about 3 minutes. Off the heat, add the lemon juice and minced thyme and toss to coat.

Season to taste with pepper and serve immediately.
Nutrition
Calories:
111
kcal
|
Carbohydrates:
20
g
|
Protein:
1
g
|
Fat:
3
g
|
Saturated Fat:
1
g
|
Cholesterol:
7
mg
|
Sodium:
378
mg
|
Potassium:
388
mg
|
Fiber:
3
g
|
Sugar:
14
g
|
Vitamin A:
19030
IU
|
Vitamin C:
7.7
mg
|
Calcium:
37
mg
|
Iron:
0.4
mg