These Smashed Brussels Sprouts are flattened so that they become extra crispy when roasted in the oven. Drizzled with the most amazing lemon tahini dipping sauce!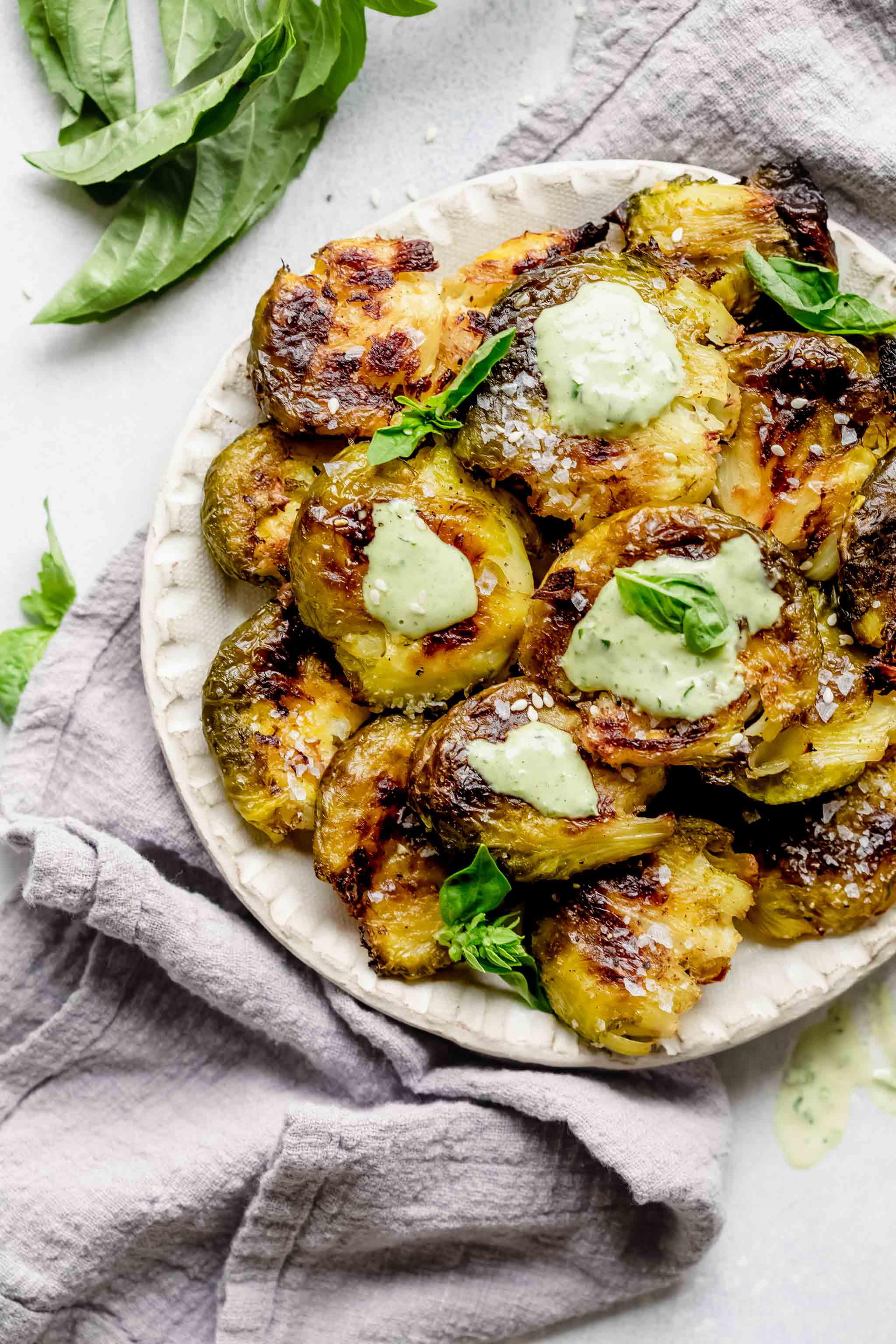 I've long been obsessed with my crispy smashed potatoes. They remind me a little bit of latkes, without all the work. All you need to do is – boil, smash, bake. Then you're left with perfectly crispy potatoes that are perfect for topping with your favorite sauce. I love them with my mojo sauce, but they'd also be so great topped with this yumm sauce.
So, today I thought it was time to change things up a bit with these Smashed Brussel Sprouts.
I'm taking that same concept of boiling the brussels sprouts until they're just tender, then flattening them and baking them in the oven until they're perfectly golden and crispy. And, just like with my smashed potatoes, I'm making a sauce to drizzle over these roasted brussels sprouts – lemon tahini.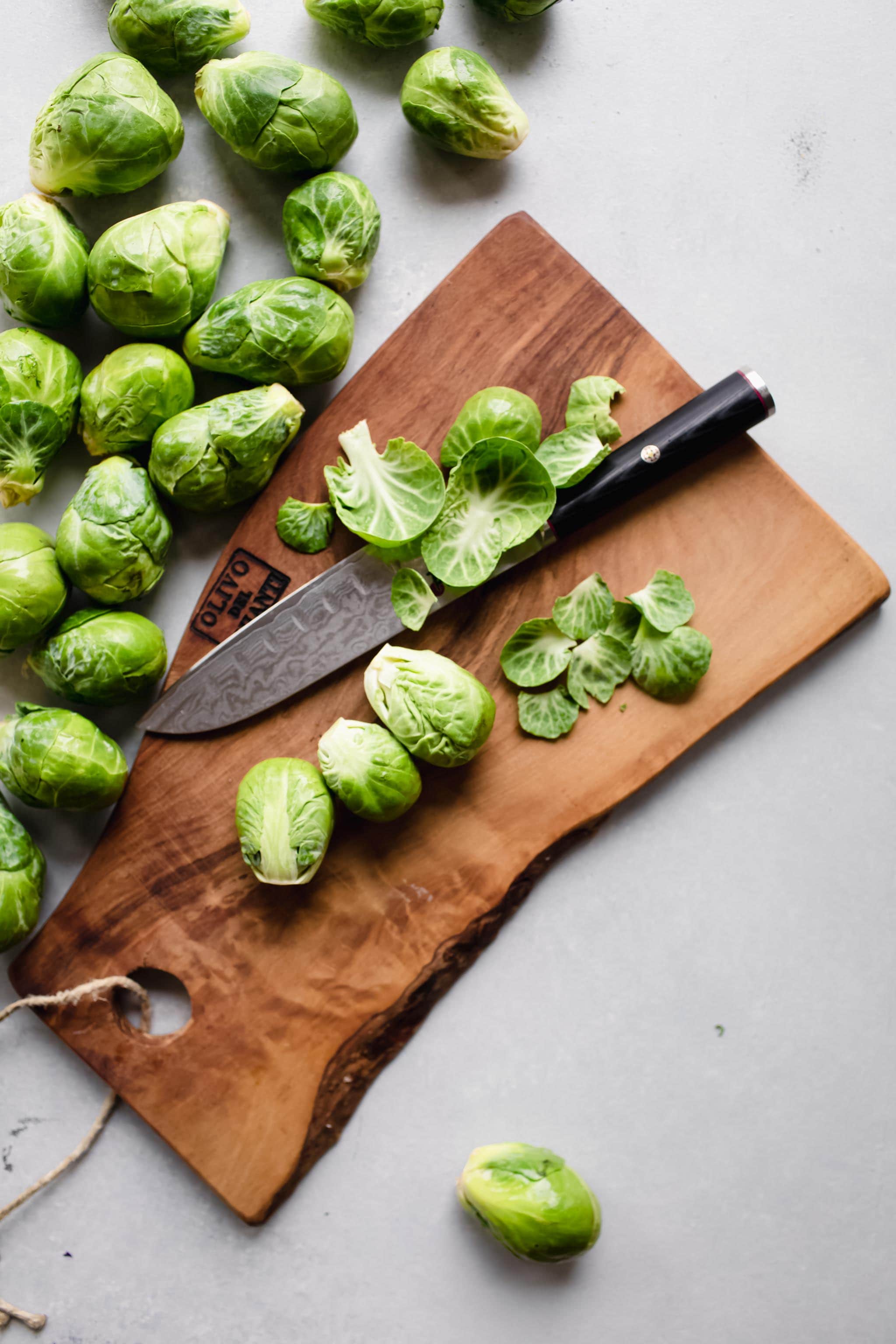 Ingredients needed for the brussel sprouts
Brussels Sprouts
Olive Oil
Cumin
Salt & Pepper
Sesame Seeds – For sprinkling at the end.
How do you smash brussels sprouts?
Trim just a little bit off the root end. A few leaves will fall of, but that's ok. You can save them to make brussels sprouts chips.
Boil for 10-15 minutes until tender. This will depend on how big your brussels sprouts are.
Drain and cool in an ice bath.
Flatten the brussels sprouts to 1/2″ thickness using a clean dish towel.I like to sandwich my sprouts between the towel and press down on the kitchen counter. This helps to ensure that any excess liquid is removed, ensuring that your brussels sprouts will roast up extra crispy and golden.
Roast in a 450-degree oven for 30 minutes.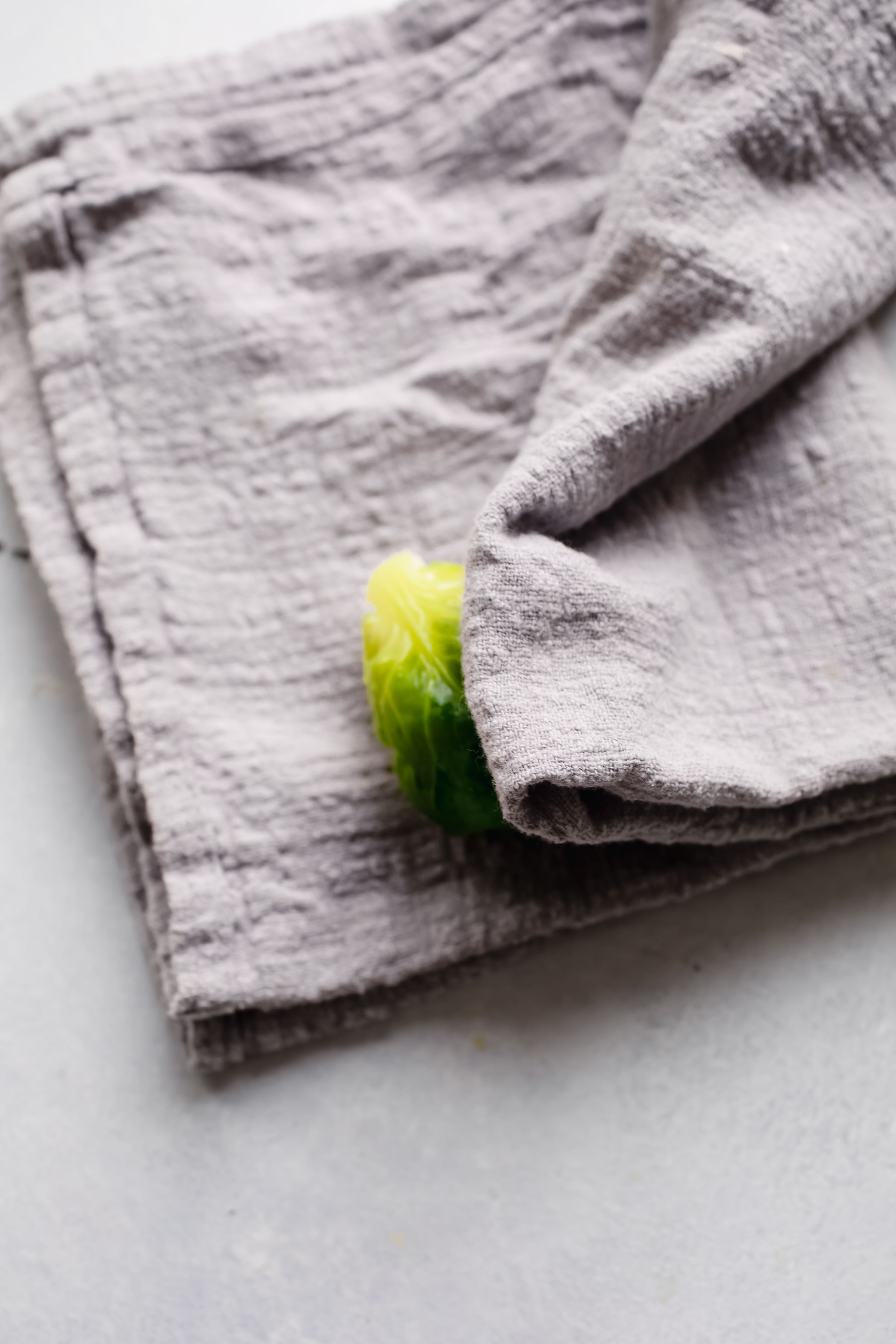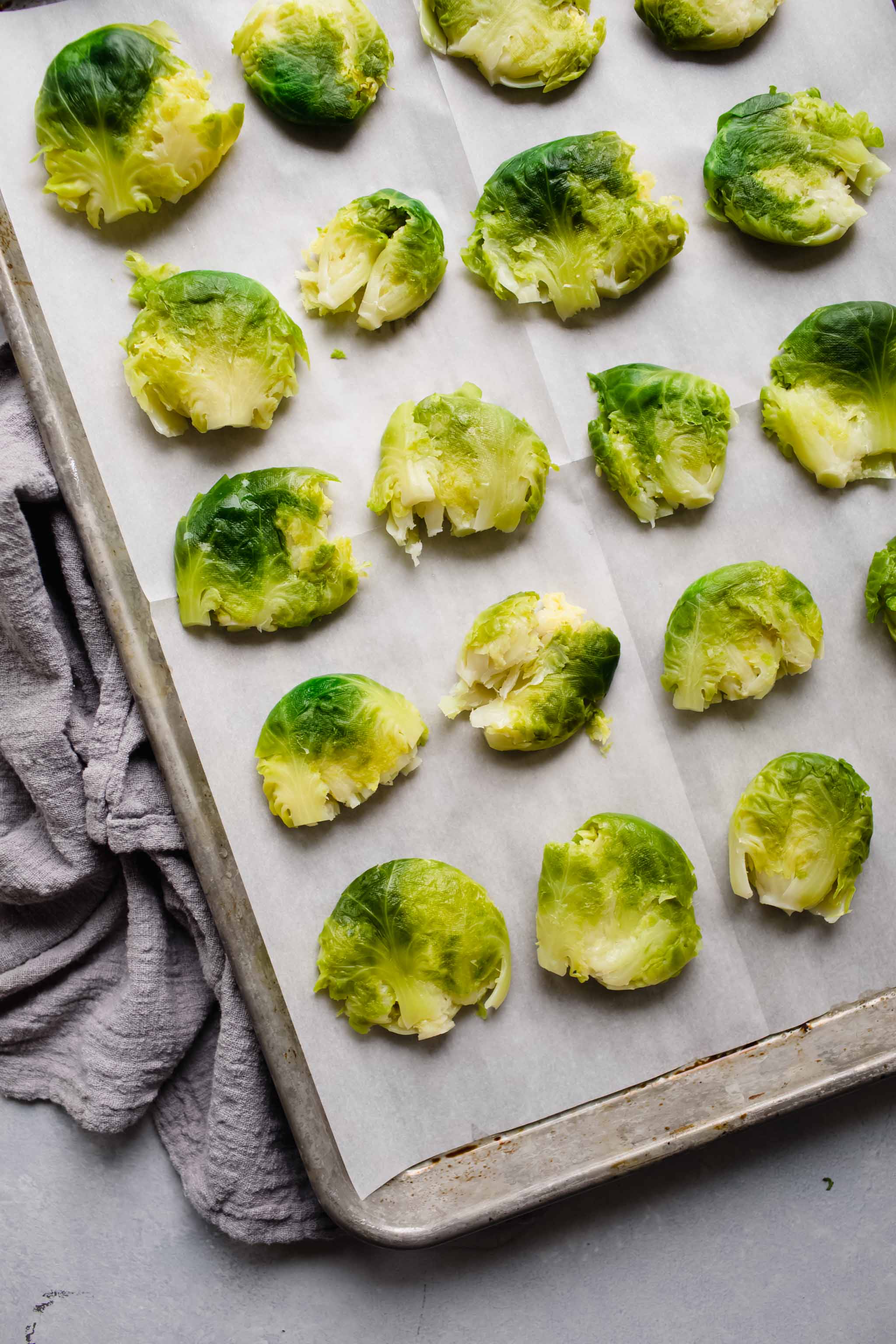 How do you get crispy smashed brussels sprouts?
Roasting them at a high temperature ensures that they are crispy. I prefer to roast them at 450-degrees.
These Smashed Brussels Sprouts are delicious served on their own, sprinkled with a bit of flaky sea salt. But, to take things over the top, I like to drizzle on a lemon tahini sauce that's laced with basil and garlic. So super yummy!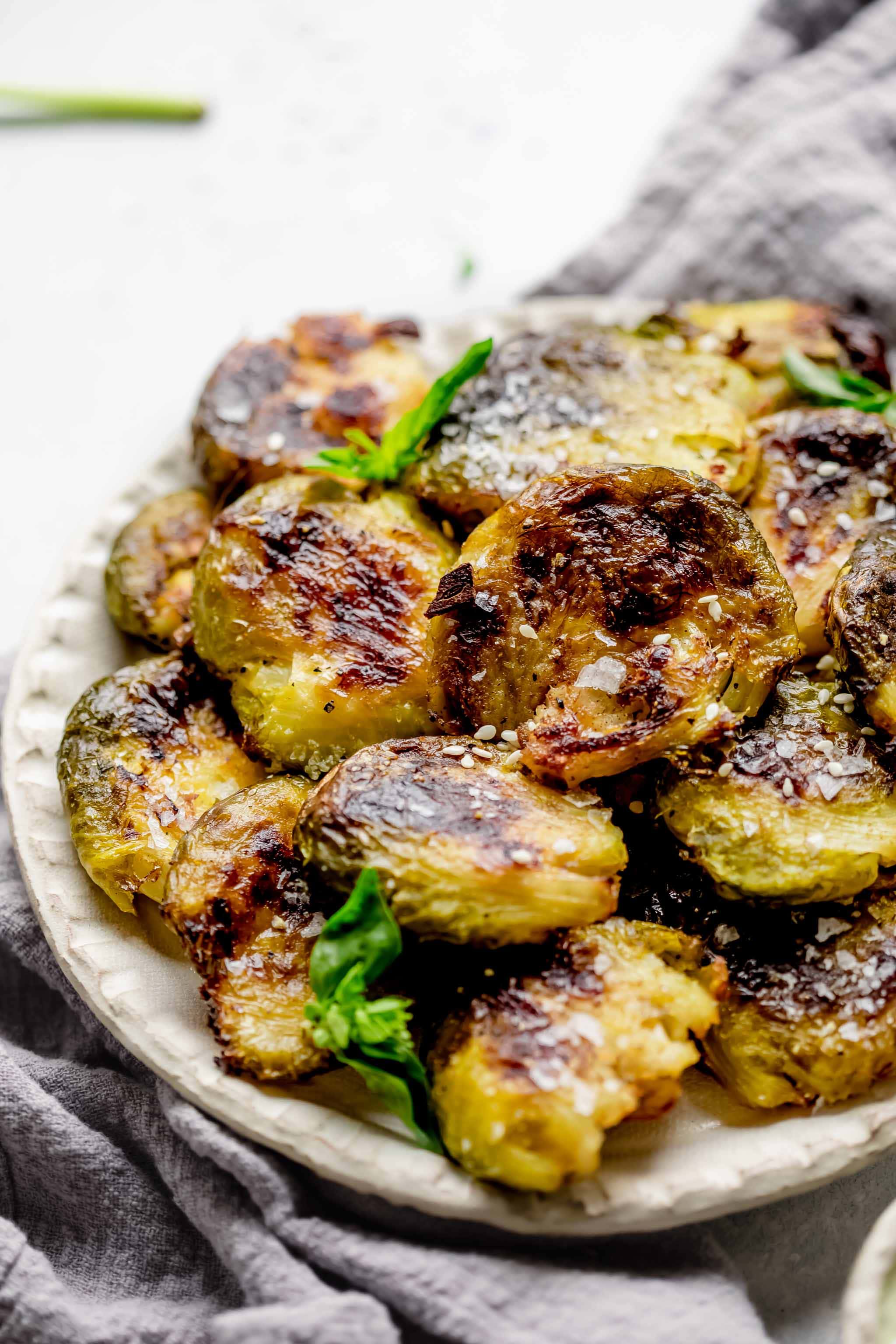 Smashed brussels sprouts dipping sauce ingredients
Tahini
Basil
Fresh Lemon Juice
Garlic
Olive Oil
Salt & Pepper
The lemon tahini sauce is actually a variation of this basil tahini sauce that I used in this Roasted Broccoli with Garlic & Basil Tahini Sauce recipe. I also used a similar tahini dressing in this Farro Salad. I just can't get enough of it. I hope you'll love it too!!!
All you do is add the ingredients to a food processor or blender, and then process until smooth.
What to serve with them
More vegetable side dish recipes

More brussels sprouts recipes
More tahini recipes
Did you try this brussel sprouts recipe?
If you loved these tahini brussel sprouts I would appreciate it so much if you would give this recipe a star review! Also, be sure to snap a picture of your finished dish and share it with me on Instagram using the hashtag #platingsandpairings and tagging me @platingsandpairings.
For more great Platings and Pairings recipes, be sure to follow me on Instagram, TikTok, Pinterest and Facebook.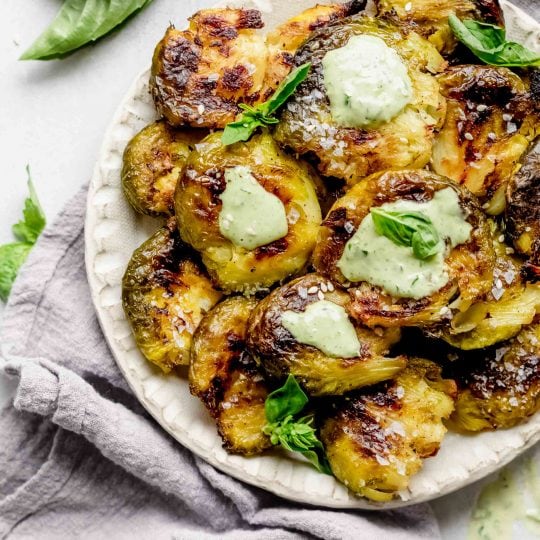 Smashed Brussel Sprouts Recipe with Dipping Sauce
These Smashed Brussel Sprouts are flattened so that they become extra crispy when roasted in the oven. Drizzled with the most amazing Lemon Tahini Sauce.
Print
Pin
Instructions
Preheat oven to 450 degrees and bring a large pot of salted water to a boil.

Trim the root ends of the brussels sprouts and discard any loose leaves (or save them to make brussels sprouts chips).

Once water is boiling, add brussels sprouts and cook 10-15 minutes, until tender. Drain and add to a bowl of ice water to cool. Drain.

Using a clean dish towel, flatten the cooled brussels sprouts to 1/2 inch thickness.

Place on a parchment paper lined baking sheet.

Drizzle with olive oil and sprinkle with cumin. Season with salt and pepper.

Roast until crisp and deep brown around the edges, about 30 minutes, flipping over halfway through.

Meanwhile, make the lemon tahini sauce.
Lemon Tahini Sauce
In a high powered blender, combine all ingredients.

Blend on high until you have a smooth, creamy sauce.

Add up to ¼ cup more water (blending again to incorporate) until you get the thickness you like. Season with salt and pepper, to taste.
Nutrition
Calories:
250
kcal
|
Carbohydrates:
19
g
|
Protein:
8
g
|
Fat:
18
g
|
Saturated Fat:
2
g
|
Sodium:
46
mg
|
Potassium:
696
mg
|
Fiber:
6
g
|
Sugar:
3
g
|
Vitamin A:
1225
IU
|
Vitamin C:
133.8
mg
|
Calcium:
99
mg
|
Iron:
3.3
mg
Watch the web story here.
This recipe was originally published in 2020. It was updated in 2023 to add new content. The recipe remains the same. Enjoy!