Gnocchi with Blue Cheese and Crispy Prosciutto is pure decadence. A rich blue cheese sauce coats the gnocchi which is tossed with a bit of fresh spinach and topped with some crispy prosciutto.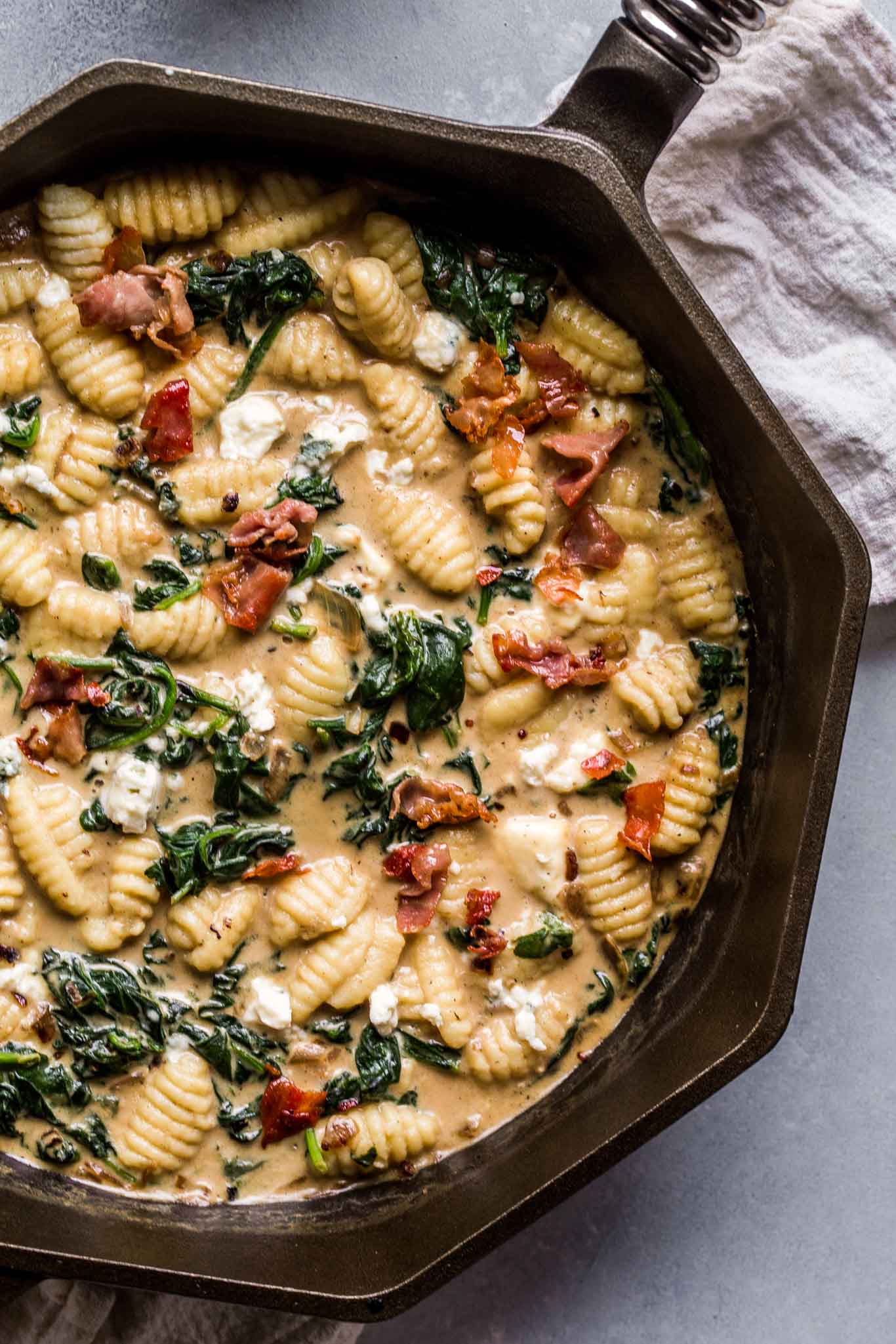 I've got a good one to share with you today guys – Gnocchi with Blue Cheese and Frizzled Prosciutto! Plus, it'll pair perfectly with Merlot – which I'm putting out there right now as needing a second chance…
Merlot was one of the first wines that I started off drinking (15 years ago). It was around that time that I started to really get into cooking too. After graduating from college, my girlfriends and I would make a point of getting together every Wednesday night.
We'd take turns at each other's houses, with the host cooking dinner, and the rest of us bringing the wine. Most of those nights included a bottle of Merlot. Normally, we wouldn't know what was on the menu for the night, so we'd just gravitate to food-friendly Merlot. Call it the original #WineWednesday.
Flash forward to a couple years later – In 2004, the movie Sideways came out and just abolished the name of Merlot. In the film, wine snob Miles, played by Paul Giamatti, openly talks about how he can't stand Merlot. He won't drink Merlot. He much prefers Pinot Noir…. Much more elegant, and refined, and SO much better.
So, obviously, my friends and I shamelessly made the transition to Pinots, as did many other people. Everyone was flocking to Pinot Noir – It gained a huge following almost overnight. And, poor Merlot ? went through something called the "Sideways Effect" – It's sales decreased, as did prices due to the lowered demand.
Ten years later, I'm just now learning that there's an inside joke at the end of the movie. Miles heads to a fast food joint, and consumes his prized bottle of 1961 Chateau Cheval Blanc from a brown paper bag. This Bordeaux wine is noted to be a blend of Merlot (gasp!) and Cabernet Franc. Cheers Miles.
So, let's all just get back into loving Merlots – OK?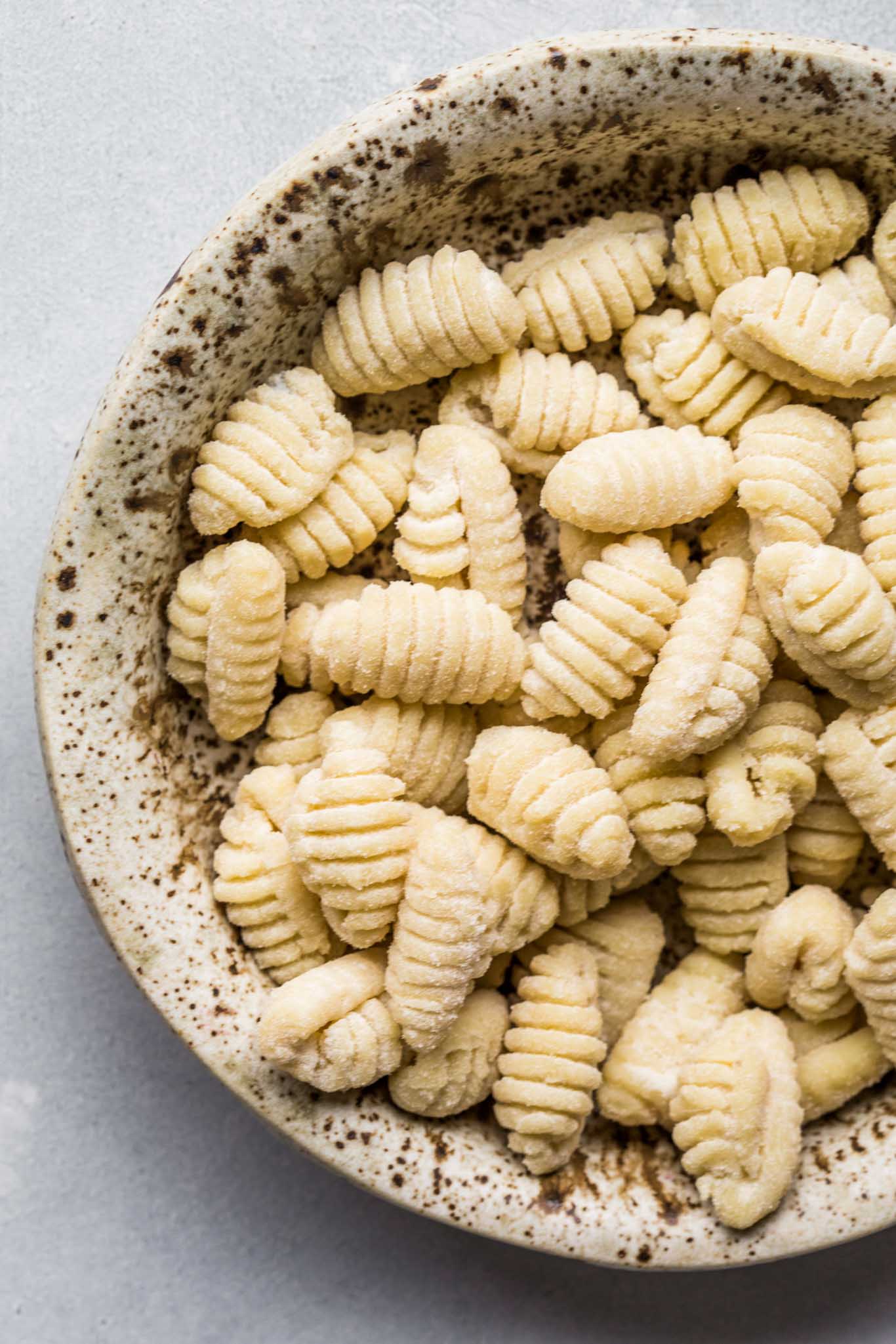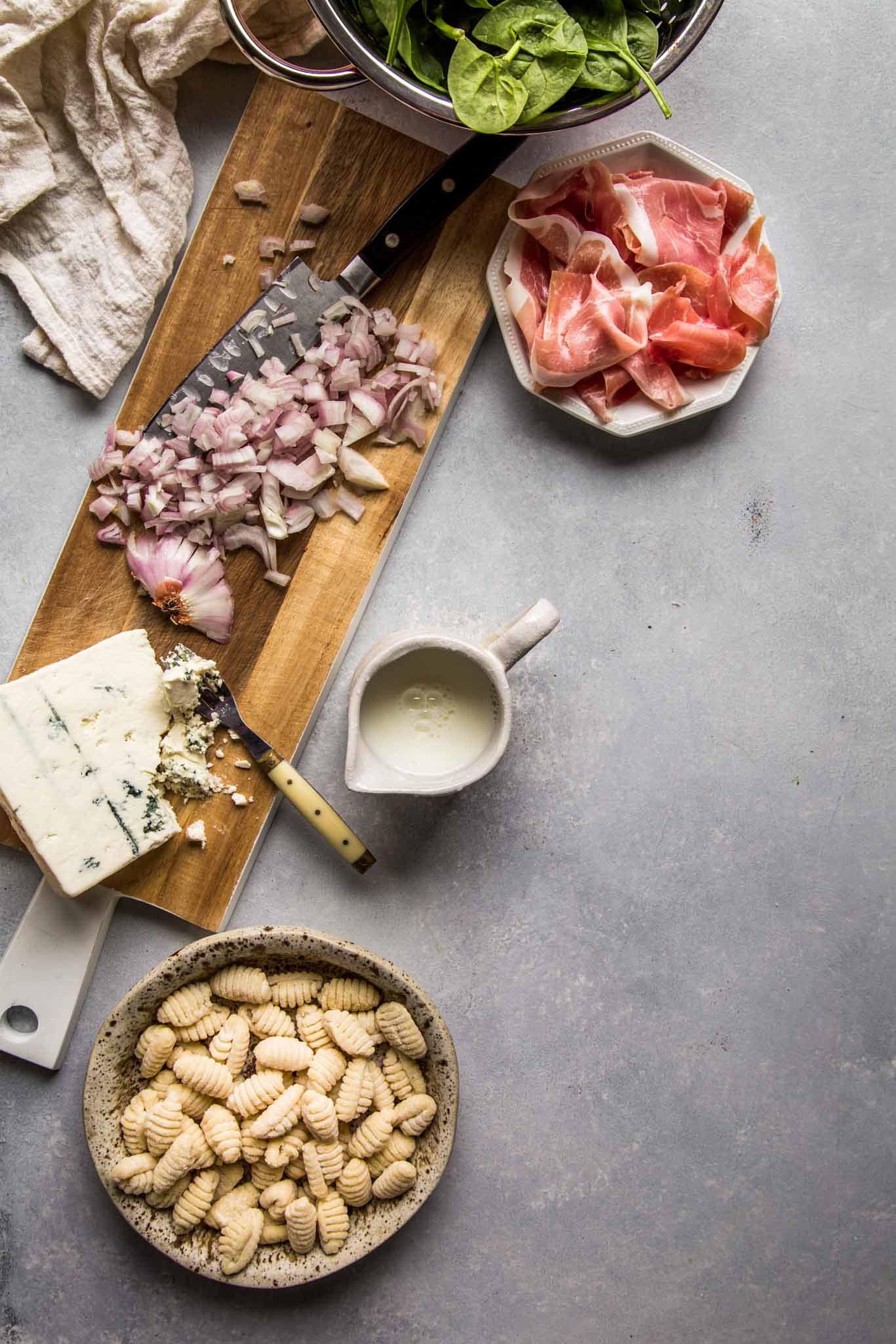 Merlots can vary quite a bit depending on the production region. Those growing in cooler climates (France, Italy) tend to have a bit more tannin to them, are less fruit-forward, and a bit more earthy. Whereas Merlots coming from warmer regions (Chile, California) show off more ripe fruits and are softer in tannin structure. You'll get aromas of cherry and cocoa – Baking spices, vanilla, smoke, and earthy notes can also shine through. The flavors that pop out are those of plums, blackberries, cherries, cocoa and pepper.
All this makes Merlot fairly versatile in the food-pairing arena. It pairs exceptionally well with roasted meat – Beef, game, poultry and pork, and with flavorful cheeses – Blue cheese, sharp cheddar, camembert.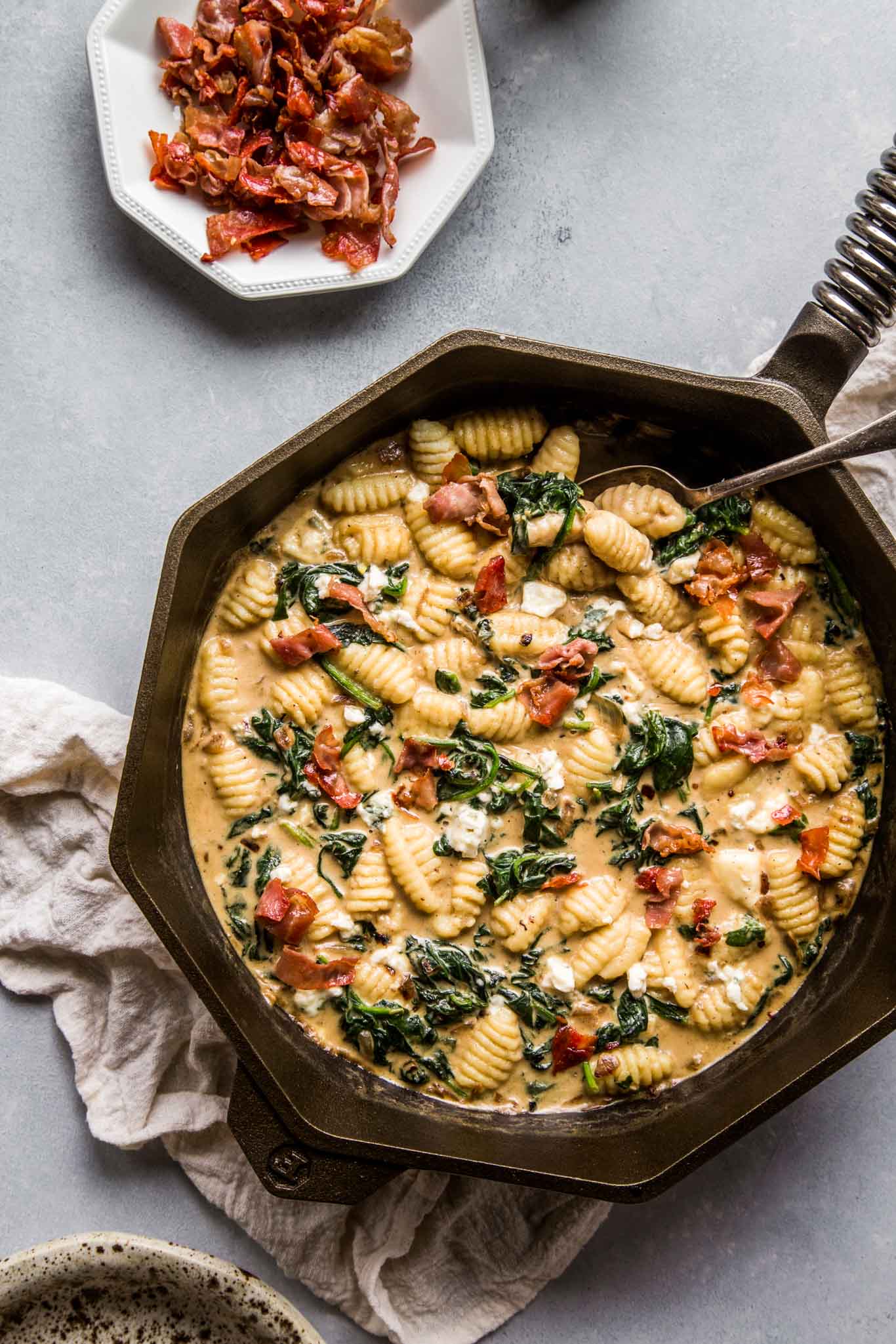 We're going that strong cheese route with this dish and pairing Merlot with gnocchi that's been tossed in a rich sauce of blue cheese and spinach. Plus, we're topping it with frizzled prosciutto. I mean… YES!
What's the meaning of frizzled?
To fry (something) until crisp and curled: frizzled the bacon.
To scorch or sear with heat.
Kind of like my hair… I like frizzled prosciutto better. Much better. It's the perfect salty and crispy addition that this gnocchi needed. Thank you for entering my life frizzly little frizzled prosciutto. I heart you. ❤❤❤
What are your thoughts on Merlot? Were you influenced by Sideways too? Let's all unite, break through our old thinking, pop open the wine and celebrate Merlot with this Gnocchi with Blue Cheese and Frizzled Prosciutto. Cheers!
Can't get enough gnocchi recipes? Be sure to try my Sweet Potato Gnocchi with Browned Butter, Cheesy Baked Gnocchi with Pumpkin & Kale and Easy Homemade Potato Gnocchi.
Pasta Recipes:
What to serve with it:
Gnocchi with Blue Cheese Recipe
Gnocchi with Blue Cheese and Frizzled Prosciutto
This Gnocchi with Frizzled Prosciutto and Blue Cheese is pure decadence. A rich blue cheese sauce coats the gnocchi which is tossed with a bit of fresh spinach and topped with some crispy prosciutto.

Print
Pin
Ingredients
1

pound

gnocchi

1

Tablespoon

olive oil

4

ounces

prosciutto

(thinly sliced)

6

ounces

spinach

1

shallot

(minced)

½

cup

milk

4

ounces

blue cheese

(crumbled)

1/4

teaspoon

grated nutmeg
Instructions
Bring a pot of salted water to a boil.

Meanwhile, heat the olive oil in a skillet over medium-high heat.

Add the prosciutto, and cook until crispy. Remove from pan with slotted spoon and allow to drain on paper towels.

To the same pan, add the shallot and sauté on medium heat, until softened. Add the spinach to the pan with the softened shallots, and allow to wilt, 2-3 minutes.

Add the gnocchi to the boiling water and cook 2-3 minutes, until the gnocchi float to the top. Drain.

Add the gnocchi to the skillet with the spinach and shallot. Add the milk, blue cheese, and nutmeg and stir until the cheese is melted and the gnocchi are coated. Serve immediately.
Nutrition
Calories:
310
kcal
|
Carbohydrates:
30
g
|
Protein:
10
g
|
Fat:
16
g
|
Saturated Fat:
7
g
|
Cholesterol:
28
mg
|
Sodium:
676
mg
|
Potassium:
284
mg
|
Fiber:
2
g
|
Sugar:
1
g
|
Vitamin A:
2835
IU
|
Vitamin C:
8.3
mg
|
Calcium:
166
mg
|
Iron:
3.7
mg
If you loved this Gnocchi with Blue Cheese I would appreciate it so much if you would give this recipe a star review! Also, be sure to snap a picture of your finished dish and share it with me onInstagram using the hashtag #platingsandpairings and tagging me @platingsandpairings.
Wine Pairings for Gnocchi with Blue Cheese:
Merlot has an earthy, smoky quality to it that pairs amazingly well with this gnocchi with blue cheese.
Pinot Noir is another great option. It's earthy aromas and bright acidity balance out this rich dish nicely.