This creamy Tahini Yogurt Sauce will quickly become your new favorite quick & easy go to. Drizzle it over grilled salmon, serve it with lamb kebabs or shawarma, or use it as a yogurt dip for veggies.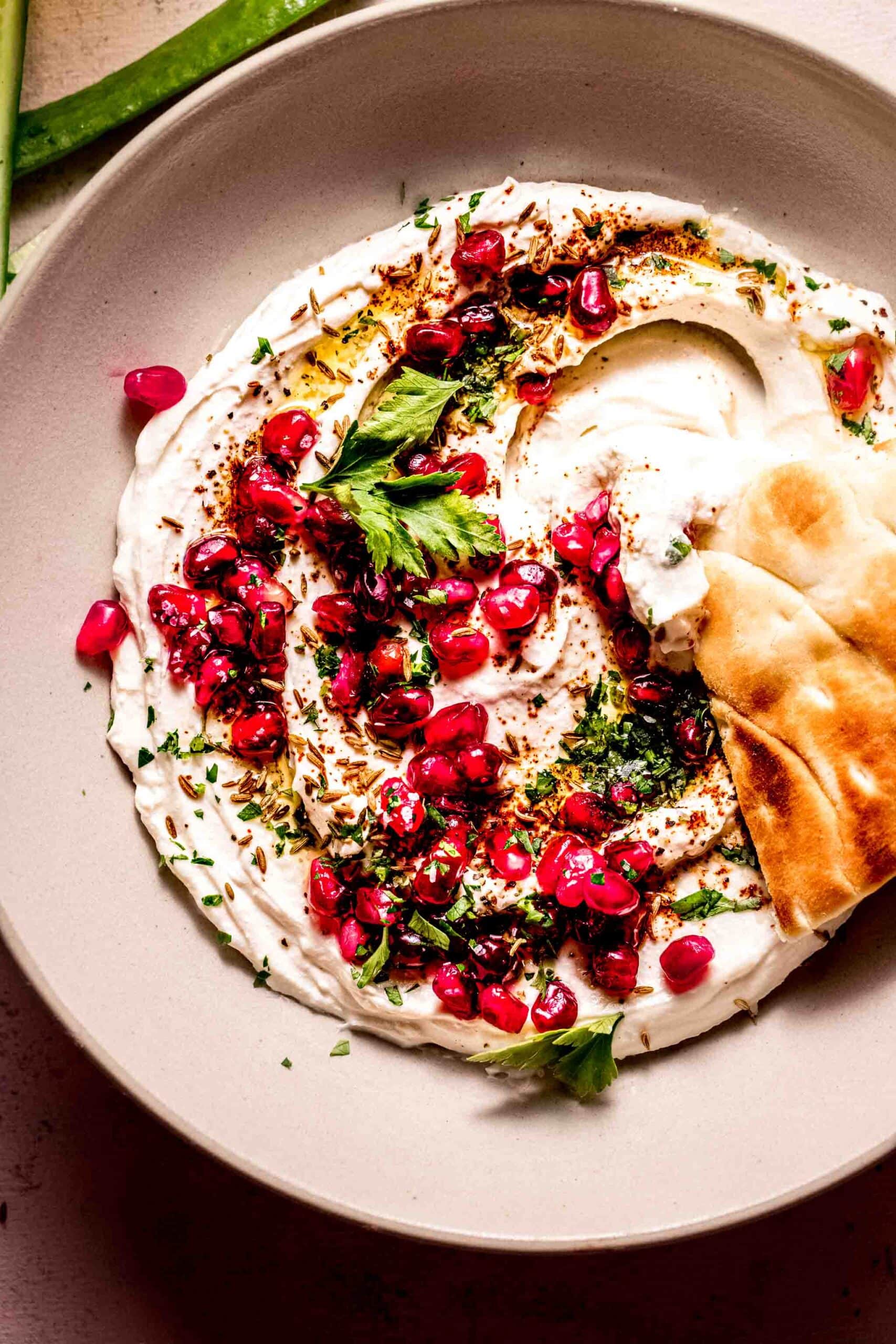 A Middle Eastern Yogurt Sauce that comes together in 5-minutes, is super versatile, and can be dressed up with your favorite herbs & spices? Yes, please!
What is Tahini Yogurt Sauce?
When I came up with this recipe, I literally just started pulling out all my favorite ingredients from my spice drawer and cupboards. I knew that the base would be a mixture of greek yogurt and tahini, that I'd give a bit of a tang with either vinegar or lemon juice.
And then I knew that I wanted to incorporate my favorite spice, cumin, with a bit of heat (coming from some chipotle chili powder), and a pop of color, which came from those pomegranate seeds and a sprinkling of fresh chopped parsley.
What I didn't realize was how obsessed I would be with it.
It was salty, tangy, creamy, smoky. I instantly wanted it on everything.
That first day, I used it as a dip served with radishes, cucumber and a bit of torn pita bread.
And then I used a bit of restraint.
I set it aside so that I could test it out the next day, drizzled over some grilled salmon. Amazing.
Now I've been dreaming up in my head all the ways I want to use this Tahini Yogurt Sauce…
And today, I'm going to show you just how easy this Middle Eastern Yogurt Sauce is to prepare, and how flexible this recipe can be.
Ingredients Needed
Plain Greek Yogurt – I prefer to use whole fat, but you can also use low-fat, non-fat, or even a dairy-free yogurt alternative.
Tahini Sauce – Tahini is a sesame seed paste that's nutty and delicious! Look for it near the peanut butter in your grocery store. Or, order it online. This is my favorite brand since it pours so easily.
Lemon Juice – For a nice tang. You can also use vinegar or lime juice.
Salt & Pepper
How to Make It
Combine greek yogurt with tahini and lemon juice, stir until smooth.
Drizzle with extra virgin olive oil to add extra richness and flavor.
Sprinkle on your favorite herbs, seeds, nuts, etc. I've got loads of topping ideas below ↓↓↓
To dress up my Yogurt Dip in these photos, I sprinkled on some toasted cumin seeds, chipotle chili powder, pomegranate seeds and chopped fresh parsley.
Here are some other great topping ideas and mix-ins for your sauce:
Topping Ideas
Sesame Seeds
Toasted Pine Nuts
Spices – Coriander, Cayenne, Za'atar, Sumac, Mustard Seeds
Fresh Herbs – Dill, Mint, Cilantro
Grated Garlic
Chickpeas
Calabrian Chiles
Harissa
Grated Cucumber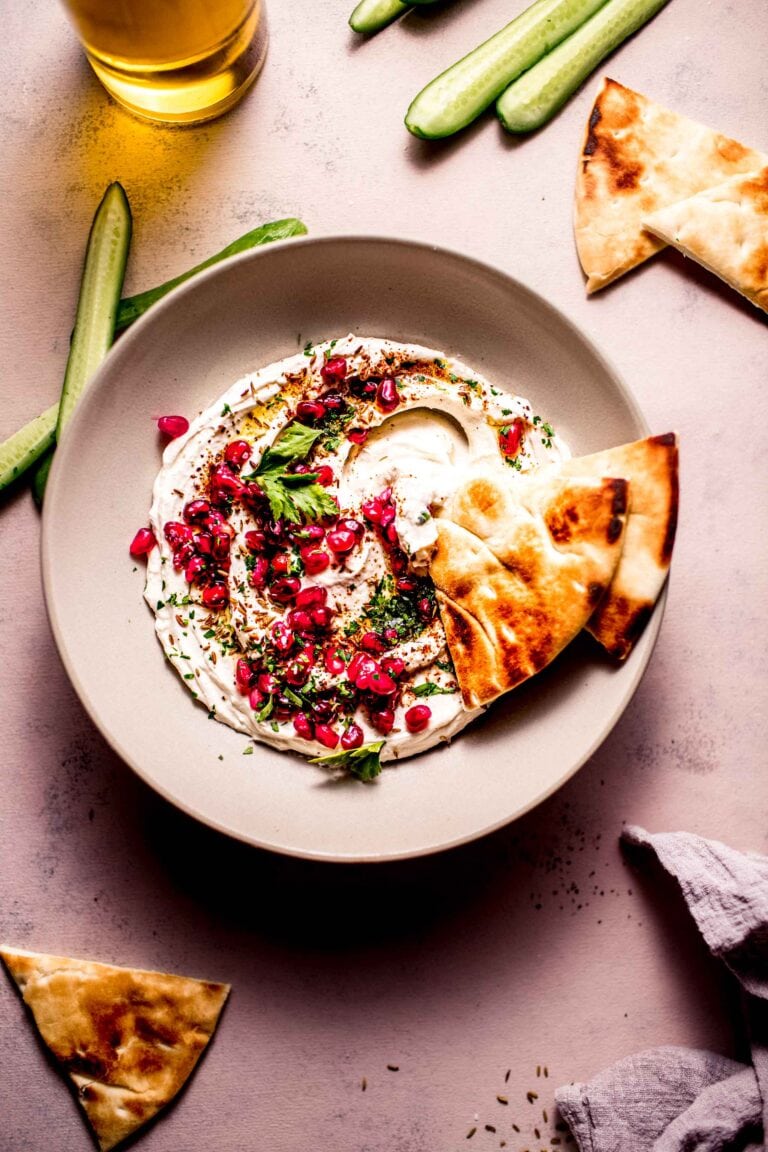 How to Make Ahead and Store
This yogurt sauce can be prepared up to three days ahead of time. Store tightly wrapped in the refrigerator.
Recipe FAQs
Is tahini sauce the same as tzatziki?
Tahini sauce is a creamy sauce, similar to peanut butter, that is made with ground sesame seeds. Tzatziki sauces is a creamy, yogurt-based cucumber sauce.
What is the flavor of tahini sauce?
Tahini is rich, nutty, and creamy. It's most similar to peanut butter in flavor, but the flavor is lighter.
How long does homemade tahini sauce last in the fridge?
This homemade tahini sauce will last for up to 3 days in the fridge.
How do you store tahini once opened?
Tahini sauce should be stored in a cool, dry location, like a pantry or cupboard. It can also be stored in the fridge, but the consistency will become thicker.
Ways to Use It
Greek Yogurt Dip for Fresh Vegetable Sticks
Yogurt Sauce for Lamb Chops
Tossed with Cooked Rice
Middle Eastern Yoghurt Sauce for Shawarma
As a Spread on Sandwiches
Whisk with some Extra Olive Oil and Use as a Salad Dressing
Combined with Warm Pasta
As a Sauce for Falafel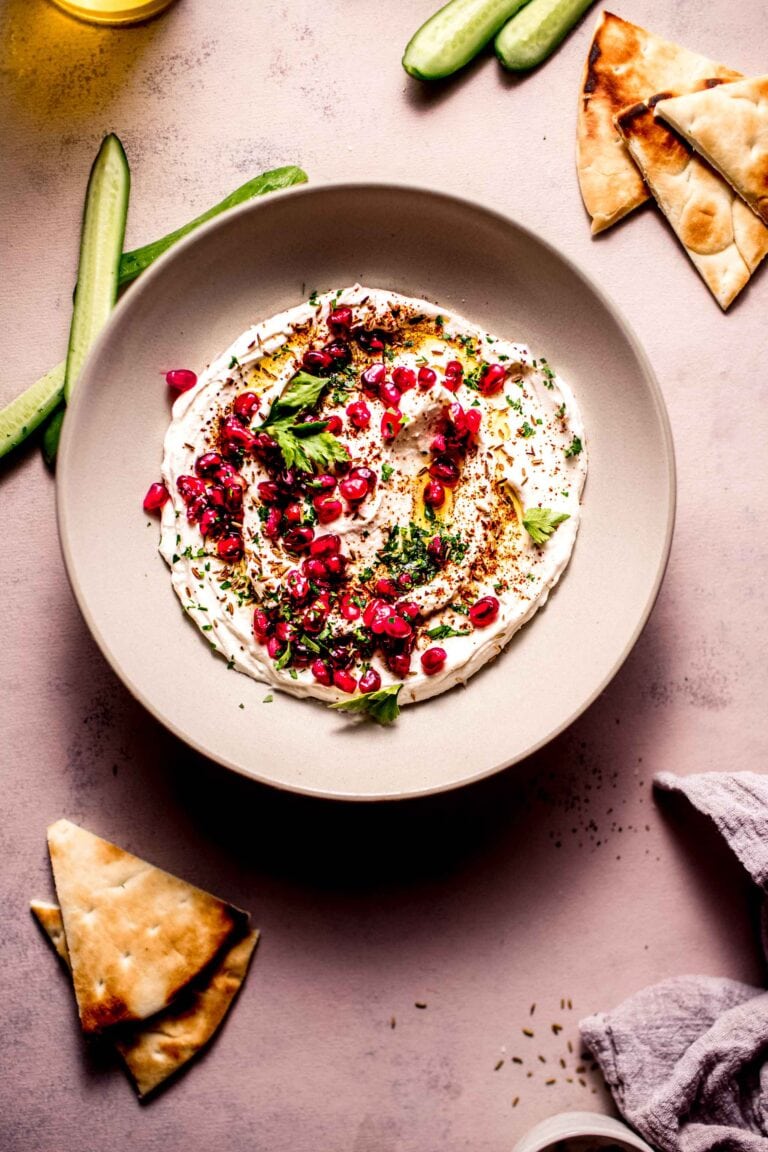 More Appetizer Recipes
• Prosciutto Wrapped Avocado Bites
• Short Rib Crostini with Cambozola Cheese and Cherry Jam
• Prosciutto, Brie & Honey Crostini
• Fennel & Salami Bites
• Filet Mignon Bites with Creamy Horseradish Sauce
Did you try this yogurt tahini sauce?
If you loved this middle eastern yogurt sauce I would appreciate it so much if you would give this recipe a star review! Also, be sure to snap a picture of your finished dish and share it with me on Instagram using the hashtag #platingsandpairings and tagging me @platingsandpairings.
For more great Platings and Pairings recipes, be sure to follow me on  Instagram, TikTok, Pinterest and Facebook.
Tahini Yogurt Sauce Recipe
This creamy Tahini Yogurt Sauce will quickly become your new favorite quick & easy go to. Drizzle it over grilled salmon, serve it with lamb kebabs or shawarma, or use it as a yogurt dip for veggies.
Print
Pin
Instructions
Combine yogurt, tahini and lemon juice in a large bowl.

Drizzle with olive oil and top with pomegranate seeds, fresh parsley, cumin seeds and chili powder. Sprinkle with salt and pepper. Serve.
Notes
Leftovers will keep in the fridge for up to three days. Store tightly wrapped or in an airtight container. 
Nutrition
Calories:
88
kcal
|
Carbohydrates:
4
g
|
Protein:
5
g
|
Fat:
7
g
|
Saturated Fat:
1
g
|
Cholesterol:
2
mg
|
Sodium:
18
mg
|
Potassium:
87
mg
|
Fiber:
1
g
|
Sugar:
2
g
|
Vitamin A:
106
IU
|
Vitamin C:
2
mg
|
Calcium:
47
mg
|
Iron:
1
mg
This post was originally published in 2020. It was updated in 2023 to add new photographs and information. The tahini yogurt sauce recipe remains the same. Enjoy!