The flavor of tahini is versatile, and it is a key ingredient in many Middle Eastern and Mediterranean dishes. Here's 35+ creative recipes using tahini. From dips like hummus and baba ganoush, as well as dressings, sauces, and marinades. You'll also find sweet recipes, such as desserts and baked goods, where it adds a distinctive nutty flavor.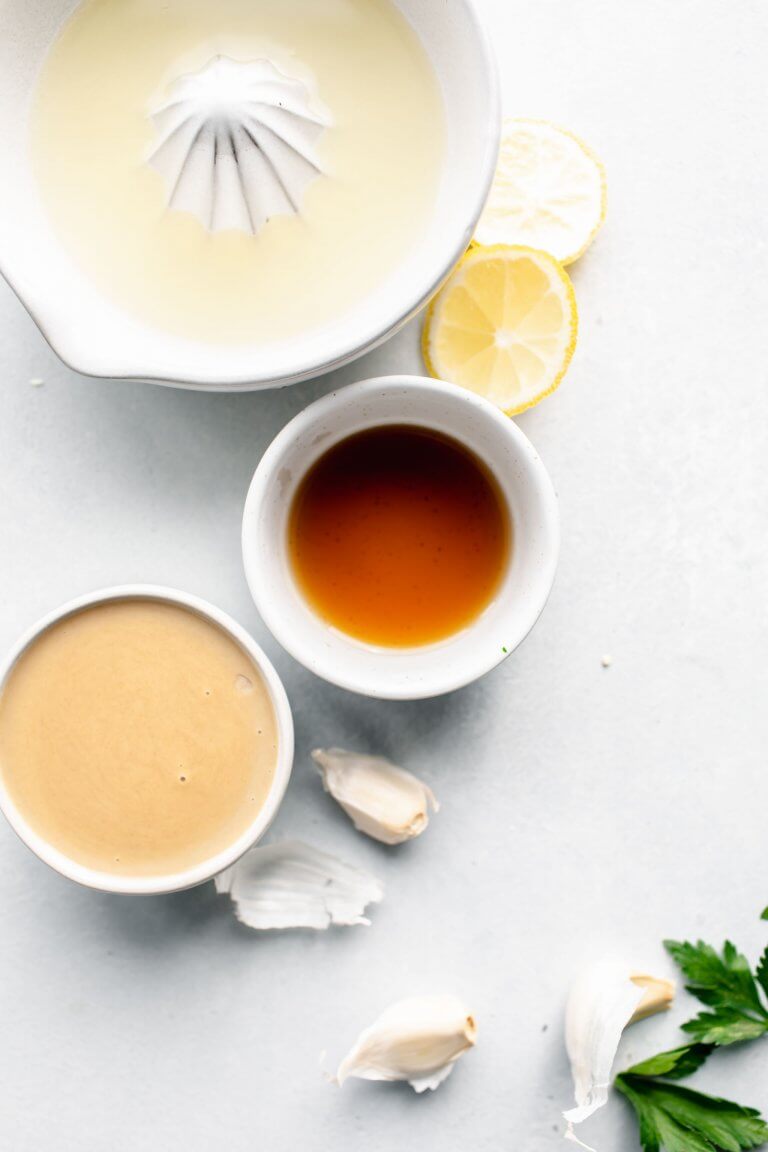 Tahini is a versatile ingredient that is commonly used in Middle Eastern, Mediterranean, and North African cuisines. It is a paste made from ground sesame seeds and has a rich, nutty flavor. Here are several popular uses for tahini:
Hummus: Tahini is a key ingredient in traditional hummus recipes. It adds creaminess and depth of flavor to the chickpea dip.
Salad dressings and sauces: Tahini can be used as a base for creamy salad dressings, such as a tahini-lemon dressing. It can also be thinned out with water, lemon juice, or other liquids to create sauces for drizzling over vegetables, falafel, or grilled meats.
Dips and spreads: Beyond hummus, tahini can be used to make various dips and spreads. It can be combined with yogurt, garlic, lemon juice, and herbs to create a tasty dip for vegetables or pita bread.
Baked goods: Tahini can be incorporated into baked goods like cookies, cakes, and brownies. It adds a distinct nutty flavor and can enhance the richness and moistness of the final product.
Middle Eastern dishes: Tahini is commonly used in Middle Eastern recipes such as baba ganoush (roasted eggplant dip), tahini sauce for falafel or shawarma, and halva (a sweet confection made from tahini and sugar).
Smoothies and shakes: Adding a spoonful of tahini to your smoothies or shakes can provide a creamy texture and add a nutty taste.
Marinades and dressings for roasted vegetables: Tahini can be combined with olive oil, garlic, lemon juice, and spices to make a delicious marinade for roasted vegetables. It adds a wonderful depth of flavor and helps to create a caramelized coating on the vegetables.
These are just a few examples of how tahini can be used. It's a versatile ingredient that can enhance both sweet and savory dishes.
Keep reading to discover 35+ delicious recipes that use tahini!
The BEST Tahini Recipes
Tahini FAQs
What Does Tahini Taste Like?
Tahini has a unique flavor profile. It is made from ground sesame seeds, resulting in a rich, nutty, and slightly bitter taste. The flavor can vary depending on the brand and the specific sesame seeds used.
The bitterness in tahini can be subtle or more pronounced, depending on personal preference and the quality of the sesame seeds. Some tahini varieties may have a milder, smoother taste, while others might have a stronger, earthier flavor.
Tahini also has a creamy and smooth texture, which adds to its appeal. It is often described as having a buttery consistency, similar to a thick nut butter.
How Long Does Tahini Last?
The shelf life of tahini can vary depending on various factors such as the brand, storage conditions, and whether it has been opened or not. In general, unopened tahini can last for a year or more beyond its "best before" date when stored in a cool, dry place.
Once opened, tahini should be stored in the refrigerator to help prolong its freshness. When properly stored in the refrigerator, opened tahini can typically last for about 6 to 12 months.
It's worth noting that tahini, especially if it's all-natural without any preservatives, can develop a layer of oil on top, even when unopened. This is a natural occurrence, and it can be easily mixed back into the tahini before use.
Always refer to the packaging or manufacturer's instructions for specific guidelines on the shelf life of the tahini you have purchased, as it can vary slightly between brands.
Can you Freeze Tahini?
Yes, you can freeze tahini. Freezing tahini can help extend its shelf life and prevent it from going bad. However, it's important to note that tahini may undergo some changes in texture after being frozen and thawed. The oil in tahini can separate and form a layer on top, resulting in a thicker consistency.
To freeze tahini, follow these steps:
Ensure the tahini is stored in an airtight container or freezer-safe bag. If the tahini is in a glass jar, transfer it to a freezer-safe container, leaving some space at the top for expansion.
Label the container with the date of freezing to keep track of its shelf life.
Place the container in the freezer.
When you're ready to use the frozen tahini, remove it from the freezer and let it thaw in the refrigerator. Thawing slowly in the refrigerator helps maintain the tahini's quality.
After thawing, stir the tahini thoroughly to incorporate the separated oil. The texture may be slightly different, but it should still be usable.
More Ingredient Guides
Did you try any of these tahini recipes?
If you loved this roundup of recipes using tahini I would appreciate it so much if you would give this recipe a star review! Also, be sure to snap a picture of your finished dish and share it with me on Instagram using the hashtag #platingsandpairings and tagging me @platingsandpairings.
For more great Platings and Pairings recipes, be sure to follow me on  Instagram, TikTok, Pinterest and Facebook.