This Roasted Broccoli with Garlic & Basil Tahini Sauce will seriously knock your socks off. Who knew that veggies could taste so good! Warning: You will want this sauce on everything…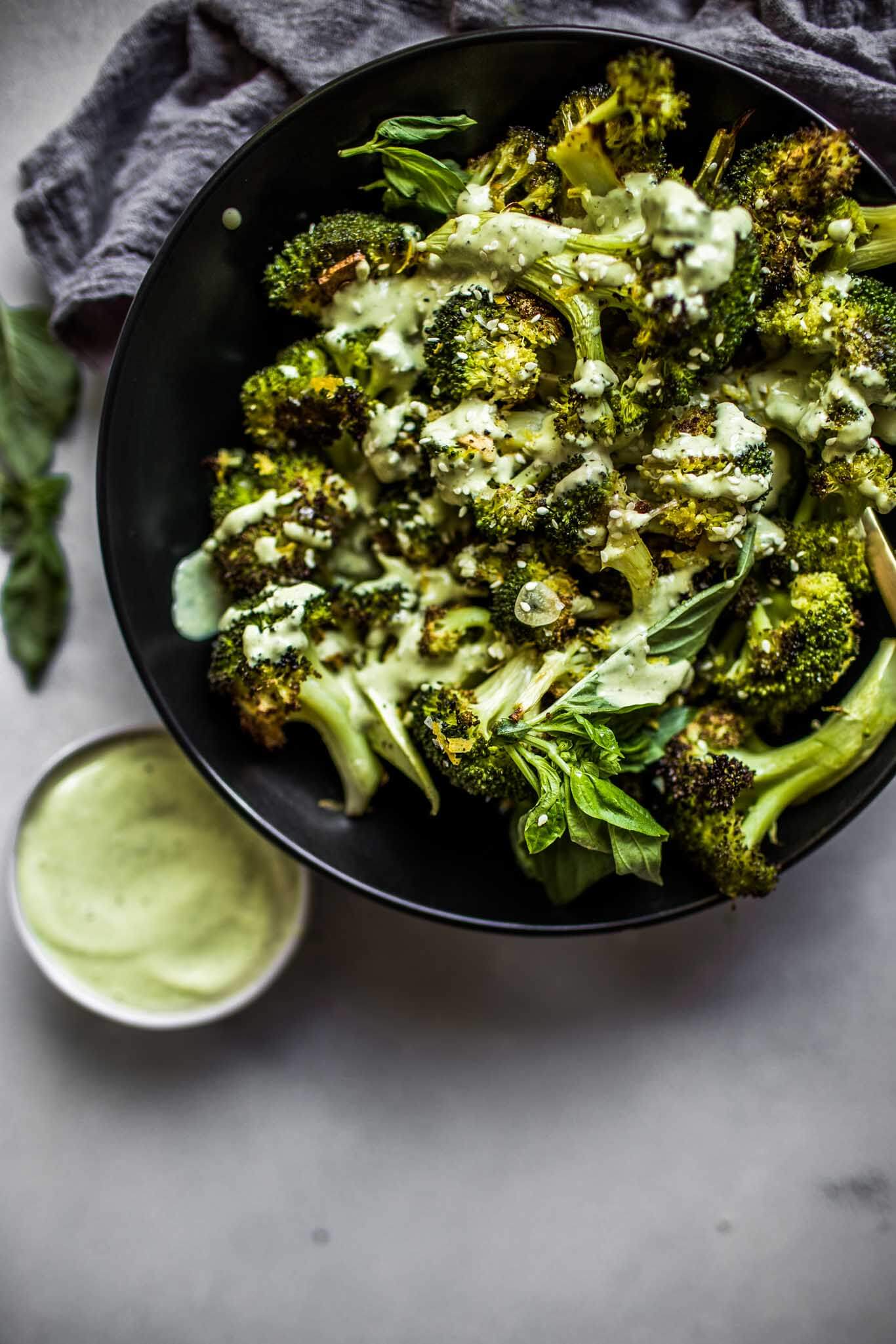 I've been so excited to share this recipe with you guys! Ever since I made this Roasted Broccoli with Garlic and topped it with the most amazing Basil Tahini Sauce I have not been able to get it off my mind…
The could be the prettiest broccoli you've ever seen.
It also could be the most tasty version of broccoli you've ever eaten.
This recipe is a bit of a mash up of a couple other recipes that I love. First, I started with my favorite recipe for roasted broccoli. Roasting it at a high temperature (425-degrees) and letting it get good and browned, makes it so crispy and delicious and flavorful. Then, tossing it with a little lemon zest when it's hot out of the oven, adds just an extra layer of flavor.
Then, I put a twist on my green tahini sauce, and instead of adding cilantro, parsley and jalapeno, I added in lots of fresh basil.
Oh my gosh…
I now want this sauce on everything…
It's creamy. It's tangy. It's got so much basil flavor. It's almost like a sophisticated ranch dressing...
Not only is this sauce amazing drizzled over the roasted broccoli, but I've also been drizzling it over my roasted chicken, and dipping these zucchini fries into it. It would also make an amazing salad dressing. As an added bonus, it's incredibly easy to make. All you need is a blender and like 5 minutes.
How do you make basil tahini sauce?
Basically, just add some tahini, basil, garlic, lemon juice, water and olive oil to a blender. Process on high until it's smooth and creamy, adding a bit more water if it's too thick. That's it!
Want to add even more flavor? Try swapping in this roasted garlic for the regular garlic cloves.
How do you make the BEST roasted broccoli?
I like my broccoli on the well done side. I've found that roasting it at 425-degrees for 20-25 minutes gets it to that perfect golden color and makes it nice and tender, but perfectly crispy.
Side Dish Recipes:
More roasted vegetable recipes:
If you loved this Roasted Broccoli with Garlic I would appreciate it so much if you would give this recipe a star review! Also, be sure to snap a picture of your finished dish and share it with me on Instagram using the hashtag #platingsandpairings and tagging me @platingsandpairings.
For more great Platings and Pairings recipes, be sure to follow me on Pinterest, Facebook, YouTube and Twitter.
Roasted Broccoli with Garlic Recipe
Roasted Broccoli with Garlic & Basil Tahini Sauce
This Roasted Broccoli with Garlic & Basil Tahini Sauce will seriously knock your socks off. Who knew that veggies could taste so good! Warning: You will want this sauce on everything…
Print
Pin
Instructions
Broccoli
Preheat oven to 425 degrees.

Cut the broccoli florets from the thick stalks, leaving an inch or two of stalk attached to the florets, discarding the rest of the stalks. Place the broccoli florets on a sheet pan and toss with garlic and olive oil. Season with salt and pepper. Roast for 20 to 25 minutes, until crisp-tender and the tips of some of the florets are browned.

Remove the broccoli from the oven and toss with the lemon zest. Season with salt and pepper, to taste.
Basil Tahini Sauce
In a high powered blender, combine all ingredients.

Blend on high until you have a smooth, creamy sauce.

Add up to ¼ cup more water (blending again to incorporate) until you get the thickness you like. Season with salt and pepper, to taste.
Notes
Basil Tahini Sauce can be made up to 24 hours ahead of time and stored in the refrigerator. 
Nutrition
Calories:
345
kcal
|
Carbohydrates:
22
g
|
Protein:
10
g
|
Fat:
27
g
|
Saturated Fat:
3
g
|
Sodium:
69
mg
|
Potassium:
737
mg
|
Fiber:
6
g
|
Sugar:
3
g
|
Vitamin A:
1160
IU
|
Vitamin C:
174.7
mg
|
Calcium:
139
mg
|
Iron:
2.8
mg