Roasted Brussel Sprouts with Balsamic Reduction is a simple side dish recipe that both kids and adults love! They're crispy, delicious and packed with so much flavor. I get asked to make this dish every year for Thanksgiving and Christmas!
PS – Craving more crispy brussel sprout recipes? Be sure to try these Smashed Brussel Sprouts with Lemon Tahini Sauce or these Air Fryer Brussel Sprouts.
Brussels sprouts get a bit of a bad rap.
Let me preface this post by saying these balsamic roasted brussels sprouts are not your grandmother's brussels sprouts. Those ones from back in the day that were boiled and slimy…
These beauties are roasted until nice a crunchy and then topped with tart cranberries and a sweet, balsamic reduction.
My favorite part is the little leaves that fall off and get super browned and crispy, they're almost like little potato chips!
Just look at how pretty this delicious side dish is. I promise it tastes as good as it looks.
↓ ↓ ↓ ↓ ↓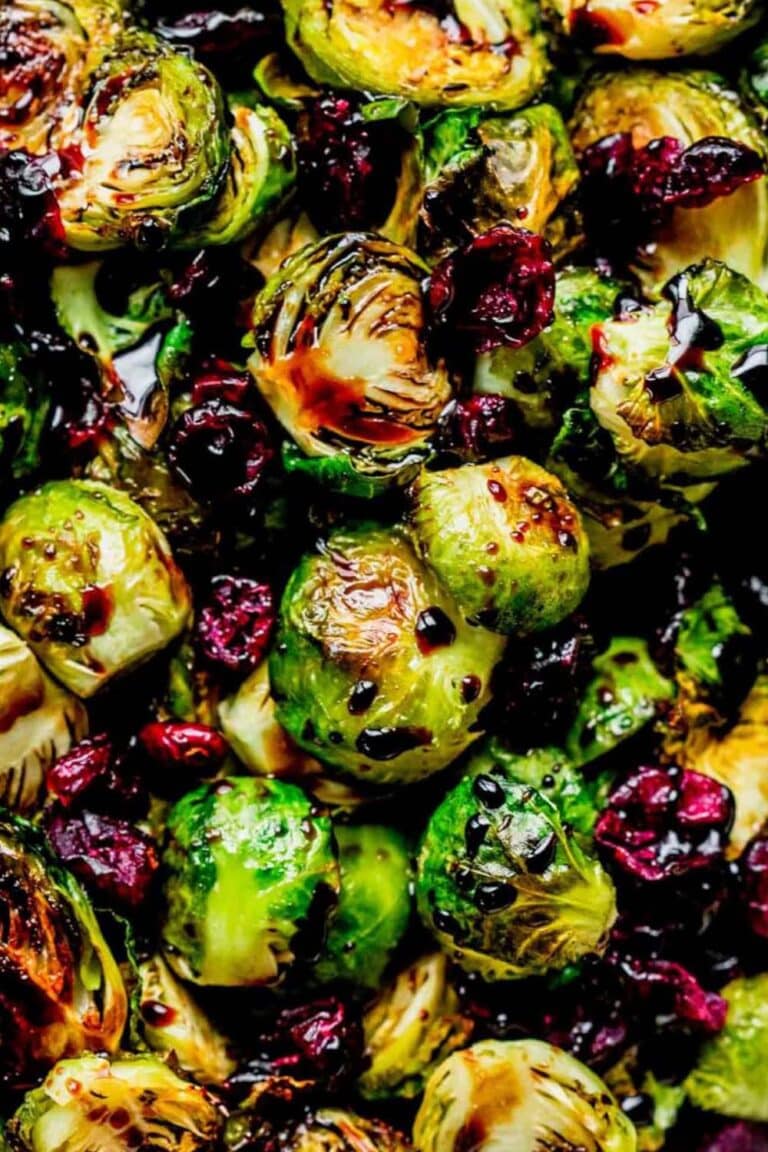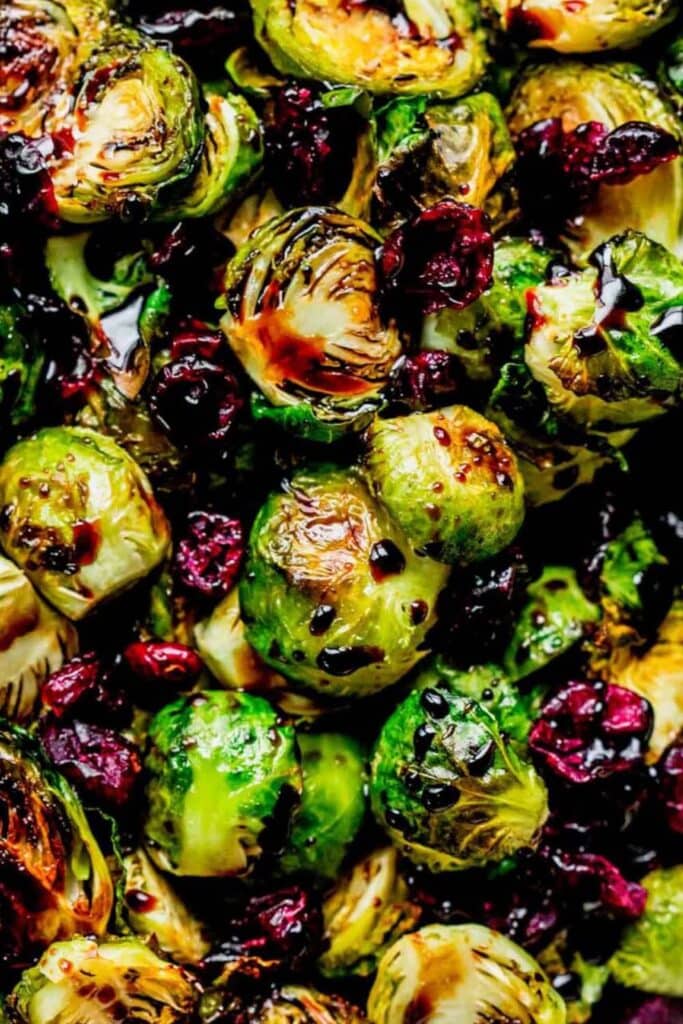 Plus, these easy roasted brussels sprouts are made with simple ingredients.
It's the perfect side dish for your Thanksgiving or Christmas holiday meal. I have served it to kids and adults and everyone ends up loving this dish! If you can believe it or not, kids actually ask me to make this recipe over and over again. It's my favorite recipe for turning kids into sprouts lovers.
🌟 What's the best way to cook brussels sprouts?
My favorite way is to roast fresh brussel sprouts in a 400-degree oven in a single layer on a sheet pan tossed with a little olive oil. At 400-degrees, it takes about 25-30 minutes of cook time for brussel sprouts to get perfectly golden brown and crispy.
🛒 Ingredients Needed
You only need a handful of simple ingredients to make this recipe:
Brussels Sprouts – look for sprouts that are all roughly the same size so that they will roast evenly.
Olive Oil – extra-virgin is preferred. You can also use any other neutral oil that you may have on hand, like canola, vegetable, or sunflower oil.
Brown Sugar – this is what helps to thicken the balsamic glaze.
Balsamic Vinegar – reduces to a lovely, syrupy glaze for your finished dish.
Dried Cranberries – optional. But they add a delightful tart + sweet taste, and are just so pretty!
📋 How to Make Roasted Brussels
Preheat your oven to 400 degrees.
Cut the brown ends off of the Brussels sprouts and then cut them in half.
Toss them with olive oil and arrange in a single layer on two baking sheets.
Roast for 25-30 minutes, until crisp on the outside and tender on the inside.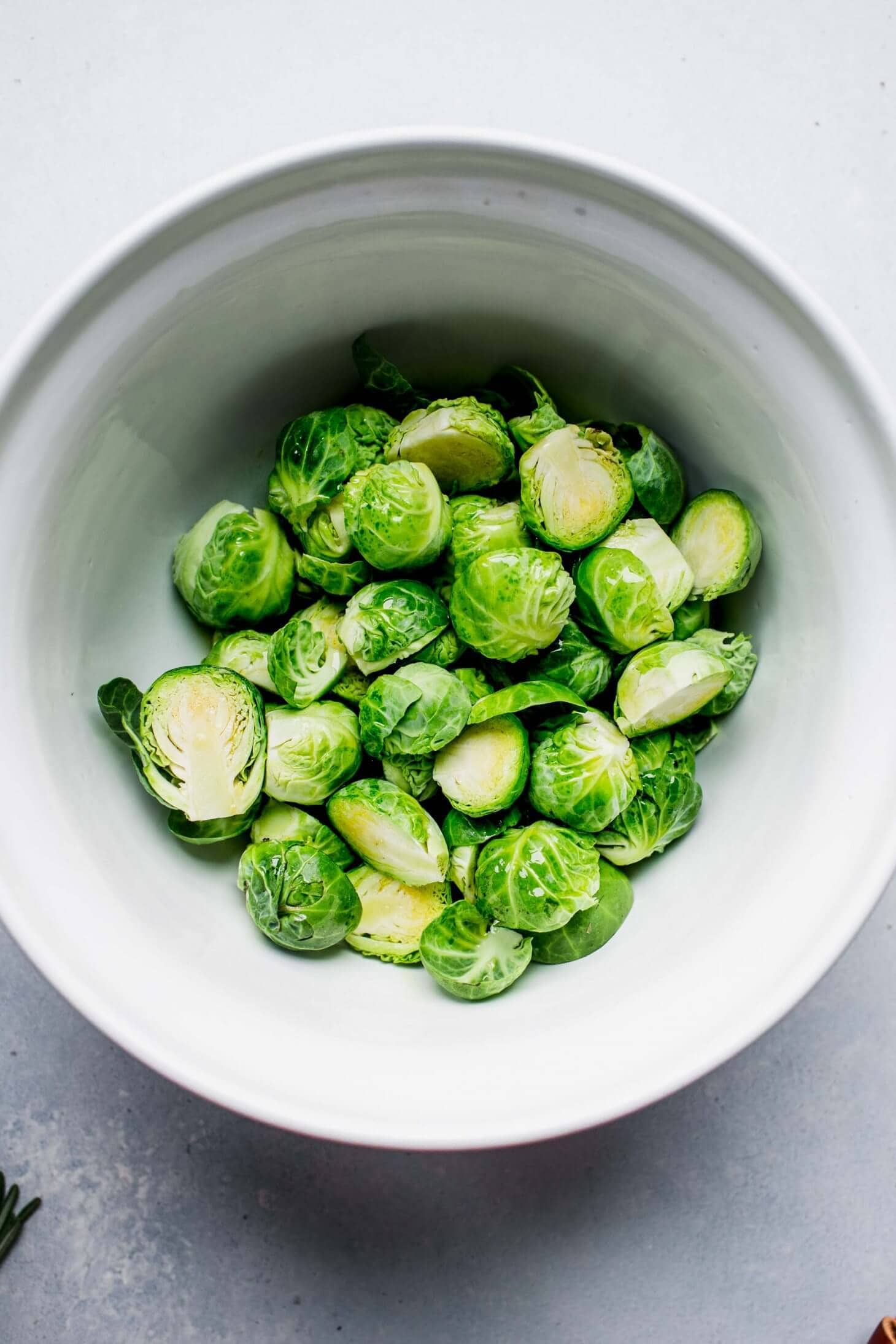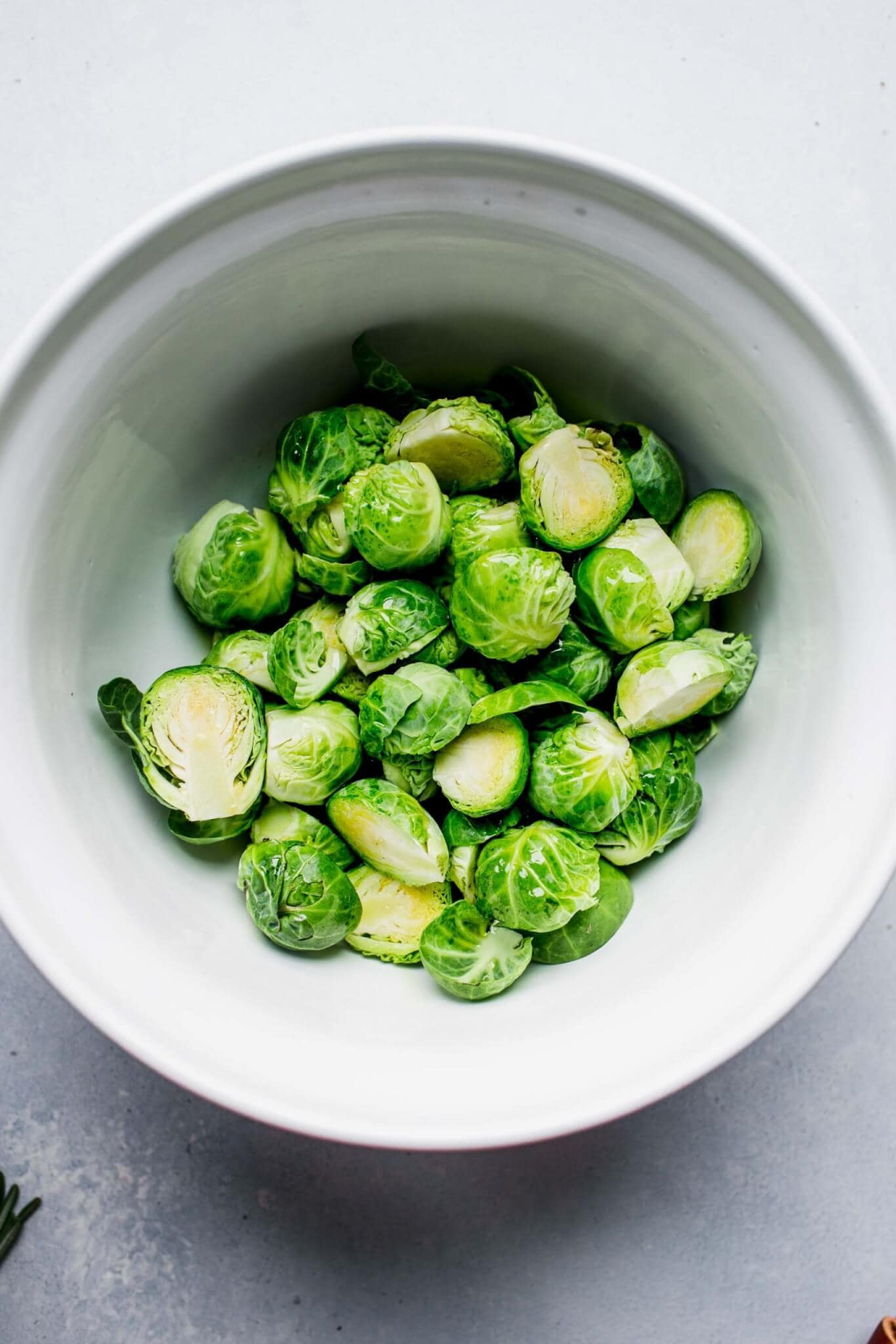 🥄 How to Make the Balsamic Reduction
In a small saucepan, bring brown sugar and balsamic vinegar to a boil over medium-high heat.
Cook until the mixture reduces and becomes thick and syrupy, about 20 minutes.
Tip: Be sure to not let it reduce too much, or it will become one solid mass, like hard candy.
🌡 Roasting Them at a Different Temperature
If you're preparing another dish in the oven at the same time, you can adjust your oven temperature to match that dish's cooking temp as follows:
350-degree oven for 35 minutes.
375-degree oven for 30-35 minutes.
400-degree oven for 25-30 minutes.
425-degree oven for 25 minutes.
450-degree oven for 20-25 minutes.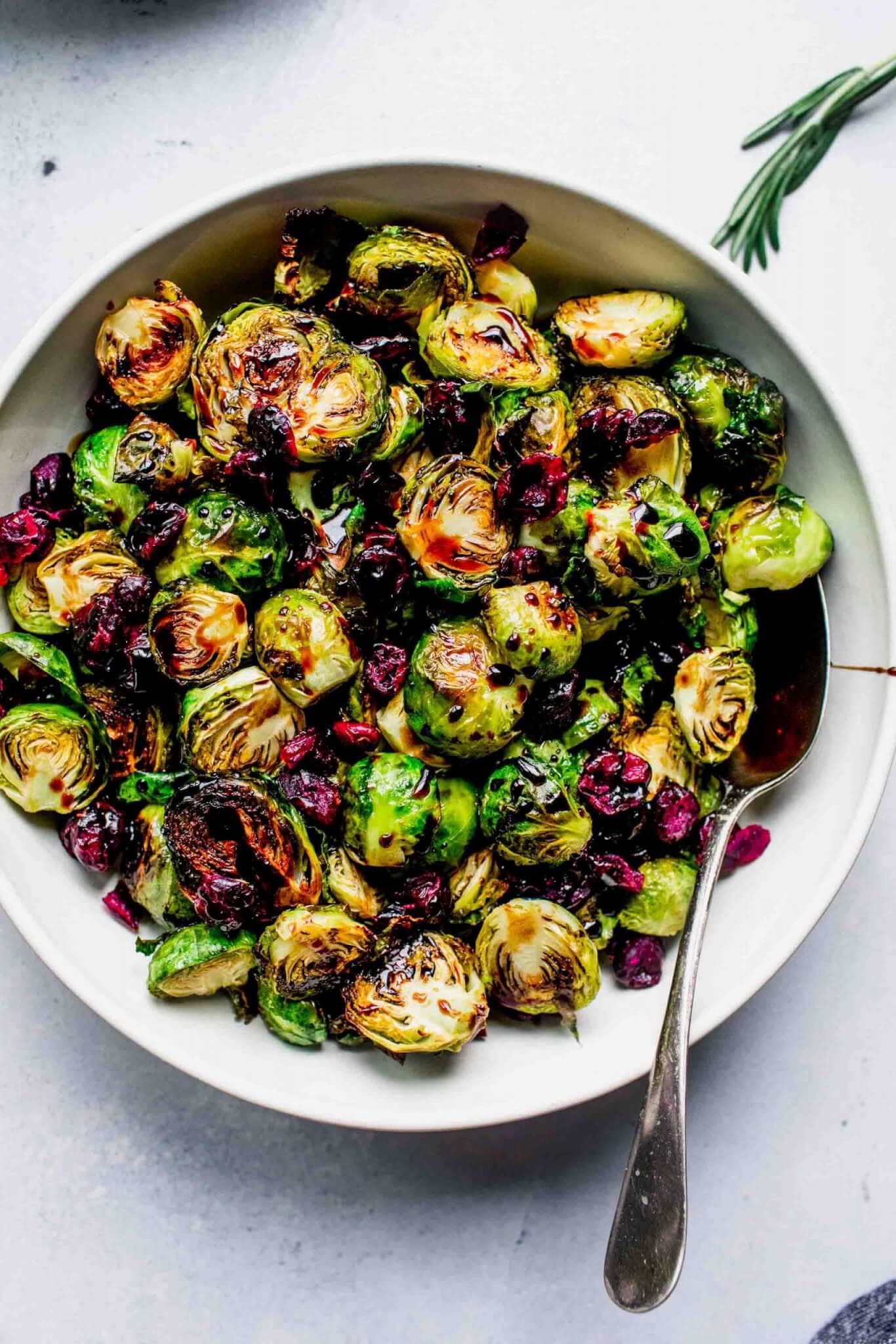 ✔️ Recipe Tips
DO NOT try to make the balsamic glaze ahead of time. Once reduced, it keeps getting thicker and thicker, eventually turning into a rock hard mass! (Don't ask how I know this…)
Line your baking sheets with parchment paper or tin foil for easy clean up.
Want to switch things up? Try swapping out the cranberries for some crispy bacon.
ℹ️ FAQs
How do you get crispy brussels sprouts?
Roasting them at a high temperature ensures that they are crispy. I prefer to roast them at 400-degrees or above based on the cooking chart above.
Do you have to boil brussel sprouts before roasting?
No! Just trim brussel sprouts and pop them into a hot oven on large baking sheet and let them roast. They will become tender and delicious.

🍷 Wine pairings for Brussel Sprouts
A light Pinot Noir with bright acidity, cherry notes and earthy notes will compliment the flavors in these Brussels sprouts nicely.
🍴 What Goes Well with Them?
These roasted brussels sprouts make a great side dish for holiday dinners like roasted turkey or Brown Sugar & Mustard Glazed Ham. Or, try serving them with these Pork Chops with Cherry Sauce, Easy Roasted Chicken, One Skillet Chicken with White Wine & Mustard Cream Sauce, or Red Wine Braised Beef Short Ribs.
Did you make these brussel sprouts with balsamic reduction?
If you loved these balsamic brussels sprouts I would appreciate it so much if you would give this recipe a star review! Also, be sure to snap a picture of your finished dish and share it with me on Instagram using the hashtag #platingsandpairings and tagging me @platingsandpairings.
For more great Platings and Pairings recipes, be sure to follow me on Instagram, TikTok, Pinterest and Facebook.
More favorite vegetable recipes:
More brussels sprouts recipes: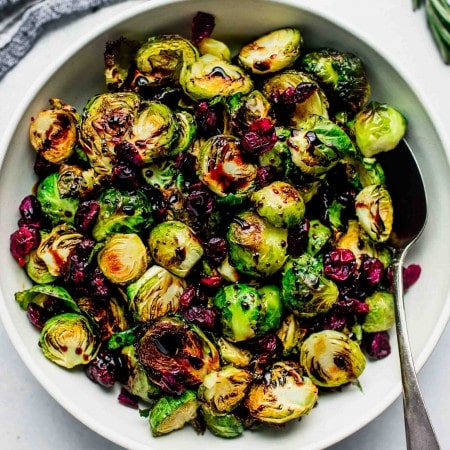 Brussel Sprouts with Balsamic Reduction Recipe
These Roasted Brussels Sprouts with Balsamic Reduction & Cranberries make a simple and elegant side dish that both kids and adults love!
Print
Pin
Ingredients
3

pounds

Brussels sprouts

1/3

cup

olive oil

1

cup

brown sugar

3/4

cup

balsamic vinegar

1

cup

dried cranberries
Instructions
Preheat oven to 400 degrees.

Cut off the brown ends of the Brussels sprouts and cut in half. Mix them in a bowl with the olive oil. Pour them on two baking sheets and roast for 25-30 minutes, until crisp on the outside and tender on the inside.


Meanwhile, combine the balsamic vinegar and brown sugar in a saucepan. Bring to a boil, then reduce the heat to medium-low and simmer until glaze is thick and syrupy, about 20 minutes.

Drizzle the balsamic reduction over the roasted sprouts. Sprinkle with dried cranberries and serve immediately.
Nutrition
Calories:
356
kcal
|
Carbohydrates:
56
g
|
Protein:
5
g
|
Fat:
14
g
|
Saturated Fat:
1
g
|
Sodium:
48
mg
|
Potassium:
694
mg
|
Fiber:
7
g
|
Sugar:
42
g
|
Vitamin A:
1285
IU
|
Vitamin C:
144.6
mg
|
Calcium:
79
mg
|
Iron:
2.7
mg
This recipe was originally published in 2016. It was updated in 2022 to add new information and photographs. The original recipe remains the same. Enjoy!