This Savory Delicata Squash recipe is a winter side dish that's really easy to prepare. There's no peeling required and the maple flavors and warm spices taste divine!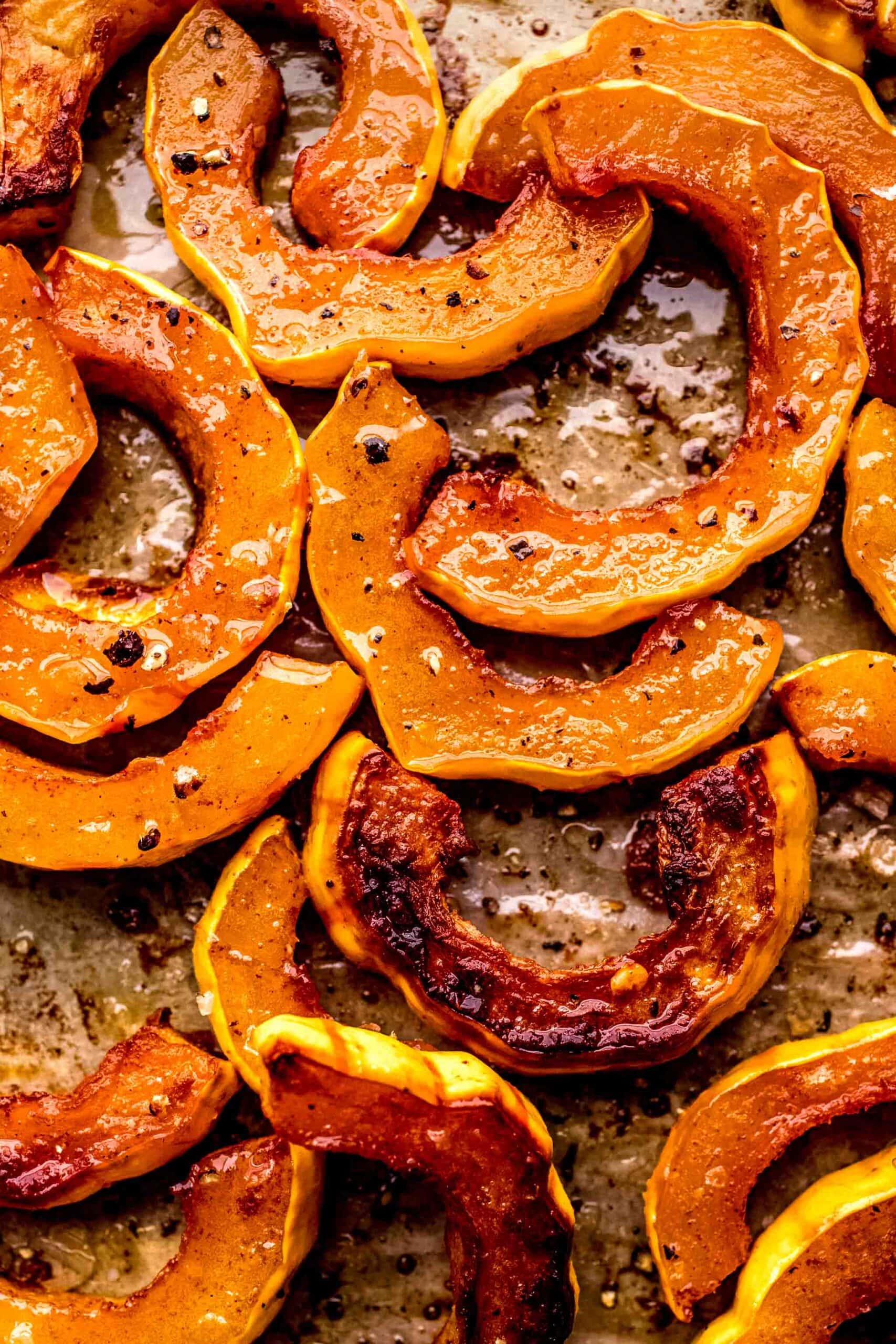 When you're looking for a deeply flavored side dish to enjoy all winter long, you can always turn to Roasted Delicata Squash. This sweet, earthy, and buttery winter squash caramelizes beautifully in the oven and pairs so perfectly with Thanksgiving dinner and for other special occasions. 
There's something really special about roasted squash recipes. My Spaghetti Squash Casserole and Butternut Squash Bisque are warm and comforting with layers of sweet and earthy squash throughout. Whether you prefer an indulgent dinner or a simple side dish, roasted squash is where it's at!
I lightly seasoned this roasted delicata squash with maple syrup and warm seasonings, like smoked paprika and red chili flakes. This way each bite is sweet, smoky, and spicy, and of course, crowd-pleasing.
✔️ What is delicata squash?
Delicata squash is technically in the summer squash family but ripens during fall and winter. They have a groovy cylindrical shape with a yellow and green skin and a buttery and sweet flavor. You can use delicata squash both as an aesthetic addition to your fall decor and as a tasty side dish during the holidays.
🛒 What do you need to for this savory delicata squash recipe?
Delicata squash – This squash is naturally sweet and buttery. The flavor only gets better when it's dressed in simple spices and seasonings and roasted in the oven.
Olive oil – For perfectly roasted delicata squash, use quality olive oil or cooking fat with a high smoking point like avocado oil or butter.
Maple syrup – For a hint of natural sweetness.
Seasonings – I used smoked paprika and red pepper flakes for some dry heat. Season with cinnamon and nutmeg or pumpkin pie spice for a sweeter version.

Lemon zest – For a fresh and bright garnish.
🔪 How do you cut delicata squash?
Most winter squashes are pretty tough to cut through but thankfully, delicata squash is the easiest. First, place the squash on a sturdy cutting board. Use a sharp knife to carefully cut off both ends and cut the squash down the center lengthwise. Scoop out the seeds and strings with a spoon.
Now place the squash on the cutting board rind side up and make ¾-inch slices down the length of each half to make half-moon shapes.
📋 How to roast delicata squash
After cutting the squash into half-moon shapes (using the instructions above), toss them on a rimmed baking sheet with olive oil, maple syrup, paprika, and red pepper flakes. Space the pieces out in an even layer and season with kosher salt and black pepper.
Transfer the squash to your oven and bake until both sides are browned and the squash is fork tender.
Remove from the oven and sprinkle with lemon zest. Season to taste with salt and pepper and serve hot!
🌟 Variations
The simplicity of this delicata squash dish leaves plenty of room for customization. Make each bite extra tasty using any of these suggestions:
Add more veggies – As long as there's room on the baking sheet, feel free to add more veggies for roasting like onions, brussels sprouts, and sweet potatoes. 
Add some herbs – Fresh or dried herbs and spices like thyme, rosemary, and chili powder are also delicious in this recipe.
Add cheese – After removing the squash from the oven, sprinkle with creamy crumbled feta, blue cheese, parmesan cheese or goat cheese on top. 
Garnish with toasted nuts – While the squash roasts, toast chopped almonds, walnuts, or pecans in a pan to sprinkle over the finished side dish. Toasted pepitas are also a great way to add some crunch. Or, sprinkle with some pomegranate seeds for color.
🕕 How long does roasted delicata squash last in the fridge?
Store the cooked and cooled squash in a shallow airtight container in the refrigerator for 3 to 4 days. Gently reheat the leftovers with a little bit of oil or butter in a pan over medium heat.
ℹ️ Recipe FAQs
Can you eat the skin of delicata squash?
Yes! The beauty of delicata squash is its thin, delicate, and edible skin. Unlike other winter squash varieties, delicata squash skin becomes soft and tender as it cooks.
Is it okay to eat delicata squash seeds?
The seeds and stringy inner membranes of the squash should be scooped out before roasting, however, keep the seeds on the side for a tasty snack. To roast delicata squash seeds, preheat your oven to 350ºF and coat the seeds in oil and the warm seasonings of your choice. Roast for 12 to 15 minutes, tossing every 5 minutes.
🍽 What to serve with delicata squash
This sweet and spiced squash recipe is a fantastic addition to your harvest and holiday table. To complete the feast, serve the squash next to:
🍷 Wine pairings for delicata squash
Delicata squash pairs perfectly with a crisp, full-bodied, buttery Chardonnay.
A sweet Pinot Noir is an excellent pairing for the red wine drinkers.
🥗 More roasted vegetable recipes
Did you try this savory delicata squash recipe?
If you loved this roasted delicata squash I would appreciate it so much if you would give this recipe a star review! Also, be sure to snap a picture of your finished dish and share it with me on Instagram using the hashtag #platingsandpairings and tagging me @platingsandpairings.
For more great Platings and Pairings recipes, be sure to follow me on Instagram, TikTok, Pinterest and Facebook.
Savory Delicata Squash Recipe
Roasted Delicata Squash is a winter side dish that's really easy to prepare. There's no peeling required and the maple flavors and warm spices taste divine!
Print
Pin
Instructions
Heat oven to 425 degrees. Cut the squash in half lengthwise. Remove seeds and cut squash into ¾" half moons.

Toss squash on a rimmed baking sheet with olive oil, maple syrup, paprika and red-pepper flakes. Season with kosher salt and pepper.

Roast, tossing once, until both sides are evenly browned and squash is tender, 40 to 45 minutes.

Remove squash from oven and sprinkle with lemon zest. Season with additional salt and pepper, to taste.
Nutrition
Calories:
232
kcal
|
Carbohydrates:
29
g
|
Protein:
2
g
|
Fat:
14
g
|
Saturated Fat:
2
g
|
Polyunsaturated Fat:
2
g
|
Monounsaturated Fat:
10
g
|
Sodium:
11
mg
|
Potassium:
859
mg
|
Fiber:
4
g
|
Sugar:
12
g
|
Vitamin A:
3229
IU
|
Vitamin C:
42
mg
|
Calcium:
82
mg
|
Iron:
2
mg