Learn how to make the PERFECT Sous Vide Filet Mignon. With a timing chart for the perfect rare, medium, or well done steak.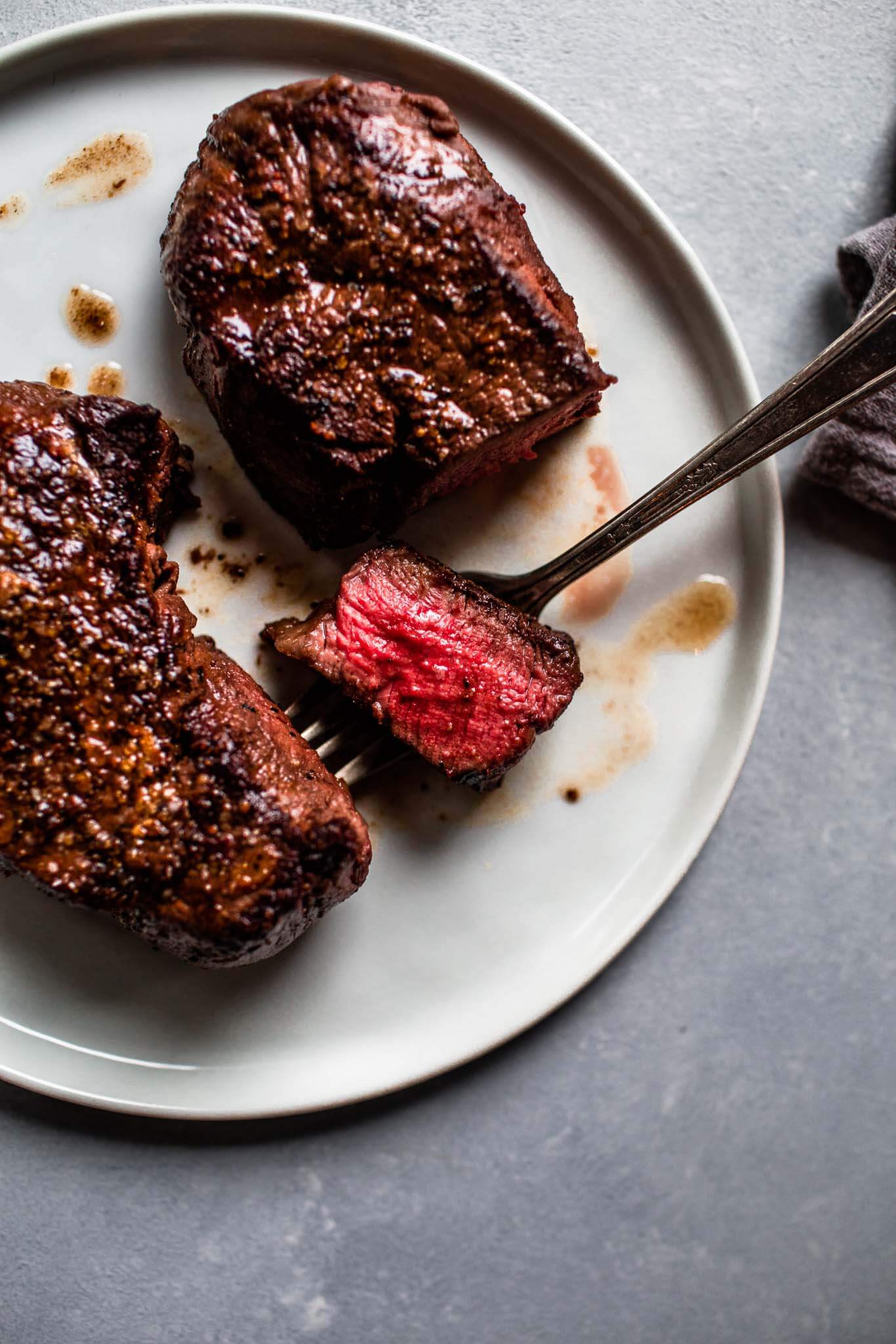 One of the gifts on our wedding registry that I was super excited about receiving was this sous vide. I'd been hearing so many amazing things about this cooking device, but unfortunately I had no idea how to use it…
Sous vide, which means "under vacuum" in French, refers to the process of vacuum-sealing food in a bag, then cooking it to a very precise temperature in a water bath. This technique is amazing because it makes it virtually impossible to overcook your food. Making it perfect for cooking a delicate cut of meat, like filet mignon.
One note though. You don't actually need to vacuum seal your food in order to sous vide. At first, I thought about investing in this vacuum sealer, but I really didn't want another appliance crowding up our counters, so instead, I simply seal my food up in a ziploc bag and use this water displacement method to "vacuum seal" it.
Removing the air from the bag is important though. First, it ensures that the bag won't float in the water, but will stay submerged. And second, it ensures that your food cooks evenly and safely.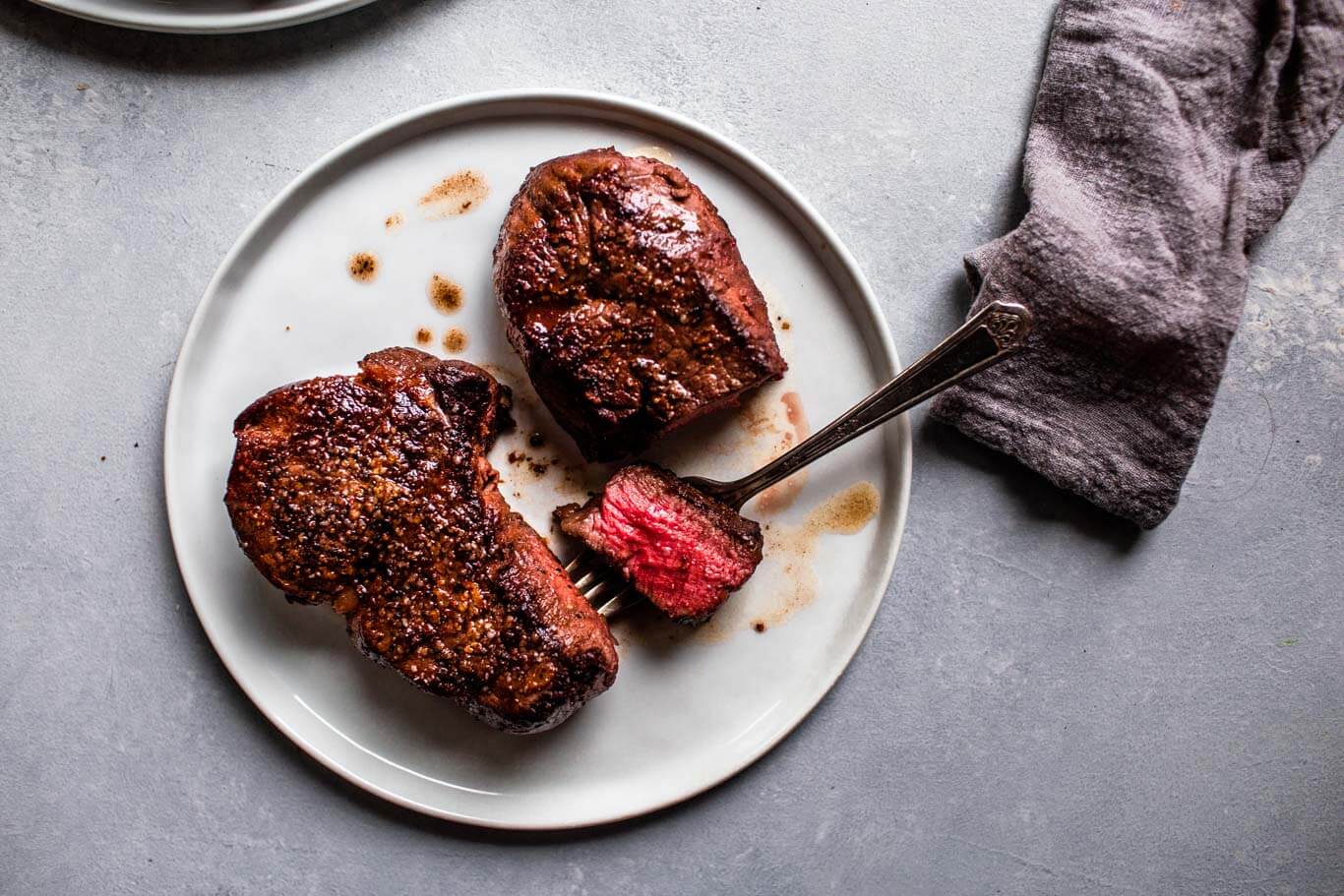 To start the cooking process, place your sous vide in a vessel that's large enough to hold enough water for your bag to be fully submerged and deep enough to ensure that the water level falls between the minimum and maximum level indicators on your sous vide circulator. Heat it to your desired temperature (more on that below) and place your bag in the water.
Sous Vide Filet Mignon Temperature:
Rare: 120°F (49°C) to 128°F (53°C)
Medium-Rare: 129°F (54°C) to 134°F (57°C)
Medium: 135°F (57°C) to 144°F (62°C)
Medium-Well: 145°F (63°C) to 155°F (68°C)
Well Done: 156°F (69°C) and up
I prefer a medium-rare filet mignon and have found 132-degrees to be perfect for my tastes.
How Long Does It Take to Sous Vide Filet Mignon?
The length of time it takes to sous vide a steak depends on its thickness. Most filet mignon steaks will be around an inch thick. Below is a timing chart on the minimum time needed for your filet mignon to reach temperature in the sous vide:
Sous vide 1-inch thick steak for 1 hour
Sous vide 1.5-inch thick steak for 1 hour, 45 minutes
Sous vide 2-inch thick steak for 3 hours
Sous vide 2.5-inch thick steak for 4 hours, 15 minutes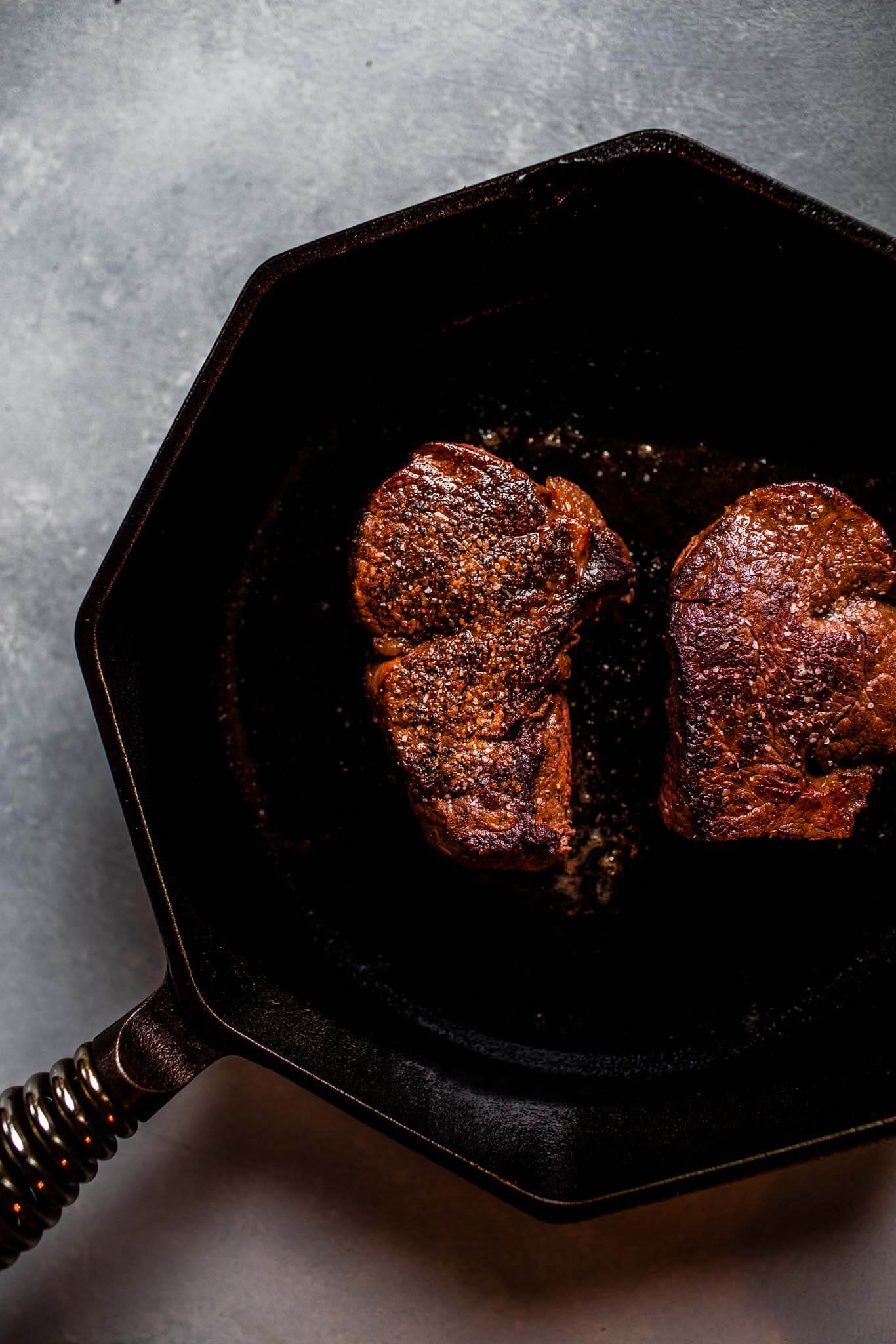 Can You Overcook in Sous Vide?
I've read that it's OK to leave a 1-inch steak in the water bath for up to 4 hours. After that, the meat may break down too much and become mushy. However, your steak will never actually "overcook" as the meat will be held at the correct temperature.
Do You Season Sous Vide Filet Mignon?
Some will season their filet mignons with salt and pepper and add aromatics like garlic, herbs or marinades before vacuum sealing. I prefer to let the natural flavor of the steak shine through and simply season during the searing process with a bit of salt and pepper, spooning the melted butter over them.
This is a personal preference so feel free to change things up a bit.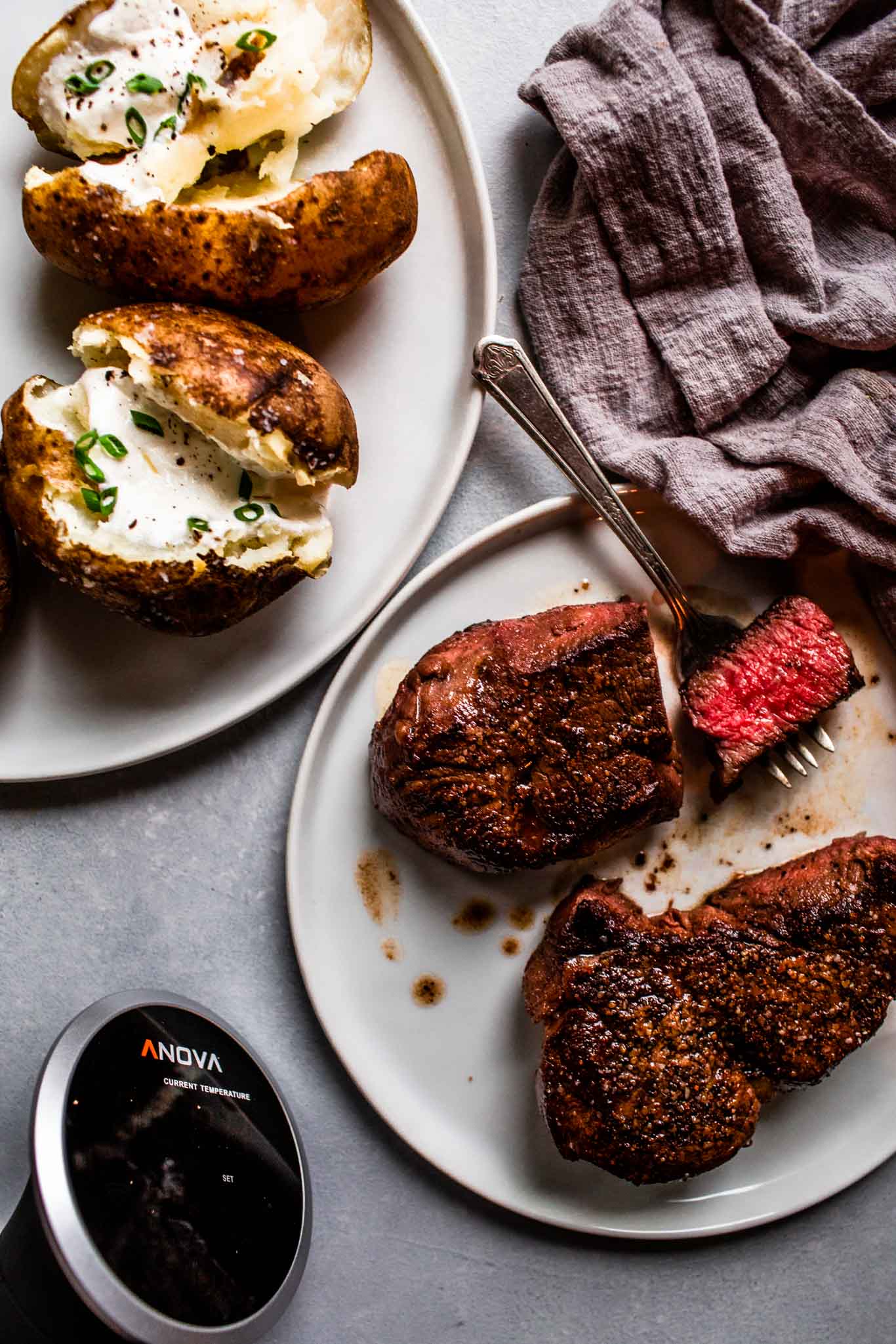 Can You Reheat in Sous Vide?
One of my favorite parts about sous vide is that you can reheat leftovers with it. It's the perfect way to reheat a steak or other cut of meat because it will never overcook it.
How Do You Reheat in Sous Vide?
Heat your water to just below the original cooking temperature. Reheat using the same cooking chart above (i.e. a 1-inch thick steak will need to reheat for 1 hour).
Sauces for Filet Mignon:
What to Serve with Filet Mignon:
A delicate cut of steak, like filet mignon, needs a wine with softer tannins. Try Merlot, Chianti, Pinot Noir, or aged Cabernet.
If you loved this Sous Vide Filet Mignon recipe I would appreciate it so much if you would give this recipe a star review! Also, be sure to snap a picture of your finished dish and share it with me on Instagram using the hashtag #platingsandpairings and tagging me @platingsandpairings.
For more great Platings and Pairings recipes, be sure to follow me on Pinterest, Facebook, YouTube and Twitter.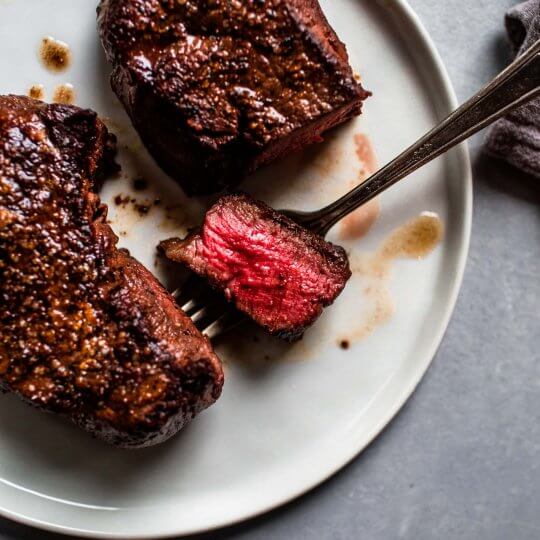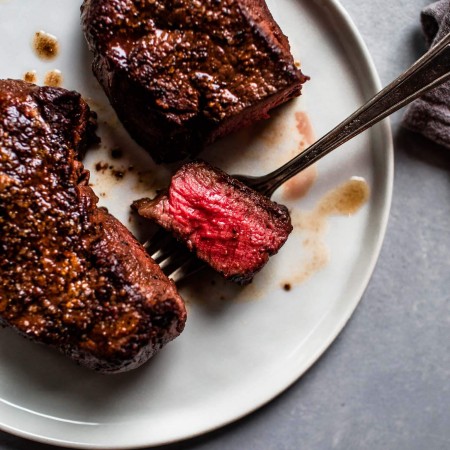 Sous Vide Filet Mignon
Learn how to make the PERFECT Sous Vide Filet Mignon. With a timing chart for the perfect rare, medium, or well done steak.
Print
Pin
Ingredients
4 1-

inch

thick filet mignons

2

Tablespoons

butter

1

Tablespoon

olive oil

Kosher salt & pepper
Instructions
Set the sous vide to your desired temperature (132-degrees for medium-rare).

Vacuum seal the filet mignons using your preferred method. 2 steaks per bag.

Cook for 1 hour (for 1-inch thick steak), up to four hours.

Remove steaks and pat dry with paper towels. Season with salt and pepper.

Preheat a cast iron skillet over high heat. Add oil and butter. Sear steaks 1-minute per side, tilting skillet and spooning butter over them as they cook. Serve immediately.
Nutrition
Calories:
546
kcal
|
Protein:
30
g
|
Fat:
46
g
|
Saturated Fat:
19
g
|
Cholesterol:
134
mg
|
Sodium:
133
mg
|
Potassium:
516
mg
|
Vitamin A:
175
IU
|
Calcium:
12
mg
|
Iron:
4
mg
Check out the web story here.