This Sous Vide Limoncello recipe creates delicious limoncello in just 2 hours instead of the 3 weeks it would normally take. Make quick limoncello using just three ingredients with this simple recipe.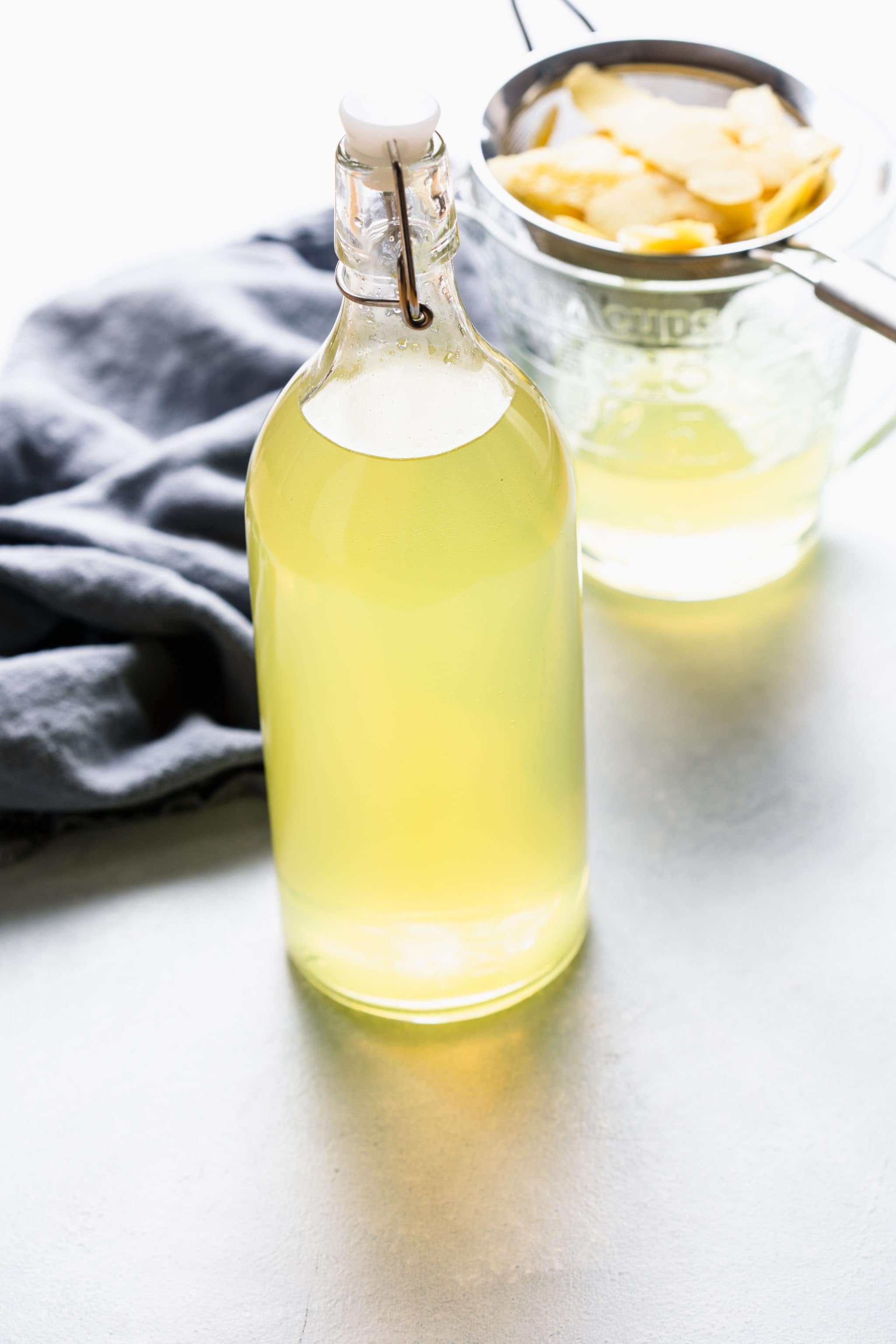 A couple years ago, when we traveled to Italy, I definitely developed a taste for limoncello. Many restaurants in the area would serve you a complimentary nightcap of their homemade limoncello after finishing your meal.
Since then, I've been meaning to try making limoncello at home, but I'd never gotten around to it because traditional limoncello recipes require at least 3 weeks to steep the lemon rinds, etc. I'm more of an instant gratification kind of girl.
That's when my sous vide came to the rescue.
Several months ago, I used my sous vide to make some blackberry infused vodka (which turned out absolutely delicious and makes the best lemon drop martinis). So, I thought, why not put that same concept to use and try my hand at making some quick limoncello?
You only need three ingredients to make limoncello – lemons, vodka and sugar. I made my limoncello using 80-proof vodka since we had a large bottle of it in the freezer. But for a cleaner tasting limoncello (and one that doesn't freeze when stored in the freezer) look for 100 or 150-proof alcohol.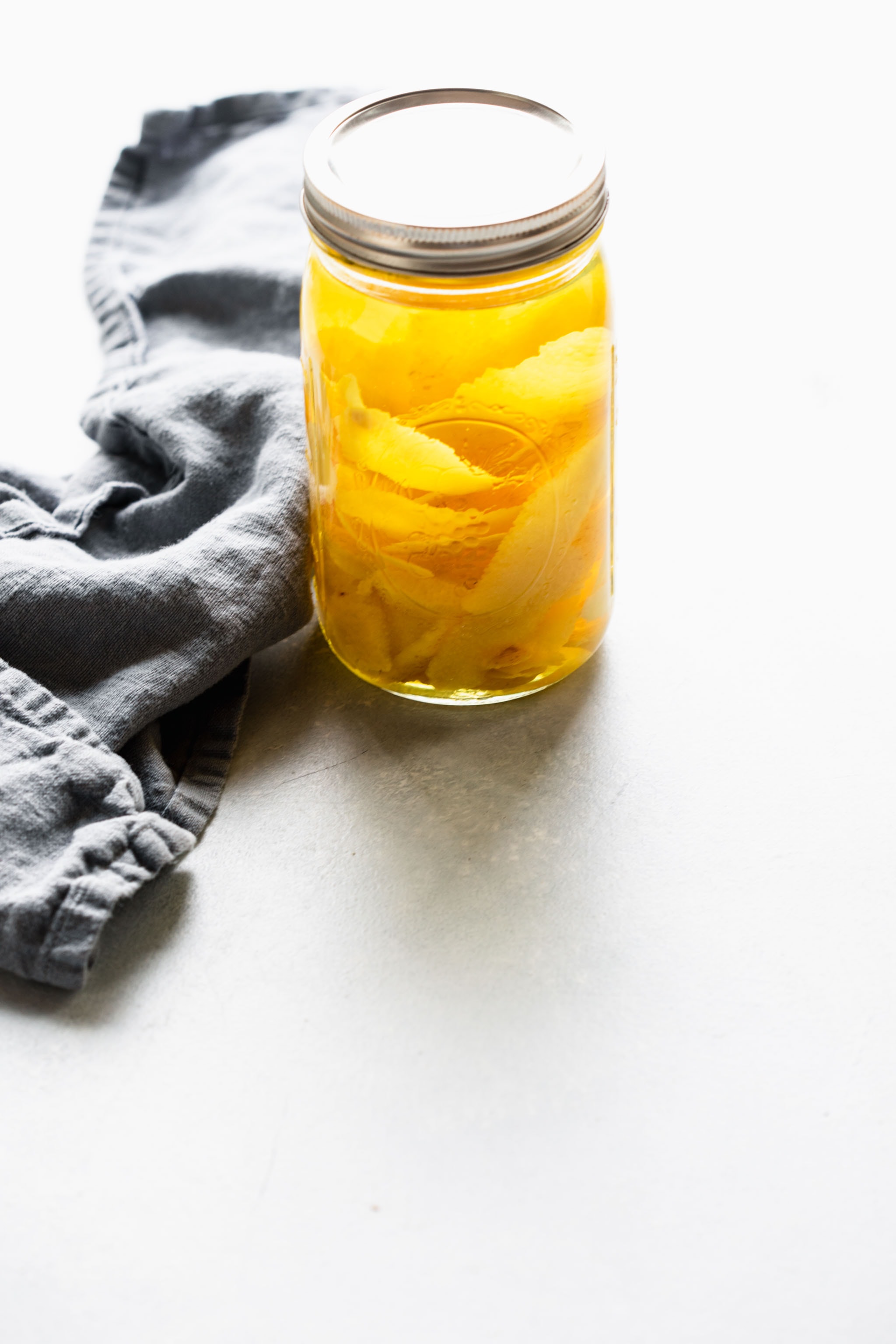 Limoncello Ingredients:
It's best to use organic lemons for this recipe since they are coated with wax like the standard variety. But either will work, just be sure to thoroughly wash the lemons in hot water to remove any waxiness before peeling them.
You can also make homemade orangecello or grapefruit "limoncello." I can't wait to try those out as well.
How to Make Sous Vide Limoncello
Use a vegetable peeler to remove the rinds from the lemons, but be careful to avoid the white pith which can make your limoncello bitter.
Add the rinds to a quart-sized mason jar, and top it off with vodka, leaving about 1/2 inch space at the top to allow for expansion. It will take about 2 cups of vodka to fill the jar.
Cook for 2 hours at 135-degrees.
Make simple syrup by dissolving sugar in water on the stovetop.
When the limoncello is done "cooking" strain the rinds and add simple syrup to taste. Chill.
Depending on your personal preference, you may not use all the simple syrup. If you prefer your limoncello more on the tart side, you may want to cut back on the simple syrup a bit.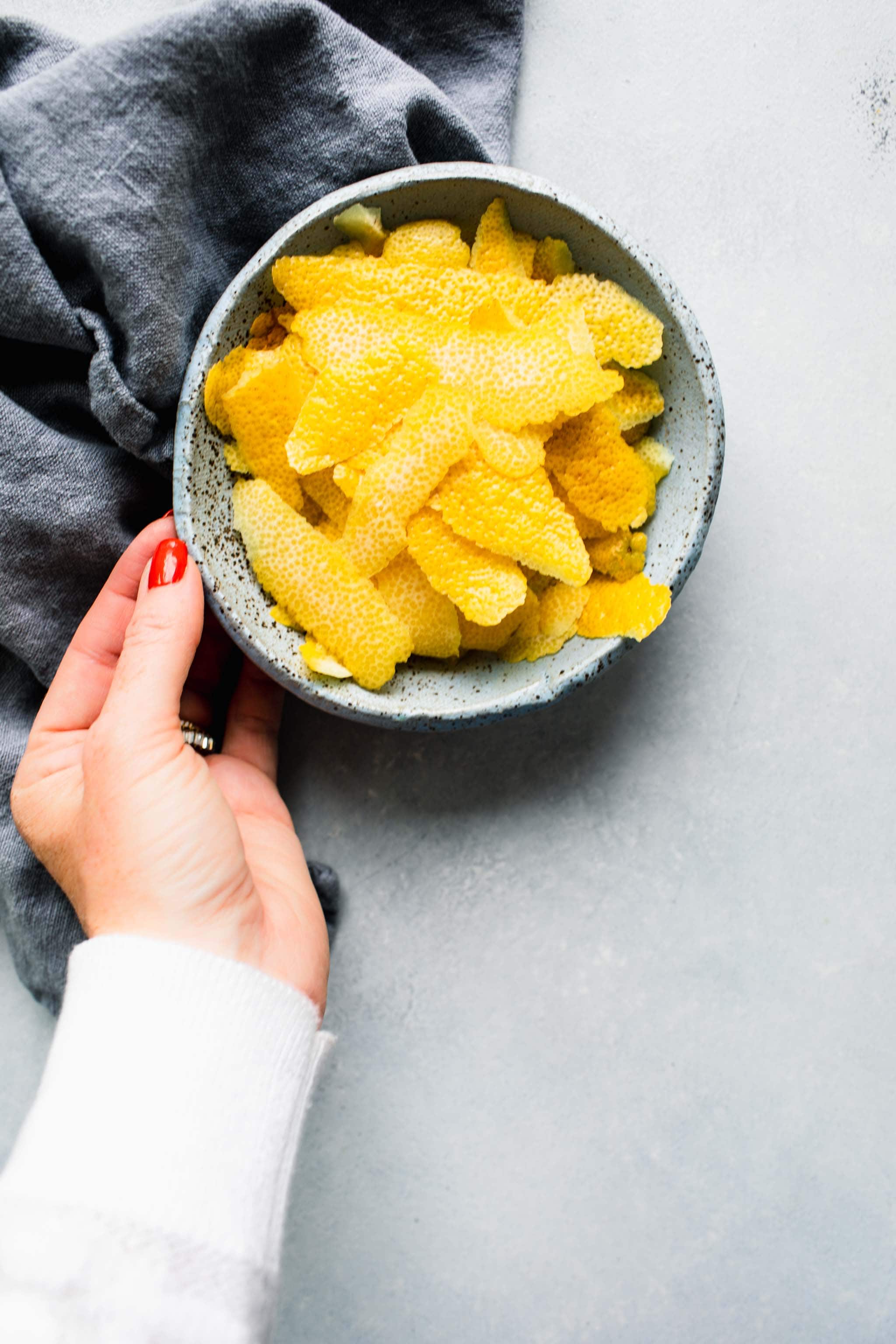 How to Serve Limoncello
Limoncello is traditionally served as an aperitif (before a meal) or a digestif (after a meal). It is served chilled, without ice, in a shot glass.
How to Store Limoncello
Limoncello made with alcohol that is 100-proof or higher can be stored in the freezer. Limoncello that made with 80 proof alcohol should be stored in the refrigerator instead of the freezer because it can freeze. Homemade limoncello will keep for at least 3 months at room temperature.
If you have a room temperature bottle of limoncello that you'd like to chill quickly, put it in the freezer for 30 minutes.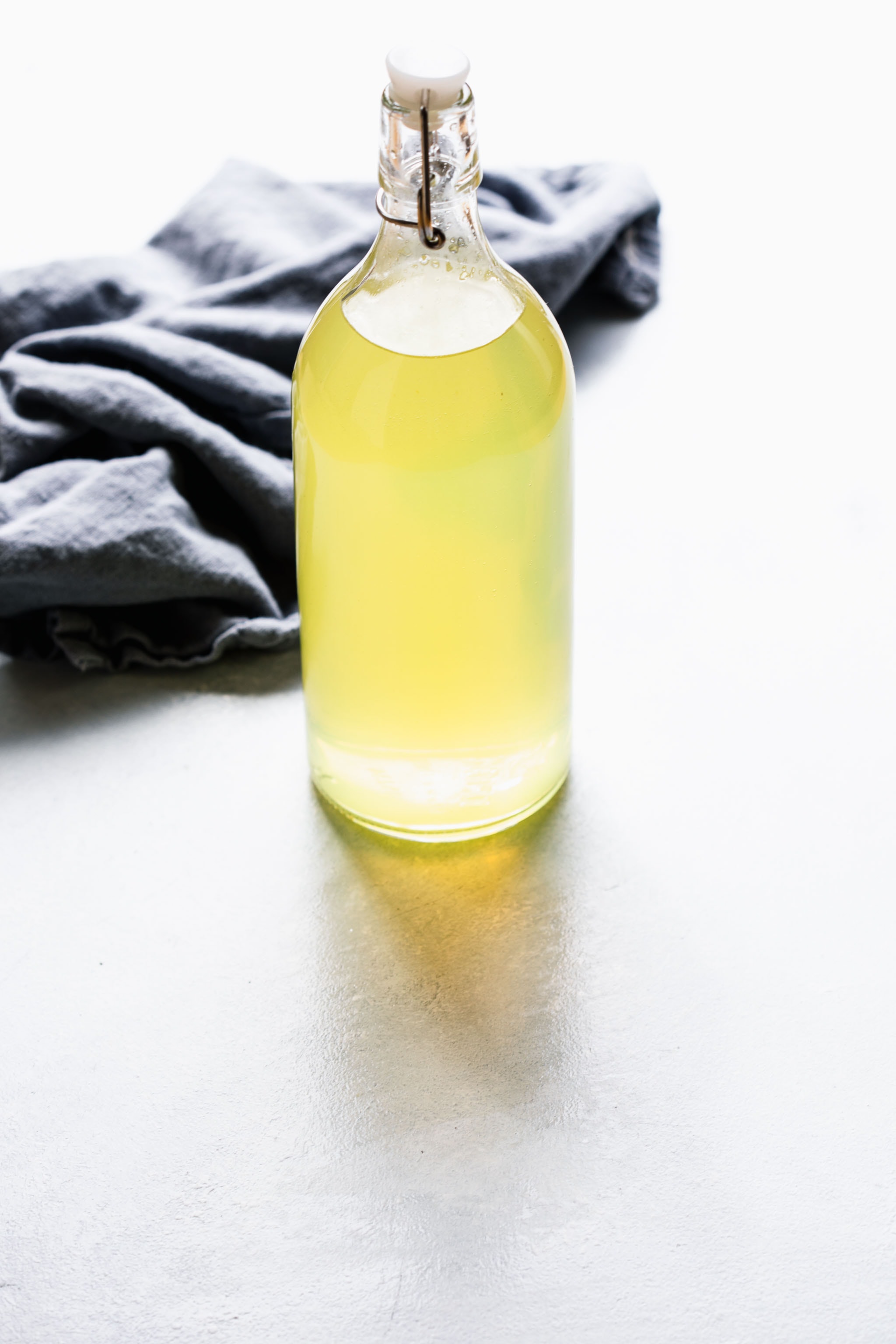 If you loved this Sous Vide Limoncello recipe I would appreciate it so much if you would give it a star review! Also, be sure to snap a picture of your finished bottle and share it with me on Instagram using the hashtag #platingsandpairings and tagging me @platingsandpairings.
For more great Platings & Pairings recipes, be sure to follow me on Pinterest, Facebook, YouTube and Twitter.
Sous Vide Recipes: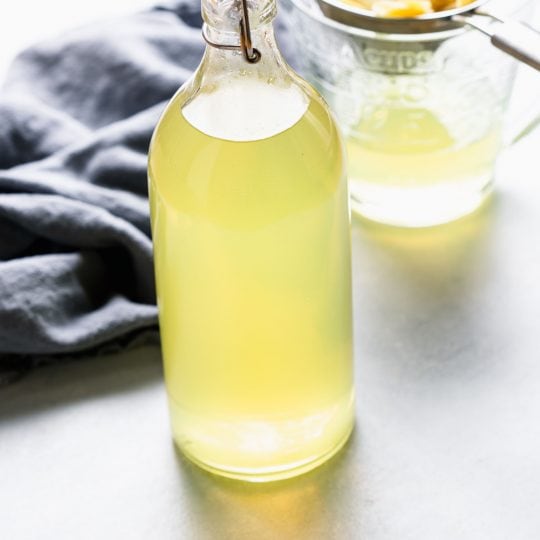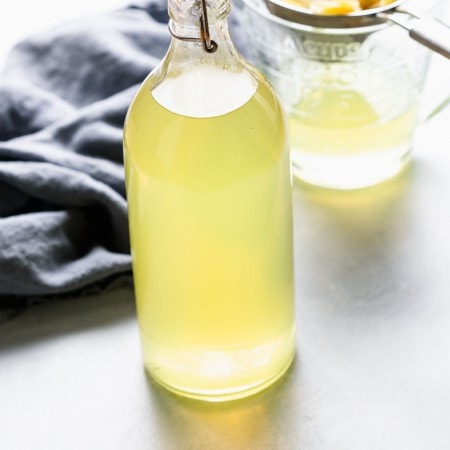 Sous Vide Limoncello Recipe
This Sous Vide Limoncello recipe creates delicious limoncello in just 2 hours instead of the 3 weeks it would normally take. Make quick limoncello using this amazing recipe.
Print
Pin
Ingredients
5

Lemons

2

cups

Vodka

(more or less, depending on size of jar)

1 1/2

Cups

Sugar

2 1/2

Cups

Water
Instructions
Set the Sous Vide to 135 degrees.

Thoroughly wash lemons in hot water to remove wax and pat dry.

Using a vegetable peeler, remove the zest from the lemons, avoiding any the bitter, white pith.

Place lemon zest into a quart sized mason jar and top with vodka, leaving a half inch of space from the top of the jar.

Cook for 2 hours.

Meanwhile, prepare the syrup: Heat water and sugar in a saucepan over medium-high heat. Stir to dissolve sugar. Remove from the heat and let cool to room temperature.

When the timer goes off, remove the jar from the water bath. Strain through a fine mesh strainer set over a large pitcher or bowl. Stir in the simple syrup. Chill and serve.
Nutrition
Calories:
110
kcal
|
Carbohydrates:
29
g
|
Protein:
1
g
|
Fat:
1
g
|
Saturated Fat:
1
g
|
Sodium:
4
mg
|
Potassium:
62
mg
|
Fiber:
1
g
|
Sugar:
26
g
|
Vitamin A:
10
IU
|
Vitamin C:
23.8
mg
|
Calcium:
13
mg
|
Iron:
0.3
mg