Wine tasting in Tuscany is such an amazing experience. To soak in the history, the views and the wine of the Chianti region of Italy is truly something not to be missed.
This summer, Rick and I had the opportunity to visit Italy. We started our trip in Lake Como, then headed to Venice for a few days, and finished our trip in Florence. While every part of that trip was absolutely spectacular, I just had to share some more about the day excursion that we took from Florence to visit the Chianti wine region.
Since we didn't rent a car for our trip, I signed us up for a wine tour through
Viator
. We met our guide, Lavi, outside the train station in Florence and hopped on a 4×4 minibus, absolutely necessary for the windy, gravel roads that we'd be travelling on while wine tasting in Tuscany.
The drive to our first stop was absolutely gorgeous. Rolling hillsides lined with vineyards and olive groves made way to the Principe Corsini estate, a winery belonging to one of the most prominent Italian families. And luck have it, they were right in the middle of processing the grapes. We were given a tour of the historic grounds and wine cellars, as well as their olive oil room, which was lined with huge clay vats filled with the amazing, green, peppery oil.
Afterwards, we were treated to a tasting of some of the wines and olive oils produced right there on the property. And, of course, I had to bring some of that amazing olive oil home with me. I'm still holding onto it, and use it every now and then for special recipes, like topping these
Italian White Beans
. Tasting it brings me right back to that day.
Our second stop would bring us lunch at a restaurant so amazing that George Clooney has eaten there several times –
La Cantinetta di Passignano
. We dined amongst the vines, and were able to sample their house-made olive oil as well. Our menu consisted of:
Crostini (prepared four ways) – Tomato, Bean, Patè and Lardo di Colonnata
Pappardelle with wild boar ragu
Mezzaluna stuffed with ricotta in a delicate truffle sauce (so many delicious truffles!)
Pairing alongside with our meal were a couple glasses of amazing, locally produced wine – a Chianti Classico and Chianti Classico Riserva.
We finished off our day of wine tasting in Tuscany at a small, award-winning winery that specializes in Chianti Classico wine – Fattoria di Montemaggio.
During the visit our winery host, Valeria, gave us a tour of the estate, vineyards, and garden – while explaining how they strive to preserve the authentic characteristics and quality of the land of Chianti Classico and transfer them to their wines.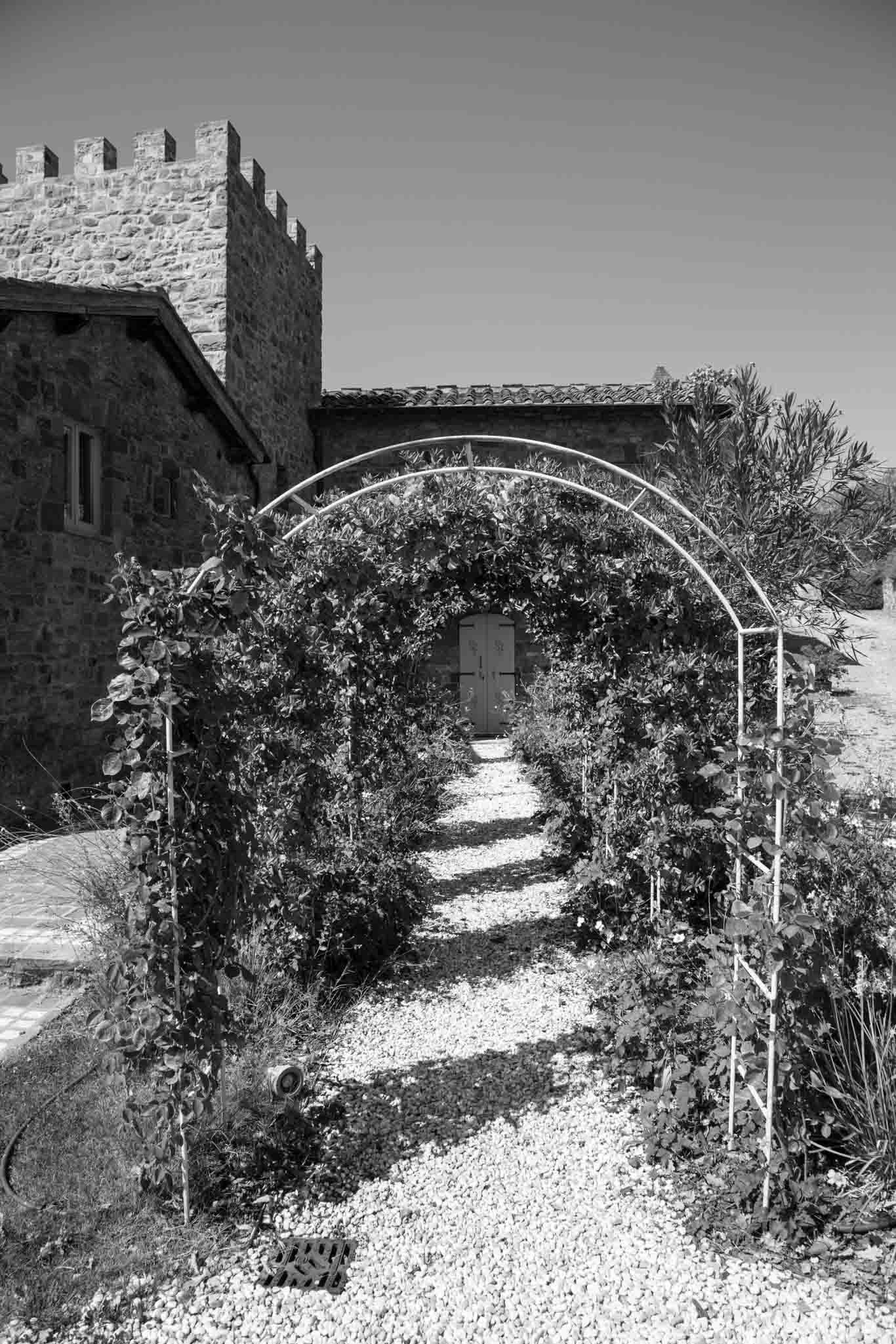 I'd highly recommend checking out a wine tour if you are visiting Florence, Italy. Tuscany, and the Chianti region, is just a short drive away and definitely a once in a lifetime experience.
Looking for more on wine tasting travel? Be sure to check out all my posts here.
Disclosure: I was not compensated for this post, and we paid for our wine tour out of our own pockets. As always, all opinions are my own.