Italian White Beans are slowly cooked with sage & garlic, resulting in plump, firm beans that are delicious dressed with olive oil or served on crostini.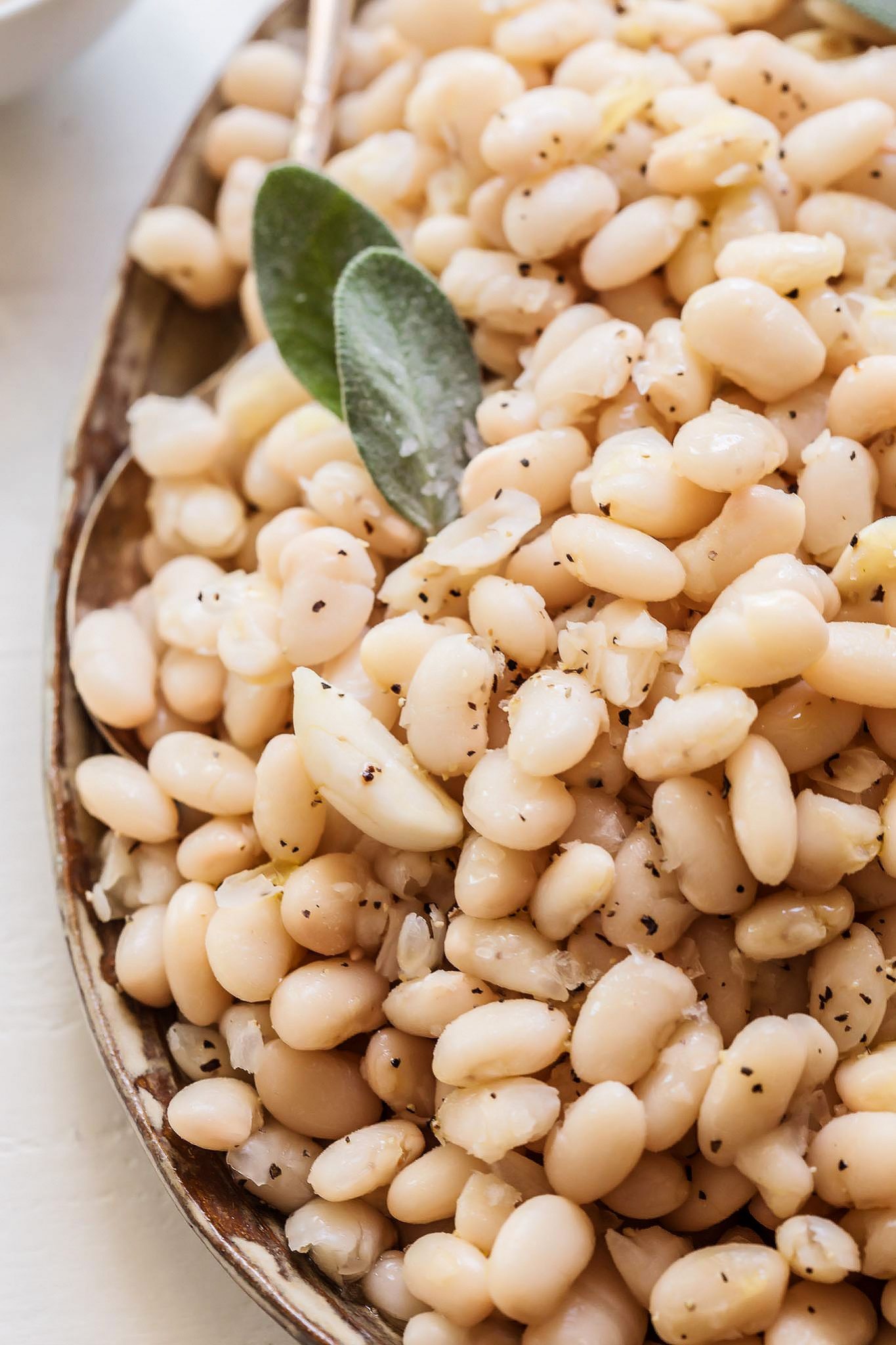 I came back from our trip to Italy this past summer with a desire to make some really authentic Italian dishes. Italian dishes that aren't just your basic pasta with tomato sauce. There are also the more rustic dishes – things that we ate at those Italian restaurants that were only discovered after walking down several quiet alleyways, or served at the small wine bars sprinkled about the towns.
One of our favorite meals that we had when we were in Italy was at this restaurant perched on a hilltop overlooking the vines in Tuscany. We were taken here as part of a wine tour and told that George Clooney had eaten here not just once, but several times. After our first dish, I could tell why…
We had the most amazing meal that consisted of two specialty pastas – A ravioli dish with fresh shaved truffles and a rigatoni with wild boar ragu. Also served were crostini – served three ways. One with tomatoes and garlic, another topped with pate, and a third that was topped with traditional Italian white beans and a sprinkling of rosemary.
It was that meal, and that last crostini in particular, that inspired this dish.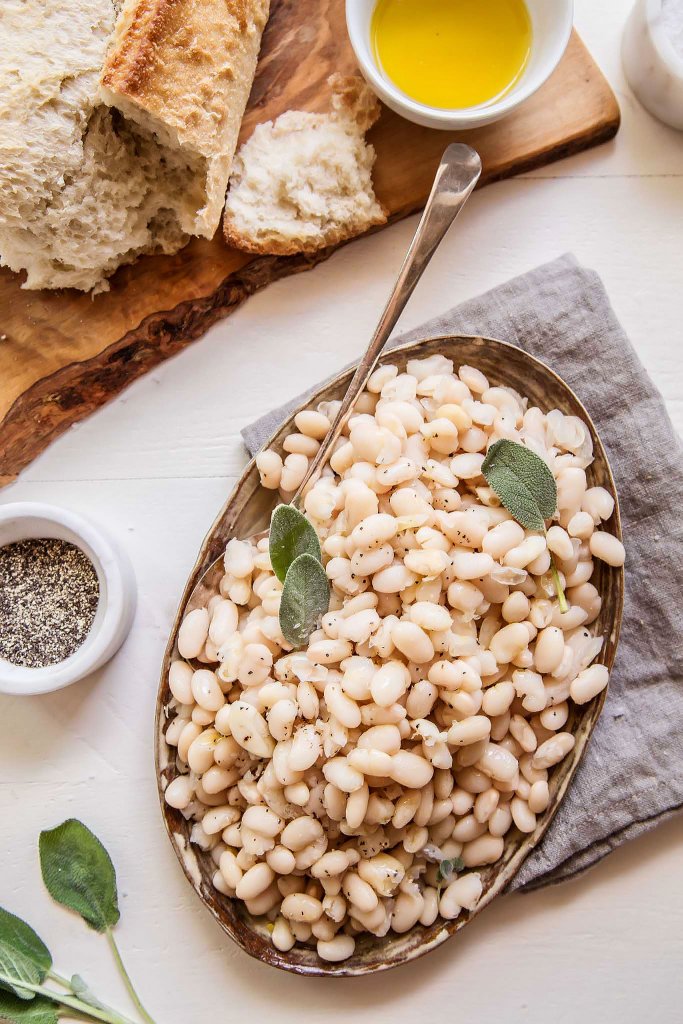 These Italian White Beans are cooked in the traditional style, low and slow on your stove. It's that low and slow process that results in these beans holding their shape, not becoming too mushy, and having that perfect toothsome texture. They're cooked simply, with just a few cloves of garlic, some fresh sage, and bay leaf. Because the flavor is simple, it's up to you to decide what you'd like to do with them:
Dress them with a bit of quality olive oil and a sprinkling of flaky sea salt.
Serve them on crostini with a bit of fresh rosemary.
Use them in soups and stews.
I found that this recipe made so many beans, that I was actually able to use them in several ways. I also froze some in mason jars to use for soups during the winter. Just package them up with their cooking broth and you can store them for up to 3 months. Be sure to leave about an inch of room in the jar though to account for expansion when the liquid freezes.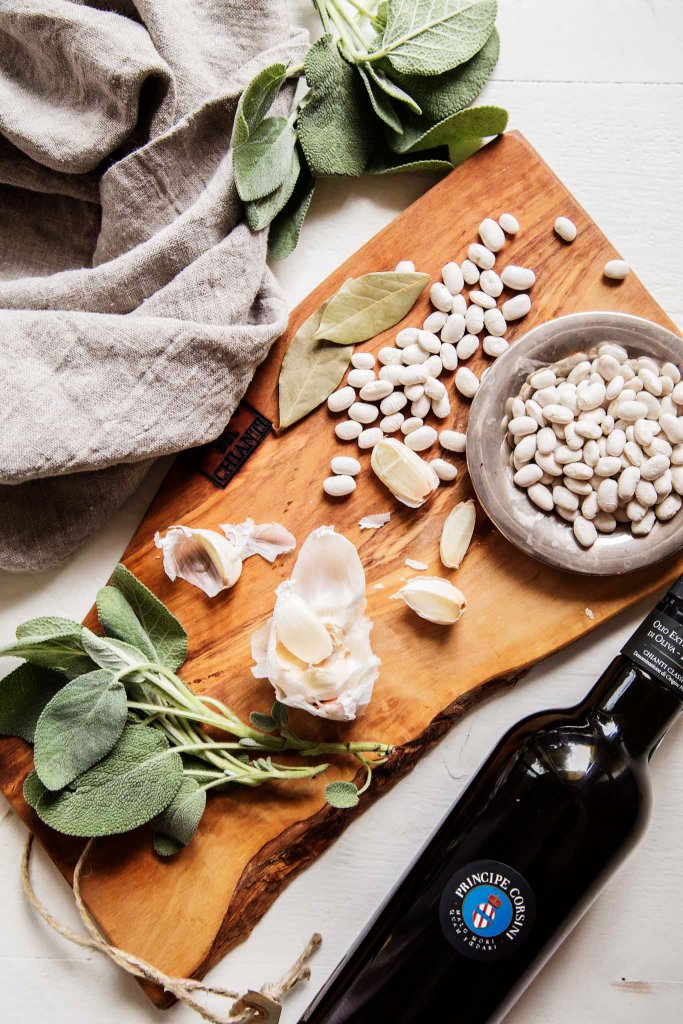 Did you know that white beans are part of a superfoods category called "pulses," the dry, edible seeds of plants in the legume family, which also includes chickpeas, dry peas and lentils? They're naturally high in protein and fiber, but low in fat, and I've definitely noticed that after eating a meal containing pulses, I stay full for quite a while afterwards. That's why I love sneaking them into my diet as part of my lunch routine. For lunches, I'll typically toss some of the beans with some pesto or mojo sauce. It's a yummy lunch that can be enjoyed warm or cold.
If you're looking for ways to eat healthier, sneaking pulses into your daily routine is definitely a great way to do it! Sign up for the Half-Cup Habit, and see how easy it can be to add ½ cup serving of pulses to your diet 3x per week. That's totally doable, right?!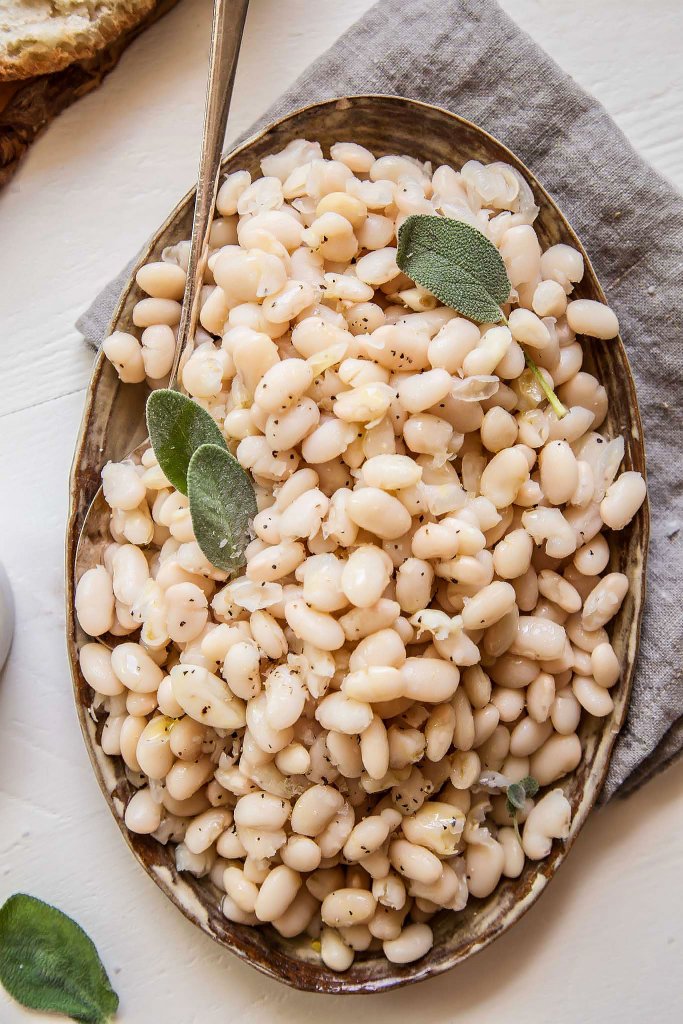 How would you serve these Italian white beans? On crostini? In a soup? As a salad? Let me know in the comments below.
Wine Pairings for Italian White Beans:
Try pairing these creamy beans with a zesty white wine, like Pinot Gris or Verdicchio.
More Italian recipes
More bean recipes
More → 20+ Recipes that use Cannellini Beans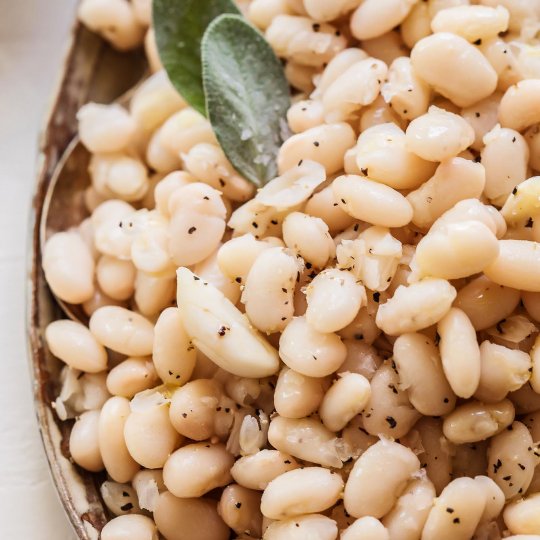 Italian White Beans
These Italian White Beans are cooked low and slow with a bit of sage and garlic, resulting in plump, yet firm beans that are delicious dressed with a bit of olive oil or served on top of crostini.
Print
Pin
Ingredients
1

pound

dried white beans

(such as Great Northern, Cannelini or Navy (about 2 ½ cups))

12

cups

water

4

cloves

garlic

(peeled and crushed)

5

fresh sage leaves

1

bay leaf

Kosher salt and pepper

(to taste)

4

Tablespoons

extra virgin olive oil

(high quality)
Instructions
Rinse beans then place in large pot and cover with cold water. Set aside to soak for at least 4 hours or overnight.

Place beans, water, garlic, sage, bay leaf and 2 Tbsp. oil in a heavy saucepan. Cover and slowly bring to a simmer over medium-low heat, about 1 hour. Gently simmer, stirring occasionally, until beans are tender but not mushy, about 1-2 hours more.

Remove from heat, set aside, and allow beans to cool in the cooking liquid for 15 minutes. Season well with salt and pepper.

To serve, drain the beans and drizzle with remaining 2 Tbsp. olive oil. You can also serve the beans on crostini as an appetizer.
Nutrition
Serving:
1
cup
|
Calories:
337
kcal
|
Carbohydrates:
46
g
|
Protein:
17
g
|
Fat:
9
g
|
Saturated Fat:
1
g
|
Sodium:
37
mg
|
Potassium:
1365
mg
|
Fiber:
11
g
|
Sugar:
1
g
|
Vitamin C:
0.7
mg
|
Calcium:
200
mg
|
Iron:
8
mg