Sous Vide Pork Chops are juicy & delicious with no fear of overcooking. Cooking pork chops sous vide results in the most tender, flavorful pork you've ever tasted.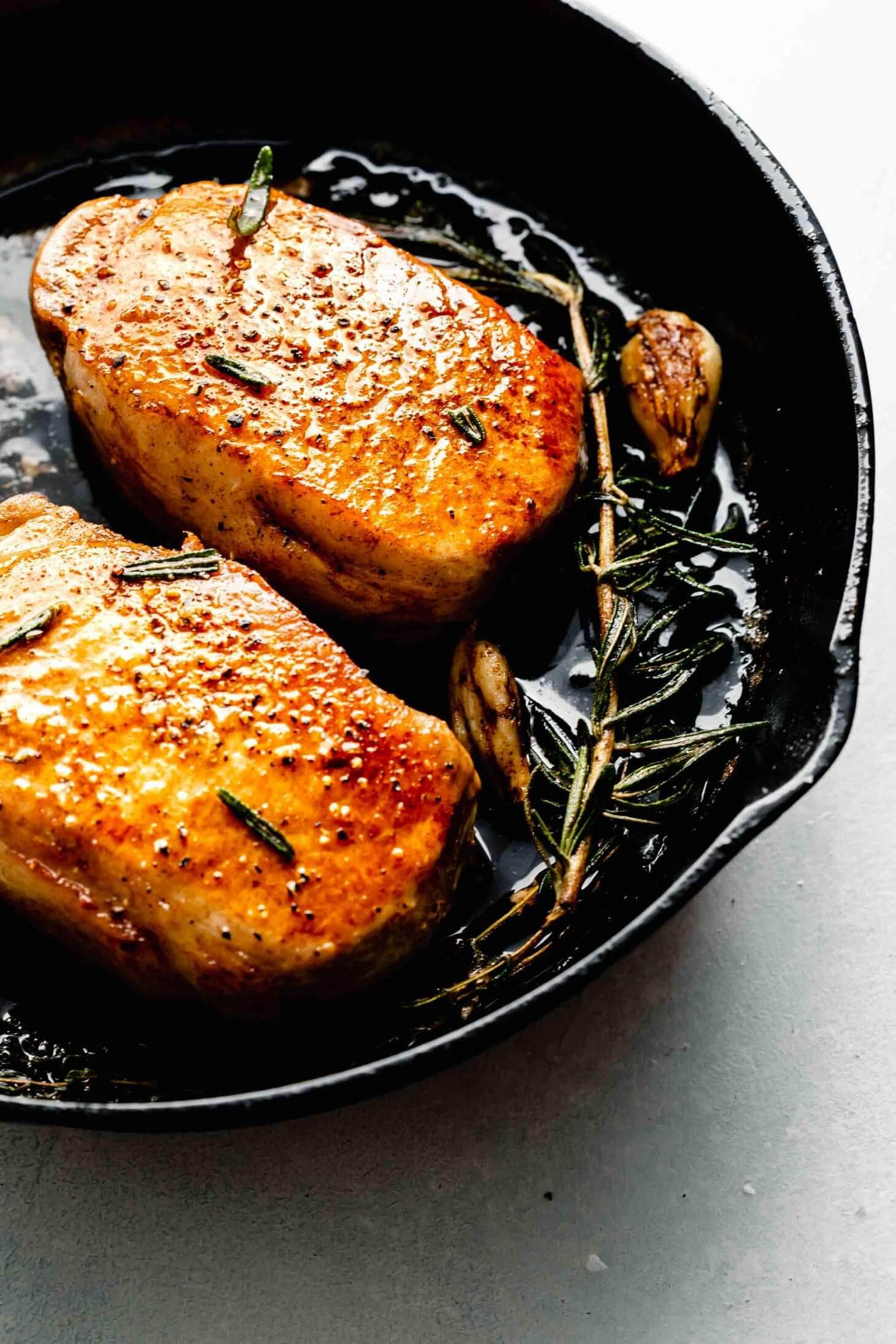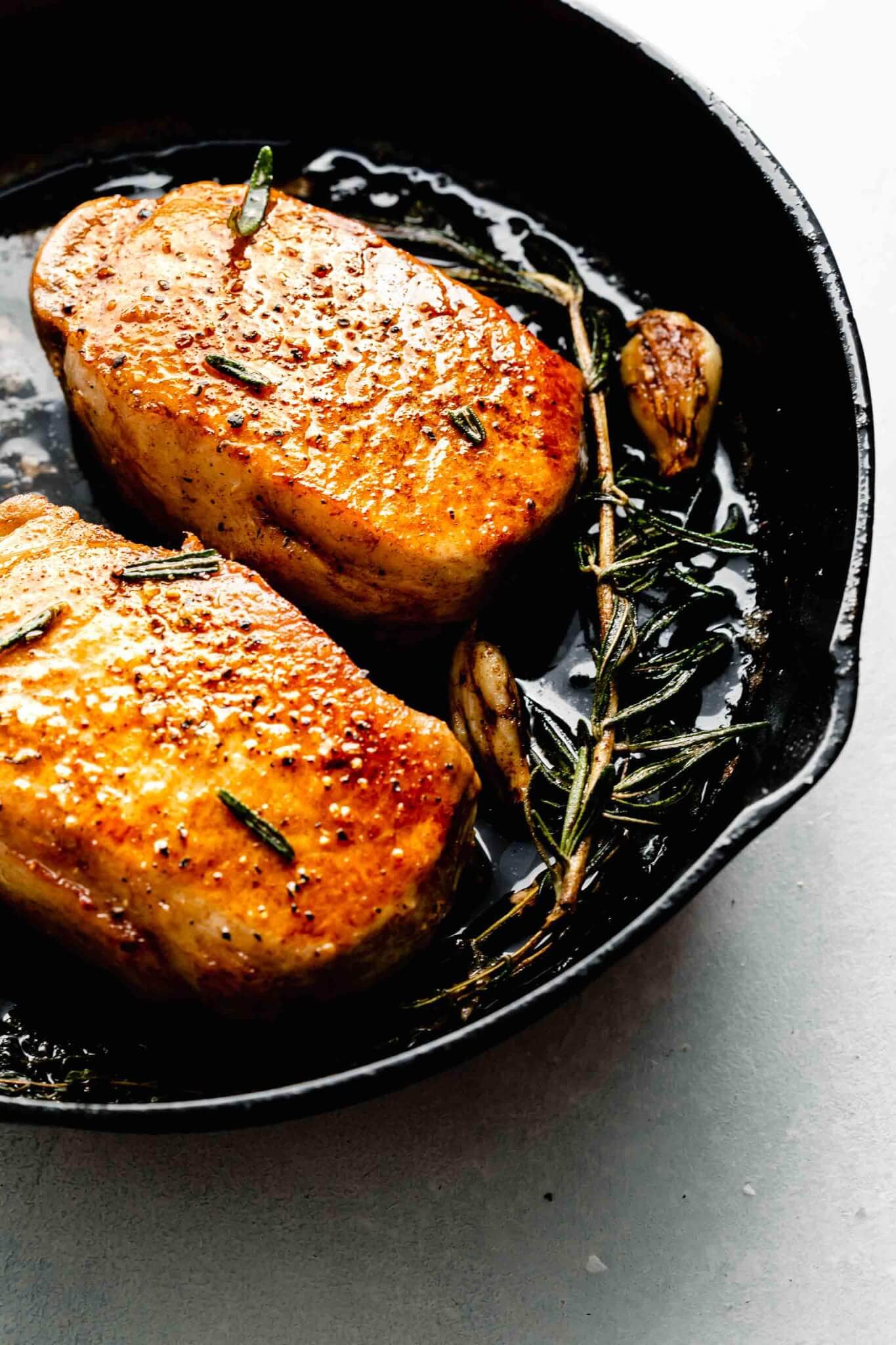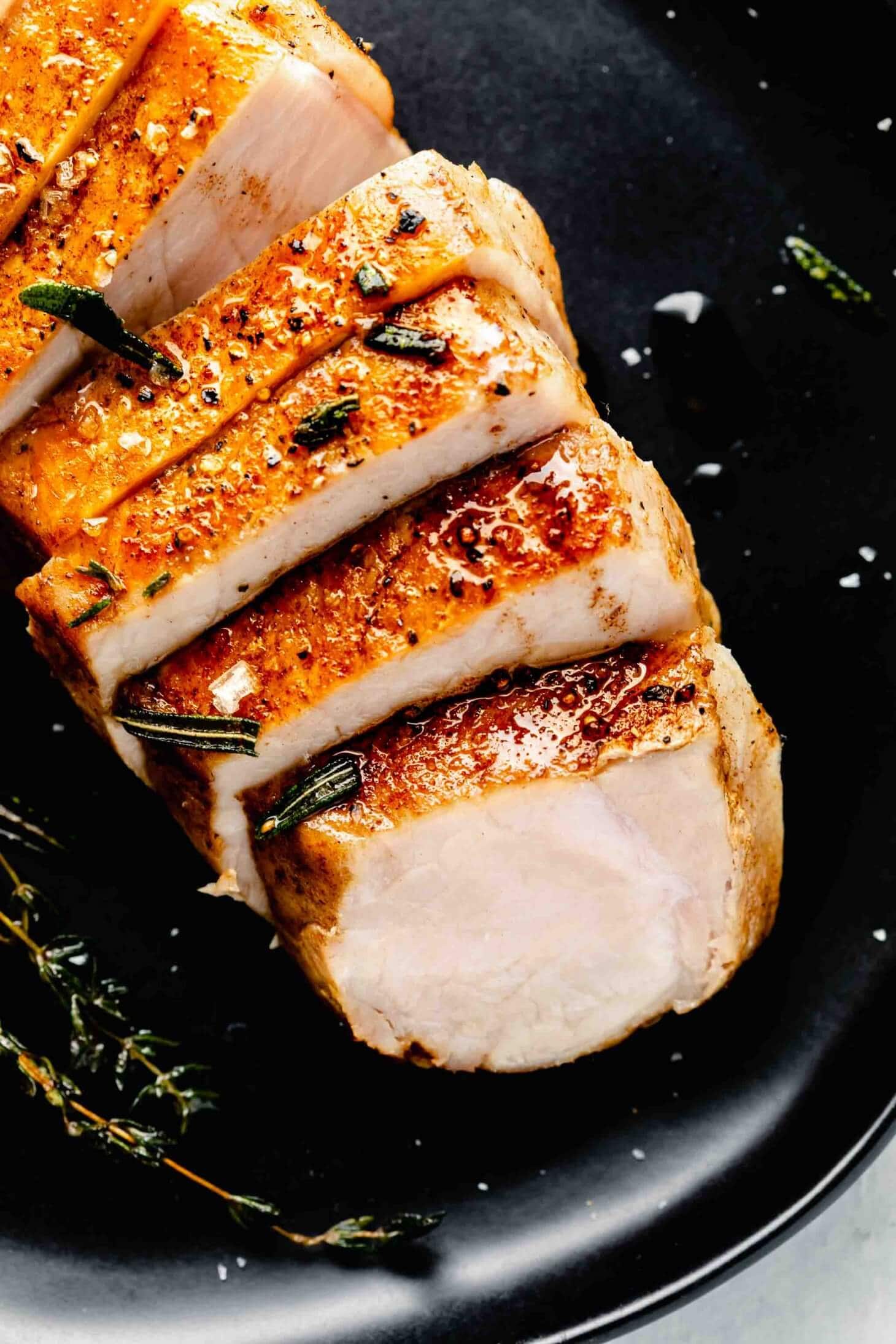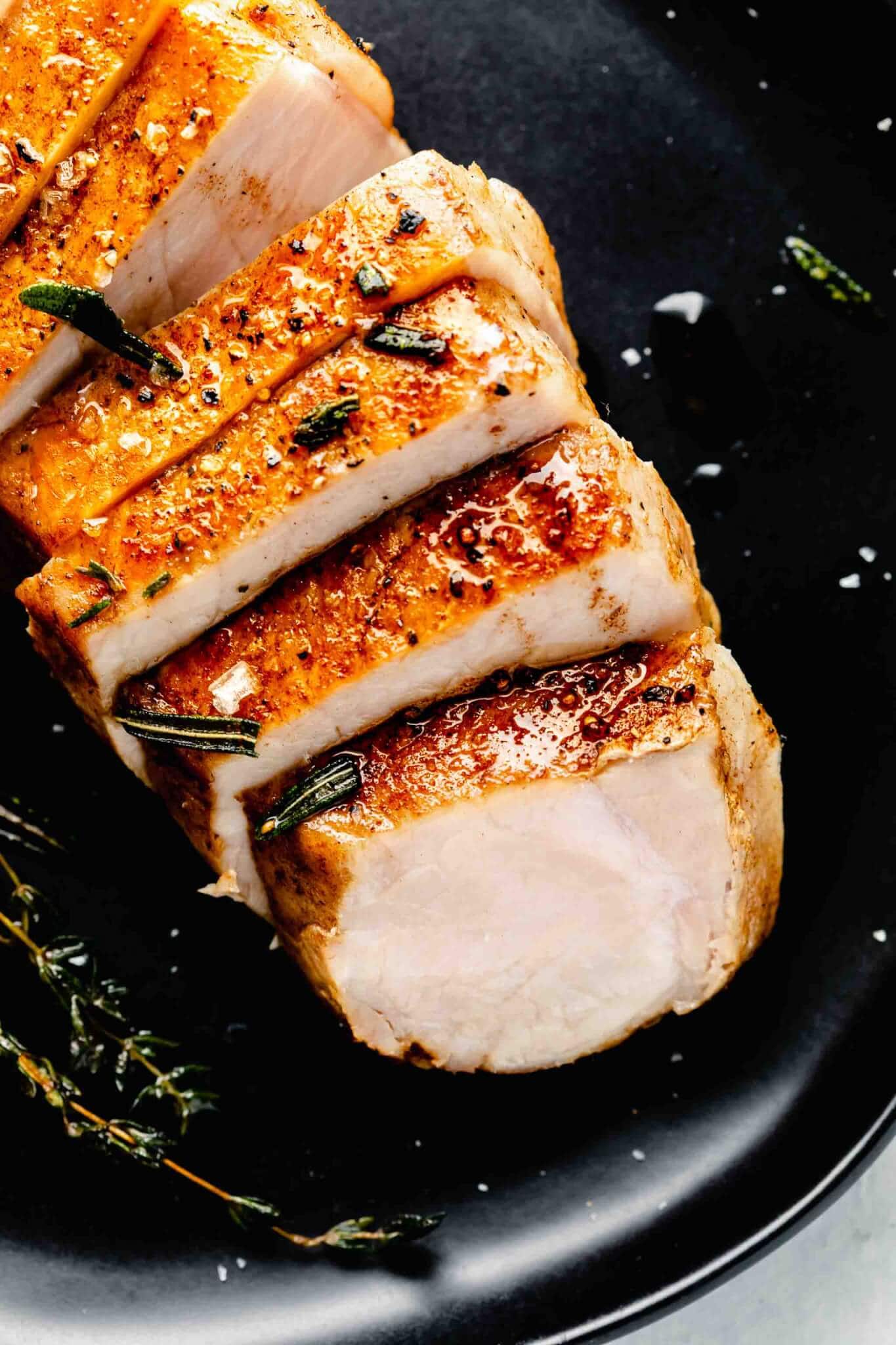 It's a good thing that we have a large pantry in our new home, because I really just can't keep away from all the kitchen gadgets. Quickly, the sous vide is becoming more and more used in our house.
I love that sous vide is basically a set it and forget it way of cooking.
Meaning you can put your food in the water bath, walk away, and let it cook for anywhere to an hour to hours on end with no fear of overcooking. That's because sous vide cooks up to a certain temperature, and then just holds your food there until you're ready to eat.
🛒 Ingredients Needed
Pork Chops – boneless or bone-in pork chops
Salt + Black Pepper
Butter + Vegetable Oil – or canola oil, for searing
Garlic – optional
Fresh Herbs – rosemary, thyme, etc.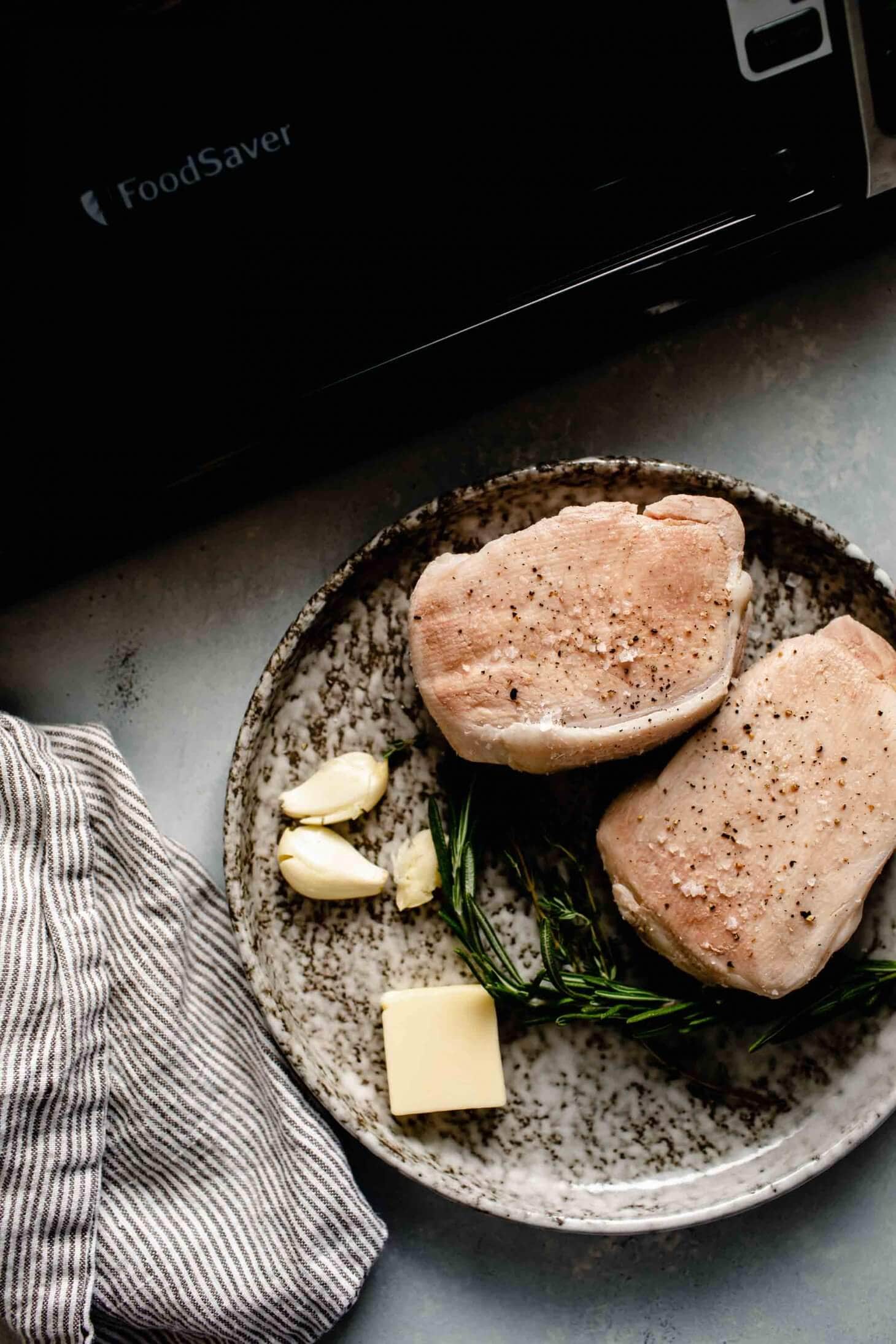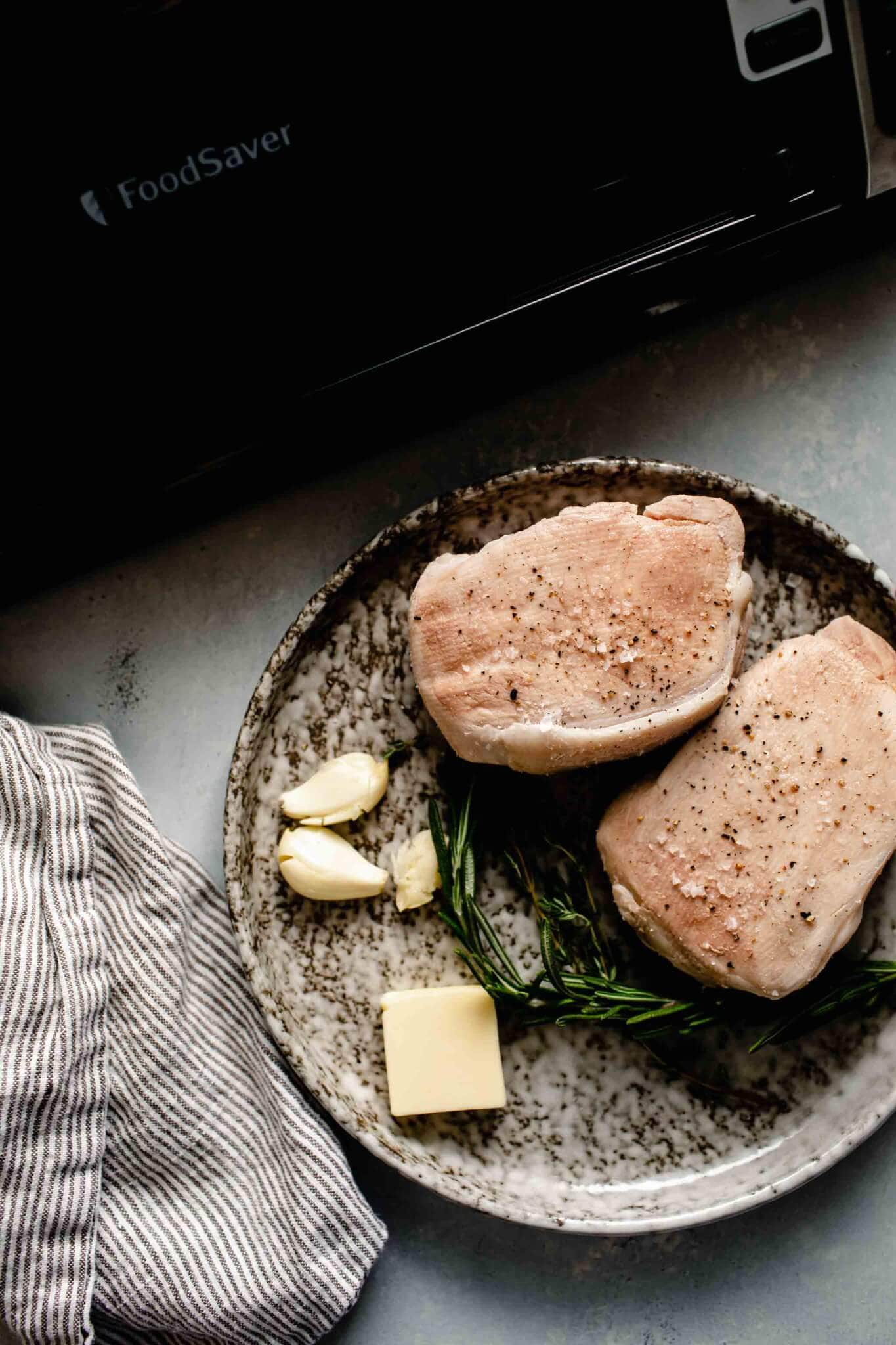 📋 How to Sous Vide Pork Chops
Vacuum seal to remove as much air as possible.

Cook 1-4 hours.

Remove from sous vide and pat dry well with paper towels.

Sear pork chops in a heavy skillet or pan.
🧂 How to Season Them
I like to season pork chops with salt and pepper before placing them in sous vide. Some people will also add aromatics, like fresh herbs and garlic before cooking. However, I've found that I prefer to season my pork chops after the sous vide, when they go into the skillet to brown, since you need to pat the pork chops dry before the skillet step.
In the skillet, I add oil and butter, then a few cloves of garlic and fresh herbs like rosemary and thyme. The herbs get nice and crispy in the buttery skillet and then they can be crumbled over the pork chops.
You can also season the pork chops with a good sprinkle of cajun seasoning if you like some heat! I find that delicious, especially when served with a side of red beans & rice.
Another option is to serve the pork chops with a side of green mojo sauce or gremolata sauce. Absolutely delicious!
✔️ Sous Vide Vacuum Seal Bags & Vacuum Sealing
After cooking sous vide for a while, I decided it was definitely worth the investment to purchase a FoodSaver® Vacuum Sealer. While you can seal using the water displacement method, I always found that I wasn't quite able to get all the air out of my bag effectively.
With the

FoodSaver® Vacuum Sealer Bags

the seal is extra tight. I also love that I can use the sealer to seal my meat right when I purchase it from the store, ensuring that it stays extra fresh. Or, you can even pop that meat right in the freezer after sealing it. Then you can sous vide from frozen, with no need to defrost first!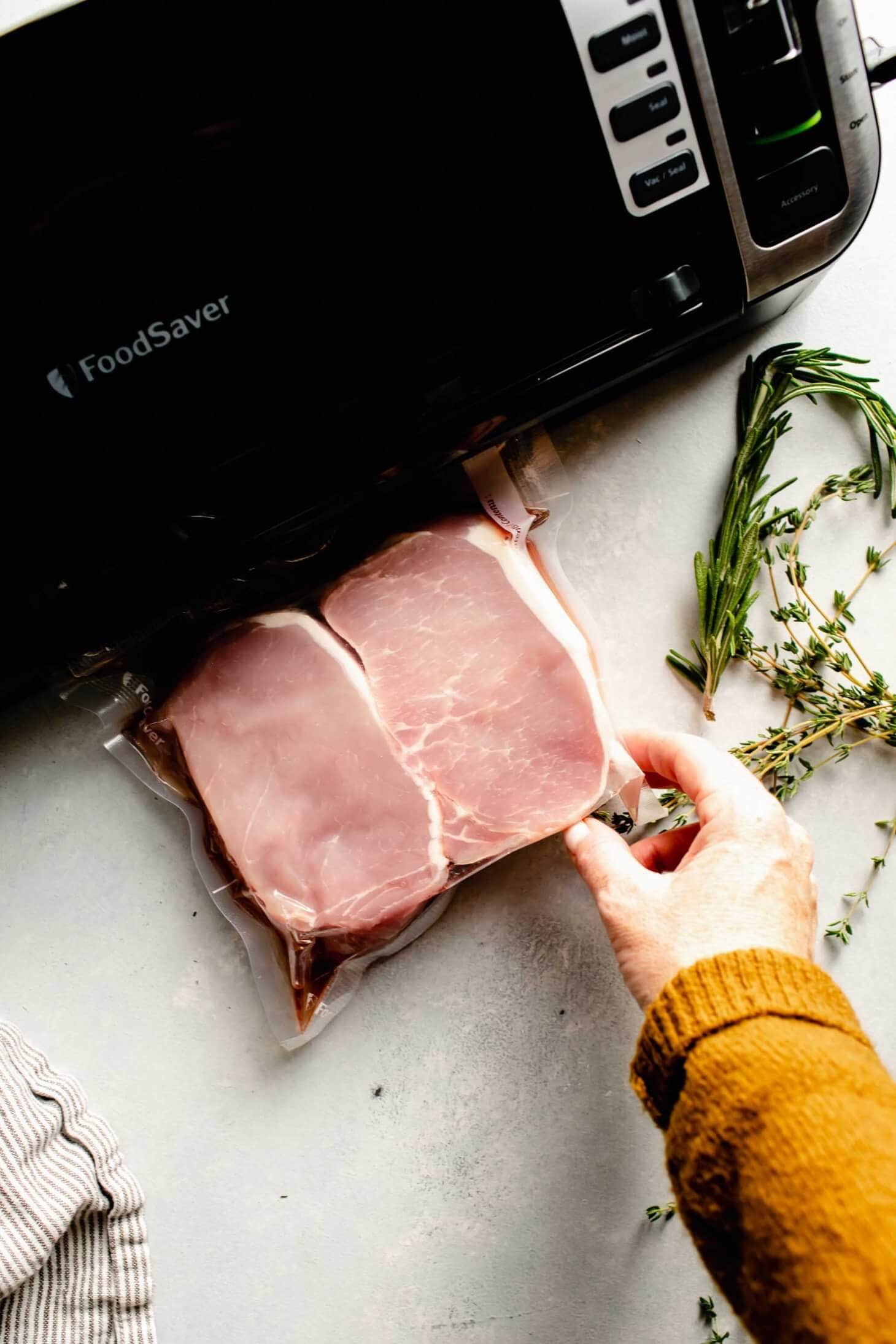 🕕 How Long Do You Cook Them?
Cook pork chops for 1-4 hours sous vide. After four hours, the meat may begin to lose some of its texture.
ℹ️ FAQs
Can You Overcook with a Sous Vide?
While your food will not overcook in sous vide, it can lose texture and become mushy. So, for cuts of meat, like pork chops, chicken and steaks, I aim to not cook for longer than four hours.
Can You Sous Vide Frozen Pork Chops?
Yes! When cooking frozen pork chops sous vide, simply add one hour to the cook time (so cook for 2-5 hours).
One of my favorite parts of sous vide cooking is that you can cook from frozen. This makes the FoodSaver® Preservation System especially useful. When I get home from the store, I vacuum seal my meat and pop it in the freezer. Super easy!
🍷 Wine Pairings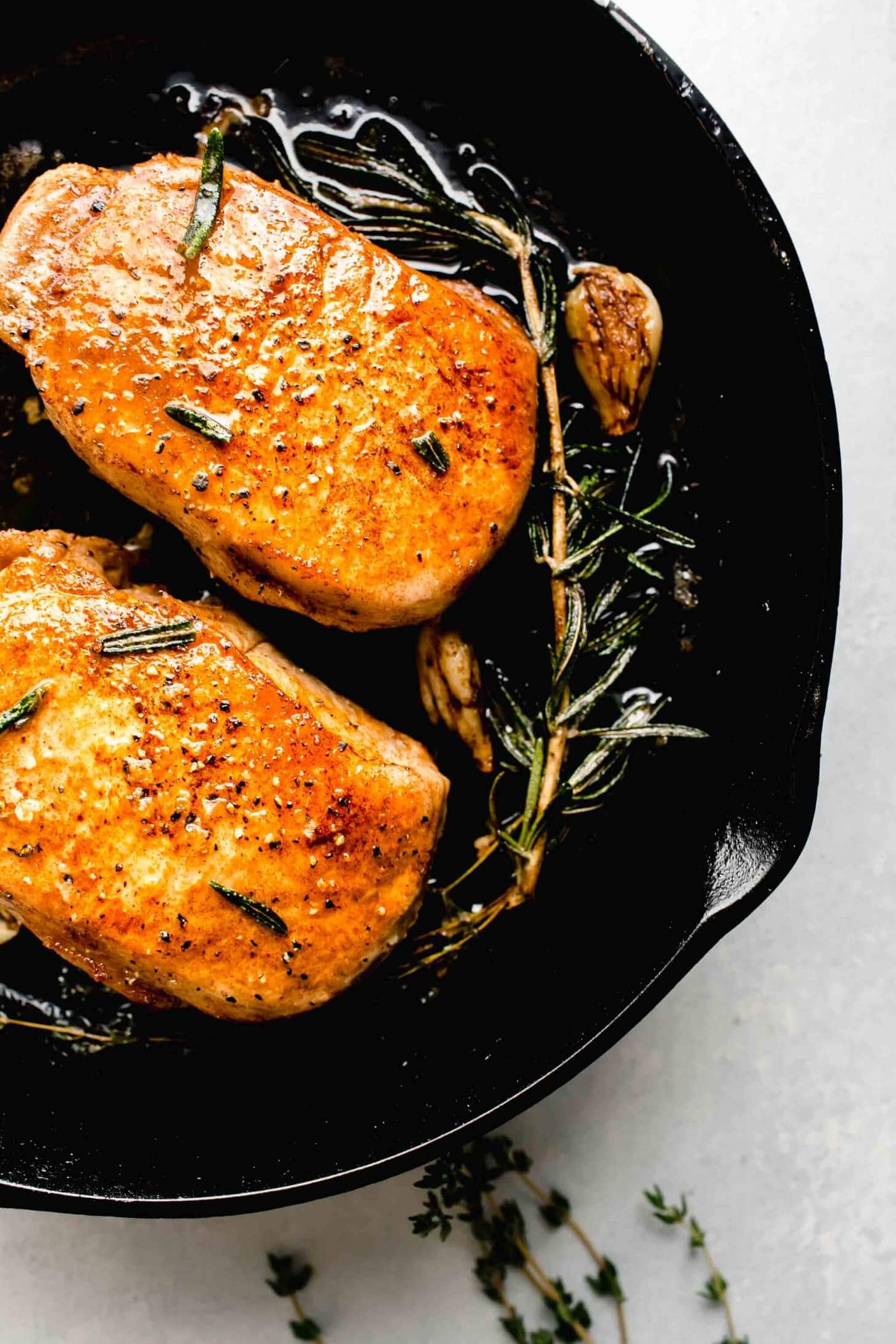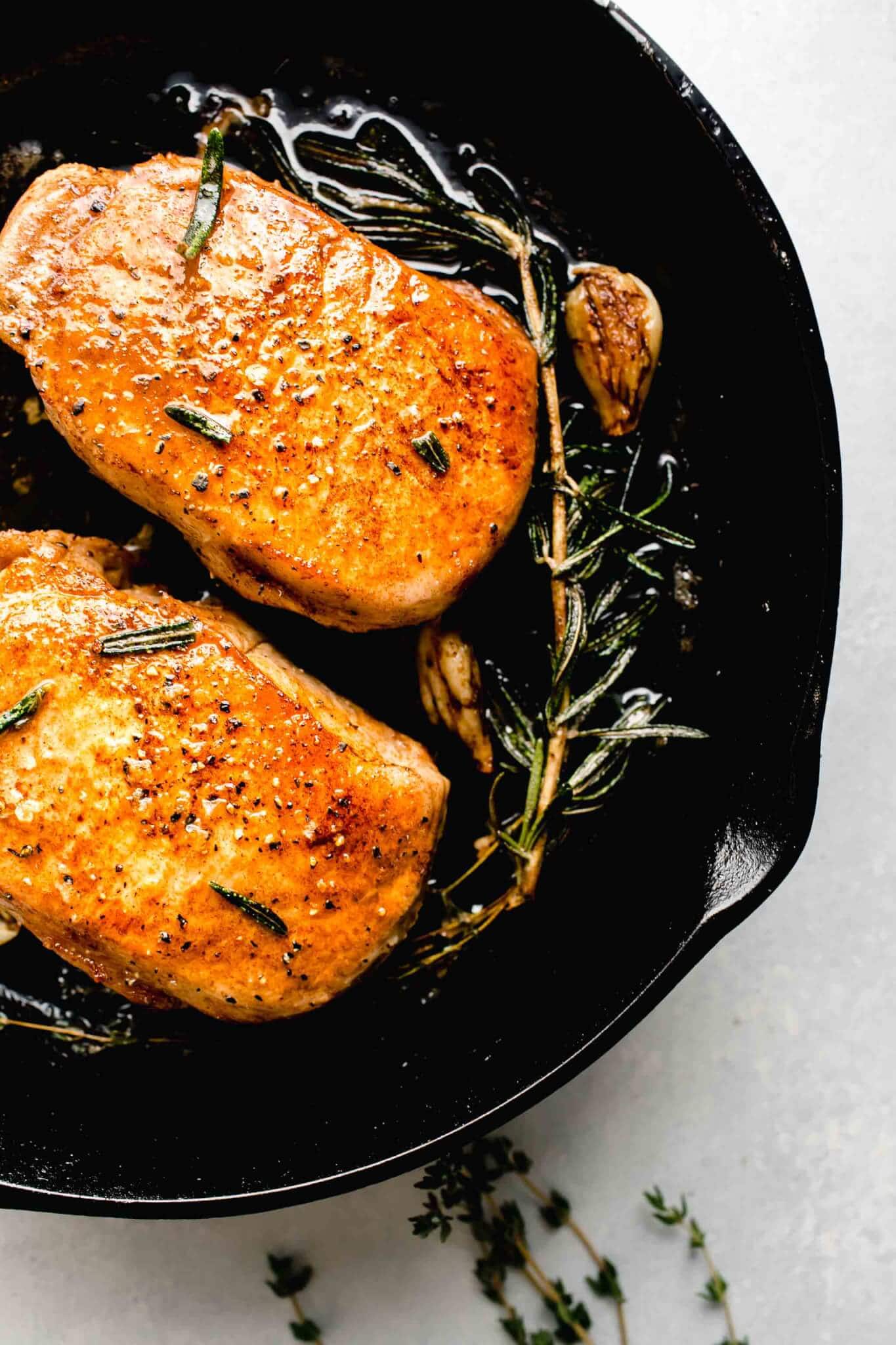 🍽 What to Serve with Them
Did You Make These Sous Vide Pork Chops?
If you loved this sous vide pork chop recipe I would appreciate it so much if you would give this recipe a star review! Also, be sure to snap a picture of your finished dish and share it with me on Instagram using the hashtag #platingsandpairings and tagging me @platingsandpairings.
For more great Platings & Pairings recipes, be sure to follow me on Pinterest, Facebook, YouTube and Twitter.
Sous Vide Pork Chops Recipe
Sous Vide Pork Chops – Juicy & delicious with no fear of overcooking. Cooking pork chops sous vide results in the most tender, flavorful pork you've ever tasted. 
Print
Pin
Ingredients
2

boneless pork chops

(1 ½ inches thick)

Salt & Pepper

1

Tablespoon

vegetable oil

( or canola oil)

2

Tablespoons

butter

3

smashed garlic cloves

(optional)

Fresh herbs

(Rosemary, Thyme, etc. (optional))
Instructions
Set sous vide to 140-degrees.

Slide the pork chops into a FoodSaver bag and seal using vacuum sealer. Alternatively, you can use the water displacement method.

Place the bag in the water bath, making sure not to block the intake or output sections of the sous vide, and cook for the desired time (1 to 4 hours).

Remove pork chops from bag and place on a paper towel-lined plate. Pat them very dry with paper towels then season again with salt and pepper.

Heat oil in a large cast iron skillet over high heat.

Once sizzling hot, add pork chops and sear for 30 seconds to 1 minute, until golden. Add butter and garlic and herbs (if using).

Flip the pork chops and cook for 30 seconds to 1 minute longer, while continually spooning the butter mixture over the chops. Remove from skillet and let rest 5 minutes before serving.
Notes
If cooking pork chops from frozen, add 1 hour to the cook time. 
You can easily double this recipe. The cook time will remain the same, but the amount of oil, butter and herbs & garlic used should be doubled as well. 
Nutrition
Calories:
368
kcal
|
Carbohydrates:
1
g
|
Protein:
29
g
|
Fat:
28
g
|
Saturated Fat:
16
g
|
Cholesterol:
120
mg
|
Sodium:
164
mg
|
Potassium:
500
mg
|
Sugar:
1
g
|
Vitamin A:
350
IU
|
Calcium:
9
mg
|
Iron:
1
mg
Watch the web story of me making sous vide pork chops.