Wondering what wines pair best with pork chops? Whether you're ordering out at a restaurant or cooking at home, these are the best pork chop wine pairings.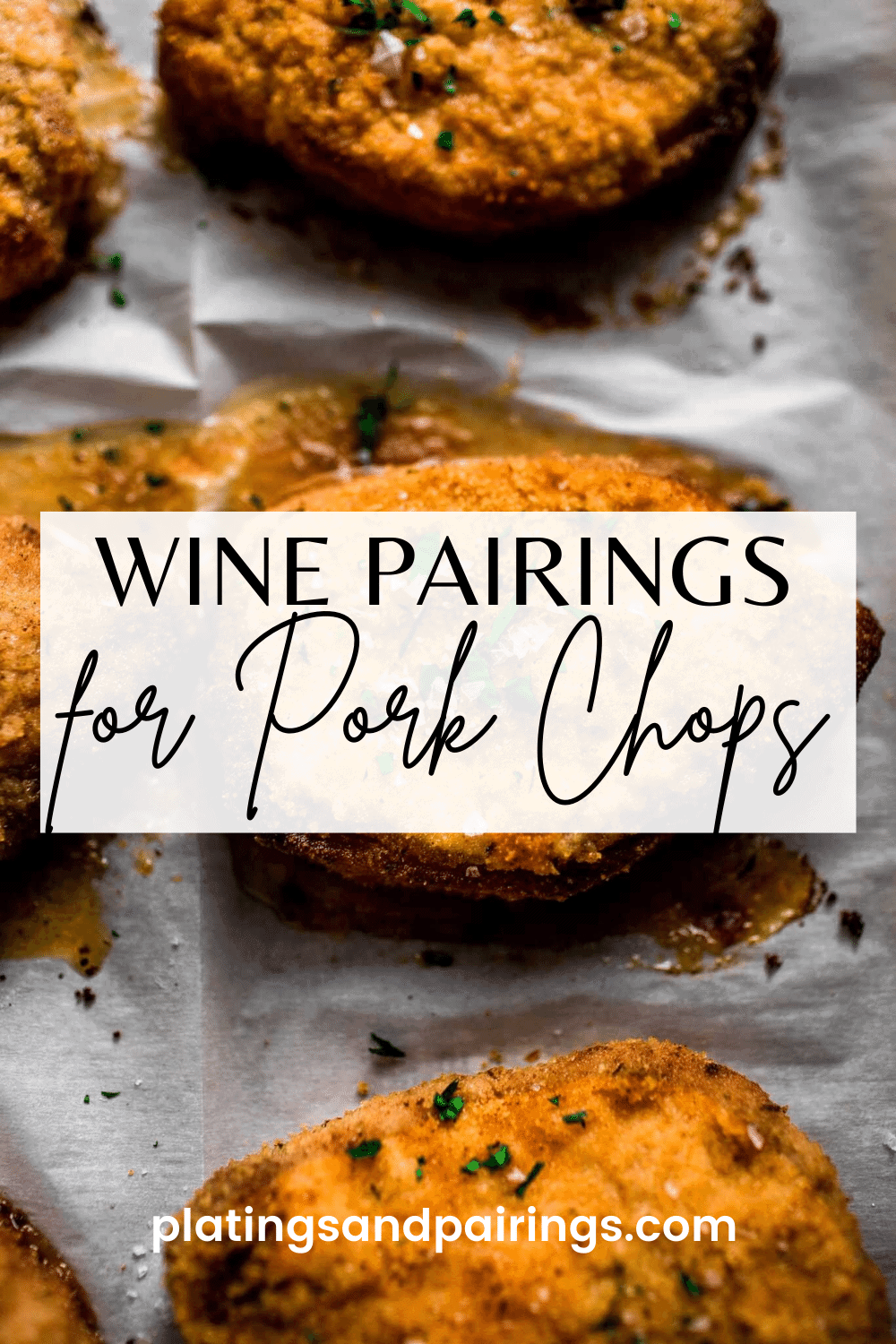 I'm all about a great pork chop dinner – Pork Chops with Cherry Sauce, Grilled Pork Chops with White BBQ Sauce or even this Pork Piccata all pair amazingly well with wine.
Wondering what kind of wine goes well with pork chops? I've got you covered!
Here are some of my favorite bottles of wine for pairing with pork.
First thing's first…
What Wine Goes with Pork Chops – Red or White?
The answer is – both! It depends on what type of wine you like, and the style in which your pork is prepared. For example, Pork Chops with Cherry Sauce pair really well with Pinot Noir. Whereas, Grilled Pork Chops with White BBQ Sauce, pair really well with a bright, acidic wine like an un-oaked Chardonnay or Rosé.
What Red Wine Goes Well With Pork Chops?
Barbera
Barbera is a red wine to try when you're looking for something a little lighter than a Cabernet. Ripe, dark berries and savory notes round out this wine. You can even try this wine chilled slightly, by sticking it in the fridge for 30 minutes before you plan to enjoy it.
Try it Paired With: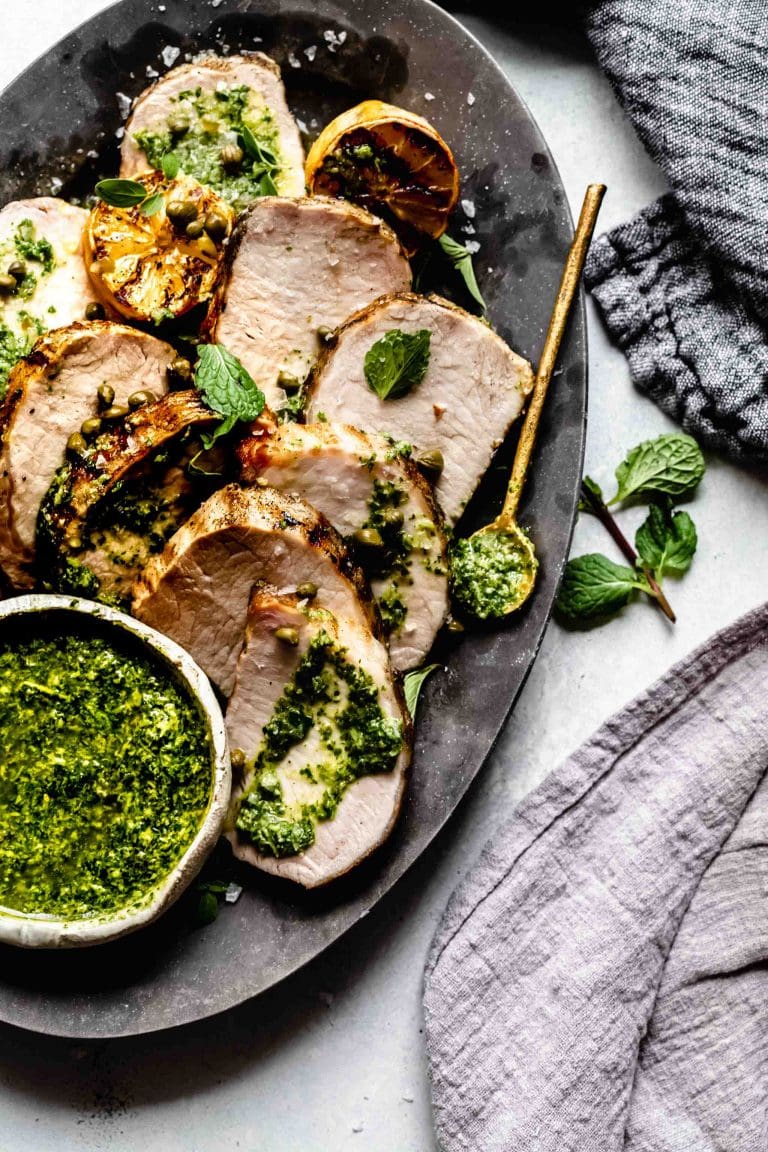 This Grilled Pork Tenderloin with Chimichurri is the perfect quick dinner for hot summer nights! You can grill this beautiful dinner and prepare the amazing sauce in just 30 minutes.
Get the RECIPE
Pinot Noir
Pinot Noir is one of the most food-friendly red wines out there. It's flavors are delicate enough to not overpower the food that you're eating it with and it makes a great match for pork. It's particularly tasty paired with smoked pork chops, because Pinot Noir has an earthy, smoky quality to it.
Try it Paired With:
These Pork Chops with Cherry Sauce are so delicious! This amazing dinner will be on your table in just 30 minutes.
Get the RECIPE
Zinfandel
When you're serving up something big and beefy at your barbecue, you're going to want a big red wine. Zinfandel has a silky characteristic to it that helps to tone down the in your face smokiness of certain grilled dishes.
Spanish Wine
Spanish wines are fun to play around with in the summertime. They're budget-friendly and pair exceptionally well with lighter meats. Look for Rioja, Tempranillo or Garnacha which will offer aromas of cherry, wood smoke and leather.
Try it Paired With:
Looking for an elegant dinner to serve over the holidays that's not your traditional turkey or ham? This Prosciutto Wrapped Pork Tenderloin is perfect for the occasion. Plus, it cooks in one baking pan alongside rosemary seasoned potatoes making it extra simple.
Get the RECIPE
Dry Rosé
Rosé is a fun, flirty wine, perfect for sipping on the patio. With aromas of strawberry, watermelon, and citrus, rosé has a good amount of acidity to it that stands a fattier cut of pork.
Try it Paired With: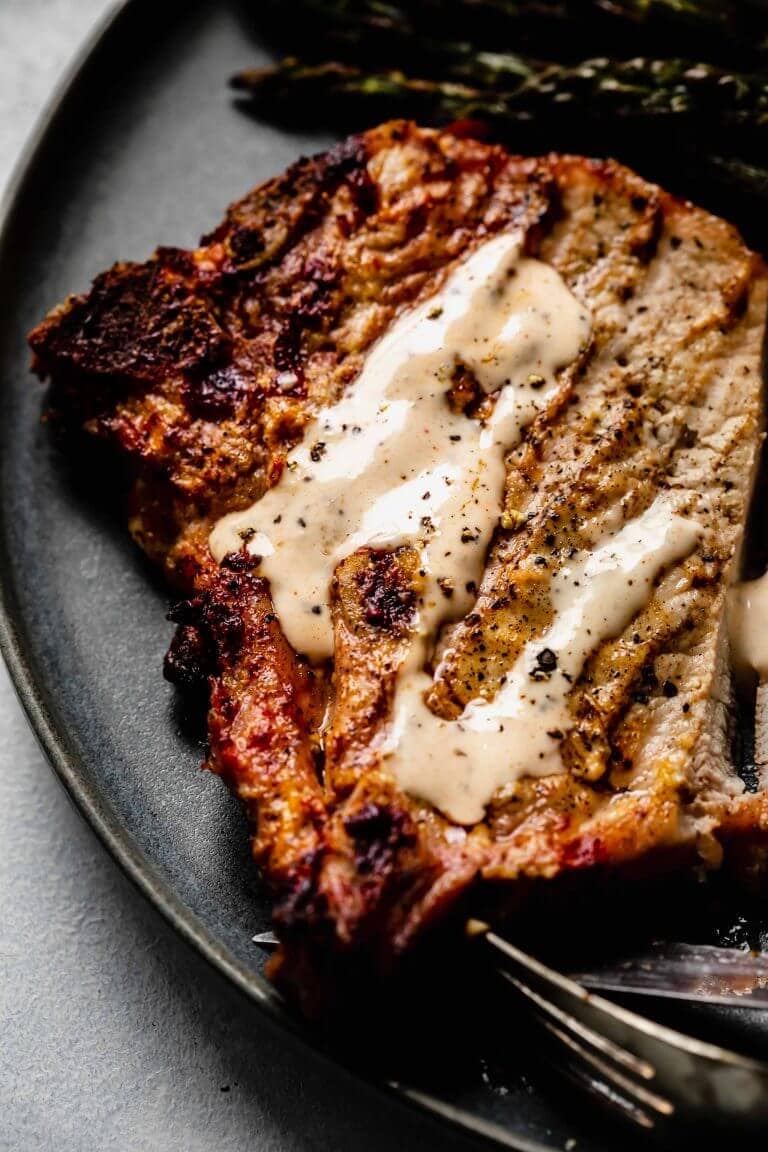 Grilled Pork Chops with White BBQ Sauce are rich, smokey and tangy. They make a delicious, quick and easy dinner that's sure to please.
Get the RECIPE
What Kind of White Wine Goes With Pork Chops?
Sparkling Wine
Much like a light beer, sparkling wines tame down the heat and liven up many grilled dishes. Look for affordable bottles like cava or prosecco. They're fun wines that bring a feeling of fancy to an otherwise casual get together.
Try it Paired With: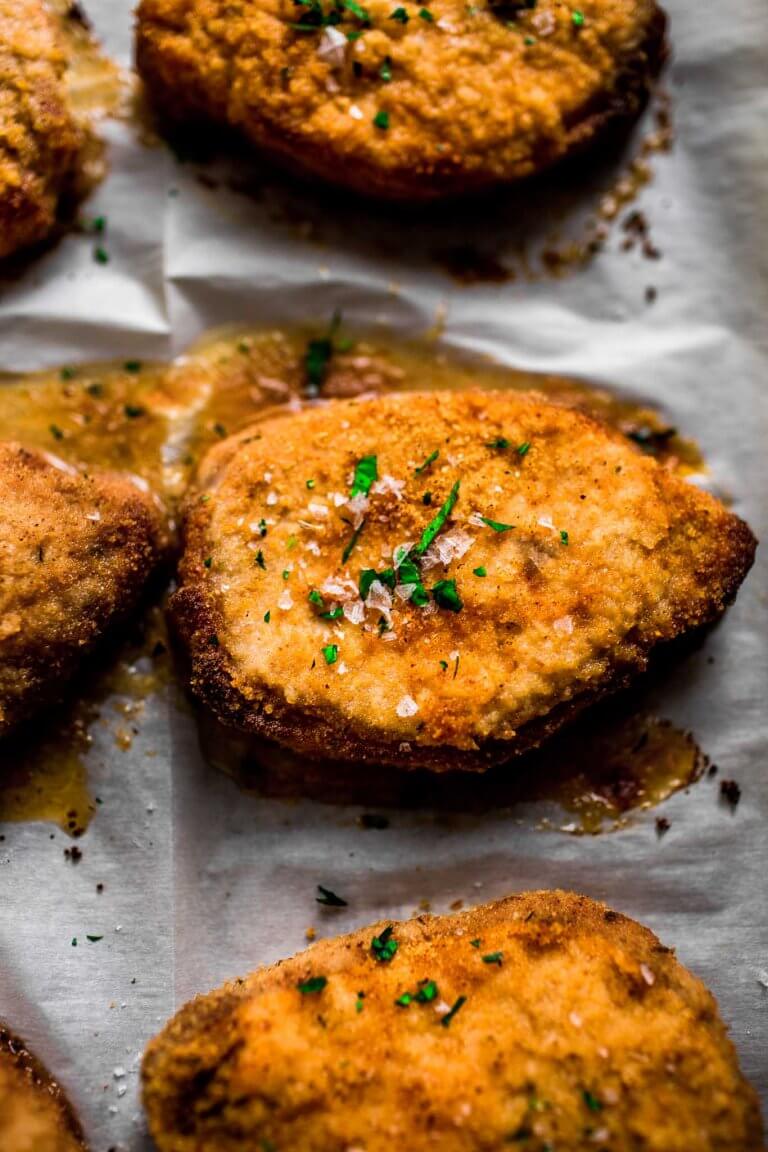 These Shake and Bake pork chops are a homemade of the classic dish you used to have as a kid. Pork chops are coated in a tasty breadcrumb mixture and baked until golden brown and delicious.
Get the RECIPE
Chardonnay
Chardonnay is great paired with pork dishes that have a bit of citrus flavor running through them – like this Mojo Pork or Pork Piccata.
Try it Paired With:
This 30 Minute Easy Pork Piccata makes a quick and easy weeknight dinner, but it's also elegant enough for a dinner party at home. The lemon, garlic, butter sauce will have you licking your plate every time!
Get the RECIPE
What is traditionally served with pork chops?
Please feel free to take these wine pairings suggestions with a grain of salt. Enjoy what you like best! You can pair your pork dinner with a Cabernet if that's what you enjoy. The only way to find out the very best pairing for yourself is to taste different wines, and experiment.
Did you try any of these Wine Pairings with Pork Chops?
If you tried any of these pork chop wine pairings, I would love your feedback! Also, be sure to snap a picture of your pairing and share it with me on Instagram using the hashtag #platingsandpairings and tagging me @platingsandpairings.
For more great Platings and Pairings recipes and wine pairings, be sure to follow me on Instagram, TikTok, Pinterest and Facebook.
More Wine Pairings Advice:
The BEST Wine Pairings with Pork Chops
Paired with Chardonnay, these Pork Chops with Dijon-White Wine Sauce are perfect for a quick weeknight dinner, but also elegant enough to serve at a dinner party.
Print
Pin
Ingredients
1

TBSP

Butter

1

TBSP

olive oil

2

in

Pork Chops

(bone-)

Salt

1

Onion

(sliced)

2

TBSP

Dijon Mustard

1

cup

White Wine

(I used Pinot Grigio)

1/2

Lemon

(juice only)

1

leaves

Thyme Sprig

(only)

1

Clove

Garlic

(grated or finely minced)
Instructions
Preheat oven to 350.

Heat butter and olive oil in a cast-iron skillet or other oven-safe pan over medium-high heat.

Use a paper towel to dry pork chops as much as possible, and season generously with salt and pepper. When oil and butter are hot, sear pork chops seasoned-side down in oil. Season top of pork chops and flip to sear. Remove pork chops.

Lower heat to medium-low and add onions. You may need to add a little more oil to the pan. Let onions sauté and slowly soften and brown, about 10-15 minutes. Once onions are soft and beginning to caramelize, remove from pan.

With pan over medium-low heat, carefully pour in cup of white wine and deglaze bottom of pan. Add Dijon mustard, thyme leaves, lemon juice, and garlic and stir to create a sauce.

Return pork chops and onions to pan and spoon sauce over pork chops. Place pan in oven to finish cooking, about 7-10 minutes depending on the thickness of your pork chops.

Remove from oven, serve pork chops with onions and sauce, and enjoy!
Nutrition
Calories:
257
kcal
|
Carbohydrates:
12
g
|
Protein:
2
g
|
Fat:
13
g
|
Saturated Fat:
4
g
|
Cholesterol:
16
mg
|
Sodium:
231
mg
|
Potassium:
223
mg
|
Fiber:
2
g
|
Sugar:
4
g
|
Vitamin A:
175
IU
|
Vitamin C:
19.6
mg
|
Calcium:
39
mg
|
Iron:
0.8
mg