Elevate your next backyard barbecue with these BBQ wine pairings. Here are seven amazing wines that pair well with grilled food.
Summer is here! I've been grilling on the regular and I've been on a mission to sample lots of different wines paired with grilled foods.
Most people associate BBQ and grilled foods with beer but did you know that wine pairs extremely well too?
Do you embrace wine with barbecue?
Wondering what wine goes with barbecue?
Here are some of my favorite bottles of wine for pairing with grilled foods of all kinds!
Be sure to check out my favorite side dishes for barbecue and sauces for ribs too!
Pinot Noir
Pinot Noir is one of the most food-friendly red wines out there. It's flavors are delicate enough to not overpower the food that you're eating it with and it makes a great match for seafood, poultry and red meat. It's particularly tasty paired with smoked meats because Pinot Noir has an earthy, smoky quality to it.
These Lemon Chicken Skewers cook up perfectly on the grill and are served with a side of Harissa Yogurt Sauce for extra flavor.
Get the RECIPE
Barbera
Barbera is another red wine to try when you're looking for something a little lighter than a Cabernet. Ripe, dark berries and savory notes round out this wine. You can even try this wine chilled slightly, by sticking it in the fridge for 30 minutes before you plan to enjoy it.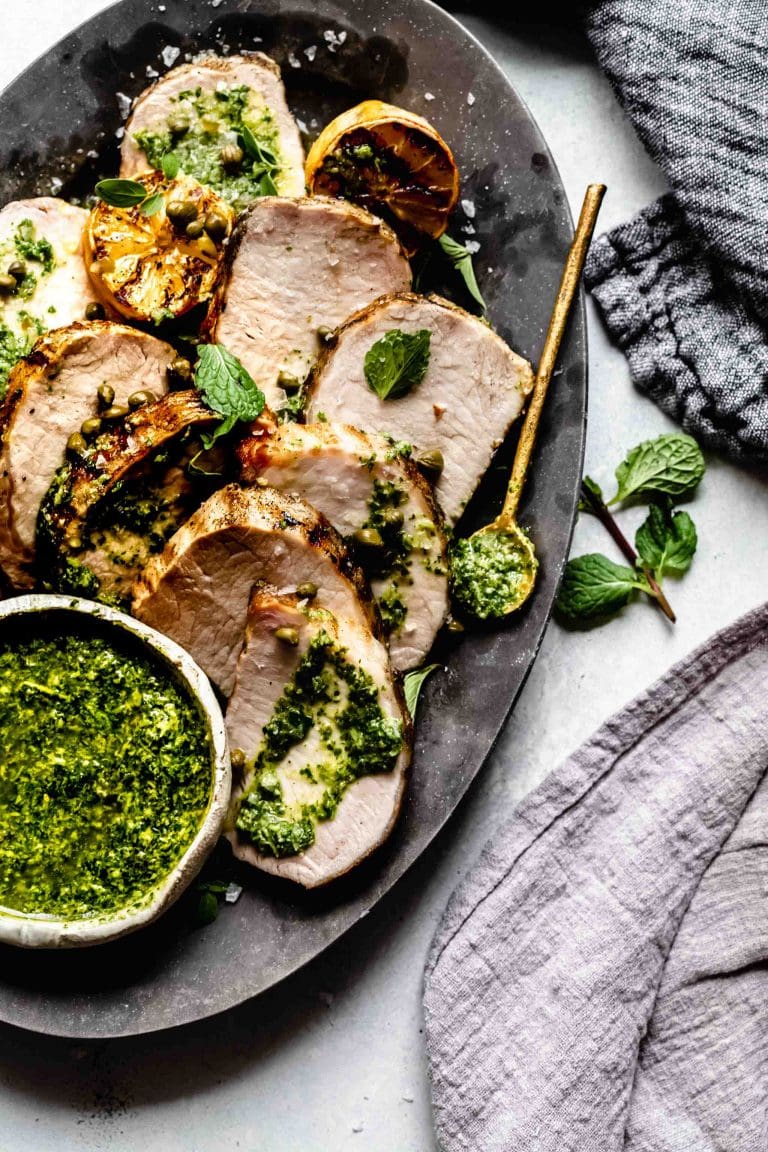 This Grilled Pork Tenderloin with Chimichurri is the perfect quick dinner for hot summer nights! You can grill this beautiful dinner and prepare the amazing sauce in just 30 minutes.
Get the RECIPE
Dry Rosé
Rosé is a fun, flirty wine, perfect for sipping on the patio. With aromas of strawberry, watermelon, and citrus, rosé has a good amount of acidity to it that stands up to grilled foods.
Like Pinot Noir, Rosé can pair with a wide variety of dishes from seafood to grilled pork. It's also a perfect match for veggie burgers or grilled turkey burgers.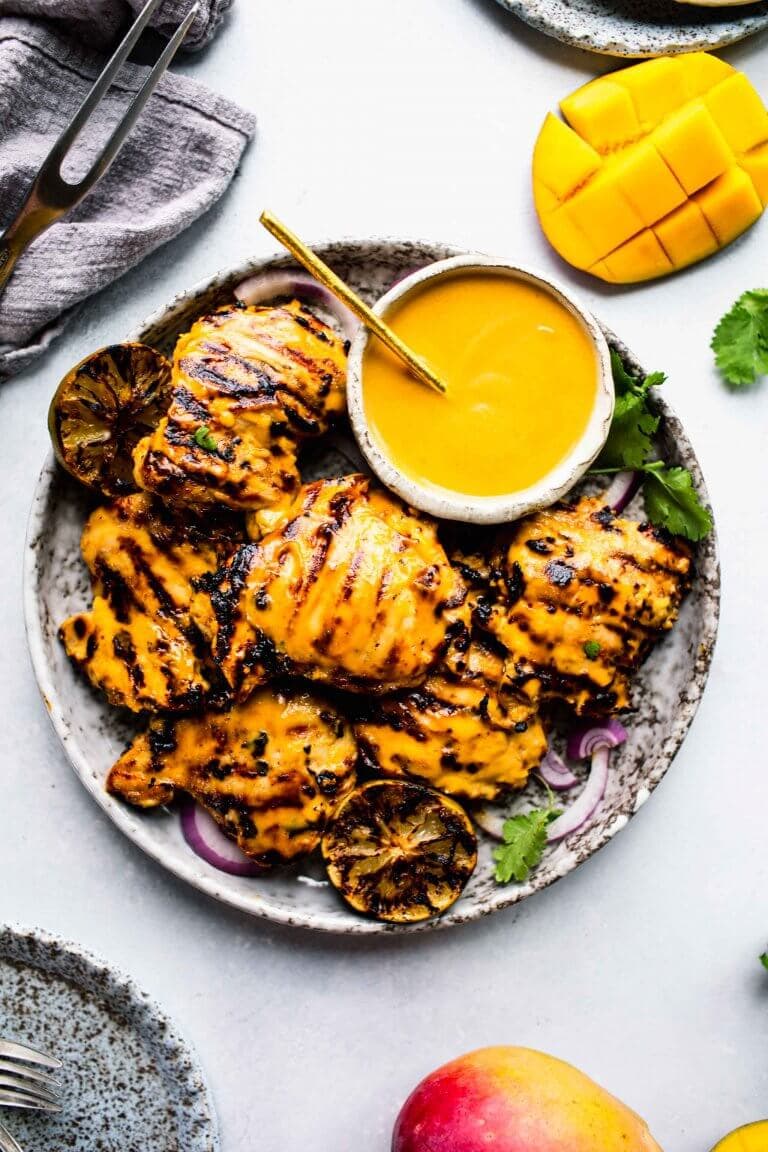 This Mango Grilled Chicken features a sweet and spicy mango lime marinade that caramelizes perfectly on a hot grill. Serve these chicken thighs at your next barbecue for an unexpected and tropical twist on your typical BBQ fare.
Get the RECIPE
Spanish Wine
Spanish wines are fun to play around with in the summertime. They're budget-friendly and pair exceptionally well with grilled meats. Look for Rioja, Tempranillo or Garnacha which will offer aromas of cherry, wood smoke and leather.
Peruvian Chicken with Creamy Green Sauce is packed with flavor and the perfect way to add some international flair to your next barbecue.
Get the RECIPE
Sparkling Wine
Much like a light beer, sparkling wines tame down the heat and liven up many grilled dishes. Look for affordable bottles like cava or prosecco. They're fun wines that bring a feeling of fancy to an otherwise casual get together.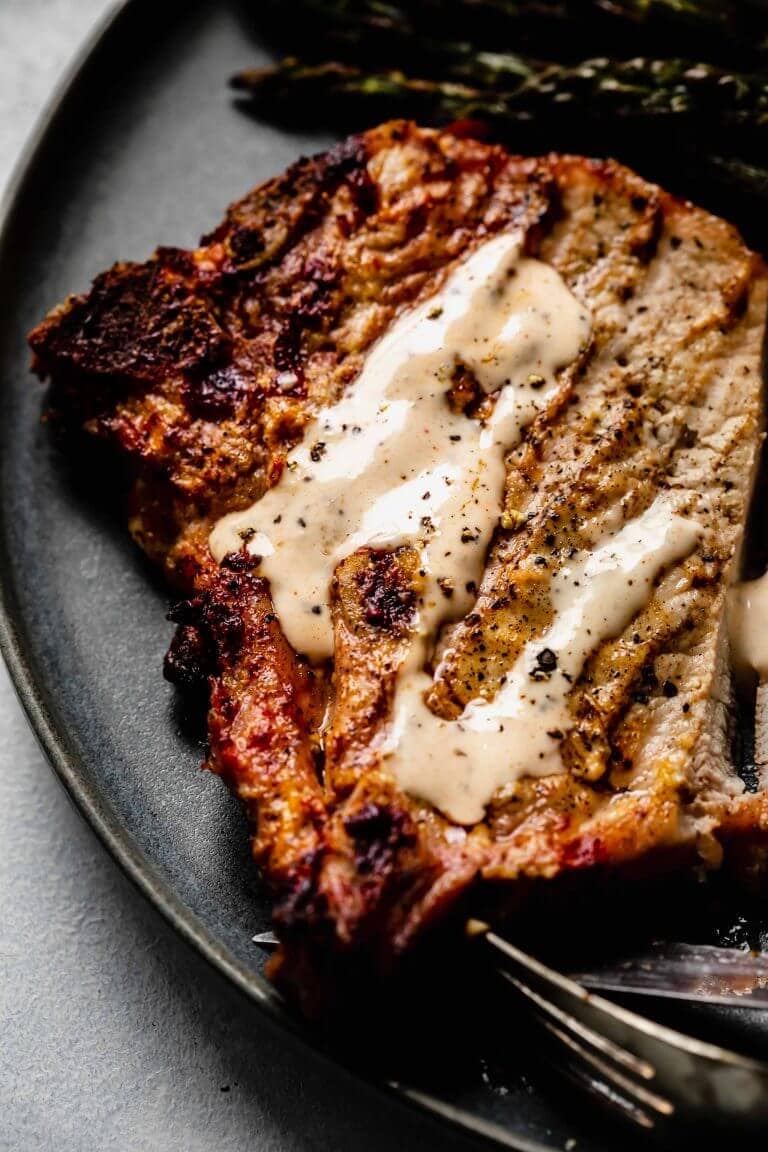 Grilled Pork Chops with White BBQ Sauce are rich, smokey and tangy. They make a delicious, quick and easy dinner that's sure to please.
Get the RECIPE
Red Blends
Red blends combining Cabernet Sauvignon, Malbec, Petit Verdot, Merlot, etc. are great all around BBQ pairing wines and I love them with a simple burger.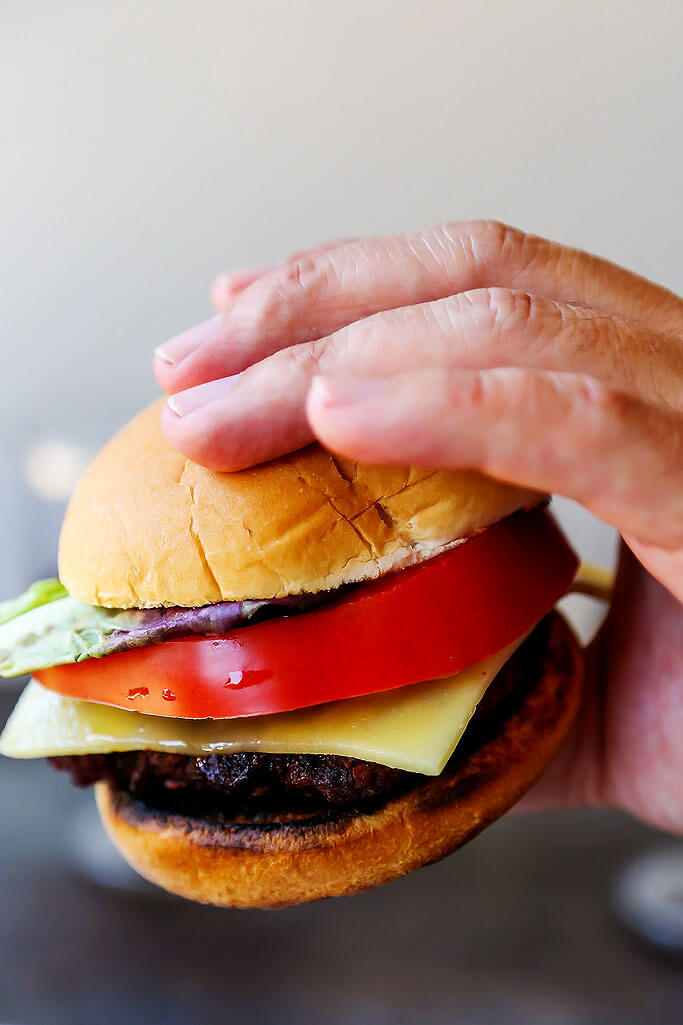 These Red Wine Burgers are a decadent treat for your summer BBQ. Seasoned with a red wine-shallot reduction, topped with melted cheese and served simply with a thick slice of tomato and lettuce. Yum!
Get the RECIPE
Zinfandel
When you're serving up something big and beefy at your barbecue, you're going to want a big red wine. Zinfandel has a silky characteristic to it that helps to tone down the in your face smokiness of certain grilled dishes.
These Lamb Chops with Spicy Peanut Sauce are perfect for your next BBQ. Rich, smoky grilled lamb pairs perfectly with the creamy, tangy Thai-style spicy peanut sauce. It's a delicious, quick and easy dinner.
Get the RECIPE