Grilled Lamb Chops with Peanut Sauce are perfect for your next BBQ. Rich, smoky grilled lamb pairs perfectly with the creamy, tangy Thai-style spicy peanut sauce. It's a delicious, quick and easy dinner.
I have a new obsession – And, no, it's not the newest season of Real Housewives of New York. It's my Big Green Egg! Have you heard of these things yet? They're big (or little) ceramic grills that are shaped like an egg (obviously) and are known to hold heat extremely well, add a great flavor to your foods, and are so easy to control the heat on that you can even bake a cake in them, like an oven. Big Green Eggs have a dedicated following of "Egg Heads" and I can now say that I've joined that group!
We've owned a traditional charcoal grill for years now, but I never was really that into cooking on it. It was hard to light, difficult to control the temperature, and the charcoal seemed to always burn off before I was done cooking. So, rather than grilling outside, more often than not I'd just whip out my grill pan and do my "grilling" inside, on the stove. But, with the Big Green Egg, I seriously grilled outside three times the first week I had it. My hair had a constant aroma of campfire-ness.
Today I'm going to share with you one of my favorite things that I grilled up:
Grille Lamb Chops with Peanut Sauce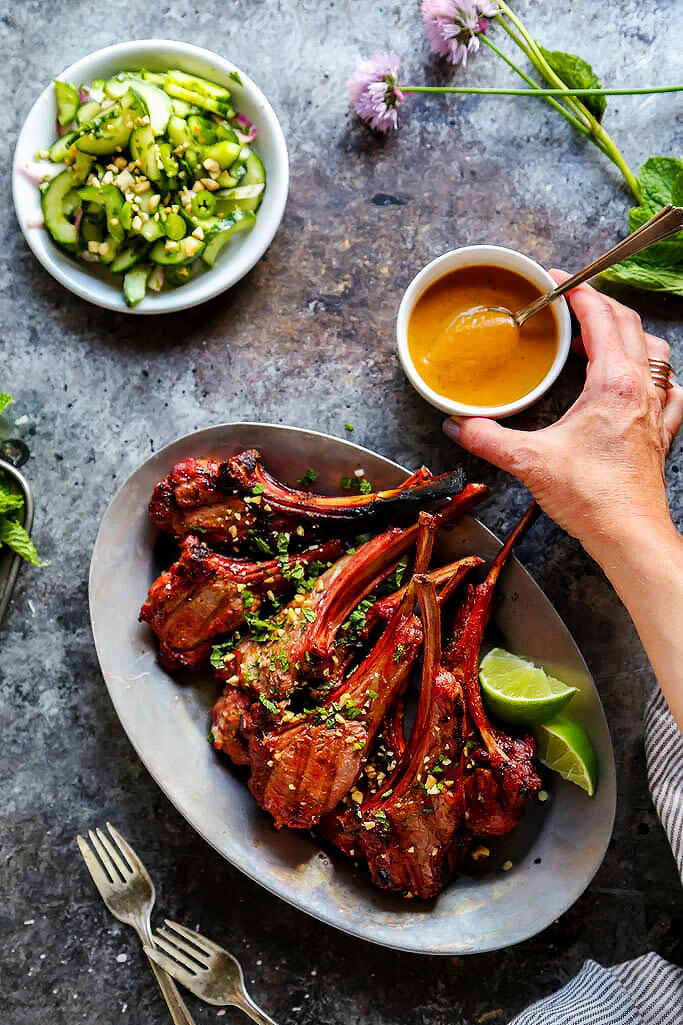 I had this beautiful rack of lamb chops in my fridge that was just begging to be cooked on that grill. I contemplated leaving it whole, but in the end, decided to cut it up into individual chops – thinking that it would cook faster that way and that each piece would get a great sear on it. Good decision! And, to add to those smoky chops I prepared a spicy peanut sauce.
You know that peanut satay sauce that you find served in Indian restaurants? It's creamy, spicy, tangy and maybe just a little bit sweet, and it's typically served with skewers of chicken. I thought it would be a perfect compliment to the lamb. Yep! They work really well together! My second time around grilling up the chops, I decided to rub a bit of the sauce onto the chops first, before placing them on the grill – The sweet, nutty sauce caramelizes perfectly on that hot grill and adds even more flavor right from the get go.
On the side, I served up a thai-style cucumber salad topped with chopped peanuts. Like the peanut sauce, the cucumber salad is a bit tangy, with a hint of sweetness and some good acidity – It's the perfect match for those juicy, grilled lamb chops.
I'd say that these Lamb Chops with Peanut Sauce make the perfect summer meal – They're quick to prepare and definitely easy to devour!
What to Serve with Grilled Lamb Chops:
Wine Pairings for Lamb Chops:
Malbec with medium body and smooth tannins makes an excellent pairing for the rich lamb chops.
Petite Sirah is another great match. With its typical flavors of plum, raspberry, blackberries, and black pepper it lends itself wonderfully to stronger flavored meats, such as lamb.
Syrah is another wine that will stand up nicely to these lamb chops and the spices going on in the peanut sauce.
Grilling Recipes: 
If you loved this Grilled Lamb Chops recipe I would appreciate it so much if you would give it a star review! Also, be sure to snap a picture of your finished dish and share it with me on Instagram using the hashtag #platingsandpairings and tagging me @platingsandpairings.
For more great Platings and Pairings recipes, be sure to follow me on Pinterest, Facebook, YouTube and Twitter.
Grilled Lamb Chops Recipe
Lamb Chops with Peanut Sauce
These Lamb Chops with Spicy Peanut Sauce are perfect for your next BBQ. Rich, smoky grilled lamb pairs perfectly with the creamy, tangy Thai-style spicy peanut sauce. It's a delicious, quick and easy dinner.
Print
Ingredients
8

1-inch thick

loin lamb chops

(about 2 pounds)

Fresh mint

chopped (for garnish)

Roasted peanuts

chopped (for garnish)
Peanut Sauce:
2

garlic cloves

1/4

cup

cilantro leaves

1/2

cup

peanut butter

2

tablespoons

avocado or canola oil

2

tablespoons

sriracha

1

lime

juiced

1

tablespoon

fish sauce

1

tablespoon

soy sauce

2

teaspoons

brown sugar
Cucumber Salad
1/4

cup

fresh lime juice

1

tablespoon

fish sauce

1

tablespoon

sugar

2

serrano peppers

thinly sliced

1

garlic clove

finely chopped or grated

2

tablespoons

avocado or canola oil

3

English cucumbers—halved lengthwise

seeded and thinly sliced

1/2

cup

cilantro

chopped

1/2

cup

roasted peanuts

chopped

1/2

small red onion

thinly sliced

Kosher salt

to taste
Instructions
Cucumber Salad:
In a small bowl, whisk the lime juice with the fish sauce, sugar, chiles, garlic and oil. In a large bowl, toss the cucumbers, cilantro, peanuts and onion. Add the dressing and toss to coat. Refrigerate until ready to serve.
Peanut Sauce:
In a food processor or blender combine all ingredients and process until smooth. Spread 1/4 cup of the paste over the lamb chops and season with salt and pepper.
In a saucepan, whisk remaining peanut sauce with 1/4 cup water. Warm the sauce over medium-low heat.

Light a grill or preheat a grill pan to medium-high heat. Grill the chops for 4 minutes per side, or until an instant-read thermometer inserted in the thickest part of a chop registers 125° to 130° for medium-rare. Transfer the chops to a platter. Spoon some warm peanut sauce over the lamb chops and sprinkle with mint and chopped peanuts, if desired. Offer remaining peanut sauce on the side and serve with Cucumber Salad.
Nutrition Facts
Lamb Chops with Peanut Sauce
Amount Per Serving
Calories 867
Calories from Fat 540
% Daily Value*
Fat 60g92%
Cholesterol 149mg50%
Sodium 1527mg66%
Potassium 1354mg39%
Carbohydrates 24g8%
Protein 61g122%
Vitamin A 395IU8%
Vitamin C 24.3mg29%
Calcium 99mg10%
Iron 5.5mg31%
* Percent Daily Values are based on a 2000 calorie diet.