Wondering what the best sauces for ribs are? I've got you covered with this handy guide. From this classic barbecue sauce recipe to white sauce, and more.
Ribs + an Amazing Sauce = PERFECTION!
When serving ribs for dinner, there are 4 essentials:
Napkins. Lots of napkins. Especially if saucy ribs are involved.
Some really stellar side dishes for ribs.
Wine. Here are 7 bottles that pair perfectly with barbecue.
And, of course, a delicious sauce recipe!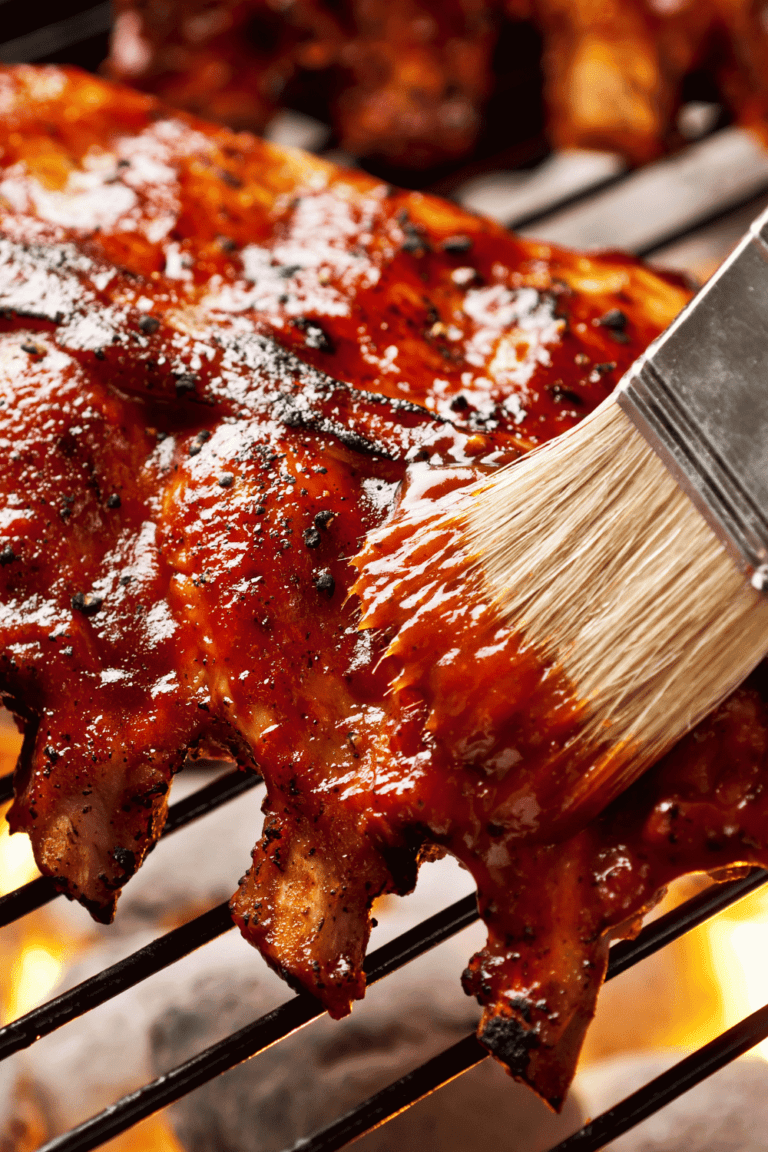 These are some of my favorite sauces to serve with spare ribs, smoked beef short ribs, and pork ribs. And the good news is they're easy to make too!
So, skip the store-bought barbecue sauce, and try something new this barbecue season.
Pair your sauced up ribs with a with a couple rib side dishes, find a bottle of wine that's perfect with BBQ ribs, and you're guaranteed an amazing meal!
Let's dig in!
The BEST Sauces for Ribs
How to Make Ahead and Store
Many of these rib sauce recipes can be made ahead of time and stored in an airtight container the refrigerator for a few days or even in the freezer. Simply check the individual recipes for full storing instructions and details on how to make ahead.
How to Sauce Ribs
For the best results, according to the Kitchn, it's best to sauce your ribs at the end of the cooking process, about 10-15 minutes before they're done. Or, Amazing Ribs suggests that you can even sauce your ribs up to 30 minutes before they're done if the cooking temperature is 225-degrees or lower.
After cooking, let the ribs rest on a piece of aluminum foil or a cutting board for a few minutes to let the juices redistribute and allow the sauce to soak in even further.
You can also simply grill your ribs with a dry rub and serve your BBQ sauce as a dipping sauce for the ribs.
More Sauce Recipes
What Side Goes Good with Ribs?
What Seasoning Goes Good on Ribs?
Salt + Black Pepper
Garlic Powder + Onion Powder
Paprika
Cumin
Chili Powder
Cayenne Pepper
Dark Brown Sugar
Did you Make Any of These Sauces for Ribs?
Please leave a comment and rating below, if you loved this round up of sauce recipes for ribs Also, be sure to snap a picture of your finished dish and share it with me on Instagram using the hashtag #platingsandpairings and tagging me @platingsandpairings.
HUNGRY FOR MORE? For more great Platings & Pairings recipes, be sure to follow me on Pinterest, TikTok, Facebook, YouTube and Twitter.