Want to learn about the best wine pairings with steak? I've got you covered.
I'm all about a great steak dinner – Steak Diane, sous vide filet mignon, ribeye steak or even these steak bites all pair amazingly well with wine
The type of wine you choose will determine on how your steak is prepared and what steak sauce you might be serving with it.
So keep reading to learn more about the best steak + wine pairings.
Also, when planning your dinner, be sure to check out 50+ of the best sides for steak and these yummy sauces for steak!
The TOP 5 BEST Wine With Steak Pairings
Cabernet is a big, bold wine with red and black fruit flavors.
There are a huge number of cabernets available, and they usually have an approachable, balanced flavor. Cabernets have a high acidity that cuts through fatty, hearty cuts like a ribeye steak.
The tannins also help balance out the fattiness that lingers on the palate.
Cabernet grapes are grown all around the world, with some of the best coming from the Napa Valley. France and Chile are also a good choice and produce lovely wines.
The most basic difference between Syrah and Shiraz is where they're from. Syrah is from France, and Shiraz is from Australia.
French Syrah wines, coming from a more moderate climate like the Rhone Valley, tend to be high in acidity and tannins, with a rich, peppery flavor.
Australian Shiraz comes from a hotter climate, and tends to be more fruity, round, and less tannic.
Malbec
Malbec is a bold red wine, with a dark and inky color and a rich flavor profile full of velvety tannins.
It tends to have a more fruity profile, with juicy notes of citrus and other fruits. Malbec is a great choice to accompany a more lean cut of steak, such as a filet or a flank steak.
While you can eat Malbec with a fattier cut like ribeye, its richness may overwhelm the flavor of the meat.
Some of the best Malbec wines come from Argentina. But, France and California also produce some amazing wines.
Pinot Noir is much lighter bodied than other red wines like Cabernet, Zinfandel and Syrah.
Earthier, more tannic Pinot Noir wines, like those from Oregon, pair well with lighter cuts of steak like filet mignon and flank steak.
Zinfandel is a great choice if you tend to enjoy sweeter red wines, rather than acidic and "dry" wines, like Cabernet Sauvignon and Syrah, which are heavy in tannins and other flavor compounds.
Zinfandel is great paired with spicy, zesty steak dishes like this Mongolian Beef.
Its characteristically bold spiciness and high acidity make it a fitting match for a ribeye.
The sweetness will help counterbalance the spice, and clear your palate between each bite.
Things to Consider
Fattiness: Fattier cuts of steak pair better with full-bodied wines like Cabernet and Syrah. Whereas leaner steaks like filet mignon, pair well with lighter red wines, like Pinot Noir.
Seasoning: Heavily seasoned or spiced steaks (like peppercorn steak) should be paired with a more light, sweet and fruity wine, like Zinfandel. However, steaks flavored with sweet ingredients, like Steak Diane, should be accompanied by a drier wine, like Malbec.
Sauces: If you plan on enjoying your steak with a rich sauce like béarnaise or bordelaise, a full-bodied, high-tannin red, such as a Cabernet Sauvignon or Malbec, is a good choice as the sauce will help balance out the intensity of the wine's mouthfeel.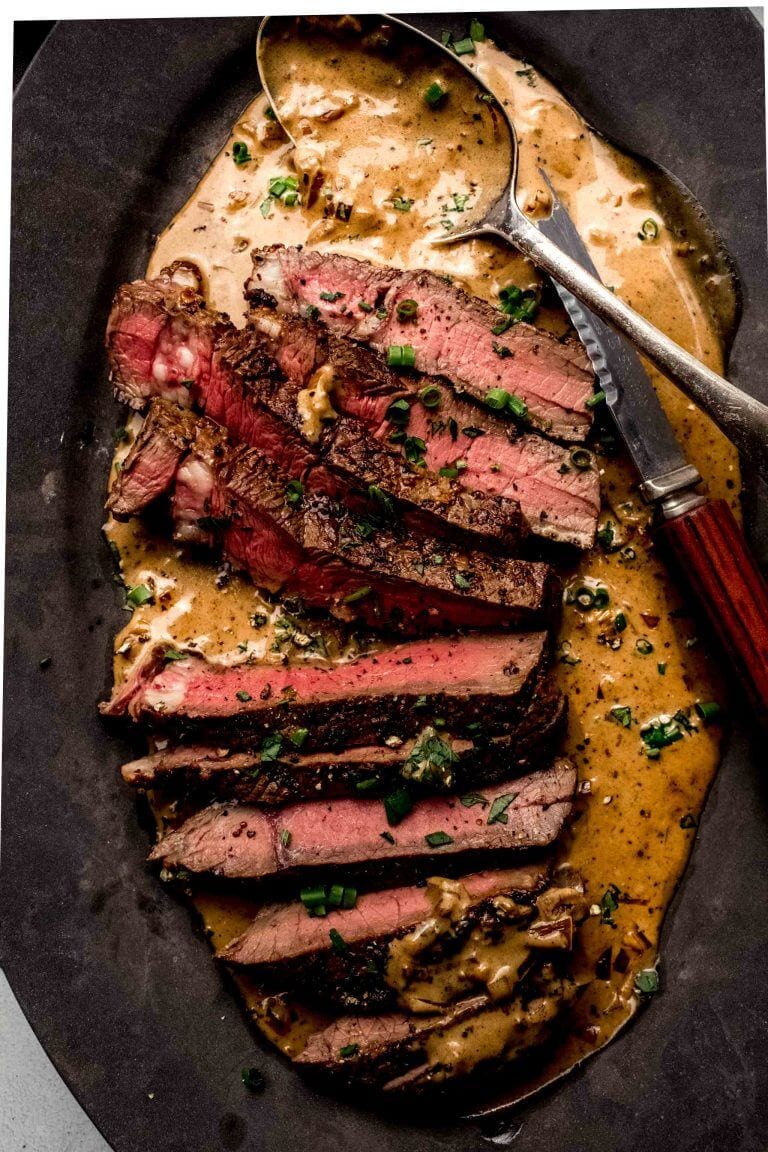 Cuts of Steak
The type of steak you are enjoying will determine which wine pairs best. In general, fattier cuts pair better with full-bodied wines and leaner steaks pair well with lighter red wines.
Best wine with New York strip
Best wine with porterhouse steak
Best wine with ribeye
Please feel free to take these suggestions with a grain of salt. Enjoy what you like best! You can even pair steak with a white wine if that's what you enjoy. The only way to find out the very best steak and wine pairing for yourself is to taste different wines, and experiment.
Did you try any of these Steak Wine Pairings?
If you tried any of these steak wine pairings, I would love your feedback! Also, be sure to snap a picture of your pairing and share it with me on Instagram using the hashtag #platingsandpairings and tagging me @platingsandpairings.
For more great Platings and Pairings recipes and wine pairings, be sure to follow me on Instagram, TikTok, Pinterest and Facebook.
More Wine Pairings Advice:
5 BEST Wine + Steak Pairings
Steak Diane is a classic recipe that tops your favorite steak with a sauce made with cream, cognac, shallots, beef stock, dijon mustard, and Worcestershire sauce. It's perfect for special occasions but also quick & easy enough for weeknight dinners.
Print
Pin
Instructions
Heat butter and oil in a large skillet over medium-high heat. Lightly season steaks with salt and pepper, and add to skillet; cook, about 4-5 minutes per side, until browned and cooked to desired doneness. When the steaks are done, move to a plate and tent with foil.

Return the skillet to medium-high heat and sauté the shallots for 1-2 minutes, until softened.

Add the cognac and cook until the cognac is almost evaporated, about 2 minutes, scraping any browned bits from the bottom of the skillet.

Stir in the broth and bring to a boil over high heat. Cook until thickened, about 2-3 minutes.

Stir in the cream and cook for 2 minutes.

Stir in dijon mustard and Worcestershire, and then return steaks and any accumulated juices to skillet; cook, turning in sauce, until warmed through, about 3 minutes.

Transfer steak to serving plates and stir parsley and chives into sauce. Season with salt and pepper to taste. Pour sauce over steaks and serve.
Nutrition
Calories:
339
kcal
|
Carbohydrates:
4
g
|
Protein:
3
g
|
Fat:
28
g
|
Saturated Fat:
14
g
|
Trans Fat:
1
g
|
Cholesterol:
70
mg
|
Sodium:
180
mg
|
Potassium:
204
mg
|
Fiber:
1
g
|
Sugar:
2
g
|
Vitamin A:
761
IU
|
Vitamin C:
1
mg
|
Calcium:
40
mg
|
Iron:
1
mg