This copycat recipe for PF Chang's Mongolian Beef makes it simple to make your favorite takeout dish at home.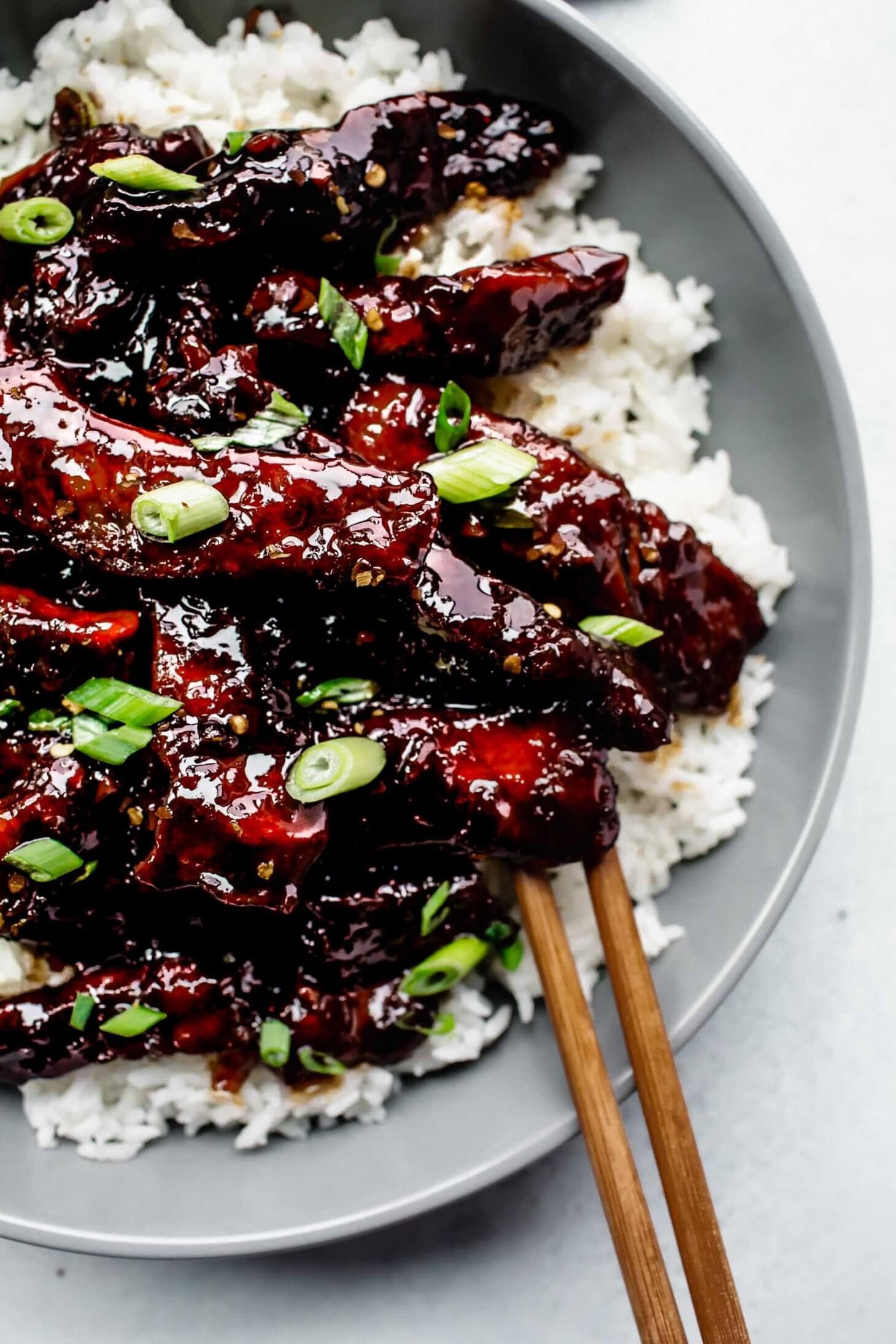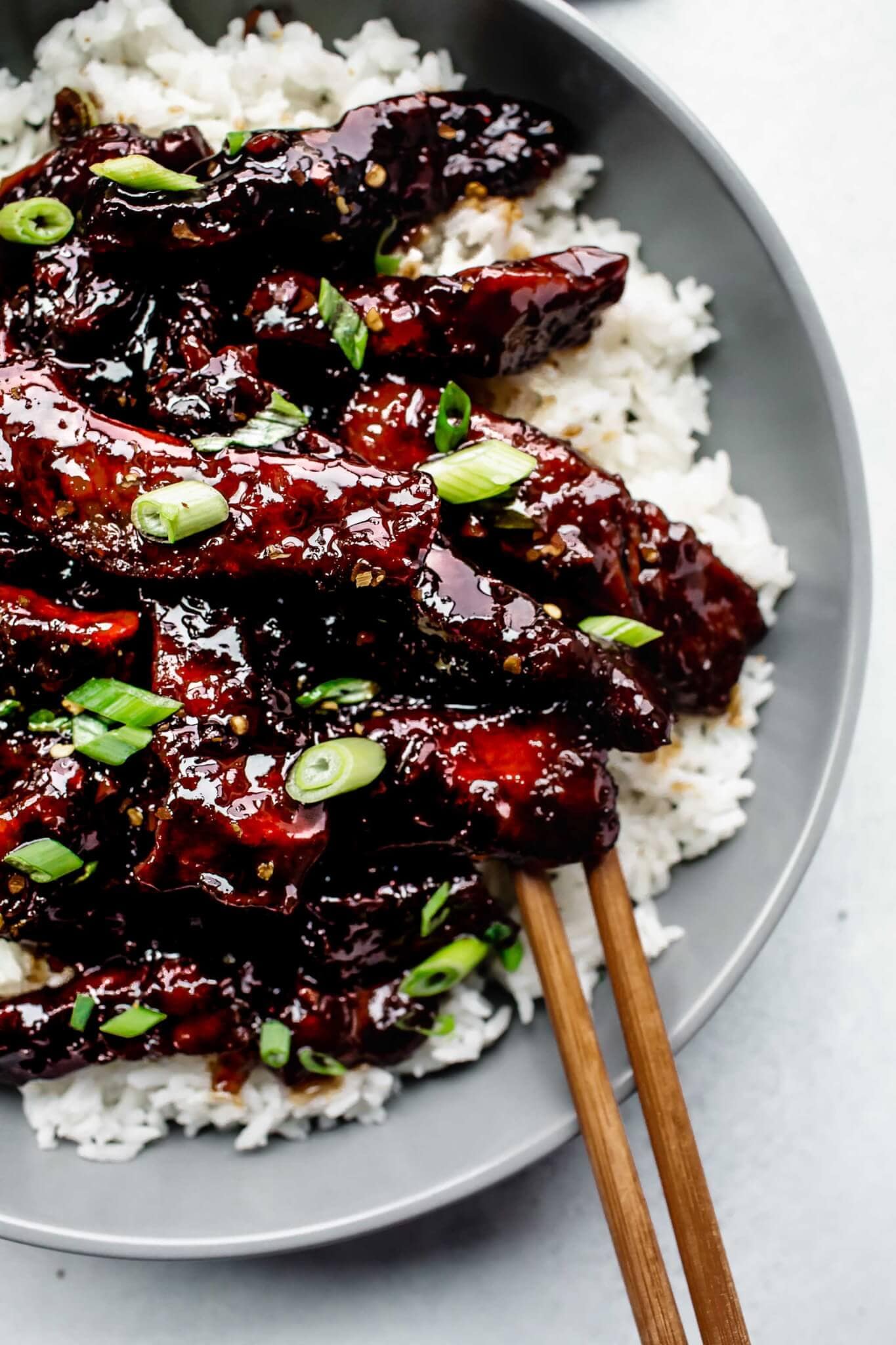 If you love this recipe, be sure to try my Mongolian Chicken and Mongolian Meatballs too!
I talked in this recent post of my FOF (fear of frying) and how I vowed to overcome that fear. With this recipe, I have taken on that challenge. Crispy fried strips of beef (so crispy!) with a delicious, thick, sweet sauce.
The color is so lovely and the flavors so great. I could NOT wait to devour the leftovers the next day.
It really turned out to not be that scary. My fears of the batter not sticking and the meat being raw inside were tackled with a couple of simple steps.
First, I started with my beef. Placing it in the freezer for 15 minutes really helps firm up the steak so that you can get a nice, thin slice. I figured that with slices this thin, it's really hard to not fully cook the meat even with just a quick frying. Check one!
Second, my method for coating the strips in cornstarch, really seemed to work quite well. I poured the cornstarch into a large Ziploc bag, added my beef, and shook until the pieces were well coated.
I then poured the strips out into a large mesh strainer set over the sink and shook further to get all of the excess cornstarch off of the pieces (you could also use a colander). They turned out to be evenly coated but not overly covered in the cornstarch. Check two – No excess batter to fall off!
Fry these pieces in batches so that they're in a single layer, flipping once or twice, to brown evenly on both sides. These crispy bites of goodness are then tossed with the yummy sauce until they're beautifully coated. A perfect accompaniment to a bowl of instant pot rice or rice cooker rice.
Sprinkle some green onions on top for added flavor and break out those chopsticks!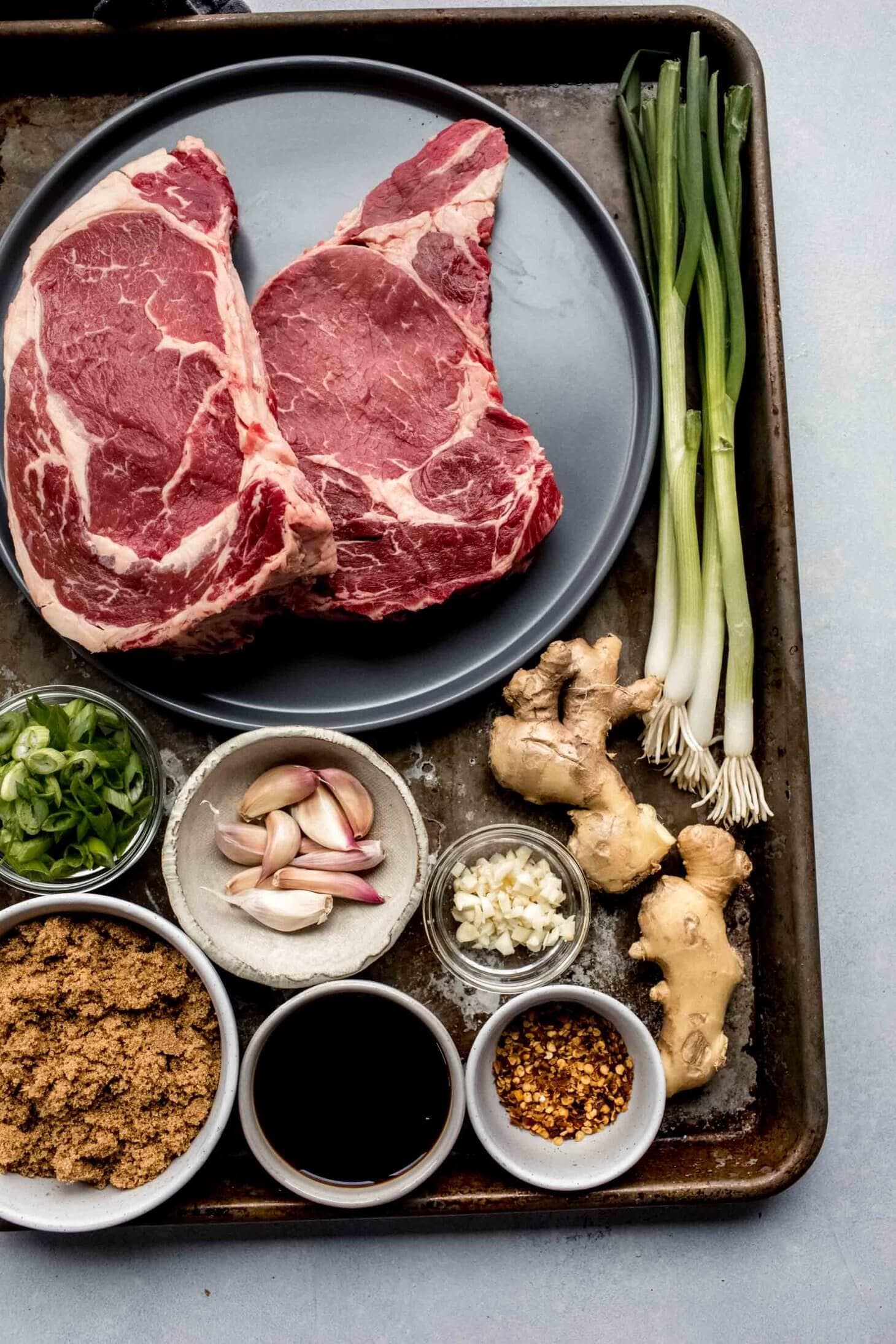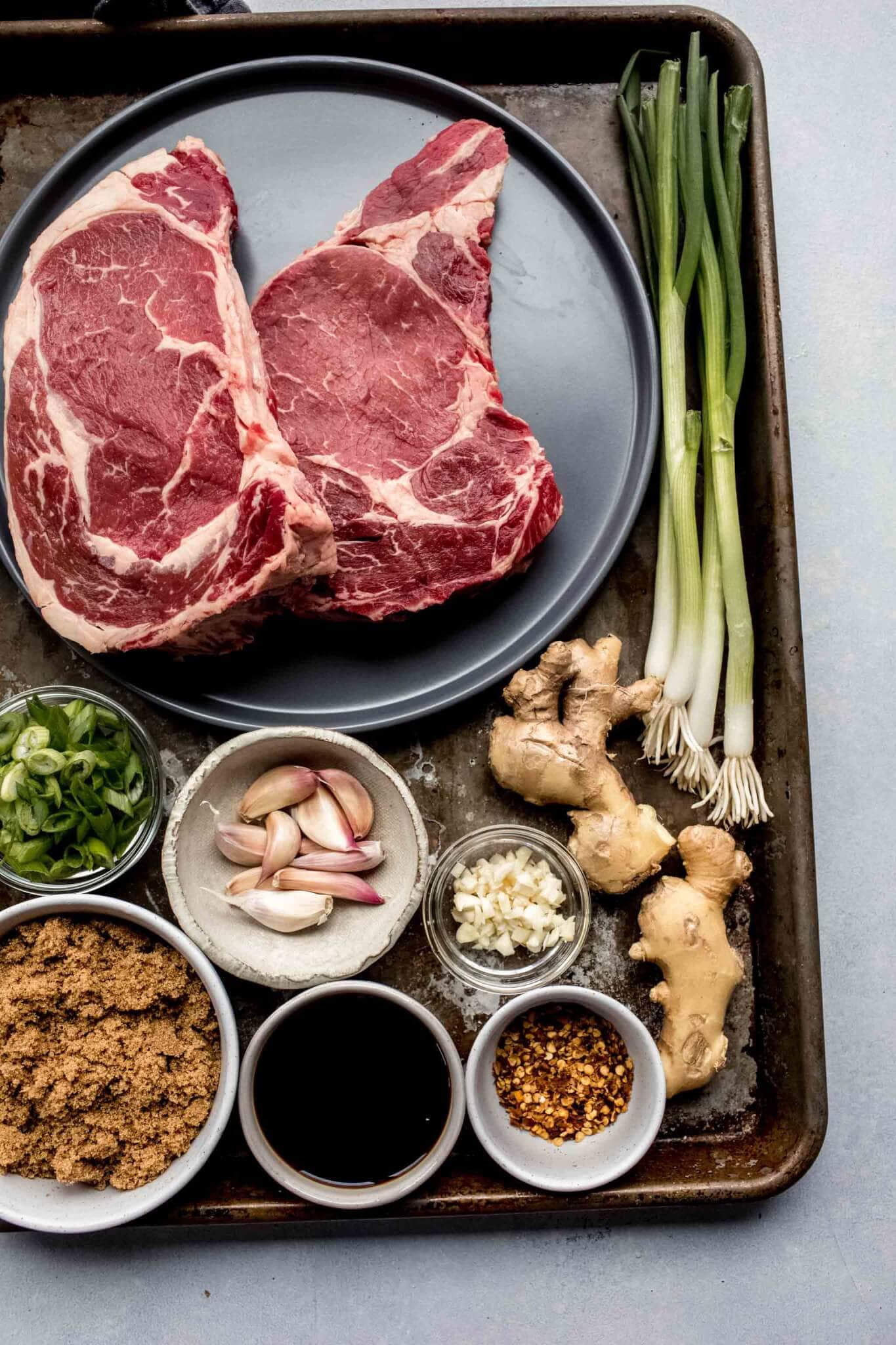 Ingredients needed
NY strip steak – Or, ribeye steak or flank steak.
Cornstarch
Soy Sauce – Be sure to use low sodium soy sauce or the sauce will be too salty.
Brown Sugar
Vegetable Oil
Garlic
Ginger
Rice Wine Vinegar
Red Pepper Flakes
How to make PF Chang's Mongolian Beef
Place your beef in the freezer for 15 minutes before slicing. It will firm it up and make it easy to get thin slices.
Pour cornstarch into a large ziploc bag and add your beef slices. Shake to coat them evenly then pour them into a colander and shake off any excess cornstarch.
Use a hot pan. You want the beef to cook quickly and get nice and crispy on the outside. To test if your oil is hot enough, add a small drop of water to your skillet or wok. It should sizzle up immediately. Be careful: The water will splatter a bit.
Don't overcrowd the pan. If the beef is crowded in the skillet, it will steam rather than become crispy. Work in batches as needed.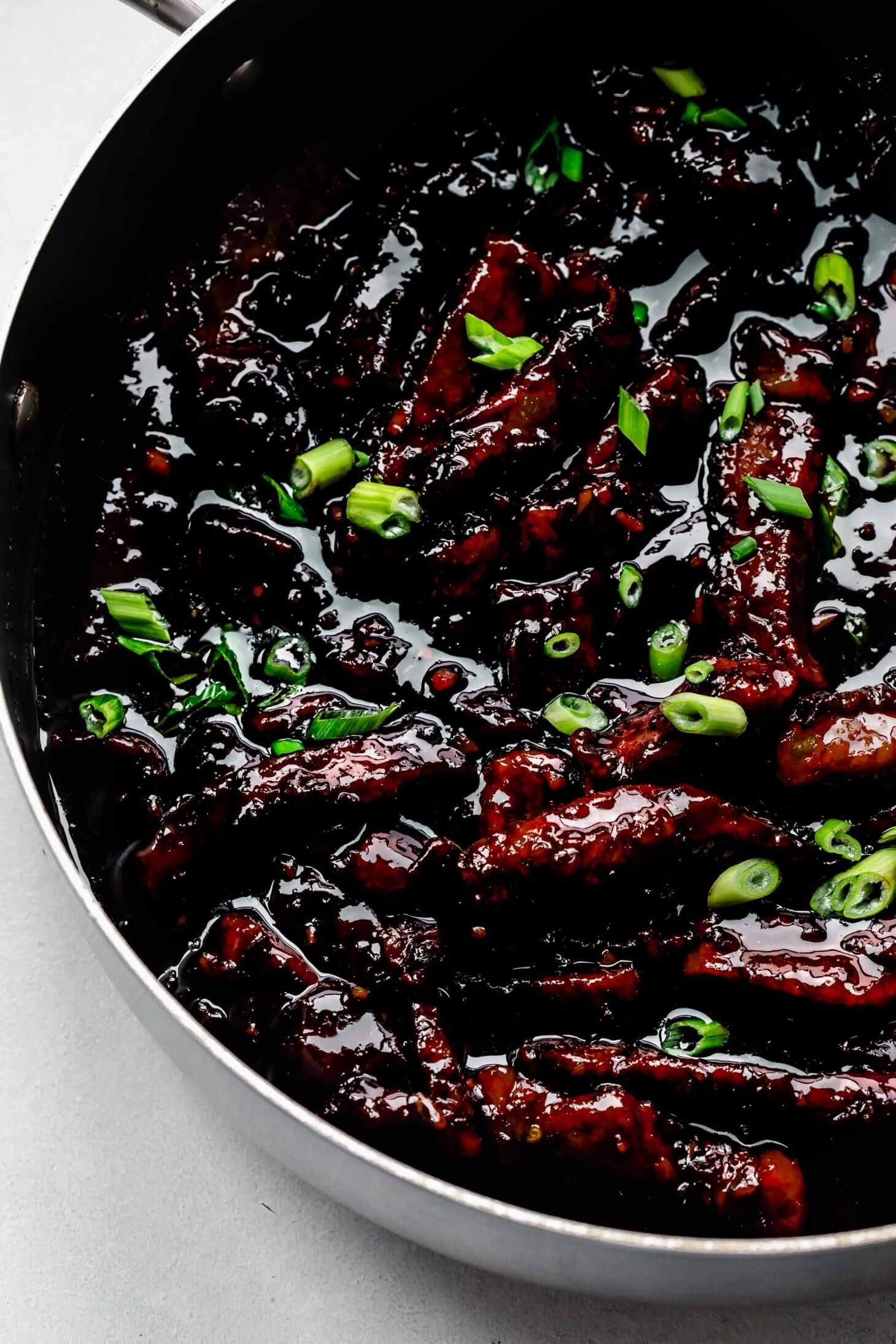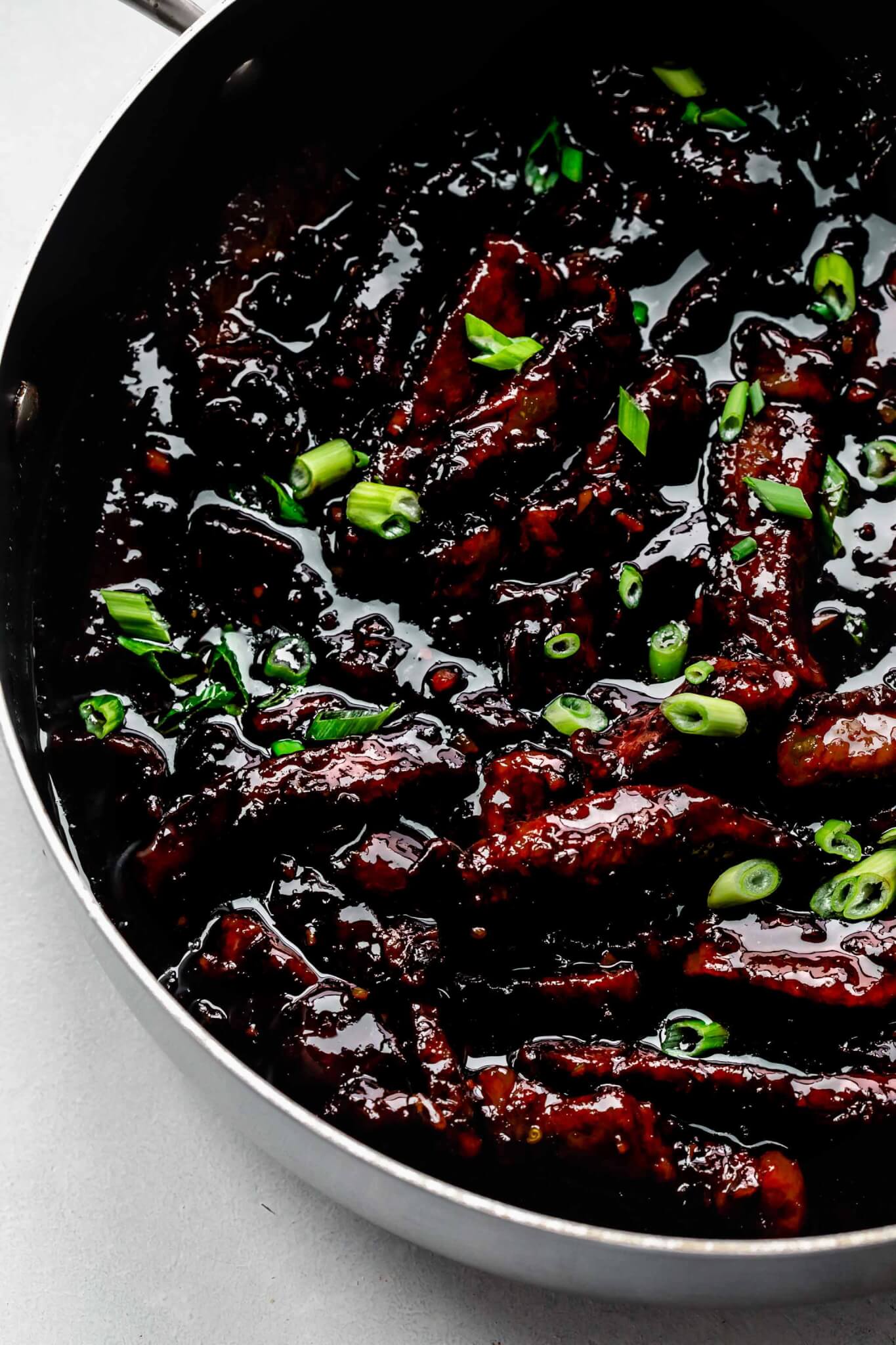 How to make ahead & store
Leftovers will keep in an airtight container in the fridge for up to three days. Reheat in the microwave or in a skillet on the stove over medium heat.
What to serve with Mongolian Beef
Wine pairings
A nice, fruity red wine such as a Zinfandel or Grenache will pair nicely with the flavors in this beef dish.
If you're looking for a white option, Riesling is always a great match for bold, somewhat spicy dishes.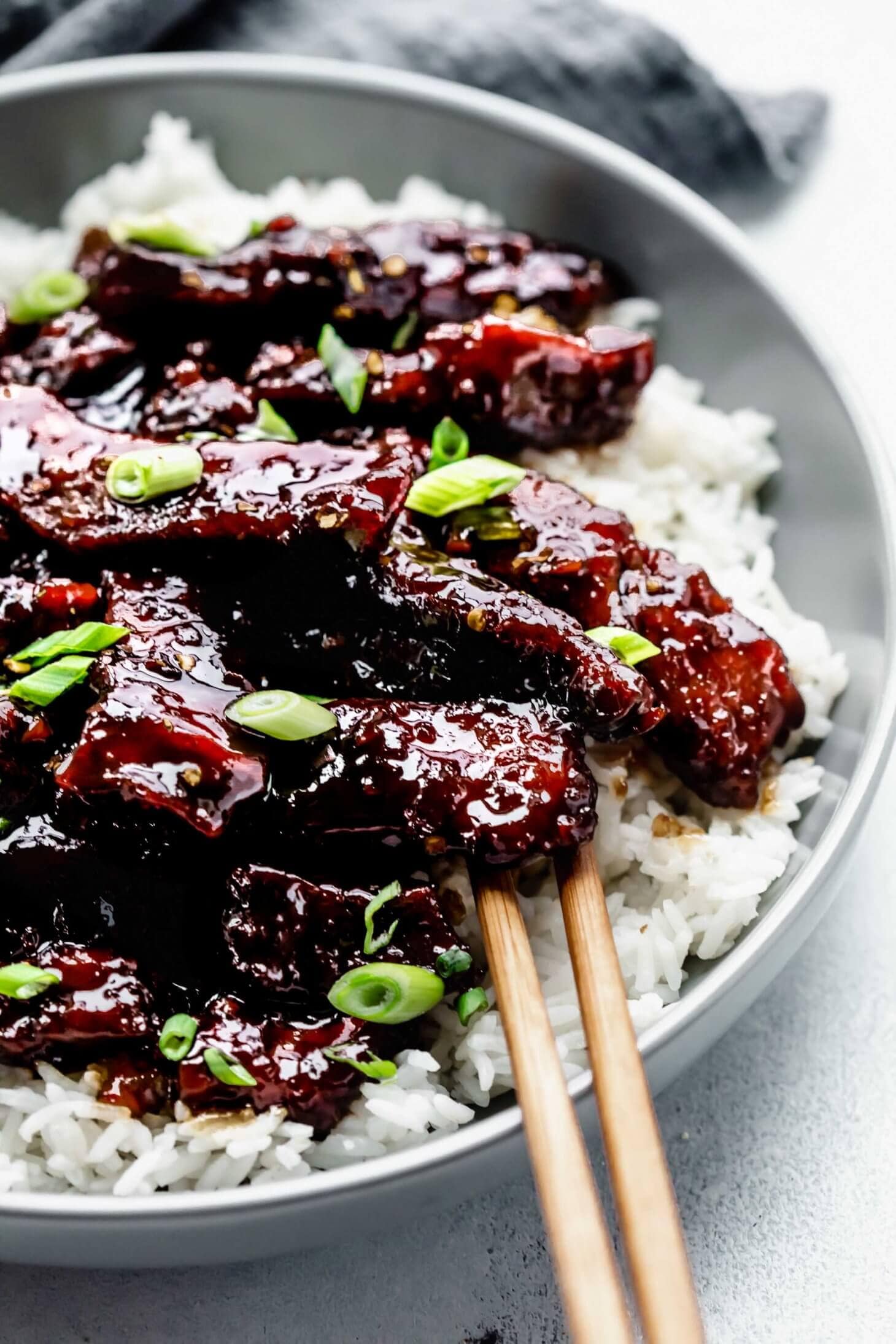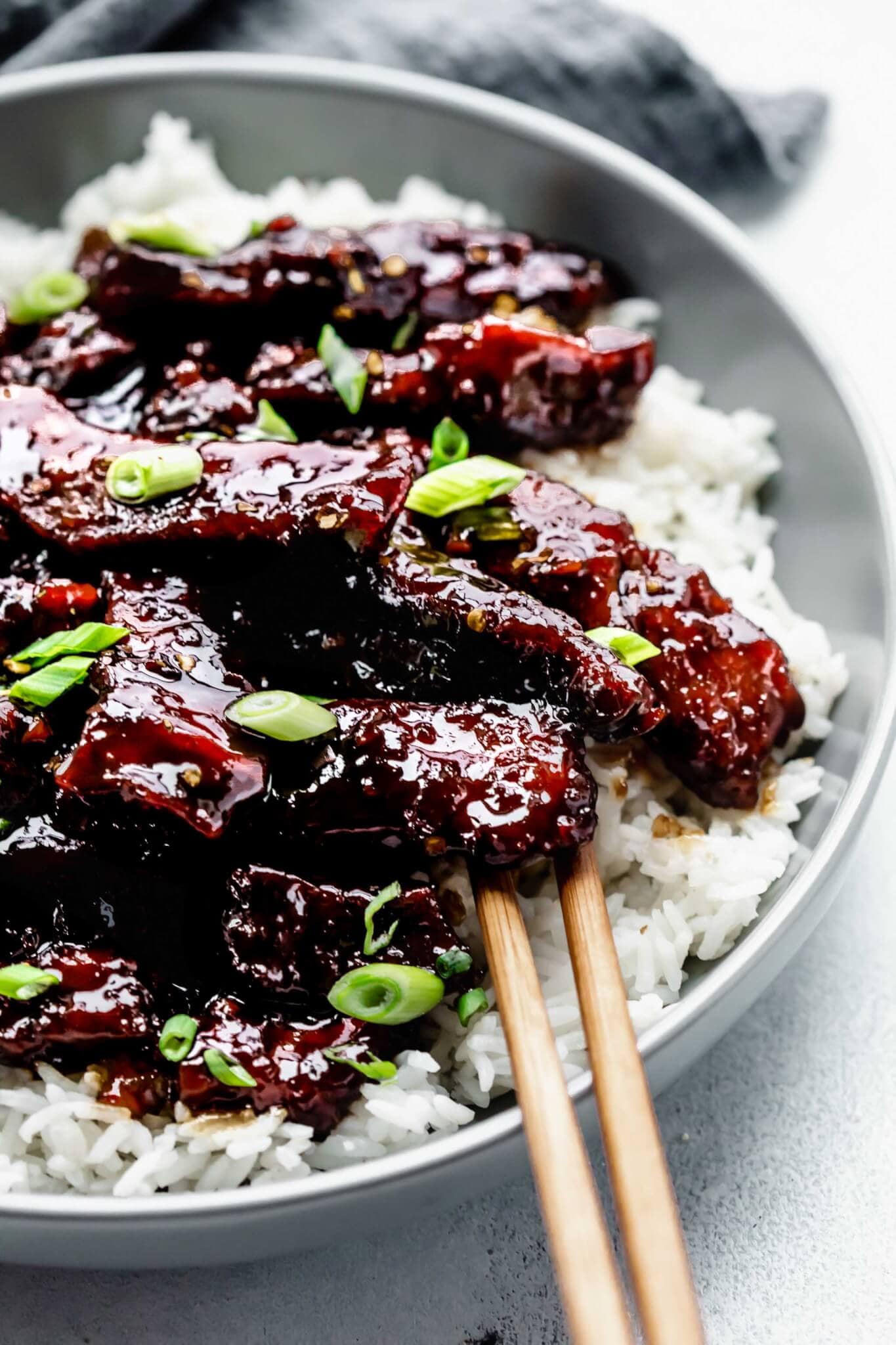 FAQs
What is typically in Mongolian Beef?
Mongolian Beef is made with thin sliced steak that's been coated in cornstarch (to make it crispy). Then it's tossed with a sauce made from soy sauce, brown sugar, garlic, ginger, rice wine vinegar, and red pepper flakes.

What is the difference between Mongolian Beef and Beef & Broccoli?
Mongolian Beef does not have any vegetables added to it. However, you could definitely add some steamed or sauteed broccoli to this recipe.
Why is Mongolian Beef so tender?
Using a good cut of meat, like a NY strip steak, thin-slicing it, and cooking it quickly is what makes Mongolian Beef so tender and delicious.
More take-out recipes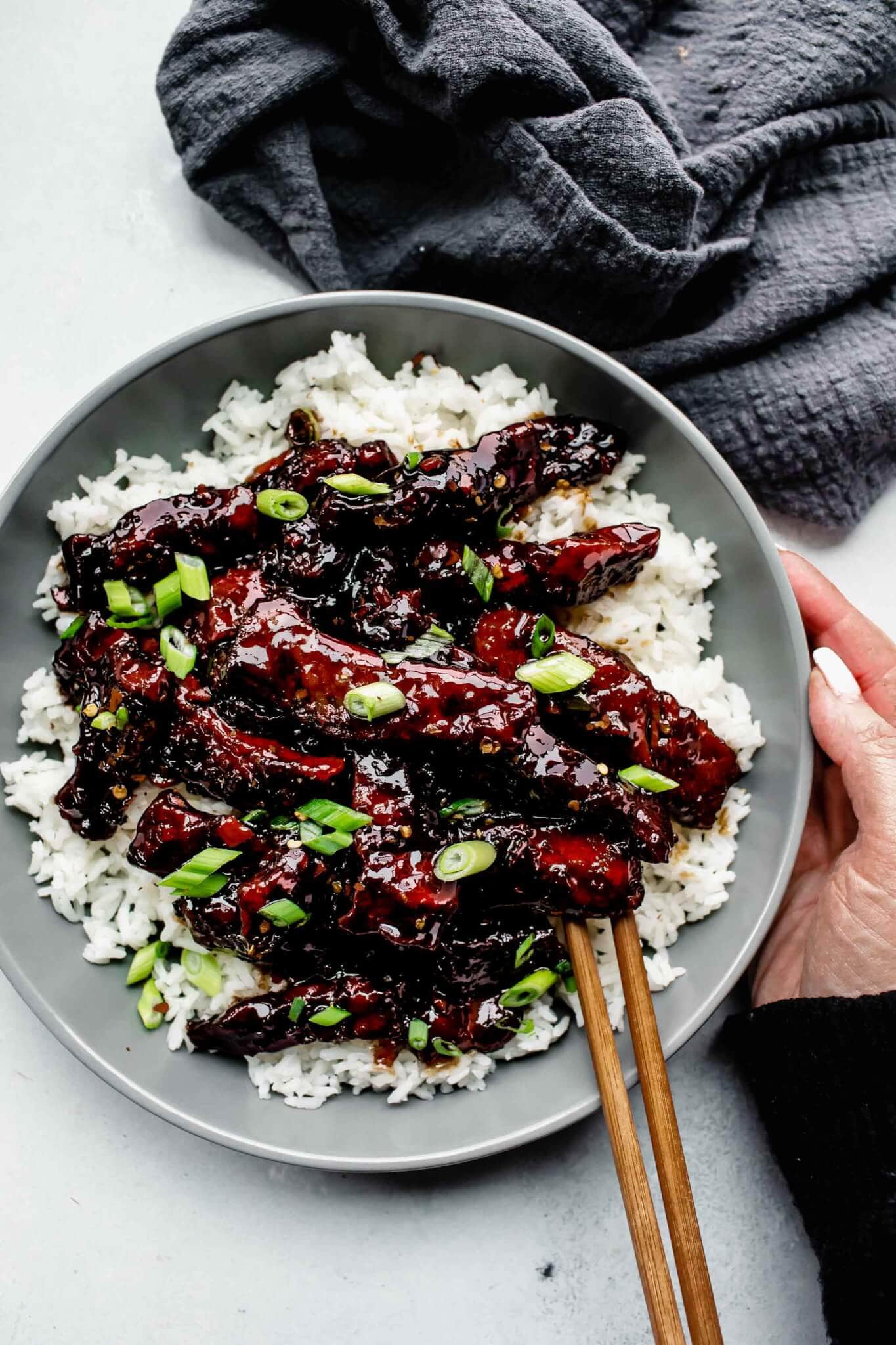 Did you try this easy Mongolian beef recipe?
If you loved this mongolian beef stir fry I would appreciate it so much if you would give this recipe a star review! Also, be sure to snap a picture of your finished dish and share it with me on Instagram using the hashtag #platingsandpairings and tagging me @platingsandpairings.
For more great Platings and Pairings recipes, be sure to follow me on Instagram, TikTok, Pinterest and Facebook.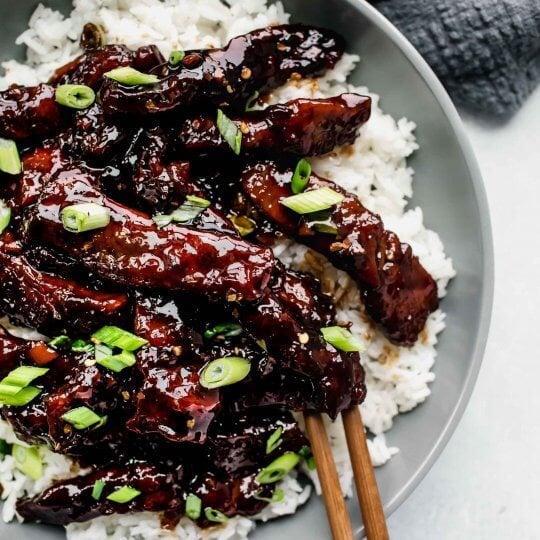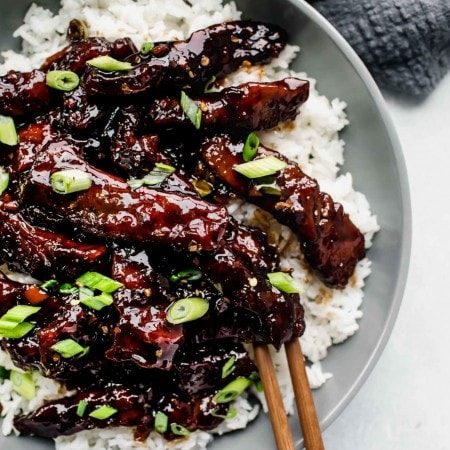 PF Chang's Mongolian Beef Recipe
This recipe for Easy Mongolian Beef makes it simple to make your favorite take out dish at home. It's a recipe that tastes just like PF Chang's!
Print
Pin
Instructions
Place the beef in the freezer 15 minutes before ready to begin. This will help firm it up for slicing.

Slice the beef against the grain in thin, bite-sized strips, about 1/4 inch thick.

Add the cornstarch to a Ziploc bag. Place the meat in the bag and shake, until well coated. Pour out into a strainer or colander and shake off the excess cornstarch.

In a small sauce pan add the 2 TBSP oil, soy sauce, brown sugar, garlic, ginger, water, rice wine vinegar and red pepper flakes. Stir and cook over medium-high heat until sauce thickens (15-20 minutes). Set aside.

Meanwhile, in a large skillet heat the 1/2 cup oil over medium-high heat. When the oil is hot, add some of the beef in a single layer and cook until browned. You will need to do this in batches. Set aside the browned beef on a plate lined with a paper towel and tented with foil.

Return all beef to skillet and pour sauce over the beef. Stir until coated and cook for a couple more minutes.

Serve over rice and garnish with green onions.
Nutrition
Calories:
745
kcal
|
Carbohydrates:
50
g
|
Protein:
33
g
|
Fat:
45
g
|
Saturated Fat:
27
g
|
Cholesterol:
120
mg
|
Sodium:
1512
mg
|
Potassium:
632
mg
|
Sugar:
36
g
|
Vitamin A:
110
IU
|
Vitamin C:
1.7
mg
|
Calcium:
80
mg
|
Iron:
3.5
mg
This recipe was originally published in 2015. It was updated in 2020 to add new photographs, and again in 2023 to add new content. The PF Chang's Mongolian Beef recipe remains unchanged. Enjoy!
Watch the web story here.