This EASY Tuna Noodle Casserole recipe with cheese is the BEST! Why? It's an upgraded version of the classic tuna noodle casserole. Laced with gruyere cheese and piquillo peppers and spiked with a bit of white wine. Then, it's topped with buttery parmesan breadcrumbs. Yum!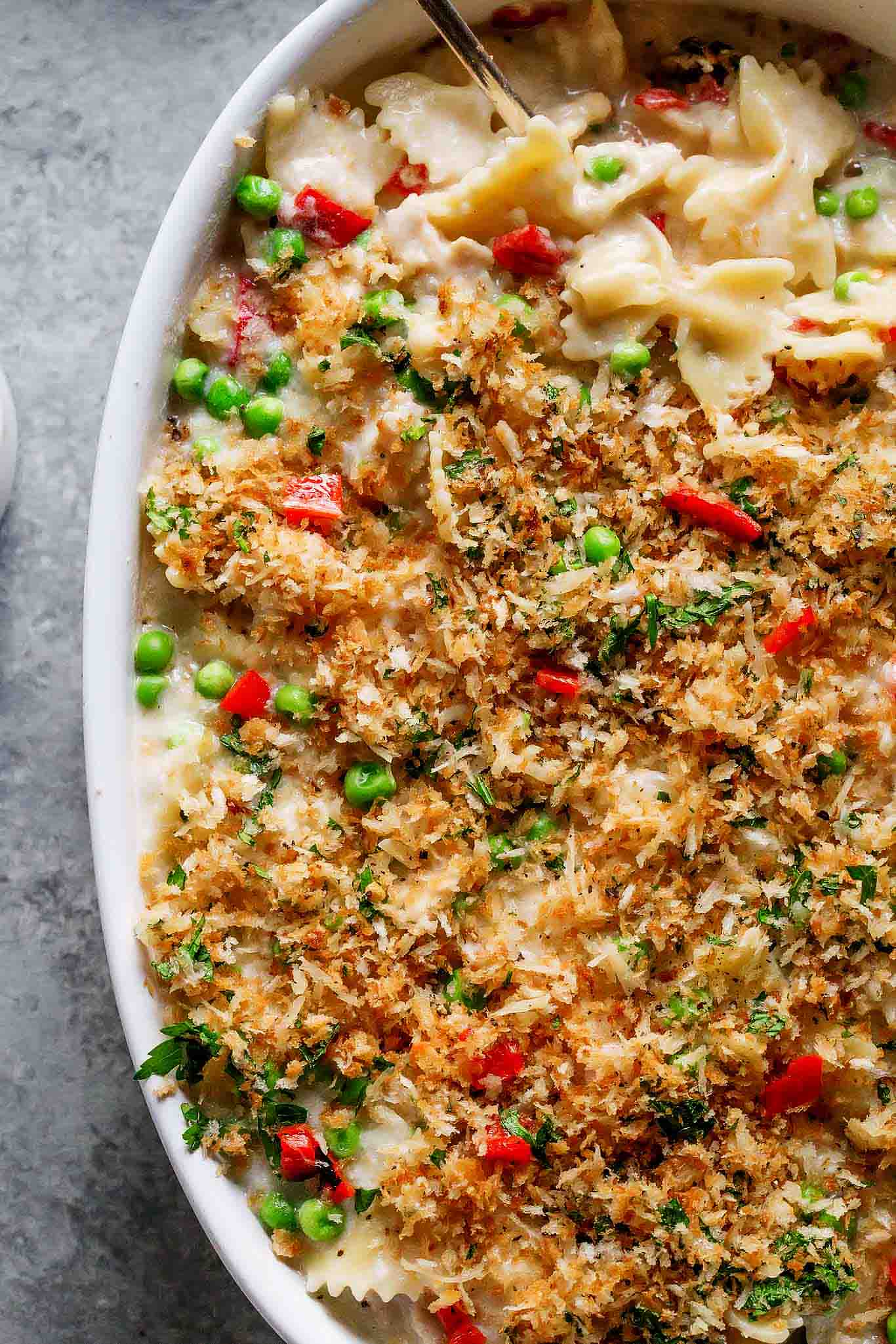 Let's dive right in…
Why is this the BEST tuna noodle casserole recipe?
We're amping up the flavor by using gruyere cheese. It's got a delicious, nutty tanginess that can't be matched by basic cheddar cheese.
I'm adding in a good glug of white wine for some bright acidity.
To that, we'll add in some piquillo peppers, which have a rich, sweet and smoky flavor.
And then to top it all off – a golden brown topping of panko bread crumbs and parmesan!
Trust me guys.
This is going to be the BEST tuna noodle casserole you've ever put in your mouth… My husband said so.
We were talking the other day about how I always bring treats in to work and no one really eats them. Sweet stuff like Chocolate Shortbread Cookies, a Blackberry Galette, or Blondies with Cinnamon Cream Cheese Frosting.
The people I work with have way more self-restraint than I do… Then Rick said: "You should bring this Tuna Noodle Casserole into work. I'll bet everyone would devour it. It's so good!"
Maybe I should try that next…. But for now, I've been bogarting all the leftovers for myself.
I've seriously eaten this tuna noodle casserole for dinner, lunch the next day, and then dinner the next night… Needless to say, it reheats well.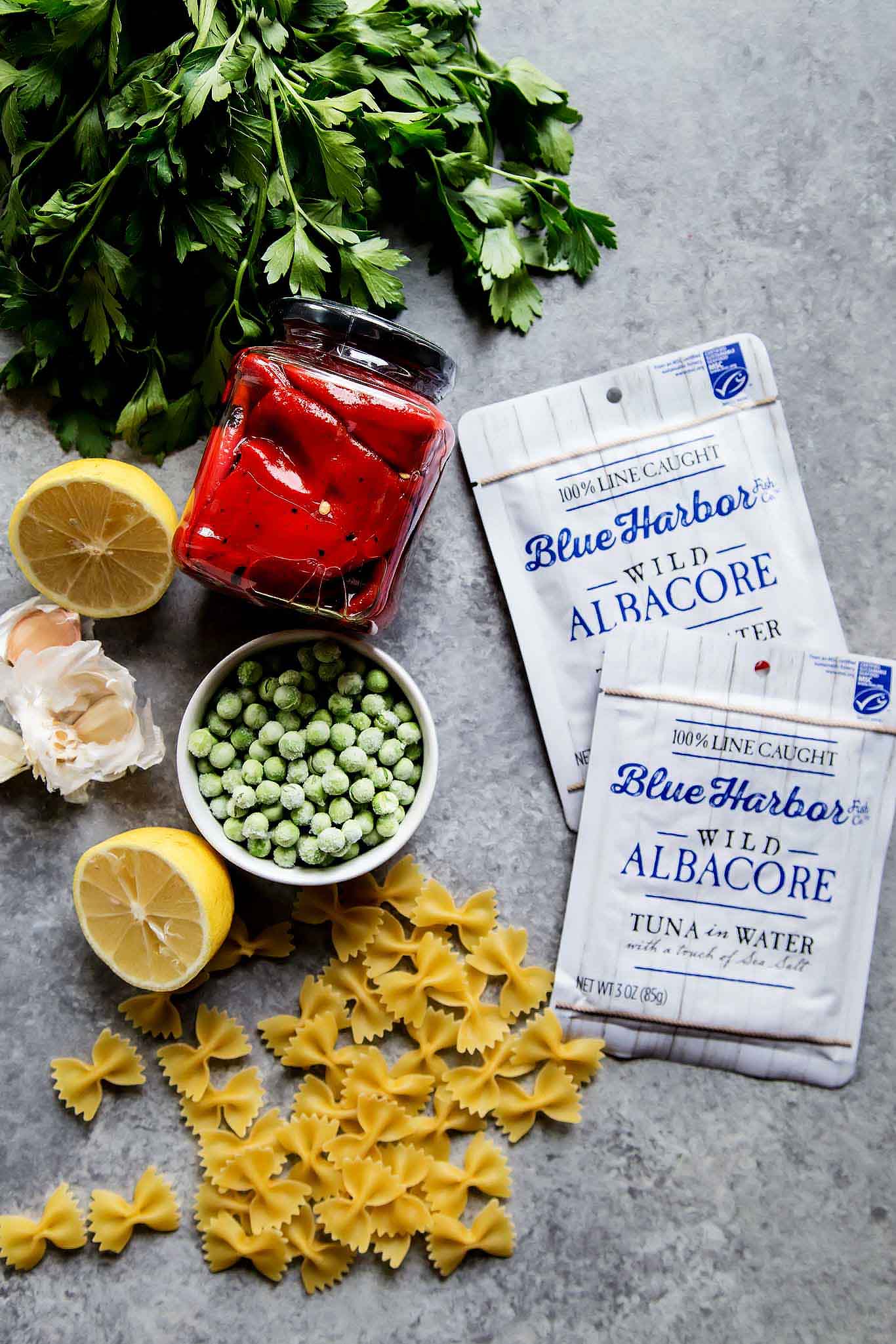 The layers of ingredients in this easy tuna noodle casserole are key…
Ingredients needed
Bowtie pasta (farfalle pasta) – Feel free to use any pasta that you prefer. Penne, egg noodles, elbow macaroni, and rotini would all work. Just cook them according to the package directions.
Tuna – I prefer to use solid white albacore tuna. But any variety will work.
Butter – To add all that rich flavor.
Onion – You could also use a shallot or swap in some onion powder.
Garlic – Garlic powder also works in a pinch.
Flour – To help thicken the creamy sauce.
White Wine – The wine is optional. Feel free to leave it out entirely or swap some dry vermouth in its place.
Whole Milk – Low fat or skim will also work, but the flavor won't be as rich.
Chicken Stock – Or try using some of my homemade bone broth.
Frozen Peas – You could also use green beans.
Piquillo Peppers – These are sweet roasted peppers that can be found in the condiment aisle of your grocery store. If you can't find them, you can substitute roasted red peppers or pimento peppers.
Gruyère Cheese – I love the nutty flavor of gruyere. However, cheddar is also a great option.
Lemon Juice – To add a bright tang at the end.
Panko Breadcrumbs – You can also substitute regular breadcrumbs, crushed up potato chips, or ritz crackers.
Parmesan – Or pecorino romano.
Fresh Parsley – Optional, but adds a bright freshness to the dish.
Blending all the flavors together is a creamy white wine sauce. Made with milk, chicken stock and a bit of white wine, its tanginess is the perfect match to the creamy gruyere cheese, the sweet peas and the smoky piquillo peppers.
Look for jarred piquillo peppers in the pickle aisle of your local market. I've found them to be readily available. However, if you can't find them, you can also use pimento peppers or fire roasted red peppers. These are all peppers that don't pack any heat, but instead have a sweet, smoky flavor to them.
And then, to top off this easy tuna noodle casserole is the most glorious golden brown topping of crispy panko breadcrumbs, nutty parmesan cheese and fresh parsley.
It was hard not to just eat it all up as I was "taste-testing" it for doneness before topping the casserole with it. Bake it all together in the oven for about 15 minutes until it's nice and bubbly and enjoy!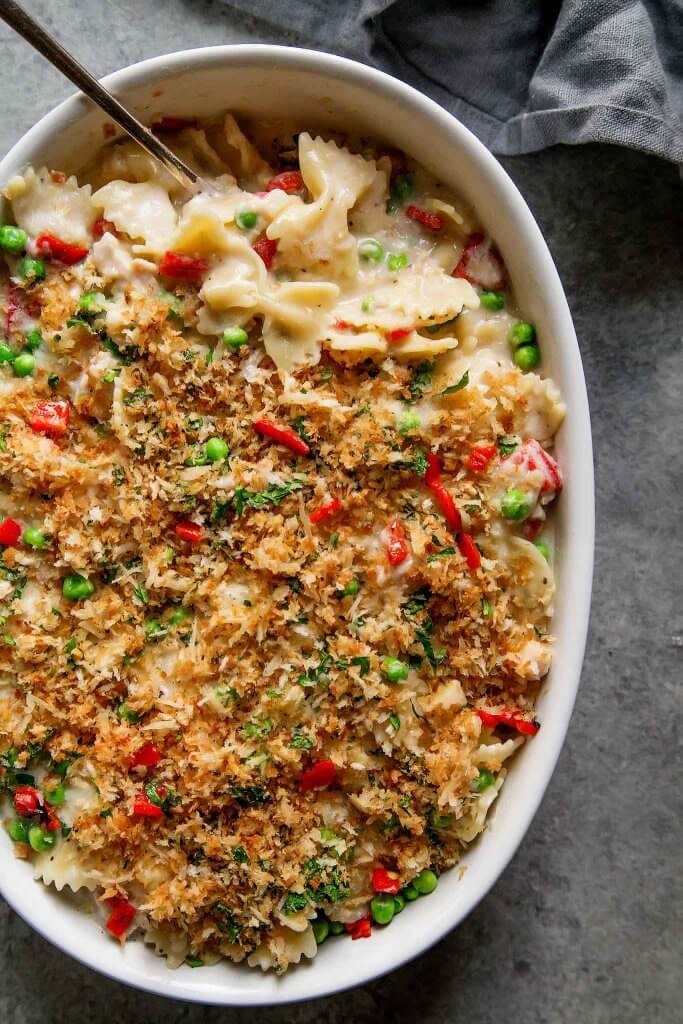 How to make it
Cook your pasta to just shy of al dente.
Melt butter, then saute onion and garlic.
Stir in flour, then add white wine, then milk. Simmer until thickened, 6-8 minutes.
Combine sauce with pasta, peas, peppers, tuna, cheese and lemon juice.
Brown panko in melted butter, then stir in parmesan and parsley.
Arrange pasta in a casserole dish then top with the panko.
Bake in a 375-degree oven for 15 minutes.
Enjoy!
Tip: Be sure to cook your pasta just shy of al dente – Give it a minute or two less than the suggested cooking time. That way, when everything gets combined and baked together, your pasta won't be a mushy, soggy mess. Instead, it will hold its shape and texture.
How to store & reheat
Store leftovers in an airtight container or covered with foil in the refrigerator for up to 3 days. To reheat in the oven, cover with aluminum foil and bake at 350-degrees for about 45-minutes until heated through. Or, simply reheat in the microwave.
What do you serve with it?
This recipe is a meal all on its own but is extra delightful when served alongside a fresh salad, crusty bread, and any of these light sides:
Wine pairings
The bright citrus and herbal notes of a Sauvignon Blanc make a perfect match for this tuna casserole.
For a fun pairing, and to really give this tuna noodle casserole an upgrade, pair it with a sparkling wine like Cava.
MORE —> the BEST wines to pair with pasta.
If you loved this Tuna Noodle Casserole recipe with cheese, be sure to try my easy canned tuna pasta and tuna rice bowl too!
Have more canned tuna on hand? Check out these 40+ Canned Tuna Recipes!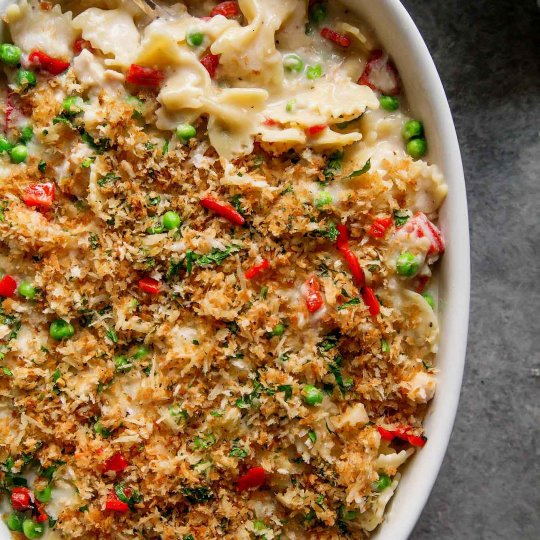 Tuna Noodle Casserole Recipe with Cheese
This easy Tuna Noodle Casserole with Cheese is an upgraded version of classic tuna noodle casserole. Spiked with piquillo peppers, white wine & topped with panko.
Print
Pin
Instructions
Preheat oven to 375°F. Cook the pasta according to the package directions in a large pot of boiling salted water until just shy of al dente. Drain.

Meanwhile, in a large saucepan, melt 4 tablespoons of the butter. Add the onion and garlic, cook over moderate heat, until softened, about 3 minutes.

Stir in flour and cook 1-2 minutes; add white wine (or dry vermouth) and stir. Add stock and milk, and bring to a bubble. Cook the sauce over medium-high heat, stirring occasionally, until thickened, about 6-8 minutes.

To the sauce, add the cooked pasta, frozen peas, peppers, tuna, gruyere cheese, and lemon juice and toss to coat. Season with salt and pepper, to taste. Transfer the mixture to a large baking dish.

In a small skillet, melt the remaining 1 tablespoon of butter. Add the panko and cook over moderate heat, stirring, until golden, about 1 minute, stir in the parsley and parmesan. Sprinkle the panko mixture over the casserole and bake for 15 minutes, or until bubbly. Serve immediately.
Notes
You can reheat this casserole in a 350-degree oven for 45 minutes.
Nutrition
Calories:
652
kcal
|
Carbohydrates:
71
g
|
Protein:
31
g
|
Fat:
24
g
|
Saturated Fat:
13
g
|
Cholesterol:
76
mg
|
Sodium:
747
mg
|
Potassium:
585
mg
|
Fiber:
4
g
|
Sugar:
11
g
|
Vitamin A:
1415
IU
|
Vitamin C:
39
mg
|
Calcium:
377
mg
|
Iron:
3.4
mg
This post was originally published in 2018. It was updated in 2022 to add new information. The tuna casserole recipe remains the same. Enjoy!
Check out the web story here.