This Lemongrass Chicken Stir Fry is simple to make at home in just 15 minutes! Fragrant lemongrass and tangy lime juice coat the chicken with a delicious glaze that's perfect served with a side of rice.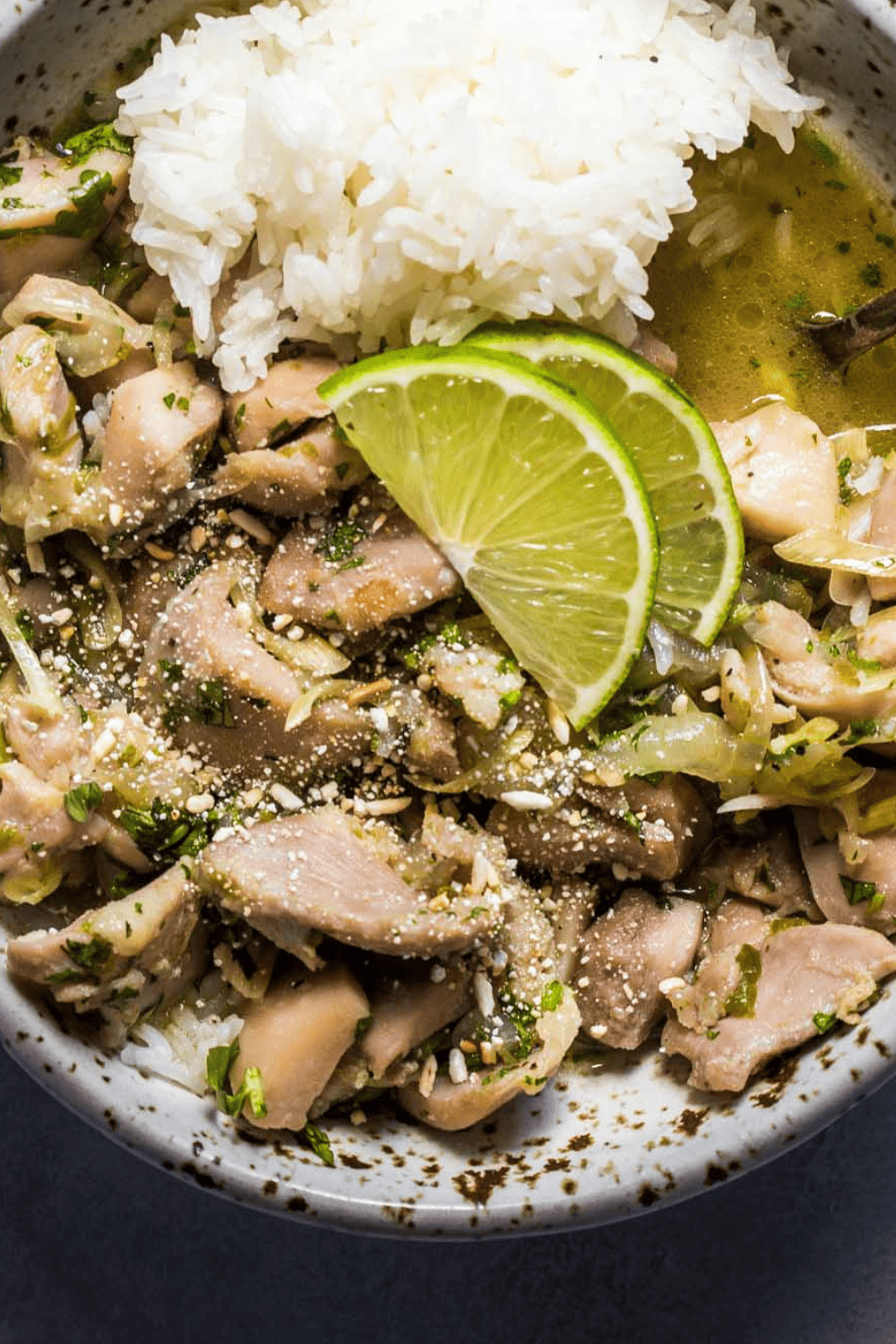 Truth – I'm a bit obsessed with Thai and Asian dishes. If you've been following along with me for a while, you may have noticed (see here, here and here).
I'm also infatuated with toasted rice powder. What parmesan cheese does for pasta, toasted rice powder does for Asian food. It's nutty, creamy, and, also, a bit crunchy. I can't get enough of it. So naturally, I'm topping this lemongrass chicken stir fry with it.
Ingredients Needed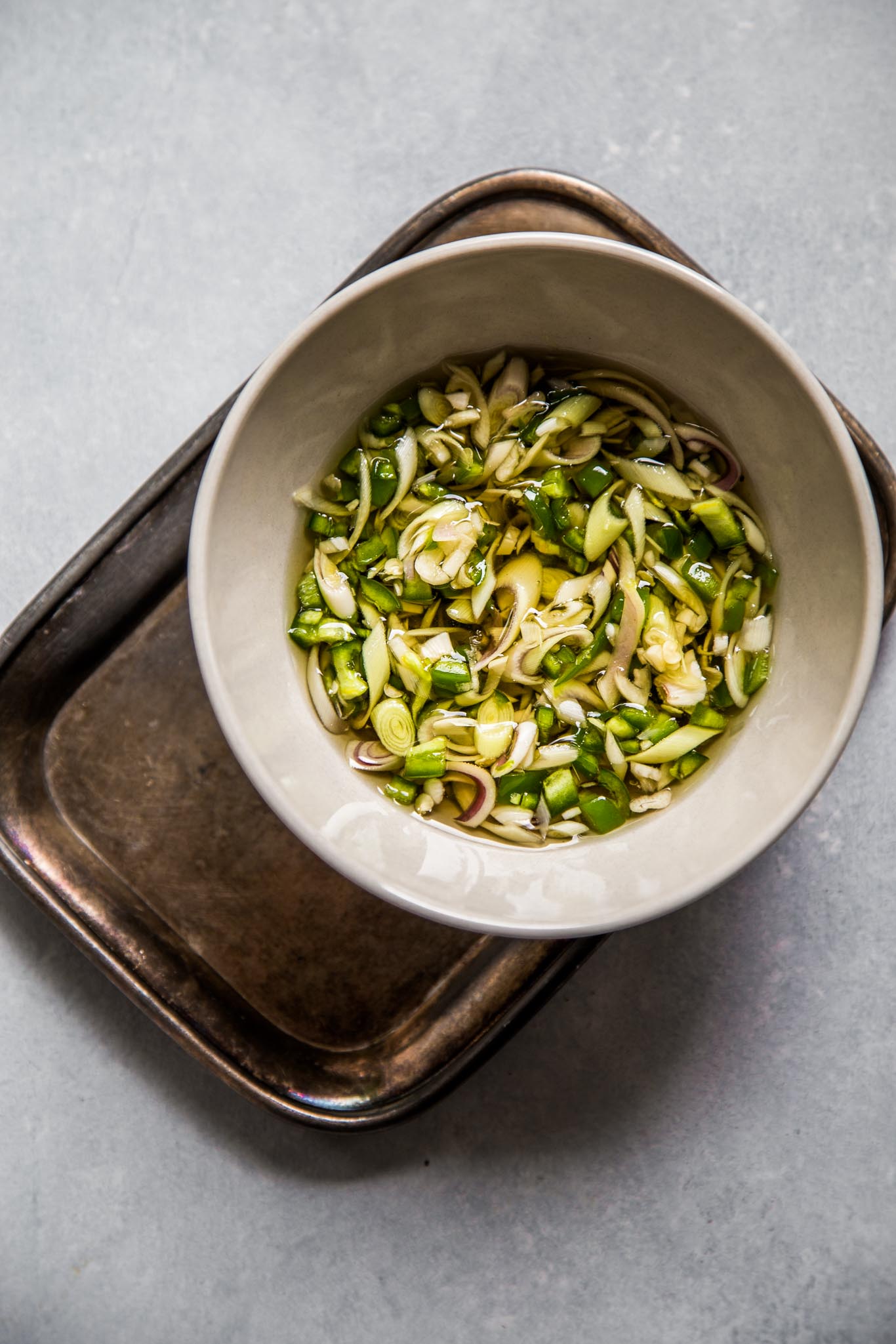 How Do You Prepare Lemongrass? 
When cooking with fresh lemongrass, you only want to use the tender part of the bulb section. To cut lemongrass, first remove the knobby end of the stalk and cut it in half lengthwise. Remove the tough outer leaves and find the inner tender flesh (it should pierce easily with your fingernail). Then, finely chop that tender white part of the lemongrass.
How to Make It
Chopped up chicken is marinated in a deliciously yummy mixture of jalapenos, fish sauce, brown sugar and lemongrass. It's tangy, spicy and has that perfect combination of sweet and sour.
I like to leave my chicken to marinade in the fridge overnight, to really let it soak up all those amazing flavors. However, if you're short on time, you can let it sit for as little as an hour.
Once the marinating process is complete, this dish comes together quick. Really quick. You'll be eating in about 15 minutes, which makes this lemongrass chicken perfect for hectic weeknight dinners!
Just pop the marinated chicken into a hot skillet and let it get nice and golden. We'll add in some sliced onions and more jalapenos during this cooking stage too. A little bit of time with the lid on ensures that the chicken cooks fully throughout.
Then, to get that sauce to perfectly coat all those bits of chicken, we'll cook finish it off with the lid off for a few minutes, to be sure that the sauce condenses a bit.
For that finishing touch, we'll sprinkle on some toasted rice powder.
To make it, just add some white rice to a small skillet over medium-high heat and let it get nice and golden brown. Then, using a mortar and pestle (or a clean coffee grinder) grind it up into a coarse powder. I like to make it about the texture of coarse coffee grounds.
When the lemongrass chicken is finished cooking, we'll sprinkle a bit of this on top for a yummy crunch. I'm obsessed with the added bit of texture it adds, and I think you will be too!
How to Make Ahead & Store
Store any leftovers covered in the fridge for 2 to 3 days. 
What to Serve with Lemongrass Chicken
Wine Pairings
An unoaked Chardonnay or Pinot Gris aged in steel barrels will enhance the lemongrass, cilantro, and spicy flavors that permeate this dish.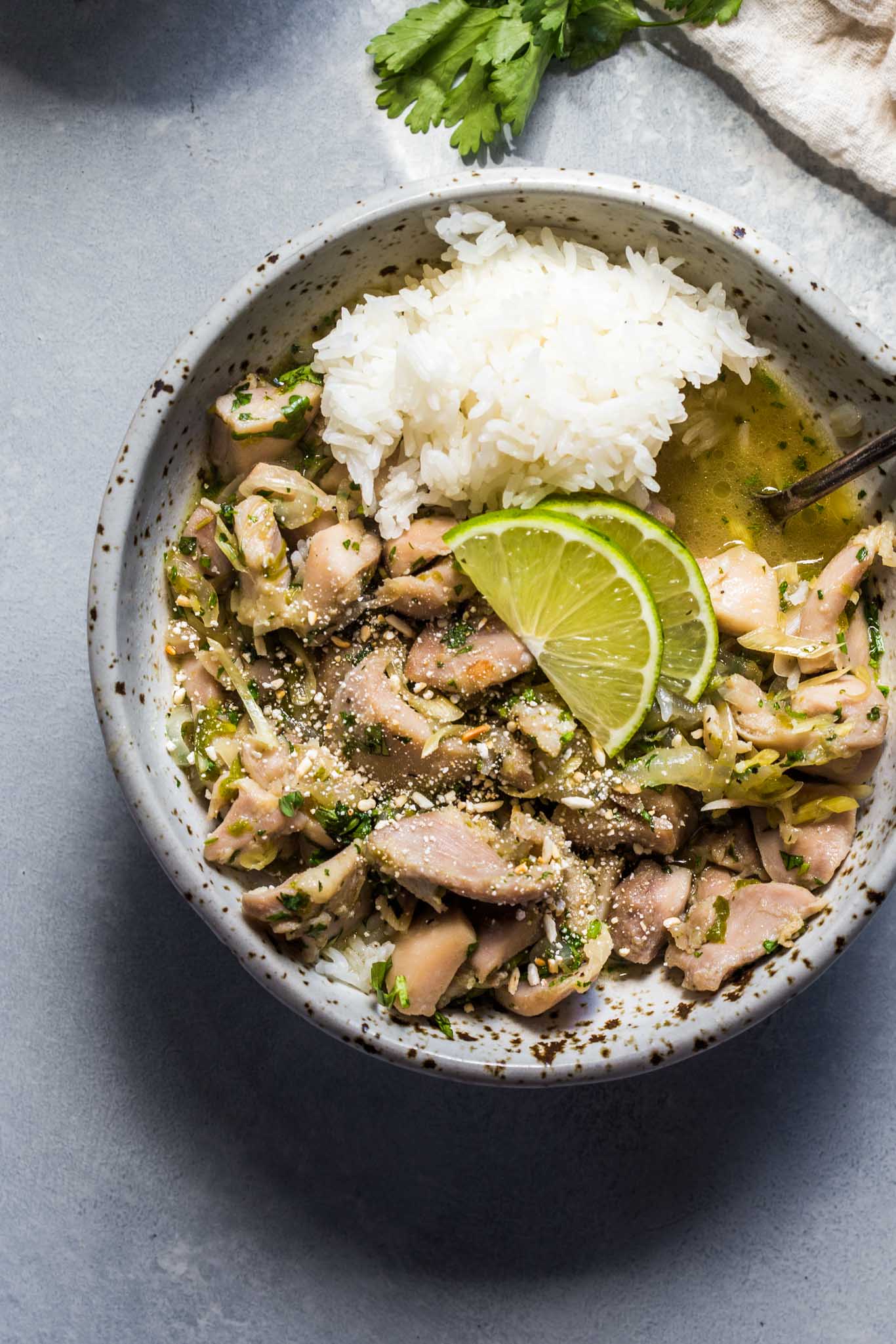 More Quick & Easy Chicken Recipes 
Did you try this lemongrass chicken recipe?
If you loved this lemongrass chicken and rice I would appreciate it so much if you would give this recipe a star review! Also, be sure to snap a picture of your finished dish and share it with me on Instagram using the hashtag #platingsandpairings and tagging me @platingsandpairings.
For more great Platings and Pairings recipes, be sure to follow me on Instagram, TikTok, Pinterest and Facebook.
Lemongrass Chicken Stir Fry
This Lemongrass Chicken Stir Fry is simple to make at home in just 15 minutes! Fragrant lemongrass and tangy lime juice coat the chicken with a delicious glaze that's perfect served with a side of rice. 
Print
Pin
Instructions
Put half of the lemongrass into a bowl with the fish sauce, sugar, half of the jalapenos, garlic, and chicken. Toss to combine and let marinate in the refrigerator for at least 4 hours (preferably overnight).

Heat the oil in a large skillet or a wok over medium-high heat. Add the chicken and cook, until browned. Add the reserved jalapenos, lemongrass and onion. Cook until the onion is softened. Pour in the stock, reduce the heat to low, cover and cook, about 5 minutes, until the chicken is cooked through. Add lime juice.

Meanwhile, toast the rice in a small skillet over medium-high heat, until golden brown. Remove from heat. Using a mortar & pestle grind the rice into a coarse powder. Alternatively, you can use a clean coffee grinder for this. Set aside.

Remove the lid, increase the heat, and continue to cook until the liquid is thickened. Sprinkle with toasted rice powder and cilantro and serve with rice and lime wedges on the side.
Nutrition
Calories:
335
kcal
|
Carbohydrates:
24
g
|
Protein:
39
g
|
Fat:
8
g
|
Saturated Fat:
3
g
|
Cholesterol:
109
mg
|
Sodium:
1383
mg
|
Potassium:
830
mg
|
Fiber:
1
g
|
Sugar:
10
g
|
Vitamin A:
140
IU
|
Vitamin C:
18.2
mg
|
Calcium:
41
mg
|
Iron:
1.4
mg
Note: I had several reviewers stating that they felt there was too much fish sauce in the original recipe. While I didn't feel that way, I have updated the recipe and halved the amount of fish sauce. Rather than using 1/4 cup in the original recipe, I've updated the recipe to use only 2 Tablespoons of fish sauce. 
This post was originally published in 2018. It was updated in 2023 to add new content. The lemongrass chicken stir fry recipe remains the same. Enjoy!