This Instant Pot Chicken Pho makes the traditional Vietnamese chicken noodle soup easy to make at home in less than an hour with the help of your pressure cooker.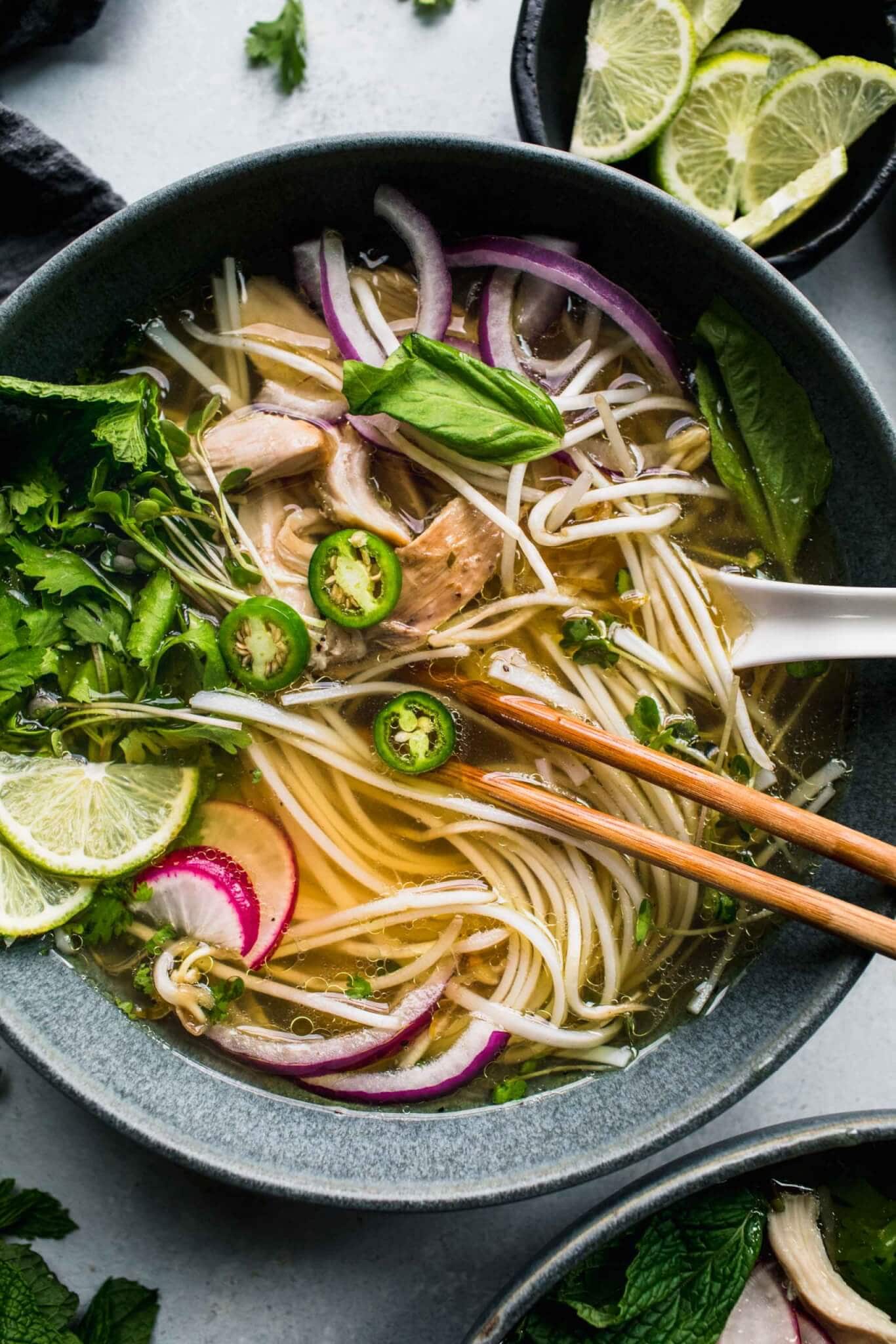 PS – Obsessed with brothy soups? You've got to try my Instant Pot bone broth too!
You all probably know my kitchen obsession by now – The Instant Pot.
Like, I seriously sit at my desk all day thinking up new ways to use this little pot. Tonight, I'm dreaming of Red Beans & Rice, for Taco Tuesday, Instant Pot Chicken Tacos, and Wednesday – Instant Pot Zuppa Toscana is exactly what needs to happen.
If you haven't heard of the Instant Pot yet, let me introduce you. It's like an electric pressure cooker that has all these handy little buttons on it for cooking different things:
Hard boiled eggs: Just add a little water to the pot, place your eggs on the cooking rack (as many as you'd like), and press the "EGG" button – Perfect hard boiled eggs in just about 10 minutes. You can even adjust the cooking time to make them as hard boiled or soft-boiled as you'd like. (I also love making these Sous Vide Egg Bites.)
Rice: As easy as it is to make on the stovetop, with the Instant Pot there's no babysitting. Just use a ratio of 1 cup water to 1 cup rice and push the "RICE" button. Easy! (Here's my foolproof method for Instant Pot rice)
Meat: You can cook from frozen or fresh and amazingly it's the most moist, tender meat – So yummy!
Slow cooker: Use the Instant Pot just like you would use your crockpot – Set it to cook low and slow for any amount of time that you'd like.
Dried beans: Cook them in a flash with no pre-soaking.
As handy as it is for all the above, the main reason I bought the Instant Pot was to make Pho.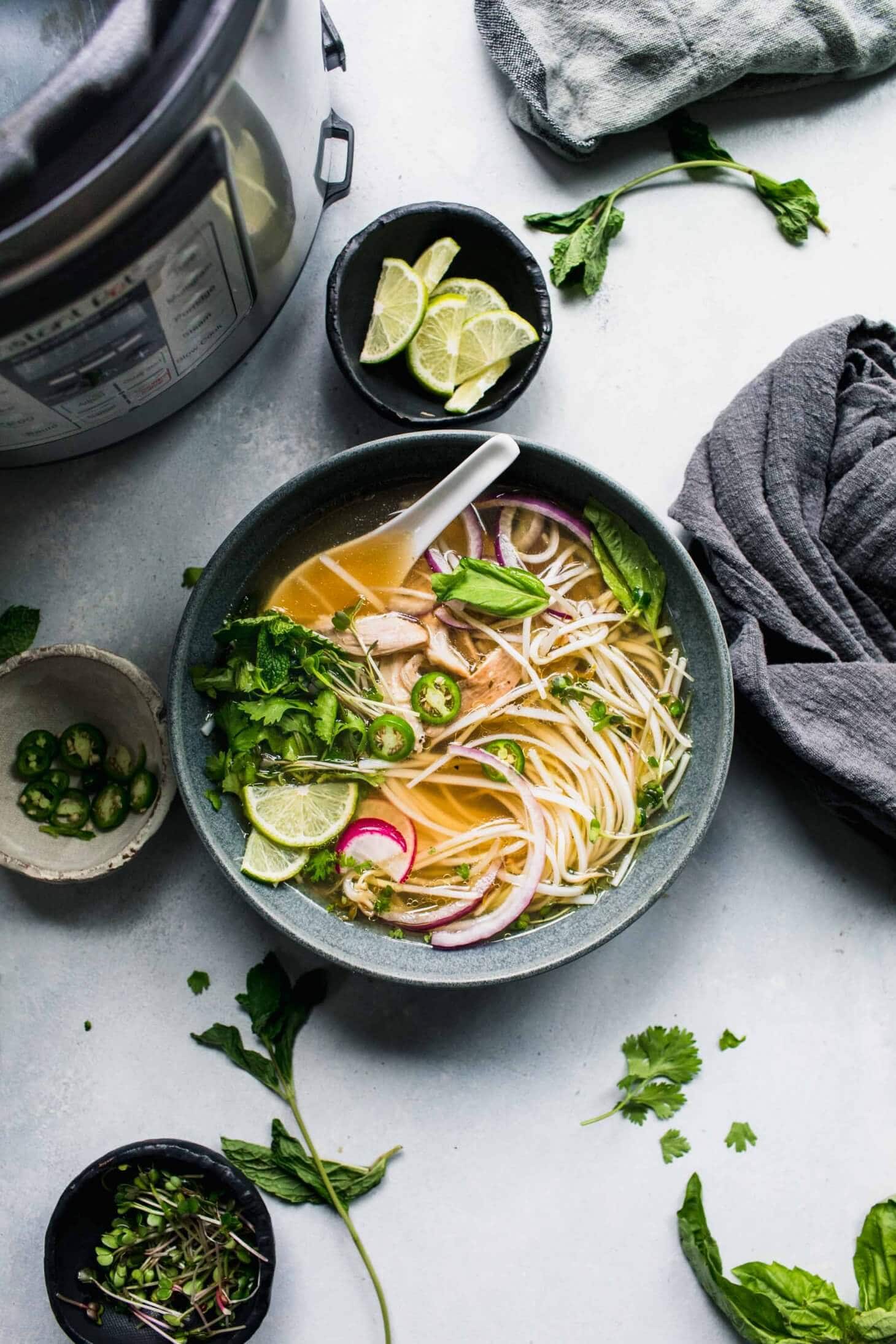 Instant Pot Pho Ga
I've wanted to try making Pho at home pho-ever. Ahem… However, there was one thing preventing me from trying it – time.
Traditional Vietnamese pho is so super tasty. But, it typically simmers away all day, often for 12 hours or more. And first, you have to roast the bones for the broth, toast the spices and char the veggies! With the Instant Pot, pho took me an hour from start to finish! And while it won't take the place of my local Vietnamese takeout restaurant, this is a way to make the dish at home. But of course, it's much simplified from the traditional recipe.
A key highlight of the Instant Pot, and how it may differ from a slow cooker is that you can saute in it, making it possible to do everything with just one appliance.
This pho starts by charring the onion and ginger, letting it get nice and toasted without stirring it, to that we add the spices, let them get fragrant, and then the broth gets started by adding in the chicken and some water, along with a couple other key ingredients that lend that sweet, salty umami flavor – namely fish sauce, a fuji apple, and a bit of sugar in my version.
My version comes from a few recipes that I gathered around the internet – Like this one from Nom Nom Paleo and this one from Epicurious. I liked the blend of spices that the Epicurious version incorporated – ones that I can remember tasting in phos of my past – coriander, cloves, cinnamon, cardamom and star anise. The Nom Nom Paleo version only calls for coriander and cloves.
Pro Tip: Head to the bulk section of your grocery store to shop for the spices – That way you can grab just what you need, a few cardamom pods, a few cloves, etc. – no need to buy the whole bottle, as spices tend to lose their flavor quickly anyway.
The Nom Nom Paleo version added a fuji apple into the mix, and I thought that was a great way to add in some additional sweetness and flavor, similar to my Korean Bulgogi Tacos which seasons the meat with a bosc pear. The apple ended up lending a delicate flavor to the pho broth and I'm happy I made that addition. The final question was – how much fish sauce? The Epicurious version called for twice as much as the Nom Nom Paleo version… So I started off with just 2 tablespoons… And then I decided it needed more – 3 tablespoons of that potent stuff ended up being just perfect.
The result was an umami-filled pot of pho that was seriously ready in under an hour. I mean, how pho-reaking cool is that?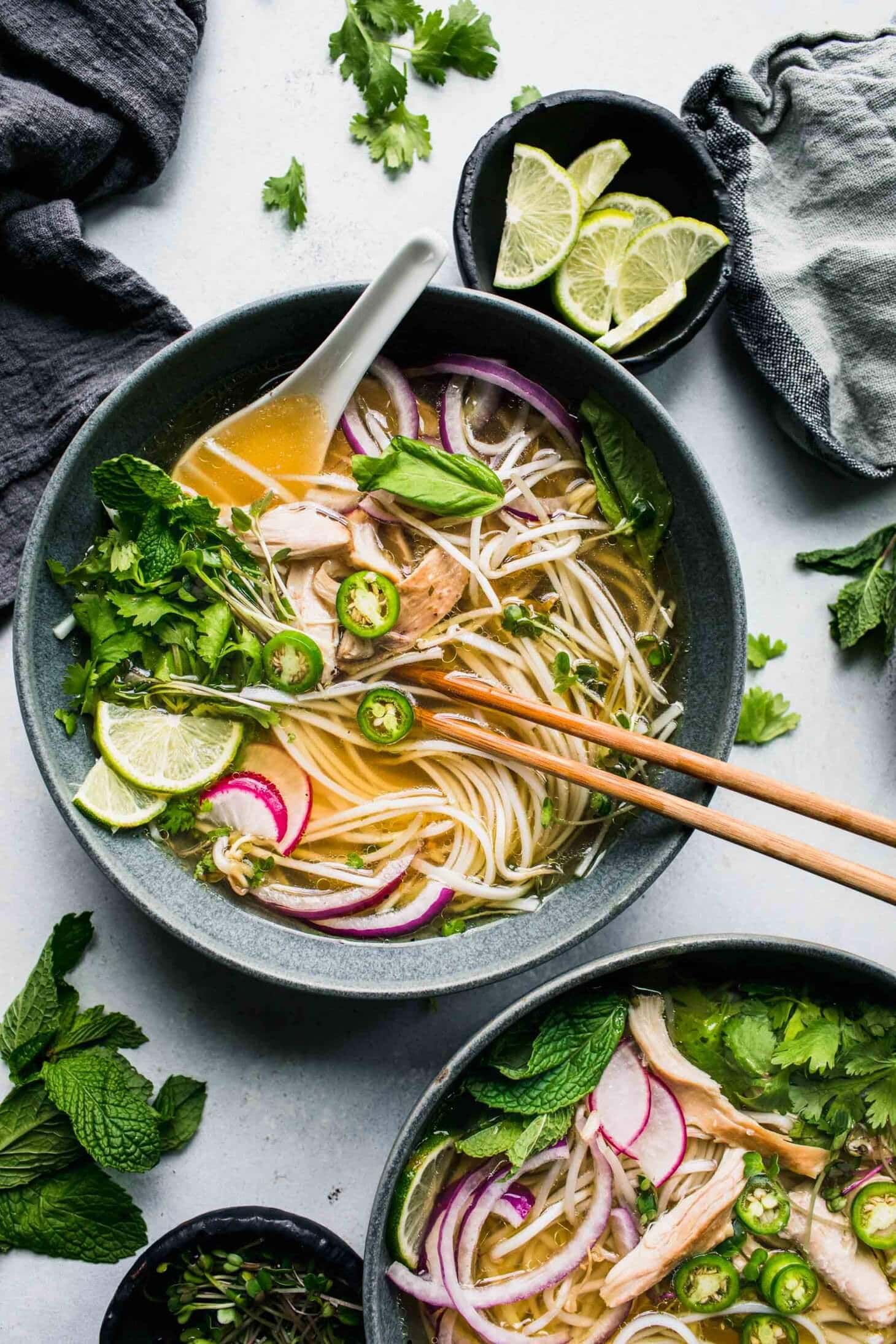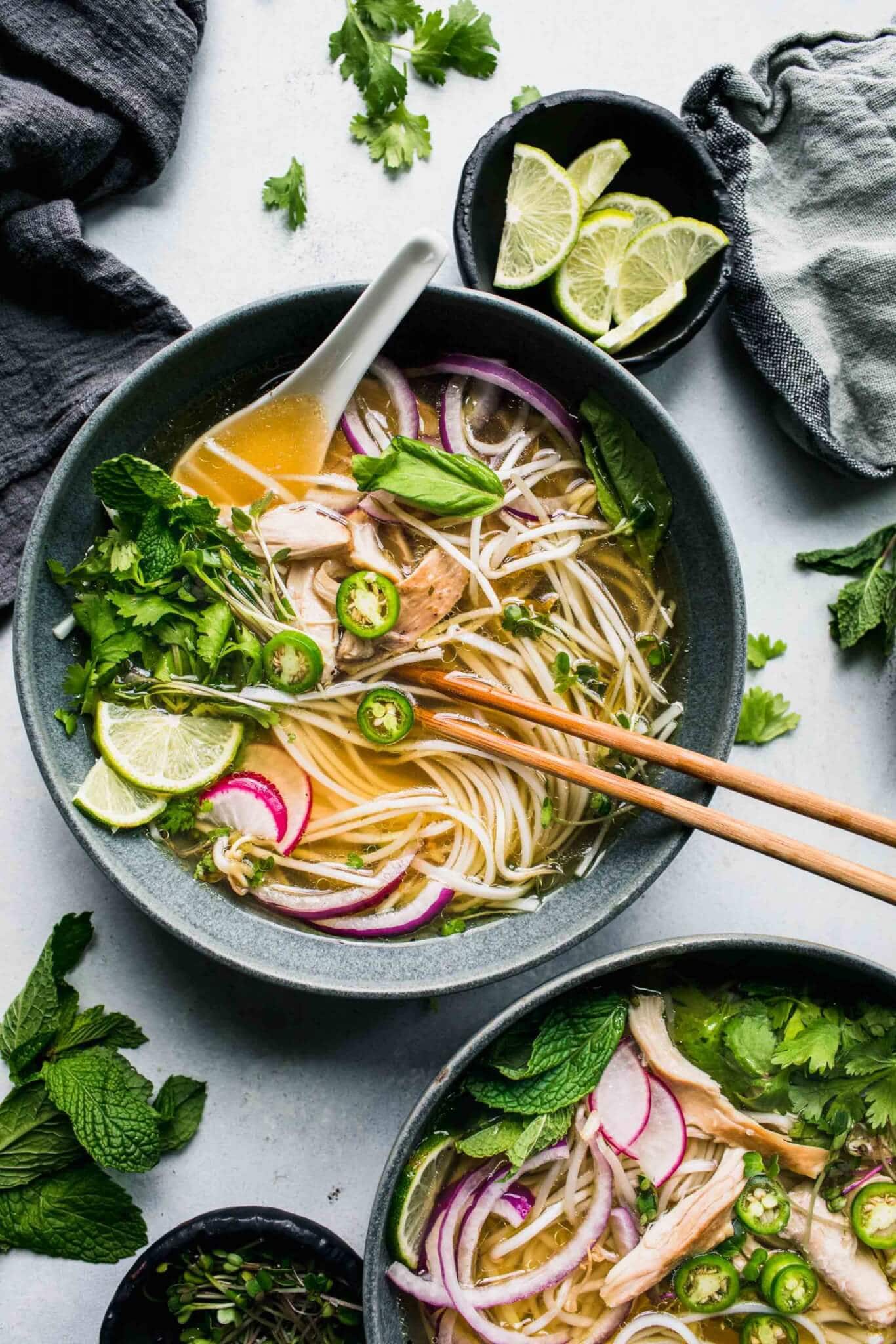 How long is Chicken Pho good for?
It will last in the refrigerator for up to 5 days. Or, you can freeze the broth (without the noodles) for up to 3 months.
Wine pairings for Pho:
Gewürztraminer and dry-Riesling are both great options because they will compliment the sweetness in the pho while downplaying its spiciness.
Try a Sparkling Rosé – The bubbles will play nicely with the rich broth and balance nicely with the fragrant spices.
If you loved this Instant Pot Pho recipe I would appreciate it so much if you would give it a star review! Also, be sure to snap a picture of your finished dish and share it with me on Instagram using the hashtag #platingsandpairings and tagging me @platingsandpairings.
For more great Platings and Pairings recipes, be sure to follow me on Pinterest, Facebook, YouTube and Twitter.
Instant Pot Pho Recipe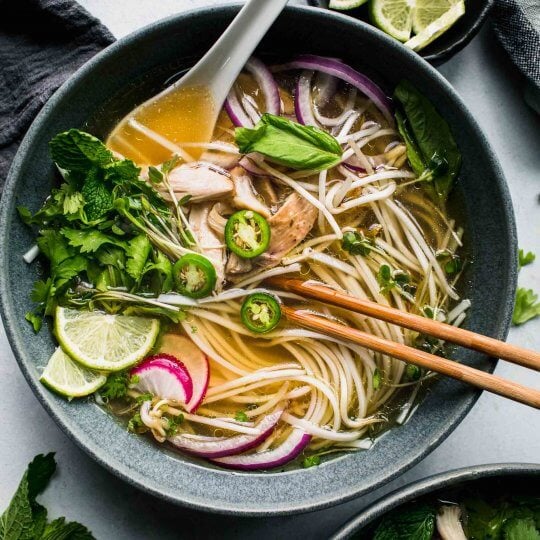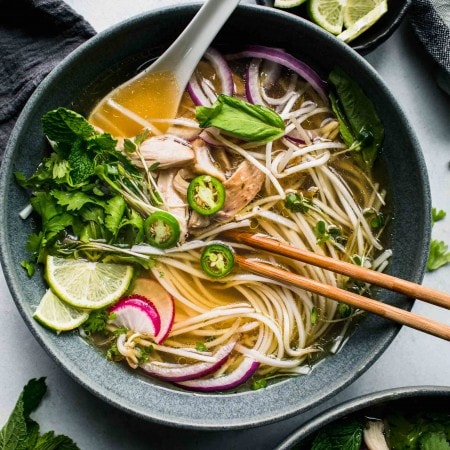 Instant Pot Pho
This Instant Pot Chicken Pho makes the traditional Vietnamese chicken noodle soup easy to make at home in around 30 minutes with the help of your pressure cooker.
Print
Pin
Ingredients
14

ounces

rice noodles

1

Tablespoons

olive oil

(extra virgin)

1

large

yellow onion

(halved)

1

2-inch

piece ginger

(cut into 1/4 inch slices and slightly smashed)

3

cardamom pods

(lightly smashed)

1

Tablespoon

coriander seeds

5

cloves

1

fuji apple

(peeled, cored and cut into 1/2 chunks)

1/2

cup

coarsley chopped cilantro leaves

6

chicken thighs

(bone-in, skin-on)

3

Tablespoons

fish sauce

1

Tablespoon

sugar

8

cups

water

1 1/2

teaspoon

kosher salt
Toppings
1

lime

(cut into wedges)

2

jalapenos

(thinly sliced)

1/2

red onion

(thinly sliced and soaked in cold water for 10 minutes)

Fresh herbs

((mint, cilantro, basil))

Bean sprouts

Daikon radish sprouts

((optional))
Instructions
Soak the noodles in large bowl of warm water for 30-45 minutes. Set aside while you prepare the pho broth.

Add the oil to your Instant Pot and select the sautee option. One hot, add onion cutside down, and ginger. Cook, without stirring, for about 4 minutes, until slightly charred.

Add cardamom, cinnamon stick, coriander, star anise and cloves and cook for 1 minute longer, until fragrant. Add the water to the pot along with apple, cilantro, chicken, fish sauce, and sugar. Secure the lid.

Select Manual and cook at high pressure for 15 minutes.

When done, turn off the Instant Pot and let the pressure decrease naturally for 10 minutes. Set a timer and if the pressure hasn't completely released when it goes off, turn the valve at the top to release any remaining pressure.

Remove chicken from the pot and set aside. Strain the broth and season with salt and pepper, to taste. Skim some of the fat from the broth.

When the chicken is cool enough to handle, separate the meat from the bones and divide the meat among 4 large soup bowls. (Reserve the bones for making bone broth.) Strain the noodles and divide them among the 4 bowls. Top each of the bowls with the broth and your desired toppings.
Nutrition
Calories:
842
kcal
|
Carbohydrates:
102
g
|
Protein:
32
g
|
Fat:
32
g
|
Saturated Fat:
8
g
|
Cholesterol:
166
mg
|
Sodium:
2272
mg
|
Potassium:
606
mg
|
Fiber:
5
g
|
Sugar:
10
g
|
Vitamin A:
230
IU
|
Vitamin C:
19.6
mg
|
Calcium:
96
mg
|
Iron:
2.7
mg