Instant Pot Salsa Chicken Taco Lettuce Wraps can be made in just 20 minutes with the help of your electric pressure cooker and five simple ingredients.
One of the first recipes I posted on this blog was for Slow Cooker Chicken Taco Lettuce Wraps. The pictures are embarrassingly horrible and the blog post is all of two short paragraphs. Still, it's a recipe that I make quite often, but even more now, I make that recipe in my Instant Pot.
Instead of cooking the chicken for 4-5 hours on low in my crockpot, I throw the chicken into my Instant Pot and let it cook for just 20 minutes. You can even throw frozen chicken breasts right in – The cooking time will be the same!
The process is simple, I rub the chicken breasts with a bit of taco seasoning, throw in one diced onion and one diced jalapeno and then top it all off with a jar of salsa. The result is juicy (never dry) chicken that shreds easily and is super flavorful. Also, because you're using jarred salsa, it's easy to control the heat by purchasing salsa that's your desired heat level – mild, medium or hot.
I'm using LA VICTORIA® Brand salsa in my recipe. It's been one of my favorite salsas since college and I had absolutely no idea that the brand just celebrated 100 years in business until they recently contacted me to attend their West Coast-inspired dinner party in Portland. Unfortunately, I was unable to attend because I was out of town at a photography workshop hosted by the amazing Lindsay of Pinch of Yum. I had serious FOMO when I was looking at everyone's Instagram Stories of the beautiful dinner held in Pioneer Courthouse Square featuring dishes from local chef Noe Garnica of Verde Cocina made with LA VICTORIA® products. So, in order to remedy that, I had to put their products to good use as soon as I got home, and I made these Instant Pot Salsa Chicken Taco Lettuce Wraps using their Thick 'n Chunky Salsa Medium. All their products are made with real ingredients and their tomatoes come from the California central valley.
I like to load the shredded salsa chicken up into the lettuce wraps and then top them with avocado, Greek yogurt, cheese and cilantro and then drizzle some hot sauce over the top. However, you could also serve this shredded chicken in traditional taco shells or over rice to make burrito bowls. The personalization is totally up to you and I think that's what makes this recipe fun. On the side, consider serving up some seasoned black beans and rice (or even cauliflower rice for a low carb option).
Instant Pot Salsa Chicken Taco Lettuce Wraps
Salsa Chicken Taco Lettuce Wraps can be made in just 20 minutes with the help of your Instant Pot and five simple ingredients.
Print
Ingredients
Chicken:
1 1/2

lbs

boneless skinless chicken breast

1 1/2

tbsp

taco seasoning

1

onion diced

1

jalapeno seeded and sliced

Kosher salt

to taste
For Serving:
Butter lettuce leaves for wrapping

Sliced Radishes for topping

Avocado for topping

La Victoria Red Taco Sauce for topping

Greek yogurt or sour cream for topping

Shredded cheddar cheese for topping

Cilantro for topping

Lime wedges
Instructions
Rub chicken breasts with taco seasoning and place in bottom of Instant Pot.

Spread chopped onion and jalapeno over chicken breasts. Pour salsa over top.

Seal the Instant Pot and set to HIGH pressure for 20 minutes.

Allow the Instant Pot to release naturally. This should take 10-15 minutes.

Remove chicken breasts from Instant Pot and shred with two forks. Place chicken back in Instant Pot and stir to combine. Season with salt, to taste.

To serve, spread chicken on lettuce leaves and top with any desired toppings.
Recipe Notes
*If using a slow cooker, cook on low for 4-6 hours or until the chicken is done. You can leave the slow cooker on low for up to 8 hours.
Look for LA VICTORIA® in the salsa aisle of most major grocers west of the Mississippi, including Safeway, Albertson's and Ralph's.
Wine Pairings for Instant Pot Salsa Chicken Taco Lettuce Wraps:
•Look for lighter-bodied, fruit-focused reds like Beaujolais or Grenache.
•Alternatively, Sauvignon Blanc, Pinot Gris and Vinho Verde are good white wine pairing options.
Looking for more taco recipes? Try these:
Mexican Street Corn Chicken Tacos
Fish Taco Bowls with Mango Salsa & Avocado Cream Sauce
Slow Cooker Steak Carnitas Bowls

Grapefruit & Avocado Fish Tacos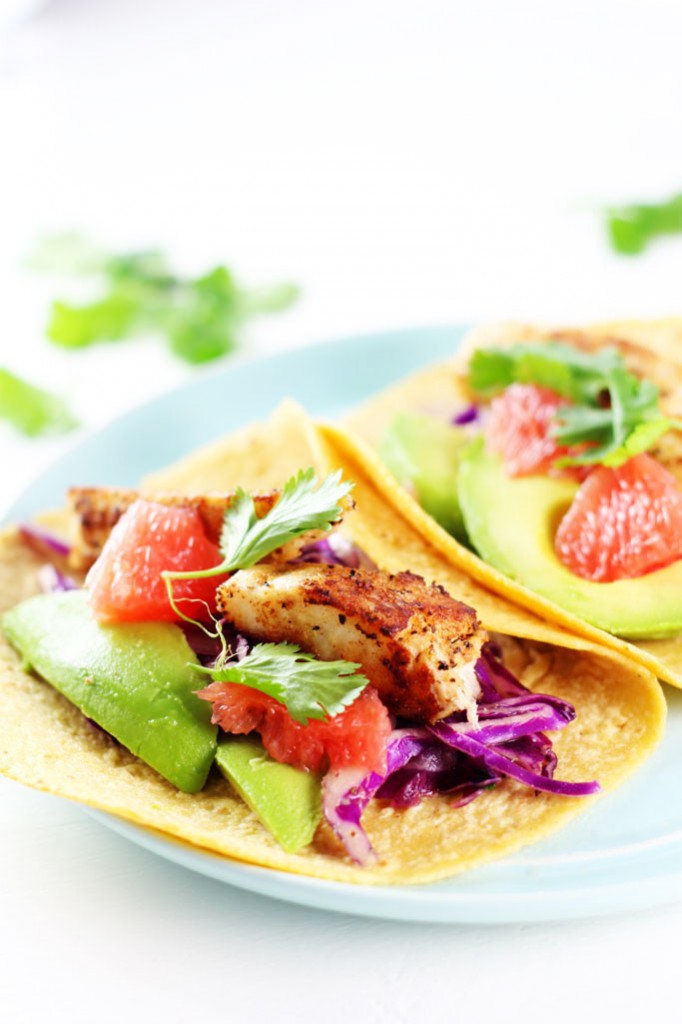 Quinoa Taco Bowls with Guacamole