These Slow Cooker Steak Carnitas Bowls are super simple to make with the help of your crockpot. Finish them off with a quick guacamole and a combination of your favorite toppings for a healthy weeknight dinner. 
Don't get me wrong, I love spending time in the kitchen, but some nights I just want a super simple recipe – Especially in the summertime when I'd rather be spending time outdoors and savoring in every second of dry weather that we actually get here in the Pacific Northwest.
This is that recipe:  Prep time = 5 minutes.
This recipe was inspired by my Crockpot Chicken Taco Lettuce Wraps – Probably one of the easiest recipes on this blog and easily the one with the worst photographs #FinallyLearnedToUseACamera
It only takes 5 ingredients to make the steak carnitas and there's no pre-sauteeing before things get thrown into the slow cooker. Flank steak is my meat of choice here – It's a leaner cut of beef that responds well to cooking low and slow. You'll be left with tender beef that shreds easily with a fork. Before throwing it in there, we'll rub it with cumin to really get the flavors running throughout. On the top, we'll sprinkle some jalapeno and onion, and pour in a jar of La Victoria Pineapple Salsa. I really love the hint of sweetness that the pineapple adds to the spicy beef – A bit like a Mexican teriyaki if you will…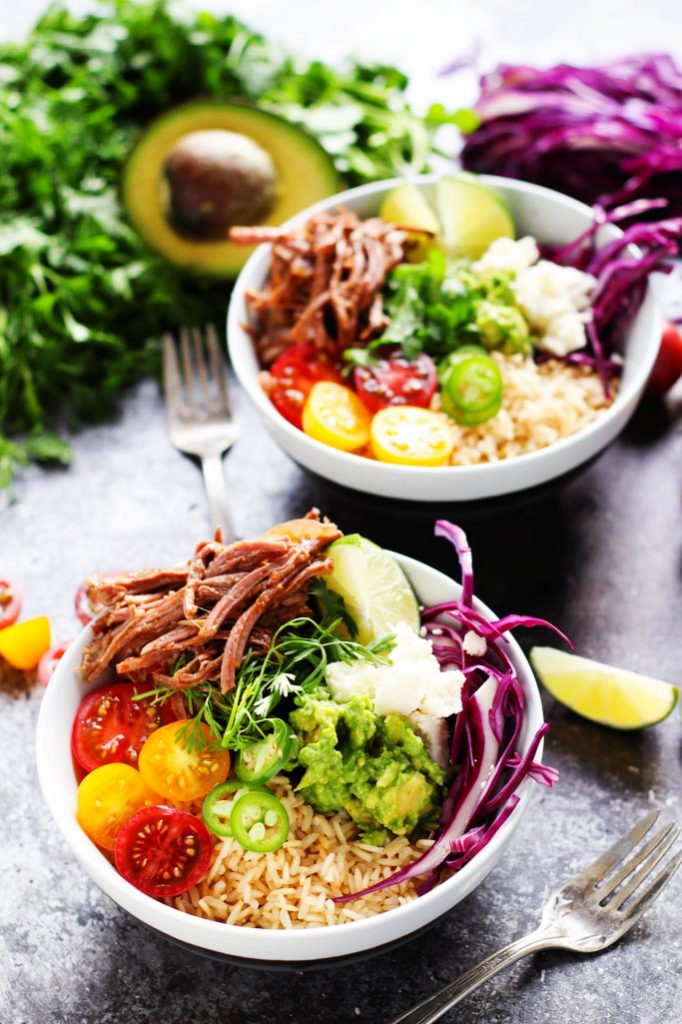 I'm serving the flank steak over rice and topping it with lots of my favorite ingredients. However, if you're looking for a lighter option, try serving it up in lettuce wraps.
In my opinion, if you're going to have toppings, you HAVE to have guacamole! I love this quick version when I'm in a hurry that uses just three ingredients and requires no measuring. All you have to do is scoop out the avocado, squeeze in the juice of a quarter lime, and add a clove of minced garlic. Mash it all together with a fork and you've got the yummiest "faux guac" around.
The flank steak will cook in 8 hours on low heat, or 4-5 hours on high heat.  I'm loving my new crockpot which allows me to set a timer for cooking, and then just keep the food warm once it's finished because lately with the crazy Portland traffic, it's hard for me to work a full-day and make it home in 8 hours. But it's easy for me to walk in the door and be greeted by the amazing smell of these carnitas! Pretty awesome.
You know what else is awesome? You can enter the La Victoria Sweepstakes  for a chance to win a trip for 2 to San Diego (flight and hotel included)! Just share a pic on Instagram showing where you seek out fresh summer flavor, whether it's at that fish taco shack on the beach or a picnic in wine country! Tag your entry with #ViewFromMyPlate #FlavorSeekers and #MangoHabaneroSalsa and tag handle @LaVictoriaBrand! Be sure to follow @LAVICTORIABrand too! For additional details, prize options, and more sweet and spicy recipes be sure to visit lavictoria.com!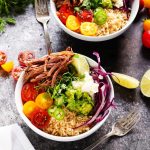 Slow Cooker Carnitas Steak Bowls
These Slow Cooker Steak Carnitas Bowls are super simple to make with the help of your crockpot. Finish them off with a quick guacamole and a combination of your favorite toppings for a healthy weeknight dinner.
Print
Ingredients
Steak Carnitas:
1½

lbs

flank steak

1½

Tbsp

. cumin

1

jalapeno

seeded and sliced

1 16

oz

jar La Victoria Pineapple Salsa

1

onion

diced

Salt and Pepper
Quick Guacamole:
1

avocado

1

clove

garlic

minced

1

quarter of a lime

juiced

Salt and Pepper
Additional Ingredients:
2

cups

rice

Cotija cheese

for topping

Red cabbage

for topping

Jalapeno

for topping

Cherry tomatoes

for topping

Cilantro

for topping

Lime wedges

for serving
Instructions
Steak Carnitas:
Rub flank steak with cumin and place in bottom of slow cooker.

Spread chopped onion and jalapeno over steak. Pour salsa over top.

Place lid on slow cooker and cook on low for 8 hours.

Remove steak from slow cooker and shred with forks. Place steak in slow cooker and stir to combine. Season with salt and pepper, to taste.
Quick Guacamole:
Cut the avocado in half and remove the pit. Using a spoon, scoop the avocado into a medium bowl. Combine with the lime juice, cilantro, and garlic. Using a fork, mash the ingredients until well combined. Season with salt and pepper to taste.
Rice:
Near the end of the cooking time, cook the two cups of rice according to the package directions (Bring the rice and 3 cups of water to a boil in a medium pot with a lid in place, as soon as it reaches a boil, reduced the heat to low and let simmer for 20 minutes. Fluff with a fork before serving).
To Serve:
Spread steak on top of rice and add desired toppings.
Wine Pairings for Carnitas Steak Bowls:
Look for lighter-bodied, fruit-focused reds like Beaujolais or Grenache.
Alternatively, a Malbec or Tempranillo will be a bit heavier, but compliment the smoky-spicy flavors in this dish.